Why Should You Try This Smoothie Recipe?
This simple melon shake is as nutritious as it is refreshing, and you won't believe how easy it is to make. With so much to love, this cantaloupe smoothie recipe will be your new go-to treat perfect for a hot summer day.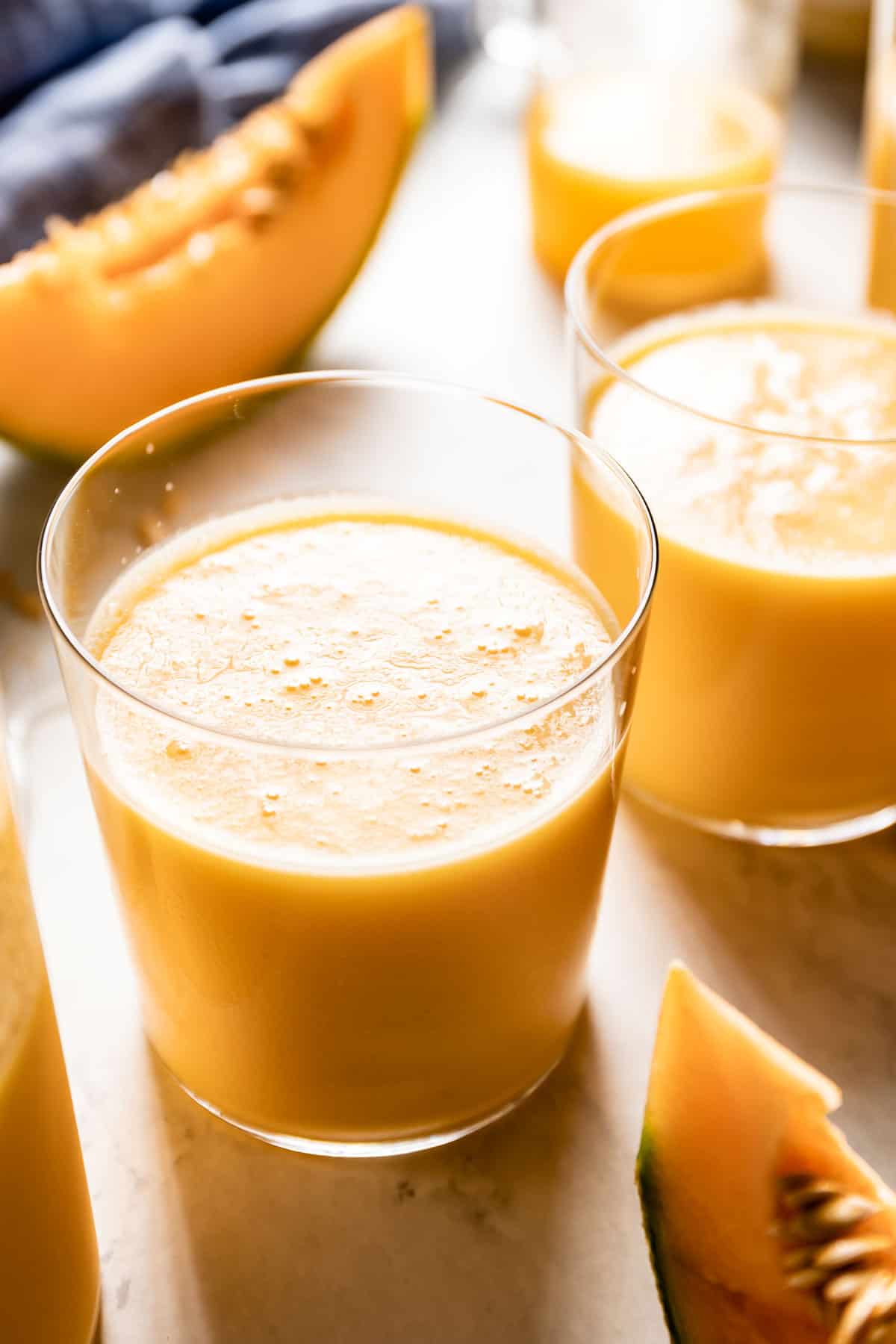 No sugar is added to this naturally sweet cantaloupe yogurt smoothie, making it a refreshing (and healthy!) treat to have first thing in the morning or even for dessert.
You can make this cantaloupe shake recipe for nearly any special diet. Anyone who follows a vegan, gluten-free, or even dairy-free diet can enjoy this tasty drink—alongside my Mango Tumeric Smoothie or any one of my other Turmeric Smoothies, of course.
Needing only 5 ingredients and less than 10 minutes, this beginner-friendly drink is one of the most effortless cantaloupe smoothie ideas out there.
Ingredients
To make this cantaloupe shake, gather cubed cantaloupe, unsweetened plain yogurt, orange juice, and ice. Because the high water content of melon can lead to a watery texture, you'll also need a half-cup of another fruit, such as mango.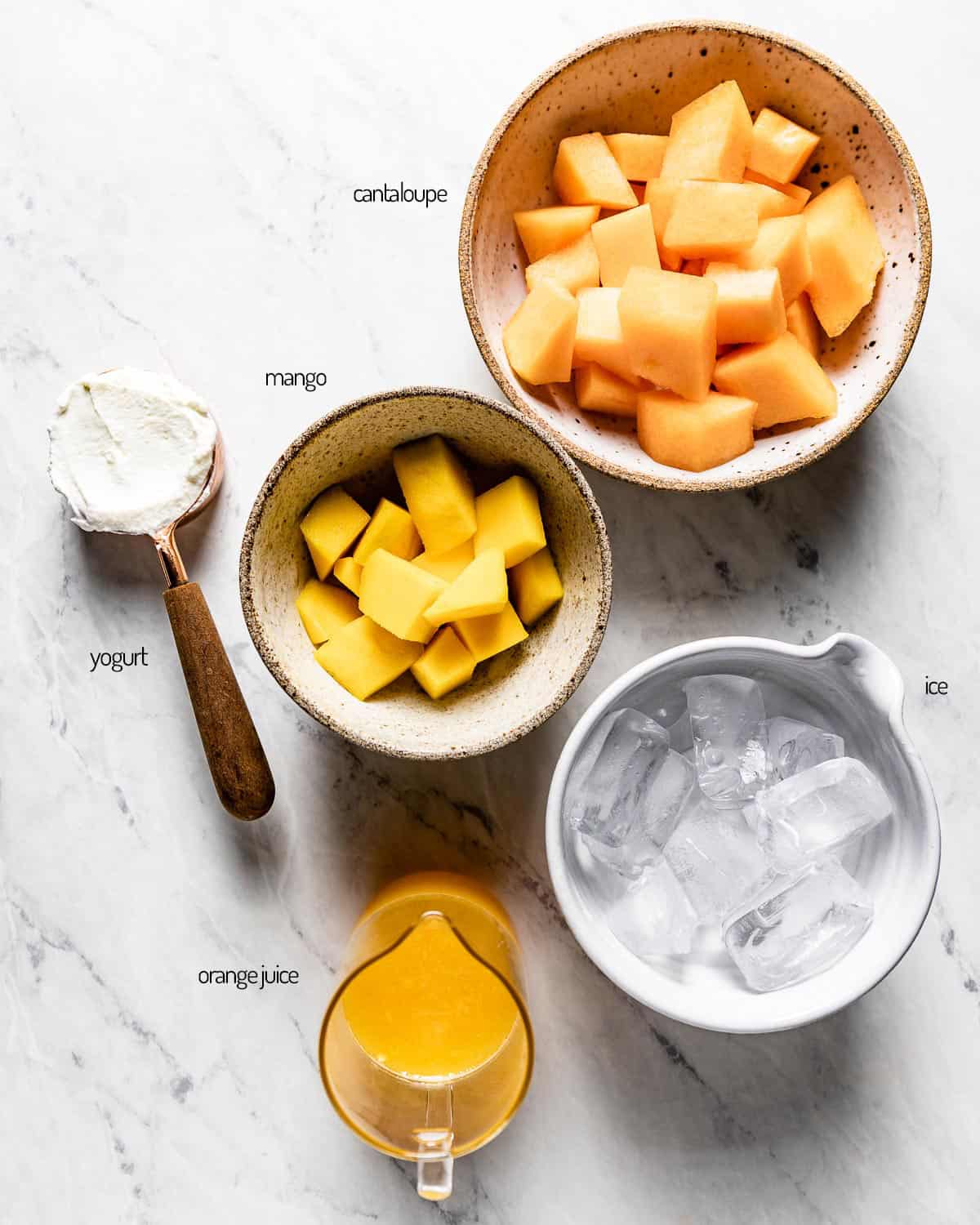 Substitutions & Additions
Putting cantaloupe in a smoothie is the best way to make a healthy drink without a lengthy shopping list. Make your frozen melon smoothie countless ways with these simple substitutions.
Freeze cantaloupe: To make a frozen cantaloupe smoothie, freeze your fresh cantaloupe pieces before blending. Note, however, that you may have to pulse your smoothie for extra time to break up the frozen bits.
Second fruit: Almost any sweet fruit will work alongside your cantaloupe, including strawberry, pineapple, banana, and mango. You can also freeze this second fruit if you have time or add extra ice cubes for a refreshing chill.
Juice: Adding juice is one of my favorite ways to add sweetness to my summer smoothie. However, though I use orange juice (I squeeze it myself instead of using orange juice from concentrate) in my smoothie routine, pineapple juice would also work.
Milk instead of juice: If you prefer to make your cantaloupe smoothie with milk, any kind will do. For instance, you can make cantaloupe smoothie recipes with almond milk, cashew milk, or even coconut milk. Just note that you may have to add a little honey, honey syrup, or simple syrup to make your smoothie a bit sweeter if you prefer.
Yogurt: I use plain Greek yogurt in my smoothie recipe, but you could also use a dairy-free alternative instead. Like the almond milk yogurt I use in my Vegan Banana Smoothie, vegan yogurt makes a great, diet-friendly substitution.
Additional Sweetener: I think this orange cantaloupe smoothie recipe is adequately sweet as written, but if you want it sweeter you can add in a few tablespoons of honey syrup or as it blends.
Add protein (optional): To make this healthy smoothie recipe even more nutritious, try adding extra proteins. Simply add a teaspoon of ground flax seeds, chia seeds, hemp seeds, collagen peptides, nut butter, or your favorite protein powder.
How to Make a Cantaloupe Smoothie
Smoothie recipes with melon are a great way to satisfy your sweet tooth without breaking a sweat. This cool, fruity treat will be the easiest drink you make all summer.
Blend ingredients: Place the ingredients into a blender, preferably with fruit on the bottom and ice at the top. Pulse the ingredients a few times, then blend on high until smooth. If you do not own a blender, you can use a food processor for blending as well.
Serve: Pour the mixture into a glass and, if desired, garnish with cantaloupe. Drink immediately.
Variations
Make dozens of smoothie recipes with cantaloupe with these yummy variations. Whether you're craving a sweet cantaloupe berry smoothie or a creamy banana variation, we've got you covered!
Frozen cantaloupe smoothie: Want to give your melon smoothie extra chill? Freeze your cantaloupe cubes for 4-8 hours before blending.
Cantaloupe banana smoothie: If you're looking for a healthy breakfast that's equal parts sweet and creamy, a banana smoothie is just what you need. Simply swap out your mango for a half-cup of sliced banana.
Strawberry cantaloupe smoothie: Give your recipe a tart, summer-fresh flavor with a match made in heaven: cantaloupe and strawberries! No one can resist the fresh fruit of this easy recipe.
Watermelon cantaloupe smoothie: No one can resist a refreshing smoothie recipe with double the ripe melon. For this delicious recipe, I recommend adding a full cup of cubed watermelon to keep your smoothie from becoming too watery.
How to Store
Smoothie recipes with melon are a godsend when it comes to easy storage. Simply place your smoothie mixture in a bottle with a tight-fitting lid, like a mason jar. Drink within 2 days, being sure to shake the smoothie before pouring.
Please note that your smoothie will likely get watery as it sits in the fridge. To keep your cantaloupe smoothie's creamy texture, I recommend enjoying your beverage on the day it's made.
FAQs
No guesswork is necessary when making this recipe for a melon smoothie. Whether you have questions about substitutions or nutrition information, this handy guide is just what you need.
Can you put cantaloupe in a smoothie?
Yes, you can use cantaloupe in a smoothie! Adding melon to smoothies is the perfect way to make a naturally sweet, creamy, and healthy treat.
How to make a cantaloupe smoothie with milk?
If you don't want to add juice to your smoothie, you can use milk instead. Any milk will work, but you may have to add extra sweetness with ingredients like honey or Honey Simple Syrup if you like your smoothies on the sweeter side.
Can cantaloupe be frozen for smoothies?
Absolutely! Simply cut your cantaloupe into 1-inch cubes, arrange them on a sheet pan, and put them in the freezer for 4-8 hours. Then, blend your ingredients.
Is cantaloupe smoothie good for you?
Using natural, nutrient-packed ingredients, this cantaloupe smoothie with yogurt is a tasty and healthy way to get extra vitamins. Just one serving of cantaloupe fills your daily need for vitamin c and vitamin A.
Similar Smoothie Recipes You Might Like:
It is no secret that drinking a smoothie a day has its benefits. If you are new to making your own smoothies you are in for a treat because I have so many recipes for you. Below are a few recipes to get you started.
If you try this Cantaloupe Smoothie recipe or any other smoothie recipes on Foolproof Living, please take a minute to rate the recipe and leave a comment below. It is a great help to others who are thinking of making the recipe. And if you took some pictures, be sure to share them on Instagram using #foolproofeats so I can share them on my stories.
Cantaloupe Smoothie Recipe
This Cantaloupe Smoothie recipe is an easy, quick and healthy breakfast or snack you can make in minutes. Made without any sugar, this melon smoothie is incredibly refreshing perfect for a hot summer day.
Print Recipe
Ingredients
1

cup

cantaloupe

cut into 1 to 2-inch cubes

½

cup

mango

strawberry, or banana, cut into small pieces*

¼

cup

unsweetened plain yogurt

or vanilla yogurt or vegan yogurt

½

cup

orange juice

or pineapple juice

1

cup

ice
Instructions
Place all ingredients in a blender. Blend on high until smooth.

Pour into a glass and garnish with cantaloupe if desired. Enjoy immediately.
Notes
This recipe can easily be multiplied.
I think it goes without saying that the riper the fruit the sweeter your smoothie will be. So, if you prefer it on the sweeter side be sure to pick a ripe cantaloupe white you are at the grocery store.
You can use frozen cantaloupe if you want. However, if you do so, I would recommend using 1/2 cup of ice.
Storage: Simply place your smoothie mixture in a bottle with a tight-fitting lid, like a mason jar. Drink within 2 days, being sure to shake the smoothie before pouring.

Please note that your smoothie will likely get watery as it sits in the fridge. To keep your cantaloupe smoothie's creamy texture, I recommend enjoying your beverage on the day it's made.
Nutrition
Serving:
1
person
|
Calories:
197
kcal
|
Carbohydrates:
41
g
|
Protein:
5
g
|
Fat:
3
g
|
Saturated Fat:
1
g
|
Polyunsaturated Fat:
1
g
|
Monounsaturated Fat:
1
g
|
Cholesterol:
8
mg
|
Sodium:
90
mg
|
Potassium:
733
mg
|
Fiber:
3
g
|
Sugar:
37
g
|
Vitamin A:
6612
IU
|
Vitamin C:
110
mg
|
Calcium:
118
mg
|
Iron:
1
mg
---
Like this recipe? Consider sharing: