Lately, I have been finding it really hard to slow down. It feels like everything around me is happening so fast. I have become this person, who is constantly on her phone looking at what is happening on Instagram, Snapchat or Facebook. The worst thing about it is that most of the time as I scroll through photos and videos of other people I feel like I am not good enough and what I am doing is not as pretty. When did I become that person? And more importantly, why?
I used to enjoy sitting down, reading a book, and loosing myself in somebody else's world. Last week, when I had one of these "not good enough" episodes, I realized that it was time to do something about it. So I took a break. I turned both my phone and computer off, found a novel I wanted to read, and spent the whole day unplugged. A whole 24 hours away from modern technology…
I am not going to lie; it was a struggle. There were many times I found myself thinking how many people would unfollow me if I didn't post on Instagram or showed what I am doing on Snapchat. Embarrassing, isn't it? Now this week, we are introduced to Instagram stories. I just learned Snapchat and now I have to post on Instagram stories as well?! When did recording yourself talking to a phone and publishing to God knows who become normal? Why are we so obsessed with what is happening in other people's lives? This is all so confusing to me.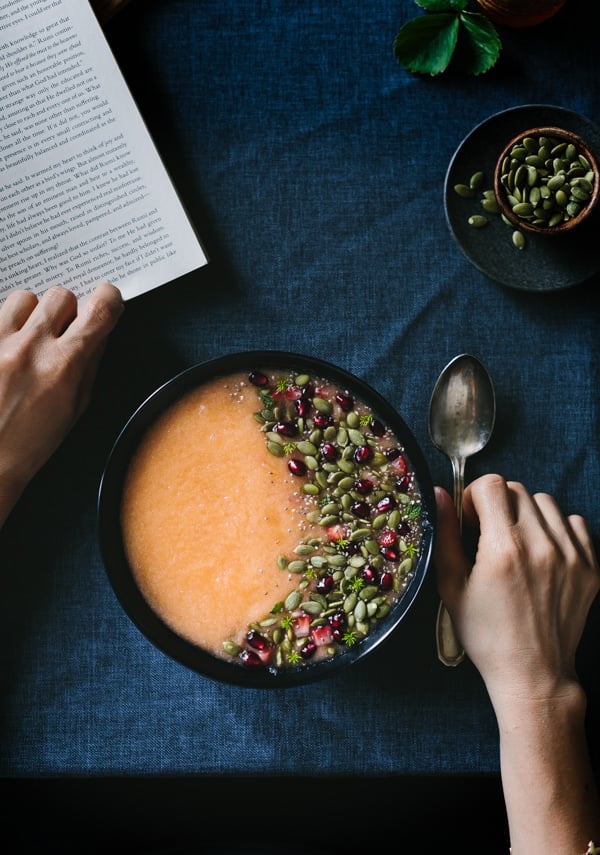 However, I am going to continue to take breaks and try to keep those feelings under control. I will make smoothie bowls instead smoothies and force myself to sit down and eat it with a spoon without scrolling through my Instagram feed. It is easier said than done, but it needs to happen. Do you feel the same way? If so, how do you cope with it? I would love to know.
About the recipe:
This smoothie bowl is truly a summer treat. It is almost like ice cream without the calories. The flavor combination of ripened cantaloupe, lime, red ruby grapefruit, and pumpkin seeds (pepitas) is truly refreshing. Perfect for a warm August morning. In the recipe below, you will see that I only added a tablespoon of maple syrup, because my cantaloupe was ripened and grapefruit was sweet. However if yours are not, feel free to add more sweetener. If you are not a fan of grapefruit, which I know a lot of people are not, you can use an orange instead. If you have time, I recommend toasting your pumpkin seeds for a couple of minutes as I think in general nuts taste much better when they are toasted. Or you can do what I do and batch roast them and keep them in airtight jars. Either way, this citrusy cantaloupe smoothie bowl is the best breakfast when you want to slow down and enjoy a morning unplugged.
---
Citrusy Cantaloupe Smoothie Bowl with Pepitas
Cantaloupe Smoothie Bowl flavored with grapefruit, lime, and pepitas for a refreshing and delicious smoothie bowl recipe. A vegan breakfast, this cantaloupe based smoothie can be served in a bowl or in a cup when you need a quick, grab and go smoothie.
Print Recipe
Ingredients
½

medium-size cantaloupe

cut into small chunks

½

red ruby grapefruit

peeled and cut into small pieces

1

tablespoon

lime juice

freshly squeezed

1

tablespoon

or more depending on the sweetness of the cantaloupe maple syrup or honey

½

cup

ice

2

tablespoons

pepitas

pumpkin seeds, if possible lightly toasted

1

tablespoons

of chopped fruit – i.e. strawberries

pomegranate seeds, cherries etc. as garnish
Instructions
Place cantaloupe, grapefruit, lime juice, maple syrup, and ice in a blender. Blend until smooth. Taste for sweetness and add if necessary.

Pour into a bowl. Garnish it with pepitas and chopped fruit. Serve immediately.
Nutrition
Serving:
1
person
|
Calories:
332
kcal
|
Carbohydrates:
58
g
|
Protein:
10
g
|
Fat:
11
g
|
Saturated Fat:
2
g
|
Sodium:
53
mg
|
Potassium:
1072
mg
|
Fiber:
6
g
|
Sugar:
49
g
|
Vitamin A:
10806
IU
|
Vitamin C:
154
mg
|
Calcium:
53
mg
|
Iron:
2
mg
---
Like this recipe? Consider sharing: