I love this recipe because it has light preparation, healthy ingredients, and tons of flavor. The best part, you ask? You don't even need to use the stove or oven! With only a few minutes of prep, it deserves a spot on your weekly rotation on busy weekday mornings. And if you have a few extra minutes on the weekend, switch up your standard breakfast and try this avocado toast with salmon and egg!
If you are a salmon lover like I am, be sure to also check out my Salmon Nicose Salad or Salmon Coconut Chowder to serve for lunch or dinner.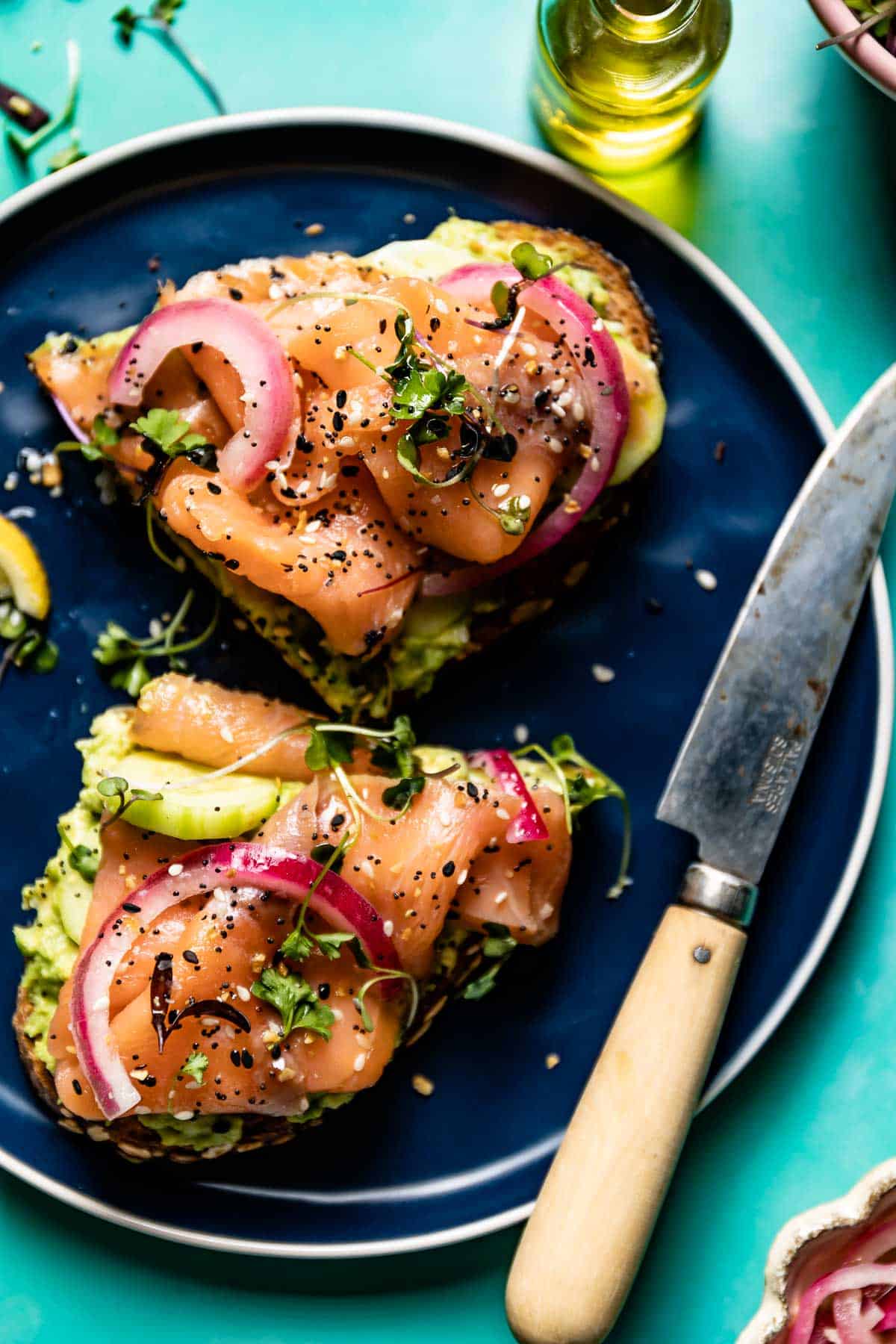 Ingredients
This avocado toast with smoked salmon is great because you can make it your own by adding whatever toppings you like best. Here's a short, simple list of ingredients that will make shopping a breeze: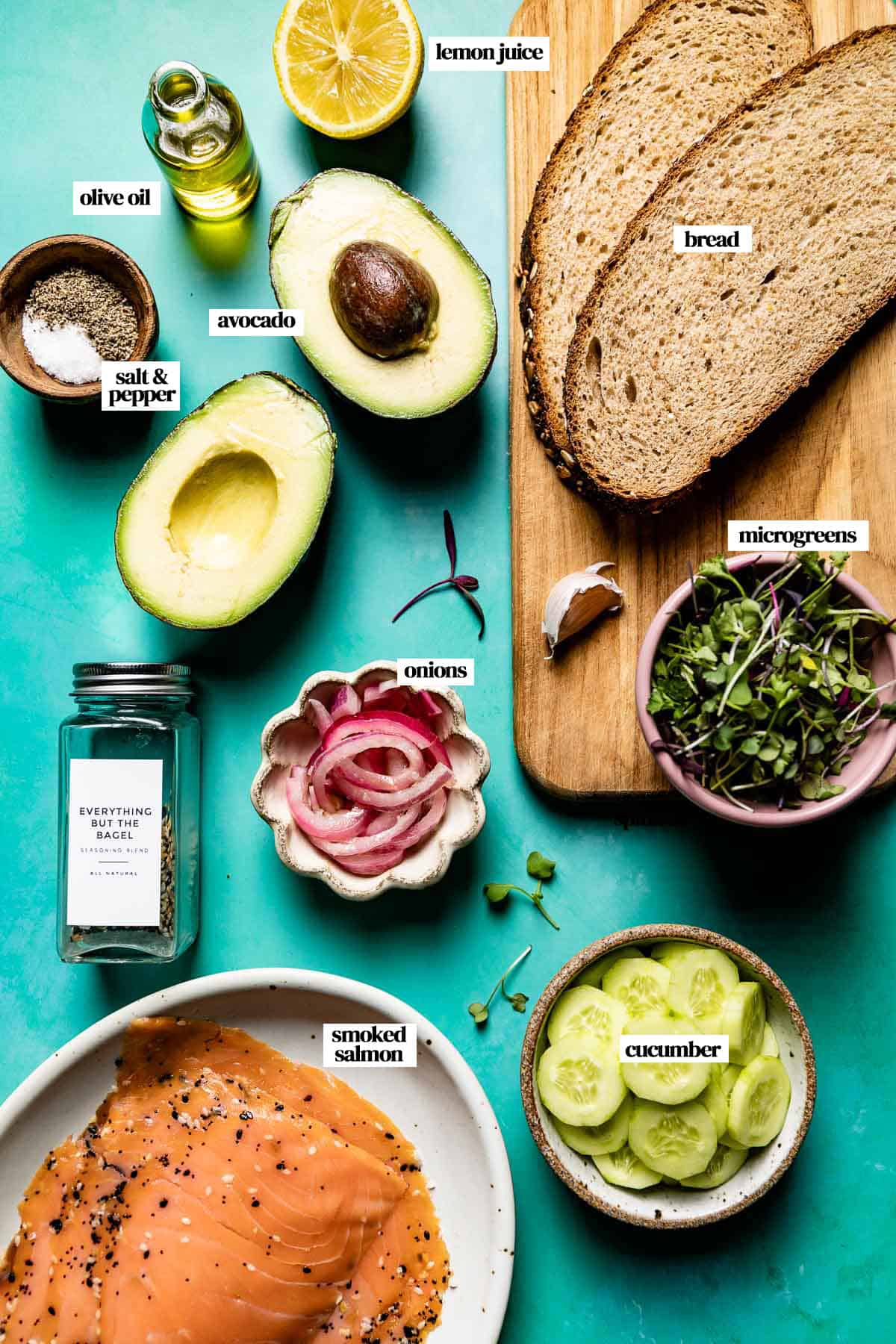 Bread: Feel free to choose your favorite bread. I like to use whole-grain bread, but if you make your own sourdough bread, go for it. If you want to make it extra special, treat yourself with buttery homemade Brioche. If you have dietary restrictions like gluten intolerance, try my Almond Flour Bread or any store-bought gluten-free bread you like. There are also easy-to-find keto-friendly options at the grocery store if you're following a keto diet. Finally, you can ditch the bread and go for your favorite bagel.
Avocado: The store has many avocado choices, but I think Hass avocado is the most flavorful one out there. When buying avocados, be sure to pick one that is nice and ripe for easy mashing or slicing.
Fresh lemon juice: Lemon juice will give your toast the acid it needs to wake up your taste buds. Fresh lemon (and freshly squeezed lemon juice) is preferred. Alternatively, you can use fresh lime in this recipe.
Cucumber: Persian cucumbers sliced thinly are my favorite for this, but English will get the job done.
Smoked salmon vs. lox: While lox and smoked salmon are different things, they can be used interchangeably in this smoked salmon and avocado toast recipe. Just make sure to get a brand that you like. And if you are wondering, my favorite one is Trader Joes', Everything But The Bagel Seasoned Salmon.
Spices: I use kosher salt and black pepper in terms of spices. However, if I am serving this smoked salmon breakfast toast to adults, I sometimes sprinkle it with a pinch of red pepper flakes.
Optional Add-Ins
What I love most about this healthy avocado toast is that it is endlessly customizable. If you are short on time, follow the recipe as written for a 10-minute breakfast. But if you are looking for a next-level breakfast or brunch, jazz it up with one (or more) of the optional add-ins below:
Soft cheese: A thin layer of cream cheese or goat cheese is a great addition to this avocado toast, but any soft cheese you have on hand would work.
Fresh herbs or Salad Greens: A handful of arugula, spring mix, or microgreens not only add color but also make it healthier. Alternatively, a small amount of fresh dill or parsley would make a nice addition.
Onions: My Pickled Red Onion recipe will give this dish a tangy bite to compliment your smoked salmon avocado toast. However, thinly sliced red onion or scallions would work nicely as well.
Garlic: Adding chopped garlic to your creamy avocado spread can add an extra pop of flavor. I usually opt out of garlic if I am making this on a work day, but if I am serving it to a crowd for brunch, then I add one for extra flavor.
Olive Oil + Flaky Salt: I usually finish this layered toast with a drizzle of good-quality olive oil and a pinch of flaky salt.
Spices: Who doesn't love Everything But the Bagel seasoning? A little goes a long way!
Egg on top: If eggs are a staple for you're morning breakfast, you're welcome to top it off with scrambled eggs or a fried egg. However, if I have the time, my favorite one is smoked salmon avocado toast that's topped off with a poached egg.
Sliced tomato: Like it is with any toast recipe, adding a few slices of tomato to the layers would be a nice addition to this open-faced sandwich.
Olives or Capers: Use one teaspoon of chopped capers or olives for a briny bite.
How to Make Avocado Toast with Smoked Salmon
This avocado smoked salmon toast will make prep and cleanup faster than ever before. You don't even need to cook anything. Here's how I make it:
Toast the bread: This is optional, but toasting the bread will give it a nice crispy bite. If you do, be sure to let it cool while you are working on the rest of the prep.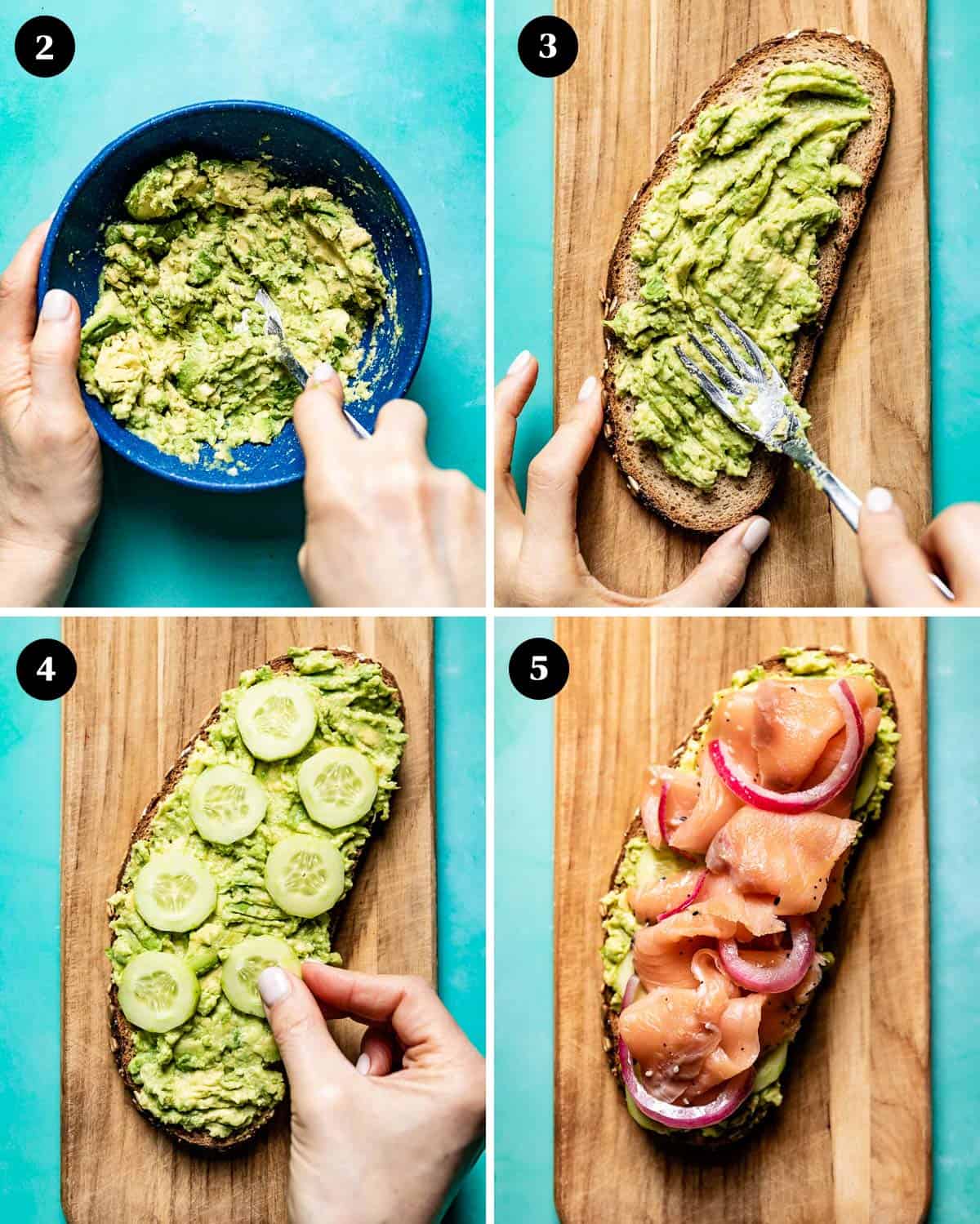 Mash or slice the avocado: Scoop your avocado into a medium size bowl and mash with a fork. Add your salt, pepper, a squeeze of lemon juice, and garlic (optional), and mix well. Give it a taste and add in if needed. Alternatively, you can slice your avocado thinly.
Spread the avocado mixture: Add a layer of your mashed or sliced avocado to the bread.
Top with cucumber: Arrange the sliced cucumber evenly on top.
Add smoked salmon: Layer about 2 oz. of smoked salmon per person on your toast, along with the pickled red onion.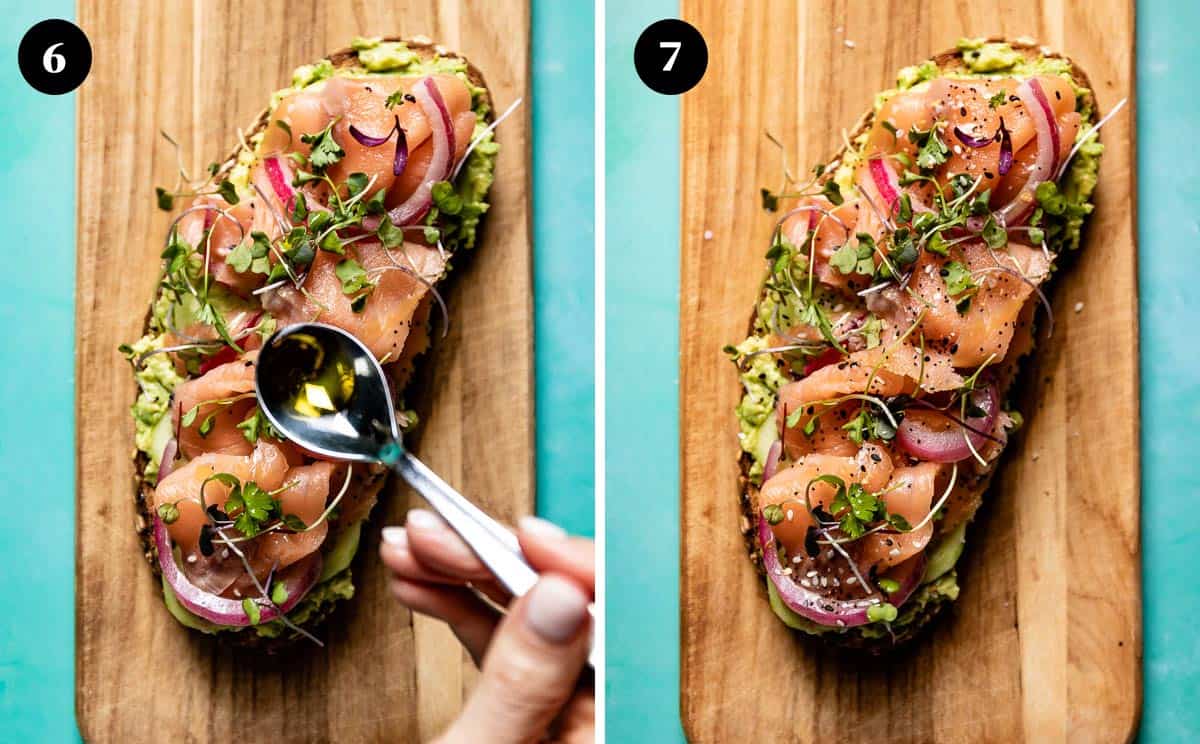 Garnish: Make it your own with any of your favorite garnishes. I like microgreens and a drizzle of extra virgin olive oil. Sprinkle some Everything But the Bagel Seasoning for the finishing touch.
Serve: Once you've topped your toast with the desired garnishes, serve with a lemon wedge on the side.
How to Make Ahead and Store
This smoked salmon toast recipe is best when served right away. However, you can prepare some ingredients ahead of time to put together in just 5 minutes. Here's what I recommend:
Make Ahead: The most time-consuming part of this avocado toast with salmon recipe is preparing the avocado spread. However, it can be prepped in advance. So, go ahead and make it a day ahead and store it as I did in my go-to Guacamole Recipe. Here's how to do it:

After making the guacamole, evenly spread it in an airtight container.
Cover the surface with a thin layer of water, lime, or lemon juice. We are doing this to prevent it from oxidizing.
Place a plastic wrap on top, and remove all the air bubbles before storing it in the refrigerator. You can also slice your cucumbers beforehand and store them in an airtight container for quick assembly.
Storing: Enjoy this delicious avocado and salmon toast immediately for the best results. I'd be surprised if you have leftovers! But, if you do, then store the leftovers in an airtight container in the refrigerator and eat them by the next day.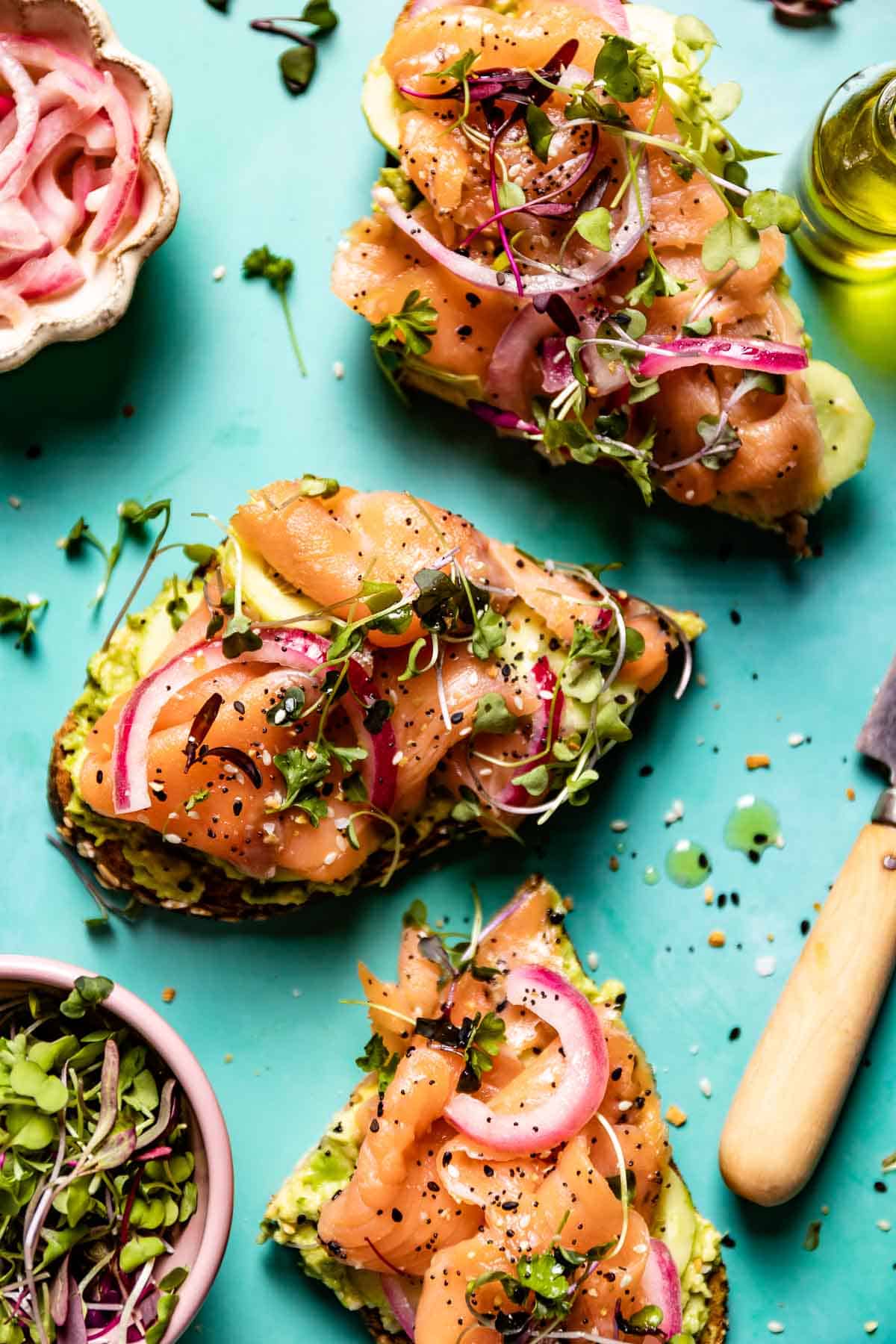 Expert Tips
Even though this smoked salmon toast recipe is just as effortless as it is delicious, a few quick tips can take this dish to the next level. Here are a few tips to help you succeed on your first try:
Add lemon juice to the avocado: The best way to prevent your avocado mash from turning brown is to squeeze it with fresh lemon juice. The addition of a small amount of acid also helps with flavor, so do not skip using it.
It is best when assembled on the day you plan to serve: As is the case with most seafood recipes, I recommend assembling your avocado smoked salmon toast on the day you plan to serve it. If you are planning to serve a crowd, follow the make-ahead tips above to make the last-minute assembly a breeze.
Toast the bread lightly. This is an optional step, but toasting the bread gives this dish the perfect warm crunch.
Multiply the recipe. The recipe below, as written, is for two servings, but you can multiply it as many times as you need.
FAQs
Is avocado and smoked salmon good for you?
Absolutely! All the elements of this recipe make for a healthy smoked salmon breakfast. Both salmon (packed with Omega 3 fatty acids) and avocado are considered some of the healthiest fats on the planet. When you are shopping for smoked salmon at the store, be sure to check the back and buy a brand that is made with clean ingredients and without any sugars.
Other Avocado Recipes You Might Like:
Can't get enough of avocado goodness? You are not alone. Here at Foolproof Living, we are huge fans of this versatile fruit and have many other recipes. Below are a few that we think you might like:
If you try this Avocado Smoked Salmon Toast recipe, please take a minute to rate the recipe and leave a comment below. It is a great help to others who are thinking of making the recipe. And if you took some pictures, be sure to share them on Instagram using #foolproofeats so I can share them on my stories.
Smoked Salmon Avocado Toast Recipe
This smoked salmon avocado toast is a quick, easy, and healthy breakfast that not only tastes great but also looks delicious. Ready in 10 minutes, it is simple enough for a morning on the go and elevated enough for a holiday brunch like Easter, Mother's Day, or even Christmas morning.
Print Recipe
Ingredients
2

pieces

toast

multi-grain bread and sourdough bread would all work

1

large

avocado

ripened

1 ½

teaspoons

lemon juice

plus lemon wedges to serve with

1

garlic clove

minced – optional

½

teaspoon

Kosher salt

¼

teaspoon

ground black pepper

½

Persian cucumber

peeled and sliced thinly (or English cucumber would also work)

4

oz.

smoked salmon

packaged

½

cup

micro greens

or arugula

1

tablespoon

pickled red onions

optional

A drizzle of extra virgin olive oil

1

teaspoon

Everything Bagel Seasoning

optional
Instructions
If preferred, toast your bread and let it cool for a few minutes.

Meanwhile, in a small bowl, mash avocado using the back of a fork. Add lemon juice, minced garlic (if using), salt, and pepper. Stir well. Give it a taste and add more if necessary.

Spread each slice of toast with the avocado mixture.

Top each slice with the cucumber slices.

Place smoked salmon pieces and pickled onion (if using) on top.

Garnish with microgreens and a drizzle of olive oil. Finish it off with a sprinkle of Everything Bagel Seasoning.

Serve with a lemon wedge on the side.
Notes
Garlic: If I am making this avocado toast on a work day I omit using garlic, but if I am making it on the weekend, then I make sure to add it in.
Multiply the recipe: Serving a crowd? No problem. Simply multiply the recipe as many times as you want. I usually serve 2 ounces of smoked salmon and ½ avocado per serving.
To Make Ahead: If you are serving this recipe to a crowd, feel free to mash the avocados in advance, but be sure to cover the surface with a thin layer of lemon juice followed by some plastic wrap to prevent oxidizing. Assemble the recipe right before serving.
Storing leftovers: This avocado toast is best on the day it is served. However, you can store the leftovers in an airtight container in the refrigerator for up to 1 day.
Nutrition
Calories:
240
kcal
|
Carbohydrates:
11
g
|
Protein:
13
g
|
Fat:
17
g
|
Saturated Fat:
3
g
|
Polyunsaturated Fat:
2
g
|
Monounsaturated Fat:
11
g
|
Cholesterol:
13
mg
|
Sodium:
1170
mg
|
Potassium:
636
mg
|
Fiber:
7
g
|
Sugar:
1
g
|
Vitamin A:
225
IU
|
Vitamin C:
13
mg
|
Calcium:
30
mg
|
Iron:
1
mg
Like this recipe? Consider sharing: