Preparing mango salsa with pineapple is one of my favorite ways to make a fruity, fresh, and zesty condiment that pairs with dozens of dishes. Like my Peach Salsa and Cherry Tomato Salsa, this recipe is delicious as an appetizer, a topping for fish-based mains, or even a side for hearty meats. This dish will be your new summer staple, no matter how you serve it.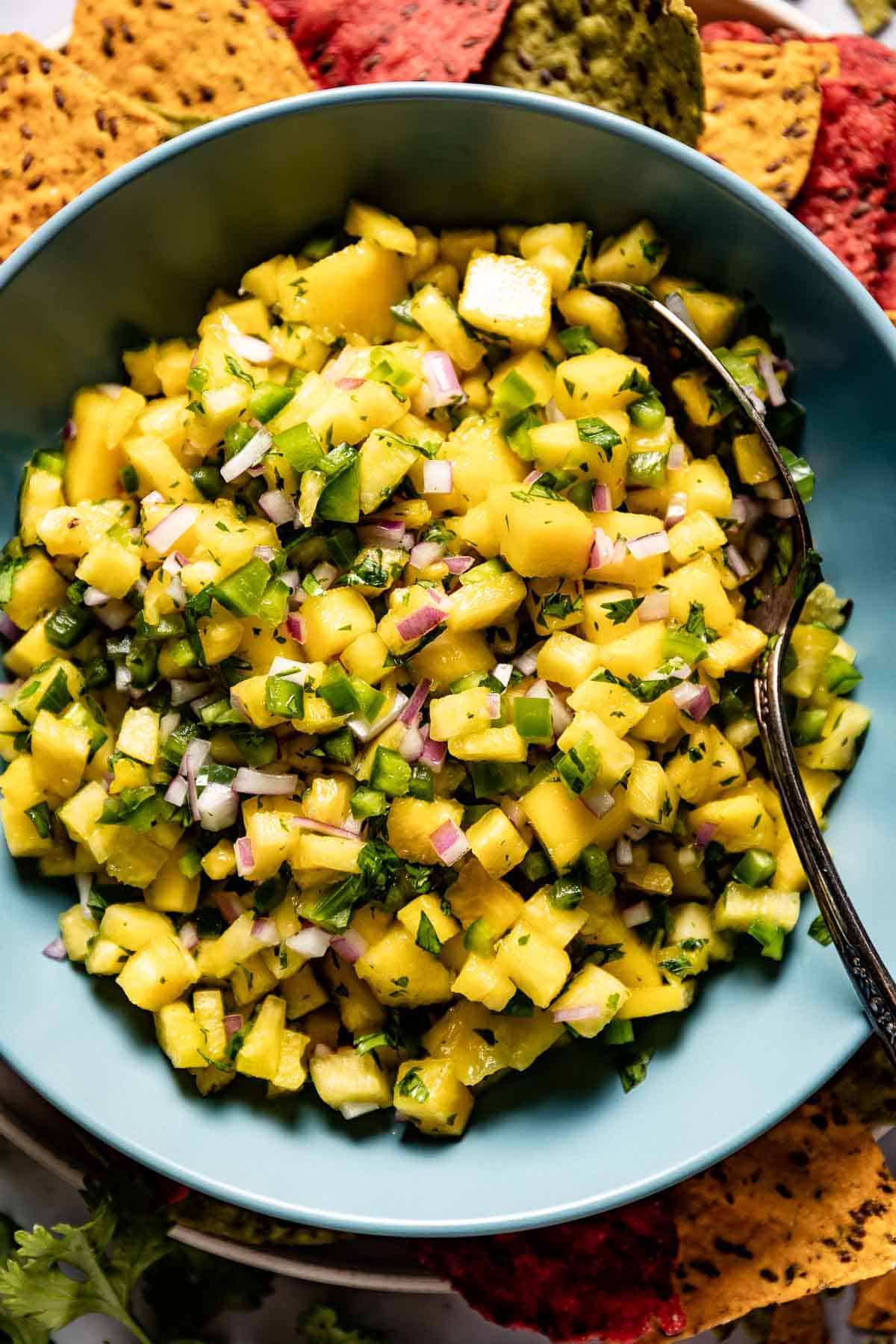 Ingredients
This recipe for mango pineapple salsa uses a handful of fresh, healthy ingredients to get its signature fruity taste: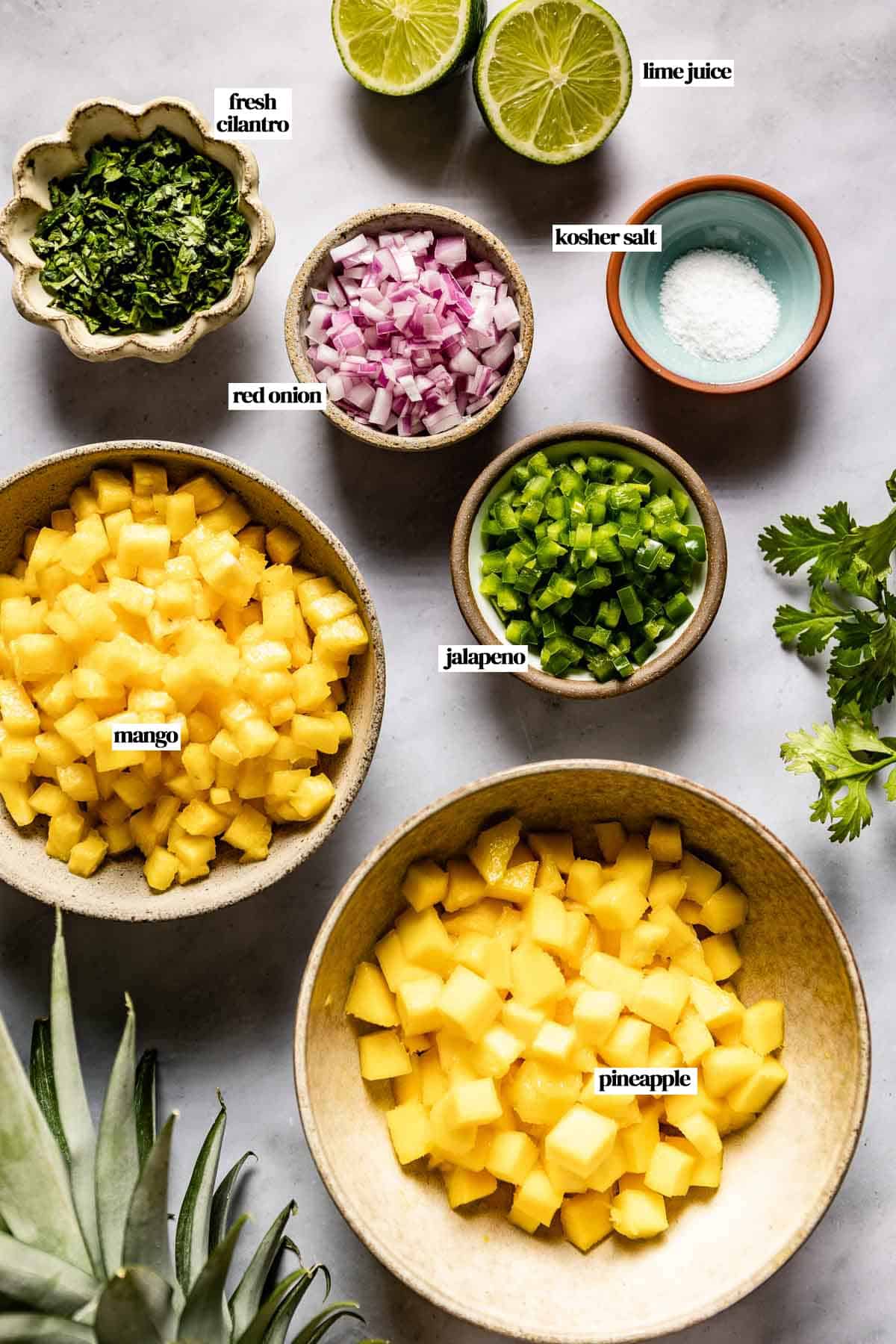 Pineapple: Pineapple is essential to give this recipe its sweet, tropical overtones. I recommend using fresh pineapple for the freshest, healthiest taste. You can even add grilled pineapple for extra smoky, caramelized flavors. Canned pineapple will work in a pinch if you don't have fresh alternatives, but be aware of their added sugar.
Mango: Fresh, sweet mangos are the best pick for this fresh pineapple mango salsa. Frozen mango will also work, but thaw it completely before adding it to your recipe.
Red onion: Red onion gives this simple salsa a sharp, bold flavor kick. You can also use Mexican Pickled Onions for a tangier, zestier take.
Jalapeño pepper: A bit of pepper is the key to giving this mango pineapple jalapeno salsa its classic balance of sweet and spicy flavors. I recommend using seeded jalapeno peppers to give this recipe a little heat, but you can also remove the seeds if you like.
Fresh cilantro
Fresh Lime juice: I recommend using freshly squeezed lime juice for this easy salsa dish. However, you can also use lime juice from a bottle if you don't have any fresh limes on hand.
Salt
Substitutions and Optional Add-Ins
Green onions: Want to make this tangy salsa a little milder? Use a bit of finely chopped green onions instead of red onions. This easy ingredient substitution is both delicious and colorful.
Mint: If you're not a fan of cilantro, fresh mint makes an excellent substitution, giving this recipe a bright, herby flavor.
Avocado: Adding a few chunks of ripe avocado is the best way to add a mild, creamy taste to this fruit salsa.
Cherry tomatoes: Transform this simple recipe into pineapple mango pico de gallo by adding a cup of finely chopped cherry tomatoes. This addition will add sharp juiciness to each bite—perfect for tacos!
Habanero: To increase the heat level of this recipe, add a little bit of finely chopped habanero peppers. These tiny veggies will give your salsa a bold kick, perfect for spice lovers.
How to Make Mango Pineapple Salsa
Even beginner chefs can prepare pineapple mango jalapeno salsa in a snap! With just four steps and a handful of ingredients, your table will overflow with sweet, zesty, and salty flavors.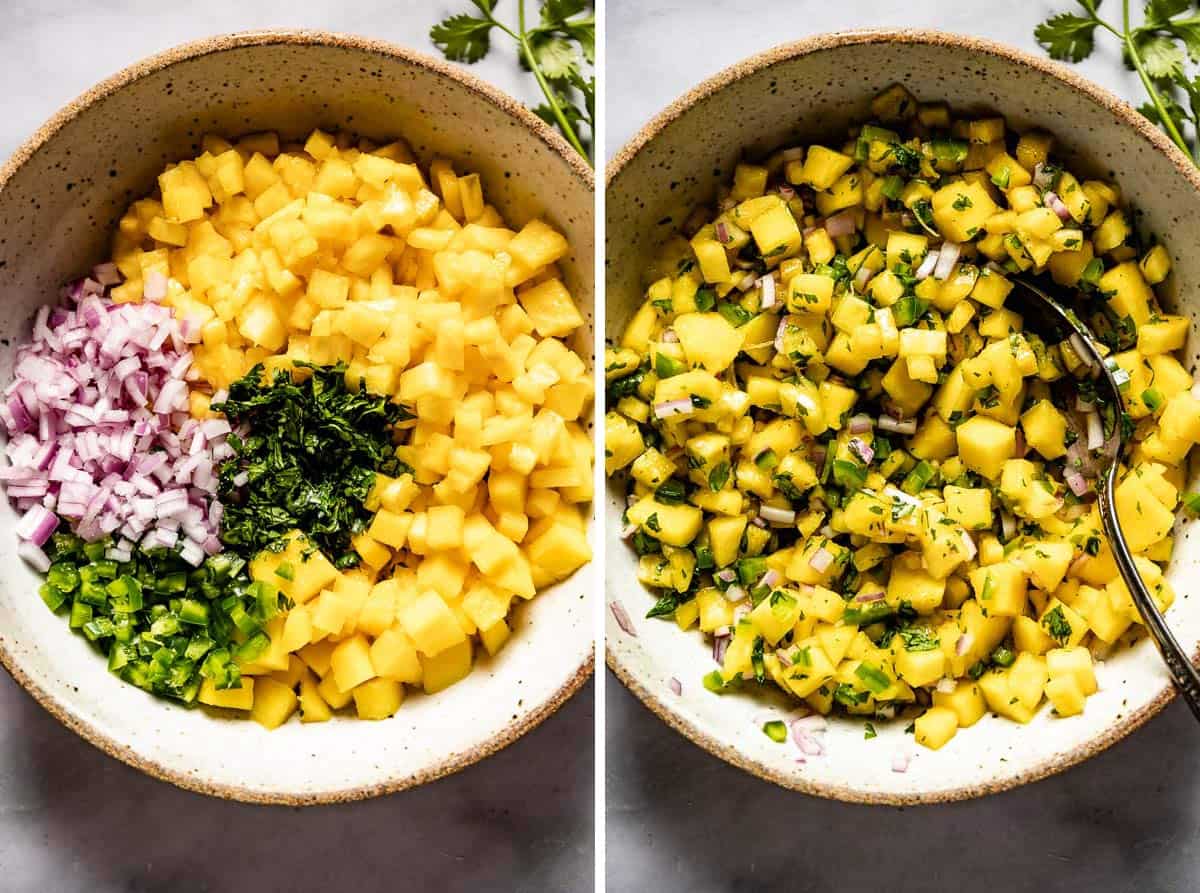 Add the ingredients: Add the chopped pineapple, mango, red onion, jalapeno, cilantro, lime juice, and salt to a large mixing bowl.
Mix: Stir until you thoroughly combine the ingredients.
Let it rest: Cover the mixed salsa with plastic wrap and refrigerate for 30 minutes to two hours to combine the flavors.
Serve: Serve the mango pineapple salsa as a condiment or with a bowl of tortilla chips.
How to Make and Ahead and Store?
This fresh fruit salsa is a great recipe for make-ahead meal plans during the summer months.
Make ahead: You can make this easy salsa recipe up to 24 hours in advance. Simply store it in an airtight container in the fridge until ready to serve.
Store: Transfer your leftover salsa to an airtight container and place it in the refrigerator for up to 2-3 days. When ready to serve, give it a good stir, taste for seasoning, and add more if necessary, as fruit salsa tends to lose its saltiness during storage. This step will ensure your recipe's flavors are still bold and evenly mixed.
What to Serve with Mango Pineapple Salsa?
It doesn't matter whether you're preparing a light Thai lunch or pork chops on the grill. With this delectable collection, you'll never wonder what to serve with pineapple salsa again.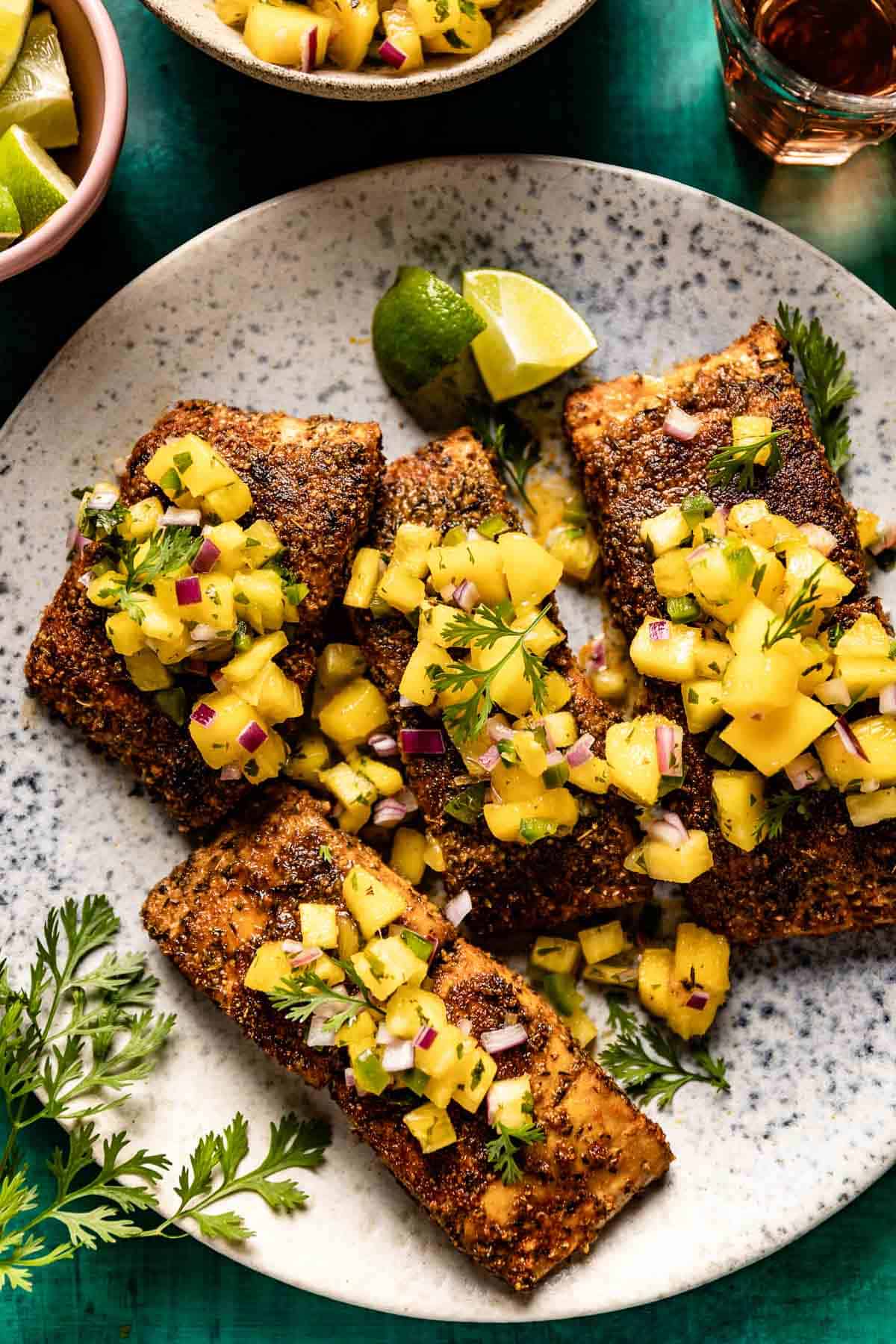 Appetizer with chips: One of the easiest, tastiest ways to serve this simple salsa recipe is as an appetizer or a snack with your favorite tortilla chips. Served alongside my Super Easy Guacamole and Corn Salsa, this crowd-pleaser will complete your menu of game-day recipes.
On grilled or roasted fish: This mango pineapple salsa for fish is a refreshing, bright combination that will make you feel like you're at a seaside restaurant. Serve this luscious condiment on top of Cajun Mahi Mahi (as pictured above), Grilled Mahi Mahi or Breaded Fish, and it'll disappear in minutes.
Over chicken: No one can resist the tender, sweet combination of grilled chicken with pineapple salsa. Serve your salsa with grilled or roasted chicken using my succulent recipe for Chicken Breast for an elegant pairing perfect for special occasions and weeknight dinners.
Tacos: Take your taco game to the next level by topping your spread with this fruity, Instagram-ready condiment. I recommend serving your salsa with fish tacos—especially shrimp tacos!—to bring out your meat's fresh, tropical flavors.
Rice bowls: Adding a few spoonfuls of this pineapple and mango salsa to your favorite rice bowls is an easy way to add a pop of color and sweetness to them. This simple condiment adds a rich, refreshing taste to dishes like a salmon rice bowl and fish taco rice bowl.
Pork chops: Few combinations are as sumptuous, sophisticated, or tasty as serving mango pineapple salsa with sweet-and-savory pork. You can even add a touch of classic outdoor smokiness to your plate by preparing grilled pork chops for the table.
Thai recipes: Nothing balances Thai recipes' savory, spicy, and sweet flavors better than a fruity salsa. Top your favorite dishes, like my Thai Steak Noodle Salad, with this 20-minute condiment, and prepare yourself for a host of compliments to the chef.
Expert Tips
If you want a fresh salsa with vibrant color and the best flavor, these pro tips are a great way to cook like a master chef. Follow this simple guide for the perfect balance of presentation and taste.
Ripe fruit is the best: The best mango pineapple salsa begins with sweet, ripe ingredients. If you have difficulty telling which fruits are ripe, purchase pre-cut fruit at the grocery store. Not only will this save time, but it'll also guarantee that your ingredients are maximally fresh.
Finely chopped: When making this salsa, it's essential that you chop your ingredients into small, bite-sized pieces. Use a sharp knife and cutting board to ensure easy slicing, and avoid using a food processor, as it will likely result in a watery, off-colored mixture.
Taste for seasoning and add more: No one wants their salsa to come out bland. I recommend tasting your mixture for seasoning before serving and adding more if necessary.
Let it rest: Let your fruit salsa chill for at least 30 minutes before serving. This extra resting time allows the ingredients to mix flavors and absorb the added seasoning, giving each bite an exquisite balance of fruity, savory taste.
FAQs
What can I substitute mango for in mango salsa?
If you don't have ripe mangos, papaya or pineapple are easy substitutes that perfectly mimic mangos' juicy, sweet taste. Plus, no one can say no to tropical salsa!
Can you freeze pineapple mango salsa?
I don't recommend freezing this condiment, as the temperature change may result in a grainy, unpalatable texture.
Other Mango Recipes You Might Like
This mango pineapple salsa recipe explodes with sweet, tangy flavors. These simple recipes are just what you need for more refreshing ways to incorporate mango into your weekday menu.
If you try this Mango Pineapple Salsa recipe or any other recipe on Foolproof Living, please take a minute to rate the recipe and leave a comment below. It is a great help to others who are thinking of making the recipe. And if you took some pictures, be sure to share them on Instagram using #foolproofeats so I can share them on my stories.
Pineapple Mango Salsa Recipe
This pineapple mango salsa recipe is a delicious fruit salsa that is packed with fresh flavors. Serve it as an appetizer with tortilla chips or as a condiment over blackened or grilled chicken, fish, or pork.
Print Recipe
Ingredients
1

cup

pineapple

peeled, cored, and cut into ¼ inch pieces (5.3 ounces)

1

cup

mango

peeled and cut into ¼-inch pieces (5.3 ounces)

¼

cup

red onion

roughly chopped (1 ounce)

1

jalapeno

seeded and roughly chopped (1 ounce)

3

tablespoons

fresh cilantro

roughly chopped

4

tablespoons

lime juice

freshly squeezed; approximately 2 limes

½

teaspoon

kosher salt
Optional add ins:
¼

cup

red bell pepper

roughly chopped
Instructions
In a bowl, add pineapple, mango, red onion, jalapeño, cilantro, lime juice, and salt. If using, add in the red pepper too.

Stir to combine.

Cover with plastic wrap and refrigerate for 30 minutes* or up to 2 hours for the flavors to combine.

Serve as a condiment or with your favorite tortilla chips on the side.
Notes
Storage:

You can store leftovers in an airtight container in the fridge for up to 3 days.

Ripe and finely chopped:

We recommend using fresh ripe fruit that is finely chopped for this fruit salsa.
Nutrition
Calories:
57
kcal
|
Carbohydrates:
15
g
|
Protein:
1
g
|
Fat:
0.3
g
|
Saturated Fat:
0.1
g
|
Polyunsaturated Fat:
0.1
g
|
Monounsaturated Fat:
0.1
g
|
Sodium:
293
mg
|
Potassium:
176
mg
|
Fiber:
2
g
|
Sugar:
11
g
|
Vitamin A:
828
IU
|
Vitamin C:
56
mg
|
Calcium:
16
mg
|
Iron:
0.3
mg
Like this recipe? Consider sharing: