As I learned while on my Alaskan trip with Copper River Sockeye Salmon, once you know how to bake sockeye salmon following this basic recipe, you'll unlock countless other delectable Pacific salmon recipes the whole family will enjoy.
This baked sockeye salmon fillet recipe is a no-brainer for easy, healthy weeknight meals. Sockeye salmon itself boasts dozens of health benefits and this easy fish dish is just one of many ways to incorporate it into your weekly menu. It also serves as a stepping stone to a multitude of other Alaskan sockeye salmon recipes, from elegant Salmon Nicoise to creamy Salmon Coconut Soup.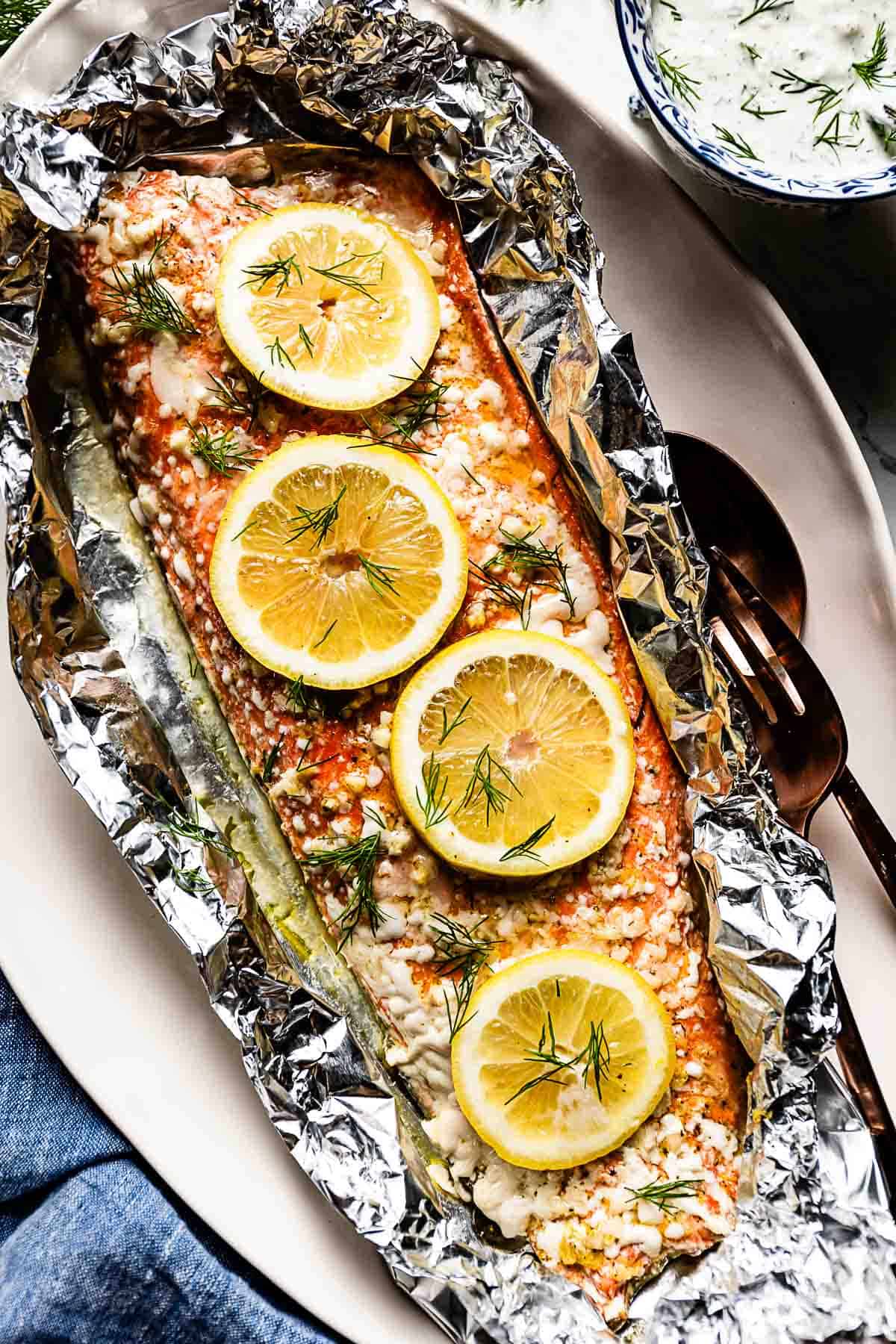 Ingredients You'll Need
You'll need two sets of simple ingredients to make this salmon sockeye recipe: the fish and its seasoning.
For the fish:
Wild Alaskan Sockeye Salmon (Fresh or Frozen): Using high-quality fish is essential to give this recipe its rich, buttery flavor. We used fresh salmon, which is in season from May through July. I also prefer using a whole salmon filet with the skin on it for easy cooking and a beautiful presentation. However, you can also use pre-cut fillets for a perfectly portioned spread. If you use frozen sockeye salmon fillets, thoroughly thaw them before roasting them.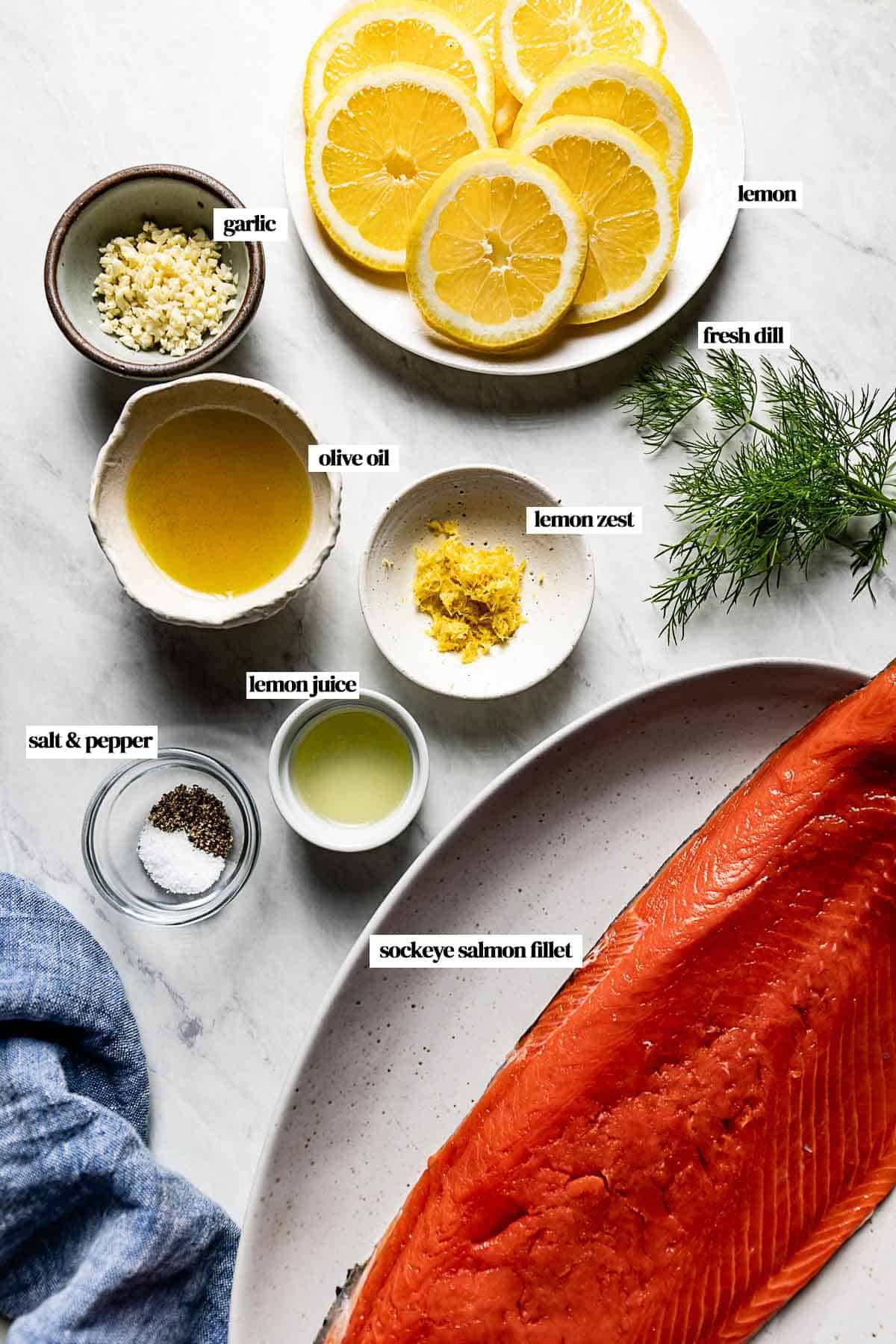 Seasoning:
The best seasoning for sockeye salmon includes a basic mixture of zesty, robust ingredients and fresh herbs. Because this mixture packs so much flavor, you don't need much to give your fish an incomparably bold taste.
Olive oil: Olive oil ensures that this oven-baked sockeye salmon recipe develops a crisp exterior and succulent, tender flesh while cooking. However, avocado oil will also work as a substitute.
Lemon: You'll need fresh lemon juice, zest, and slices to give this dish bright flavors and an immaculate presentation.
Seasonings: Only kosher salt and freshly ground black pepper are necessary to season this baked salmon recipe. You can also sprinkle it with a pinch of red pepper flakes if you prefer.
Fresh garlic cloves: Finely minced garlic is the best but you can use garlic powder in a pinch.
Fresh herbs: Fresh dill and parsley are two signature herbs for red salmon recipes, lending them citrusy notes and grassy undertones. You can add one, the other, or both herbs for an elaborate flavor profile.
How to Cook Sockeye Salmon in the Oven
Cooking sockeye salmon is a cinch with these foolproof instructions. In just fifteen minutes, you'll have a filling and flavorful spread that will astound foodies and families alike.
Prep the oven: Preheat the oven to 375 degrees F.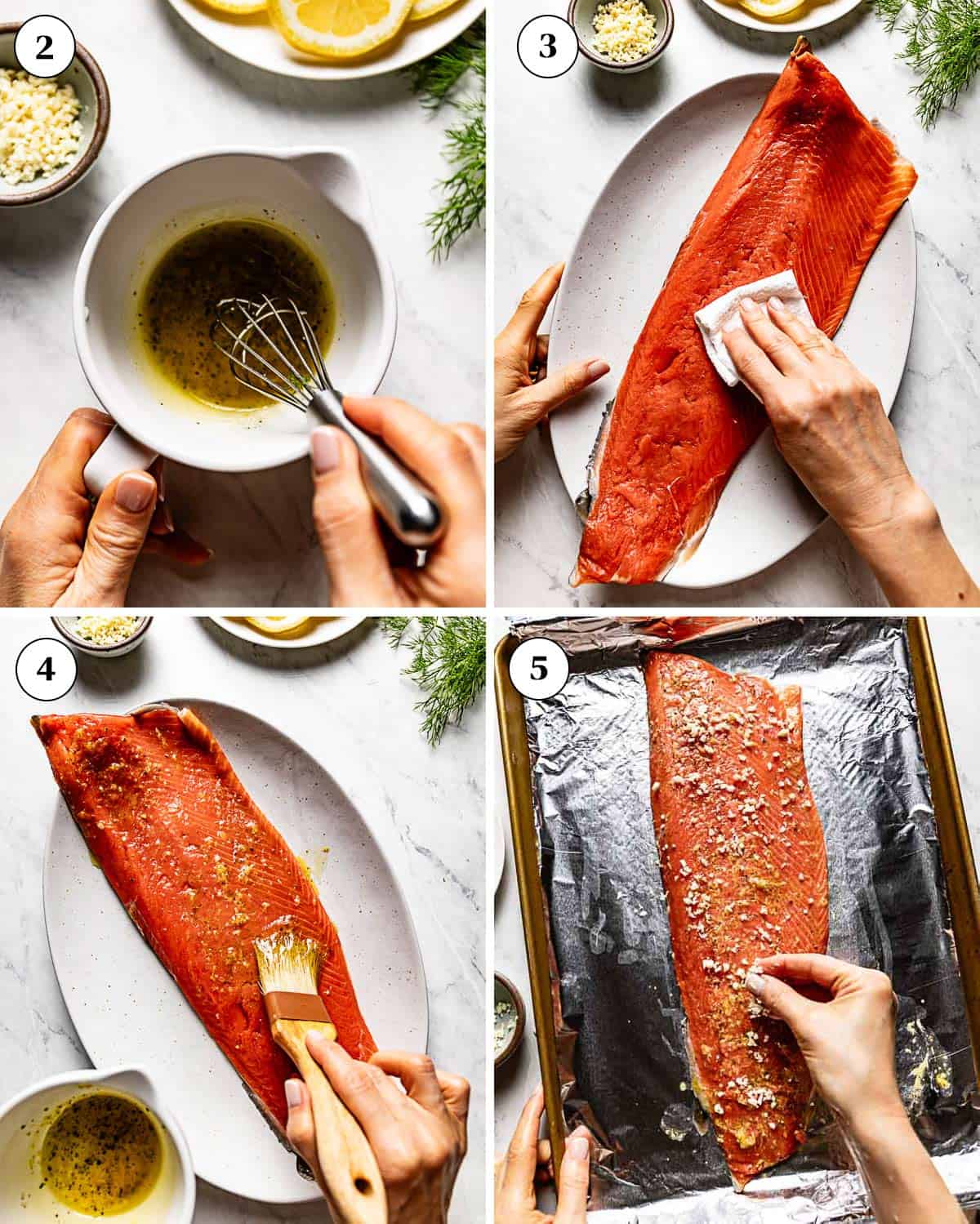 Whisk the oil mixture: In a small bowl, whisk the olive oil, lemon zest, lemon juice, salt, and pepper until thoroughly mixed.
Dry the fish: Use a few sheets of paper towel to pat dry both sides of the salmon fillet.
Season the salmon: Brush both sides of it with the oil-lemon mixture.
Arrange the fish: Line a baking sheet with aluminum foil, ensuring it's at least four inches larger than your fillet. Transfer the brushed salmon—skin side down—to the middle of the foil, leaving two inches on both sides.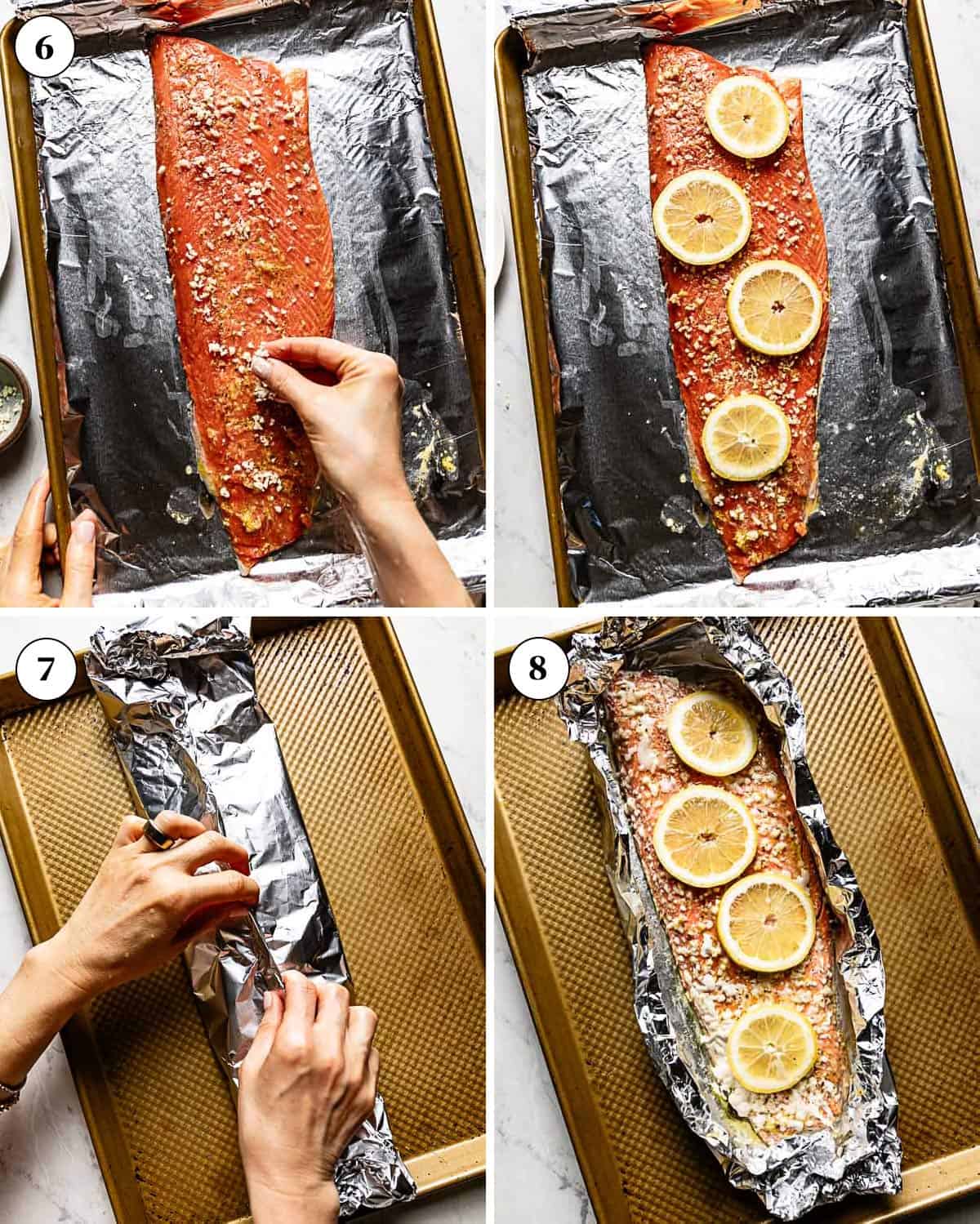 Add the fillet: Evenly distribute the garlic and lemon slices on top of the fish fillet.
Wrap the salmon: Gently fold the excess foil on both sides of the fish toward its center and loosely cinch it to help keep the foil's shape. Fold the end foil pieces over the fish and loosely seal it.
Cook the sockeye salmon: Transfer the wrapped salmon to the oven and roast it for 10 minutes, untouched. After 10 minutes, carefully open the foil covering to check for doneness. Insert a digital thermometer into the thickest part of the fish. Your fish is ready to serve if the thermometer reaches 125 degrees F.
Add the herbs: Remove the Pacific salmon from the oven and carefully open the foil packet. Sprinkle the fillet with chopped parsley or dill.
Serve: If desired, cut the oven-roasted sockeye salmon recipe into slices, and garnish them with lemon slices and chopped fresh herbs. Serve and enjoy!
How to Store Baked Alaskan Salmon?
With so much mouthwatering flavor, you won't want a single morsel of your fresh wild sockeye salmon to go to waste. These easy storage tips will ensure you can enjoy your leftover salmon for the next few days.
Storage: To store your salmon steak, let it come to room temperature first. Then, transfer it to an airtight container (or wrap it tightly in tin foil or stretch film), and place it in the refrigerator. Your fillets will stay fresh for 2-3 days.
Freeze: Though you can technically freeze cooked sockeye salmon, the fish's texture and flavor won't be as good as the freshly roasted version. Therefore, I don't recommend freezing this recipe once cooked.
Reheating: The best part about this dish is that you can enjoy it warm, room temperature, or cold. If you prefer a warm fillet, reheat your fish in a low-heat oven (275-300 degrees F.) for 3-4 minutes or until heated. However, cook your salmon sparingly, as it will become dry and flavorless if overheated.
What to Serve With Sockeye Salmon Bake?
Alaskan sockeye salmon fillets make an irresistible pair with countless other delectable recipes. All my favorites are in this delicious collection, from flavorful grains to tender roasted veggies.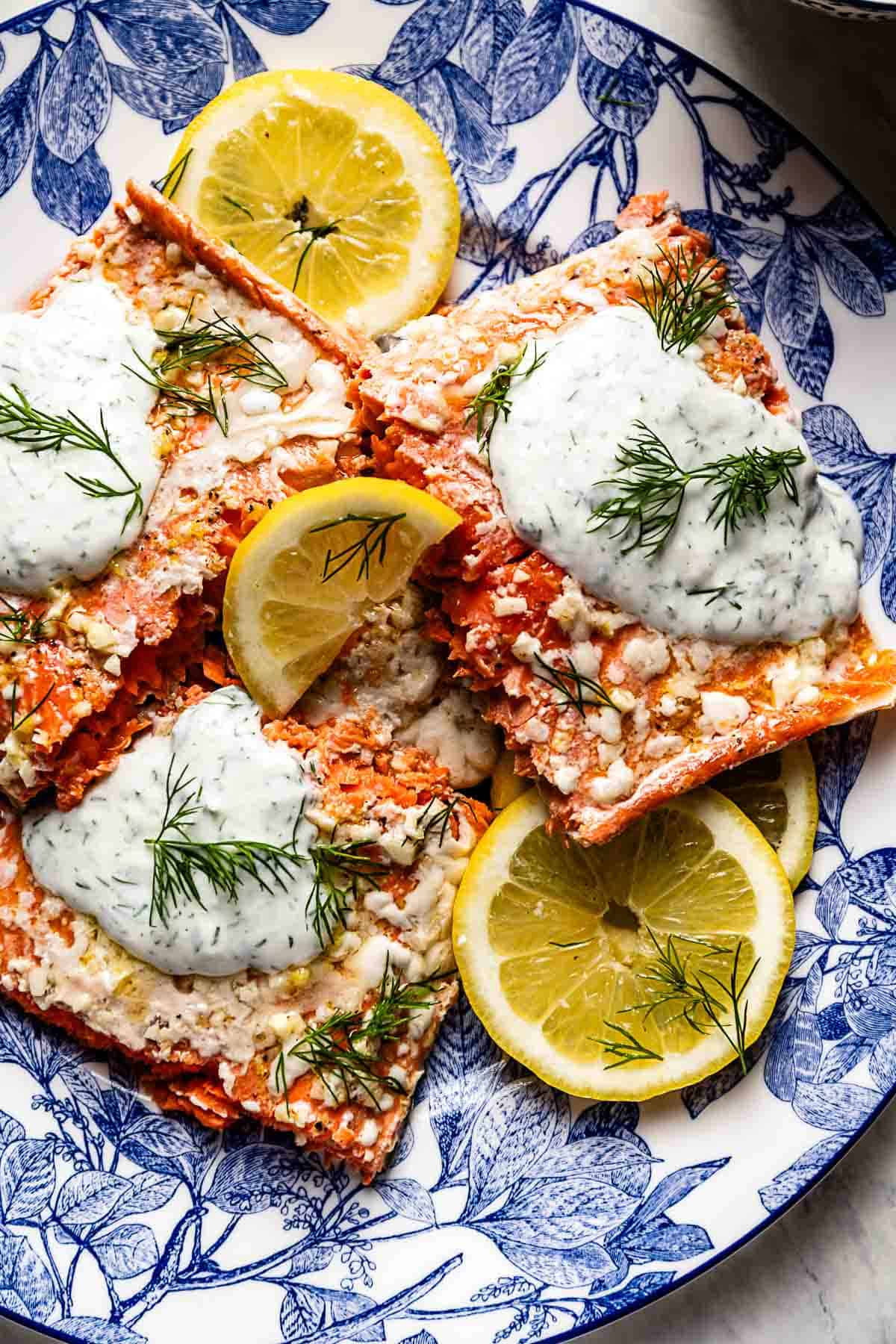 Sauces and salsas: With its creamy, bright flavors, Yogurt Dill Sauce is one of my favorite sauces to prepare when cooking Alaskan salmon. For a sweeter, more colorful option, you could also top your fillets with Mango Salsa or Peach Salsa—both of which complete this photo-ready spread.
Salad: This simple salmon recipe makes a phenomenal combination with any of my bright summertime salads. You can whip up my Spring Mix Salad or Butter Lettuce Salad in under twenty minutes for two of my most colorful, crisp sides.
Vegetables: Wild sockeye can pair with nearly any of my tasty vegetable sides because of its extreme versatility. However, some of my favorites include creamy Mexican Street Corn, buttery Roasted Asparagus, and Air-Fried Corn on the Cob.
Cooked Grains or Pasta: Nothing makes a more sumptuous pair than baking sockeye salmon in foil alongside a hearty grain dish. I recommend serving up a pot of Cooked Wild Rice or Cooked Quinoa for a well-seasoned, healthy side. You could also compliment your light fish with rich pasta recipes, like Garlic Butter Pasta or Zucchini Lasagna, or add a nutty, herbaceous taste with a bowl of Green Pasta.
Potatoes: Tender, flavorful, and filling, potatoes are a great option when preparing this Alaska salmon recipe. Muffin Tin Potatoes only need four ingredients for a creamy, buttery side dressed to impress. I also recommend my Parmesan Crusted Potatoes and Smashed Fingerling Potatoes for more melt-in-your-mouth potato recipes.
Wine: The best way to prepare sockeye salmon is alongside a bottle of crisp, dry white wine, such as pinot grigio or sauvignon blanc.
Expert Tips
This wild Alaskan salmon recipe is an easy way for both beginner and master chefs to prepare seafood without a hitch. These simple tips will ensure your fillet always comes out moist and flavorful.
Good quality fish: The best way to cook sockeye salmon is by starting with good-quality fish fillets. If you buy fresh fish, cooking it within the first 24-48 hours is ideal for maximum flavor. If you prefer using packaged, pre-cut frozen fillets, thaw them fully before roasting. The best way to thaw frozen fish is by placing it in the fridge overnight.
The temperature of your oven: We tested this recipe at various temperatures, including 375, 400, and 425 degrees F. However, we found that a gentle, low-temperature oven—ideally, 375 degrees F. for 10 minutes (until it is medium-rare) —produced the most tender, moist salmon.
The thickness of the fish: Sockeye salmon tends to be thinner than Atlantic salmon, which will affect your ideal cooking time. Therefore, if you're working with a thicker fillet, I recommend increasing its time in the oven by a few minutes and vice versa.
Check doneness: Your sockeye salmon temperature should reach 120-125 degrees F. before removing the fish from the oven. Keep in mind that it will continue to cook after you take it out of the oven because of the residual heat. If you do not have a thermometer to check doneness, you can also tell by looking at its texture and color. Fully cooked salmon should have a flaky texture and an opaque pink color before removing it from the oven. Finally, you can do the fork test. If it flakes easily it should be ready to enjoy.
Slightly undercook it: When baking sockeye salmon in the oven, it's important to slightly undercook your fish and let it rest for a few minutes before serving. The fillets will continue to cook even while resting, giving them time to reabsorb their juices and keep them from becoming dry. In short, undercooking the fish will provide you with a moist sockeye salmon recipe no one can resist.
Use the skin as a barrier to avoid overcooking: For best results, I highly recommend keeping the skin on your salmon fillet while baking (even if you are not a fan of eating the skin.) It comes off easily after the roasting process and acts as a protective fatty barrier on the fillets' bottoms, keeping the fish from overcooking.
Aluminum foil vs. parchment paper: I prefer to make baked sockeye salmon in foil due to its ability to trap steam and maintain heat, resulting in moist, succulent fish. However, if you prefer parchment paper, simply increase the cooking time by two minutes to ensure thorough roasting.
Presentation: If you want your salmon to pop, add colorful and flavorful additions to your garnish ingredients, such as lemon slices and fresh herbs. You can also ensure a beautiful presentation by serving your fillet on a center plate, drizzled with your chosen sauce.
FAQs
Have more questions about this tasty oven-baked fish? We've got you covered, whether you're wondering where wild salmon fillet comes from or expert seasoning tips.
What is a sockeye salmon fillet?
Sockeye salmon—also referred to as red salmon—is a type of salmon that comes from the Pacific Ocean and has brilliant red meat, a firm texture, and a rich, fresh flavor. A fillet refers to a specific cut from the fish's backbone, which has no bones and often still has the skin attached.
What is the difference between sockeye salmon and Atlantic salmon?
Though there are many different salmon varieties, Pacific sockeye salmon tends to have a deep red color, while Atlantic salmon is often lighter pink or orange. Furthermore, sockeye varieties are firmer, with a richer flavor profile than other, milder Alaskan types.
Where is sockeye salmon from, and when is it in season?
Sockeye salmon, also called Red Salmon or Blueback Salmon, originate from the Northern Pacific Ocean and the rivers that discharge to it—including the coasts of North America, Eastern Russia, and the Northern Hokkaido Island in Japan—and are in season from May through July.
Where to buy sockeye salmon?
When sockeye salmon is in season, you can likely purchase it at most bigger grocery stores, like Costco and Sam's Club, or you can often find it in the frozen section of your local grocery store. However, you can also buy it online if unavailable in your area.
How to season sockeye salmon?
There are dozens of ways to season this sockeye salmon fillet recipe. If you prefer a simple, zesty version, you can whisk together an easy sockeye salmon marinade with olive oil, lemon juice, salt, and pepper. You can also create a mixture of soy sauce, garlic, ginger, and maple syrup for a more complex, Asian-inspired variation.
How long to cook sockeye salmon in the oven?
During our recipe testing, we found out that it is best to cook salmon at 375 degrees for 10-12 minutes or until it is medium-rare. Keep in mind that even after you take it out of the oven it will continue cooking with the help of the residual heat.
How to know when sockeye salmon is done?
When sockeye salmon is done, the temp. of its thickest portion should reach 125 degrees F. You can also check the doneness by looking for a flaky texture and the signature sockeye salmon cooked color: when its deep red color turns to opaque pink.
Other Fish Recipes You Might Also Like
If you enjoy this easy sockeye salmon recipe and are a fan of grilled salmon, be sure to try our Grilled Sockeye Salmon recipe as well. And if you are in need of other seafood dinner inspiration, check out these other dishes—from wild Alaskan salmon recipes to mild mahi mahi— to satisfy your seafood fix in a snap.
If you try this Wild Alaskan Sockeye Salmon recipe, please take a minute to rate the recipe and leave a comment below. It is a huge help to others who are thinking of making the recipe. And if you took some pictures, be sure to share them on Instagram using #foolproofeats so I can share them on my stories.
Sockeye Salmon Recipe
This Baked Sockeye Salmon recipe is my foolproof method for cooking this delicious Wild Alaskan fish in the oven. It is a perfectly moist and flaky salmon recipe that is great for a healthy weeknight meal.
Print Recipe
Ingredients
1

sockeye salmon fillet*

~ 1 1/4 to 1 1/2 pounds with skin on

2

tablespoons

olive oil

1

teaspoon

lemon zest

1

tablespoon

lemon juice

½

teaspoon

Kosher salt

¼

teaspoon

ground black pepper

2

cloves

garlic

minced

1

small lemon

sliced

1

tablespoon

fresh parsley or dill
Instructions
Preheat the oven to 375 degrees F.

Whisk together the olive oil, lemon zest, lemon juice, salt, and pepper in a small bowl.

Pat dry the salmon fillet on both sides using a few sheets of paper towel. Brush both sides of the salmon with the olive oil-lemon mixture.

Line a baking sheet with a large sheet of aluminum foil that is 4 inches longer than your salmon fillet. Place the salmon skin side down in the middle leaving 2 inches on both sides.

Distribute the garlic slices and lemon slices on top of the fillets.

Bring the excess foil on both long sides of the fish towards the middle and cinch loosely. Fold the end pieces of the aluminum foil onto the fish and seal it loosely.

Transfer it to the preheated oven and Bake for 10 minutes without opening the packet of salmon. When cooking time is complete, you can carefully open the foil packet and check doneness. If you have an instant read thermometer, insert it into the thickest part of the fish, if it registers 125 degrees F, it is ready to be served.

Remove from the oven, carefully open the foil. Sprinkle it with chopped parsley and/or dill.

If preferred, cut into slices, garnish with lemon slices and chopped fresh herbs, and serve.
Notes
Yields:

This recipe make a whole fillet of salmon and serves a family of 4 easily. You can multiply the recipe as need if preferred. Though we recommend baking each fillet in their own foil packets.

Fresh or Frozen Sockeye Salmon:

This recipe will work with fresh or frozen salmon. If you use frozen salmon fillets make sure to thaw them fully before baking them. You can use this recipe to roast King or Coho Salmon, but keep in mind that they tend to be thicker so the cooking time might be different.

Not a fan of using aluminum foil?

You can cook Sockeye salmon in a parchment packet instead (following the recipe as written.) However, we recommend extending the cooking time by 2-3 minutes.

Can I roast sockeye salmon fillet on a sheet pan without covering it in foil?

I prefer to roast sockeye salmon in foil to ensure a moist, succulent texture. However, you can make this recipe without aluminum foil by preheating the oven to 350 degrees F. and placing the fillet on a sheet pan lined with parchment paper. Then, brush both sides of the fish with the olive oil mixture and sprinkle it with salt, pepper, and minced garlic. Bake the salmon in the oven for 12-14 minutes or until its internal temperature reaches 125 degrees F.

A note about the cook time:

Please keep in mind that there is a direct correlation between the thickness of your fillet and the cook time. We find that baking it in a milder heat (375 degrees) will cook it gently. For best results, we recommend checking doneness after the 10-minute mark. However, be careful as you open the foil packet as it is packed with hot steam.

Storage:

Leftovers can be stored in an airtight container after they come to room temperature for 2-3 days. You can reheat them in a low heat oven (275-300 degrees F.) for 3-4 minutes or until heated.
Nutrition
Calories:
275
kcal
|
Carbohydrates:
3
g
|
Protein:
29
g
|
Fat:
16
g
|
Saturated Fat:
2
g
|
Polyunsaturated Fat:
4
g
|
Monounsaturated Fat:
8
g
|
Cholesterol:
78
mg
|
Sodium:
354
mg
|
Potassium:
745
mg
|
Fiber:
1
g
|
Sugar:
1
g
|
Vitamin A:
72
IU
|
Vitamin C:
17
mg
|
Calcium:
29
mg
|
Iron:
1
mg
Like this recipe? Consider sharing: