Growing up in Atlanta, I had a plethora of foreign cuisine at my doorstep. My parents were willing enough to take me to every kind of restaurant: Cuban, Turkish, Japanese, Mexican, Korean, etc. the list goes on. I got to travel the world through my taste palette.
This blog post is written by my friend Andrea, who is interning with me through the month of May. Her bio is at the end of this blog post.
One of my favorite places to eat was a Thai restaurant that took about twenty minutes to drive to from our small suburban house. I would patiently stare out through the backseat window of our car as we drove past little neighborhoods to get to this small unique strip mall. When we arrived, I would hop out of the car and run to the front of the restaurant. What fascinated my four-year-old self was the giant vivid mural next to the restaurant: a man and a woman in a fertile field of flowers and fruits.
When my parents caught up with me, we would enter the restaurant and be greeted by a small fountain with flowing water coming out of a fat Buddha's mouth. Hanging on the walls were paintings of the Thai countryside. Images of green rice patties and water buffalos surrounded us as we looked over our menus. The thin pages contained a multitude of meals that none of us could pronounce, although we happily tried our best when it came time to order.
I would order anything with peanuts in it. Chicken satay with peanut sauce was always my favorite. Thai iced teas were ordered for us and our waitress would bring three tall glasses with some sweet black tea to our table. Cream would sit at the top of my tea, and I would take my straw and poke around the ice cubes, listening to the clinks it made against my glass. Once I'd had enough fun, I would stir my straw to mix the cream and tea to create a delicious orange color.
However, as much as I loved it, the main event of my meal was not the iced tea. It was the chicken satay and the peanut sauce that came with it. I wouldn't just dip the chicken into the peanut sauce; I would dip every single food item on the table into the peanut sauce. I was amazed at how good everything tasted with that silky bitter peanut butter sauce.
Now that I live in Philadelphia, I can't have my chicken satay and peanut sauce at my favorite restaurant. But there are Thai restaurants in my area, and I always order something with a peanut taste.
This sesame noodle with chicken and asparagus meal is perfect. It brings back the memories of my younger days in Atlanta eating in that Thai restaurant.
What ties the meal together is the delicious peanut sauce we made by mixing garlic, soy sauce, brown sugar, vinegar, and Sriracha. It is so delicious that if I didn't know it would make me suffer a bad stomachache later, I could it the whole thing with a spoon by myself.
Truly, a dream to my taste buds…
Sesame Noodles with Chicken and Asparagus
Sesame noodles with chicken and asparagus for a healthy weeknight chicken recipe. Drizzled with a velvety peanut butter sauce, this Asian noodles dish is guaranteed to become a favorite in your weekly menu.
Print Recipe
Ingredients
For the chicken:
1 1/2

pounds

chicken breasts

skinless and boneless

1

tablespoon

olive oil

1/2

teaspoon

salt

1/4

teaspoon

black pepper

freshly ground
For the noodles:
12

ounces

spaghetti

1-

tablespoon

salt

1

pound

asparagus

washed, trimmed, and cut into 1 inch pieces

1

tablespoon

toasted sesame oil
For the sauce:
1/4

cup

sesame seeds

plus more for decorating

1/4

cup

chunky peanut butter

3

cloves

of garlic

pressed through a garlic press

5

tablespoons

soy sauce

2

tablespoons

rice vinegar

1

tablespoon

Sriracha sauce

optional

2

tablespoons

brown sugar

packed

2-3

tablespoons

water

4

scallions

green parts, chopped diagonally

1

tablespoon

black sesame seeds

optional, for decoration

1

lime

cut into wedges (optional)
Instructions
Pre-heat oven to 350 F Degrees.

Pat-dry chicken breasts with paper towels. Season both sides with olive oil, salt and pepper. Place in the oven and roast until it registers 165 F degrees when a thermometer is inserted in the middle or 20-25 minutes. Cover with aluminum foil and set aside.

Toast sesame seeds in a non-stick skillet in medium heat, stirring frequently, 10 minutes. Set aside and allow it to cool.

In the mean time, bring 4 quarts of water to a boil. Add 1-tablespoon salt. Cook spaghetti for 8-9 minutes, or they are "al dante". In the last 4 minutes, add the asparagus in the water.

Drain spaghetti and asparagus. Add them in a large bowl. Stir in the sesame oil.
To make the sauce:
Place sesame seeds, peanut butter, garlic, soy sauce, rice vinegar, Sriracha sauce (if using), and brown sugar in a food processor. Process until incorporated. It will be a thick sauce. To make it smoother add 2 – 3 tablespoons of water.

Process until incorporated. It will be a thick sauce. To make it smoother add 2 – 3 tablespoons of water.
To assemble:
Shred or cut the chicken into small pieces.

Place the chicken pieces into the bowl with noodles and asparagus.

Pour the sauce over it. Give it a large stir ensuring that all the chicken, noodles, and asparagus are coated with the sauce.

To serve, sprinkle with scallions and black sesame seeds. If preferred, squeeze some lime over it.
Nutrition
Calories:
805
kcal
|
Carbohydrates:
84
g
|
Protein:
59
g
|
Fat:
27
g
|
Saturated Fat:
5
g
|
Cholesterol:
109
mg
|
Sodium:
3662
mg
|
Potassium:
1313
mg
|
Fiber:
8
g
|
Sugar:
13
g
|
Vitamin A:
1028
IU
|
Vitamin C:
19
mg
|
Calcium:
199
mg
|
Iron:
7
mg
This recipe is slightly adapted from Americas Test Kitchen's Sesame Noodle Salad with Shredded Chicken recipe.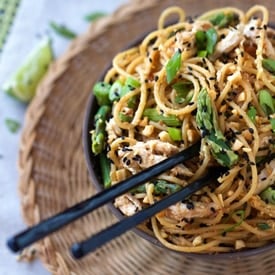 Andrea Deniz Herrera
Andrea Deniz Herrera recently graduated high school and is taking a gap year. She will attend Reed College in the fall of 2015 and plans on majoring in political science. Her mother is Turkish and her father is Guatemalan, which has inspired a passion for travel and politics. In the future, she hopes to travel to different parts of the world and document the lives she crosses through photojournalism. For now, she writes for herself and brings her camera with her wherever she travels. During her gap year she is planning to backpack through Mexico, Guatemala, Bolivia, Peru, and Turkey.
Like this recipe? Consider sharing: