Swap the rice noodles with sweet potato "noodles", add some other superfoods like ginger, garlic, unsweetened peanut butter, lime juice and tamari and enjoy a healthier version of a classic dish we all love. My version of Sweet Potato Noodle Pad Thai is vegan and gluten-free for everyone to be able to enjoy.
I will be the first one to admit. I have been very late to get on the wagon for spiralized recipes. There are two reasons for that. First, I did not want to share recipes that require my readers to have a special equipment. Like it is in this Sweet Potato "Noodle" Pad Thai recipe, to make it, you need a hand operated machine called vegetable spiralizer. I did not want to make people have to go out and get a machine to make a recipe of mine. But then one day, while I was shopping at our local Whole Foods, I saw that they were selling already spiralized vegetables. At that point, I realized it was about time that I got on board, invest in a spiralizer, and start sharing recipes on the blog. This was back in October.
You may rightfully ask, October was almost 4 months ago, why did it take so long to share your first recipe?! The answer to this question is my second reason. In my first spiralizing attempt of turning a sweet potato into noodles using my new toy, I cut my finger with the ultra-sharp noodle blade so badly that I had to wait close to a month for it to heal. It was totally my fault as I wasn't paying attention to what I was doing. As a result, a piece of my middle finger became a part of our sweet potato noodles. I apologize for the nasty visual. However, if you decide to purchase a spiralizer, I think it is important to warn you to be very careful when operating it, especially if it is your first time. This thing turns super hard vegetables into beautiful noodles because of its super sharp blades. I do not have kids, but if I did I would not allow them anywhere near this machine.
With all that being said, I have been playing with my spiralizer since the beginning of this year and I now know why it has been so popular. Being able to turn vegetables like zucchini, beets, sweet potatoes, carrots, parsnips, etc. into noodles and use them like you would use spaghetti has been pretty awesome. Even my husband, who is not much into cooking, thought that the possibilities were endless. And guess what? It doesn't end in there. Depending on your Spiralizer, most of them come with other attachments that turn vegetables into noodles similar to wide white pasta like pappardelle or super thin pasta like angel hair.
The moral of the story: This machine is awesome and you can do so much with it. However, if you do not want to purchase one and want to make dishes like this recipe, you can find already spiralized vegetables in supermarkets. If you do decide to invest in one, be very careful using it as its sharp blades are no joke.
For the record, the one I am using is Paderno World Cuisine A4982799 Tri-Blade Vegetable Spiral Slicer
. I purchased it after Cooks Illustrated magazine reviewed a bunch of them and named this one as the best spiralizer back in May 2016. As in most things that they recommend, this one did not disappoint. It is easy to use, clean, and fairly inexpensive, $22.99 on Amazon at the time of this writing.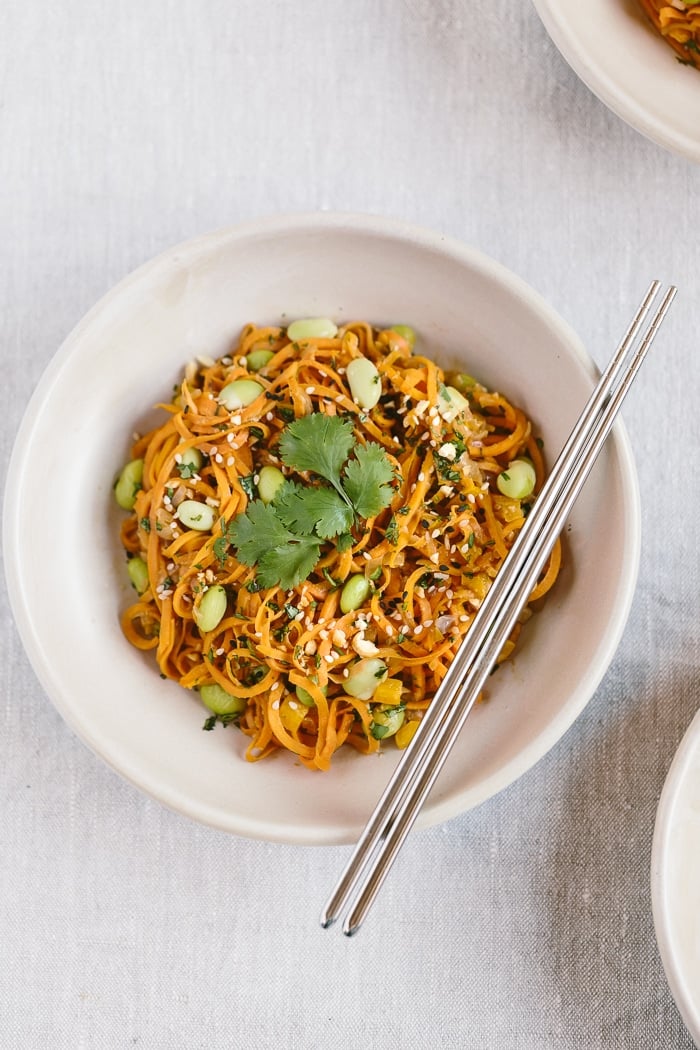 Print
Sweet Potato "Noodle" Pad Thai
A healthier, vegan and gluten-free pad thai recipe made with sweet potato noodles.
Author:
Prep Time:

20 minutes

Cook Time:

20 minutes

Total Time:

40 minutes

Yield:

4 Servings

Category:

Main Dish

Method:

Cooking

Cuisine:

Thai Cuisine
Ingredients
For the dressing:
3 tablespoons unsweetened and smooth peanut butter
3 tablespoons tamari*
1 teaspoon sesame oil
1 tablespoon maple syrup
1 teaspoon freshly grated ginger
2 cloves of garlic, minced
2 tablespoons freshly squeezed lime juice
½ teaspoon salt
3-4 tablespoons vegetable stock
For the Pad Thai:
1 tablespoon of olive oil
1 small onion, chopped
1 red or yellow bell pepper, seeded and sliced thinly
2 medium-size sweet potatoes, peeled and spiralized (as seen in the photos) – You should have 5-6 cups of "noodles"
¼ cup vegetable stock
½ cup edemame
3 tablespoons chopped cilantro
As Garnish:
1 tablespoon sesame seeds
1-2 stalks of green onions, both white and green parts chopped
2 tablespoons lightly salted peanuts, coarsely chopped
Instructions
To make the dressing: Whisk together all the ingredients of the dressing in a bowl, cover with plastic wrap, and refrigerate until you are ready to use it.
Heat olive oil in a large skillet in medium heat. Add in the onion and pepper. Cook, stirring frequently, until translucent, 5-7 minutes.
Add in the sweet potato noodles and vegetable stock and cook, stirring frequently, for 6-7 minutes.
Pour the dressing over the noodles and give it a large stir, making sure that the noodles are coated with the dressing. Cook 2-3 minutes until it is warm.
Off the heat, stir in the edamame and chopped cilantro.
To serve, divide the pad thai in 4 bowls and garnish each one with sesame seeds, green onions, and peanuts.
Serve immediately.
Notes
* If you are not gluten-sensitive you can use soy sauce instead of tamari, but make sure to taste the dressing before adding more salt to it. For more information on this, please read the blog post.
* If you have any leftovers, place the pad thai in an airtight container and keep it in the fridge upto 2 days.
*Want to make it ahead? Give a read to the blog post to find out how to do so.