Did you know that red bell peppers are harvested green bell peppers that have ripened and matured over time, taking on a red color and a sweeter flavor?
Well… I didn't. For some reason, I thought that different colors meant different kinds of bell pepper. Come to find out, over time as they ripen, green bell peppers turn red in color.
I first read this in Sarah Brittan's new cookbook, My New Roots: Inspired Plant-Based Recipes for Every Season
. So far, it has been my favorite cookbook of the year. It is not only full of delicious recipes, but also is a good source for those of us who want to learn more about how to maintain a vegetarian kitchen and how to cook creatively using methods that promote a healthier cooking style.

This Roasted Red Pepper Walnut Dip recipe is the first of many recipes that I will be sharing from this great book. And to be honest, it wasn't even in the list of recipes that I had planned on sharing here until I saw these gorgeous red bell peppers in the store. They looked so beautiful, I had to buy them and make something for us. Luckily, Sarah's book offered this delicious dip recipe, which ended up being perfect appetizer to serve with our happy hour drinks on that day.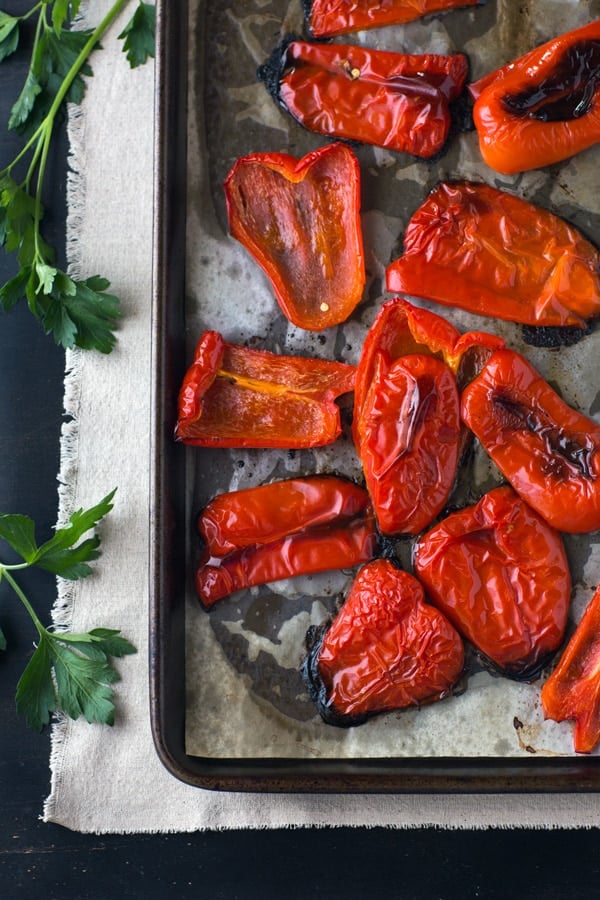 Going back to red bell peppers… After I found out about the fact that green bell peppers are bell peppers that have been harvested before being allowed to fully ripen, I did a quick research to see what else I do not know about them. Come to find out, there were many things. So here are some facts I learned as I read through a couple of my favorite cookbooks and websites:
They are an excellent source of vitamin C, vitamin A, and carotenoids (the colorful plant pigments and antioxidants that prevents disease and some types of cancer). Letting them ripen allows them to offer their full nutritional benefits, which also is why the red ones are better for you than the green ones.
When it comes to choosing red bell peppers, it is best to judge them by the color quality, overall texture and feel. They should (1) have vivid red color, (2) feel heavy for their size, (3) be free of soft spots and blemishes, and (4) be firm enough to yield slightly to pressure. In addition, their stems should be green and fresh looking.
They are available throughout the year, but are usually in greater abundance during the summer and early fall months.
When it comes to storing them, it is best to keep them in the vegetable compartment of your fridge. Since they are very sensitive to moisture loss and need to be well hydrated, lining the bottom of your vegetable compartment with paper towels or a damp cloth will help them retain their moisture and keep them fresh up to 10 days. Also, keeping their stems on helps with the retaining of their moisture, and as a result keeps them fresh.
With that being said, if you are planning to eat them in the next one or two days and they are not fully ripened, it is okay to leave them out on the kitchen counter.
When it is time to use them, refrain from washing them under hot water. According to this website, a recent study has shown that bell peppers retain more of their total antioxidant capacity when washed under cold versus hot water.
---
Print
Roasted Red Pepper and Walnut Dip
Ingredients
3 large red peppers, cut into large pieces
1 teaspoon + 3 tablespoons olive oil, divided
1 cup walnuts
2 garlic cloves, peeled
zest of a lemon
1 tablespoon lemon juice, freshly squeezed
1 teaspoon ground cumin
1/2 teaspoon paprika
1/4 teaspoon cayenne pepper
1/2 teaspoon coarse sea salt
a handful of fresh parsley, chopped
pita bread, toasted – or any other chips/crackers of your choice
Instructions
Preheat the oven to 400 degrees. Line a baking sheet with parchment paper and set aside.
Rub the red peppers with a teaspoon of olive oil and put them on the baking sheet. Roast for 35-40 minutes or until they are blackened and blistered in a couple of places.
As soon as they come out of the oven, transfer the peppers into a bowl and cover it with plastic wrap. Let it sit for 10-15 minutes.
Turn down the oven temperature to 325 degrees. Spread the walnuts in a separate baking sheet and toast for 7-9 minutes,. Make sure to keep a close eye on them as they can burn easily. Remove from the oven and set aside to cool.
Meanwhile, peel the skins off the peppers and transfer them into the bowl of a food processor. Add in the garlic cloves, rest of the olive oil, lemon zest, lemon juice, cumin, paprika, cayenne pepper, salt, and now-cooled walnuts. Process until smooth, but still chunky.
Taste for seasoning and add if necessary. Place the dip in a bowl and garnish it with fresh chopped parsley and a couple of walnut pieces. Serve it with pita bread, chips, or crackers of your choice.
This recipe is adapted from Sarah Britton's cookbook My New Roots
.
---