Did you know that red bell peppers are harvested green bell peppers that have ripened and matured over time, taking on a red color and a sweeter flavor?
Well… I didn't. For some reason, I thought that different colors meant different kinds of bell pepper. Come to find out, over time as they ripen, green bell peppers turn red in color.
I first read this in Sarah Brittan's new cookbook, My New Roots: Inspired Plant-Based Recipes for Every Season (affiliate link). This book is not only full of delicious recipes but also is a good source for those of us who want to learn more about how to maintain a vegetarian kitchen and how to cook creatively using methods that promote a healthier cooking style.
This Roasted Red Pepper Walnut Dip recipe is one of my favorite recipes in this great book. And to be honest, it wasn't even in the list of recipes that I had planned on sharing here until I saw these gorgeous red bell peppers in the store. They looked so beautiful, I had to buy them and make something for us.
Luckily, Sarah's book offered this delicious dip recipe, which ended up being the perfect appetizer recipe with roasted red peppers to serve with our happy hour drinks on that day.
The beauty of red bell peppers
Going back to red bell peppers… After I found out about the fact that green bell peppers are bell peppers that have been harvested before being allowed to fully ripen, I did a quick research to see what else I do not know about them.
Come to find out, there were many things. So here are some facts I learned as I read through a couple of my favorite cookbooks and websites: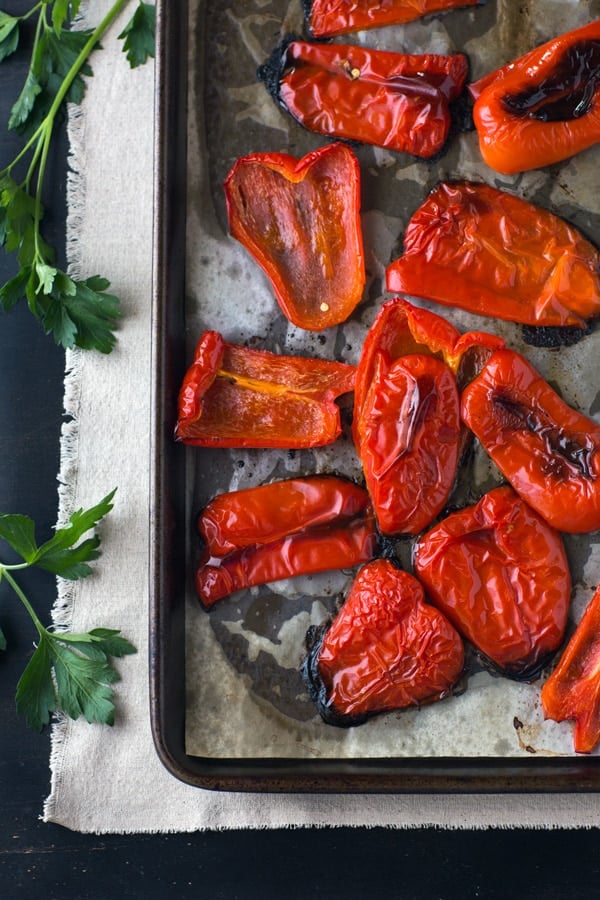 They are an excellent source of vitamin C, vitamin A, and carotenoids (the colorful plant pigments and antioxidants that prevents disease and some types of cancer). Letting them ripen allows them to offer their full nutritional benefits, which also is why the red ones are better for you than the green ones.
When it comes to choosing red bell peppers, it is best to judge them by the color quality, overall texture and feel. They should (1) have vivid red color, (2) feel heavy for their size, (3) be free of soft spots and blemishes, and (4) be firm enough to yield slightly to pressure. In addition, their stems should be green and fresh looking.
They are available throughout the year but are usually in greater abundance during the summer and early fall months.
When it comes to storing them, it is best to keep them in the vegetable compartment of your fridge. Since they are very sensitive to moisture loss and need to be well hydrated, lining the bottom of your vegetable compartment with paper towels or a damp cloth will help them retain their moisture and keep them fresh up to 10 days. Also, keeping their stems on help with the retaining of their moisture, and as a result, keeps them fresh.
With that being said, if you are planning to eat them in the next one or two days and they are not fully ripened, it is okay to leave them out on the kitchen counter.
When it is time to use them, refrain from washing them under hot water. A recent study has shown that bell peppers retain more of their total antioxidant capacity when washed under cold versus hot water.
Ingredients for red pepper walnut dip
To make this simple bell pepper dip, you will need the following ingredients:
Red Bell Peppers – Fresh, organic red bell peppers will offer the best flavor and texture for this red pepper dip. Follow the directions above to learn how to pick the perfect pepper (say that five times fast)!
Olive Oil – Fresh and fruity Extra Virgin Olive Oil is best since this is a raw, vegan red pepper dip. My favorite is California Olive Ranch (affiliate link).
Walnuts – Purchase raw, whole walnuts from the grocery store and store them in your freezer. This helps to keep the natural oils in walnuts from becoming rancid.
Garlic Cloves – No need to chop the garlic cloves, just make sure you peel them. The food processor will do the rest of the work for you!
Lemon Zest + Juice – You will need the entire zest of one medium size lemon, along with 1 Tablespoon juice, so make sure to purchase organic, if you can. The skin on organic citrus is less waxy and definitely better for you.
Cumin – This Mediterranean spice offers a subtle smokey, savory bite to this roasted red pepper and walnut dip.
Paprika – Another pantry staple that goes so well in this homemade walnut and red pepper dip. To add even more flavor, substitute Smoked or Hot Paprika to your liking.
Cayenne Pepper – A kick of spice makes this simple spread linger on your palate just a little bit longer. If you are not into spice, simply reduce it to ⅛ teaspoon or omit it to suit your needs.
Coarse Sea Salt – I recommend coarse sea salt since it breaks down in the food processor even more. If fine sea salt is all you have on hand, use ¼ teaspoon. Always adjust the seasoning at the very end.
Fresh Parsley – Beautiful green color and fresh flavor finishes off this red pepper walnut spread quite nicely.
Pita Bread, Chips or Crackers – For serving, the options are truly endless. Pita bread is the most traditional, but your favorite chips, crackers or fresh sliced vegetables offer an even greater variety.
How to make roasted red pepper dip
To make this easy Roasted Bell Pepper dip, simply:
Roast the bell peppers. Preheat the oven to 400 degrees. Rub the bell peppers with 1 teaspoon olive oil and place on a parchment-lined baking sheet. Roast for 35-40 minutes, flipping halfway through, until charred and roasted in places.
Remove the skin from the bell peppers. Immediately transfer the now roasted peppers to a bowl, cover with plastic wrap and let sit 10-15 minutes. (While the peppers are cooling, reduce the oven temperature to 325 degrees and toast the walnuts for 7-9 minutes, keeping a close eye on them as they can burn easily. Transfer to a plate to cool completely). Once the peppers are cool enough to handle, remove the skins and place them in the bowl of your food processor.
Add the remaining ingredients to the food processor. Add the remaining olive oil, now-cooled walnuts, garlic cloves, lemon zest and juice, cumin, paprika, cayenne pepper and salt. Process until smooth, but still a bit chunky. Taste and adjust seasonings, if necessary.
Garnish and serve. Transfer to a serving bowl, garnish with fresh parsley and serve with accoutrement of your choice – toasted pita, chips, crackers, or crudites.
FUN FACT:
Did you know the word Pepper can also be referred to as Capsicum? This is because capsicum is the name of the Genus of the flowering plant and the fruit we eat from this plant are bell peppers. Label it as Roasted Red Capsicum Dip to test all your friends!
Is this red pepper dip vegan?
Yes! This roasted red pepper dip just happens to be vegan (without any intention). The fresh pepper flavor and simple spices really shine without covering them up with any unnecessary ingredients.
If you're looking for a more robust, Meditteranean-inspired appetizer spread, you'll love Muhammara, too! Made with pomegranate molasses and crackers (or bread crumbs), that is a slightly more traditional version of this dip.
Tips for the best red pepper dip recipe:
Want to make a green bell pepper dip? Use green bell peppers instead! Note that the flavor will not be as sweet, so feel free to add 1 Tablespoon of agave (to keep it vegan-friendly) or honey (for a vegetarian version) to add that extra bit of sweetness.
Looking for more variety in this nut dip? Replace the walnuts with an equal amount of almonds or cashews and toast as directed. Bonus tip – make sure to cool the nuts completely before adding to the food processor. If the nuts are too hot, they will ruin the texture of the finished spread.
Don't have time to roast bell peppers? Substitute one jarred roasted red bell peppers that have been drained, rinsed and patted dry with paper towels. Just note, the flavor will not be as sweet and the texture a bit stiffer.
Prepare the dip one day ahead and serve it cold from the fridge the next day. Simply store the prepared dip in an airtight container overnight in the fridge and remove 30 minutes prior to serving. The overnight sit in the fridge helps the flavors to meld together even more.
A Few other recipes that uses bell peppers:
Other dip recipes you might also like:
Roasted Red Pepper and Walnut Dip
Yields:
6
servings (1 1/2 cups)
A Roasted Red Pepper Walnut Dip that is clean, fresh, irresistible and secretly
vegan.
With all the benefits of red bell peppers and a few pantry staples, it's a recipe that offers a fun twist on vegetables. It makes the perfect appetizer dip or spread to share with all your friends!
Print Recipe
Ingredients
3

large red peppers

cut into large pieces

1

teaspoon

+ 3 tablespoons olive oil

divided

1

cup

walnuts

2

garlic cloves

peeled

zest of a lemon

1

tablespoon

lemon juice

freshly squeezed

1

teaspoon

ground cumin

1/2

teaspoon

paprika

1/4

teaspoon

cayenne pepper

1/2

teaspoon

coarse sea salt

a handful of fresh parsley

chopped

pita bread

toasted – or any other chips/crackers of your choice
Instructions
Preheat the oven to 400 degrees. Line a baking sheet with parchment paper and set aside.

Rub the red peppers with a teaspoon of olive oil and put them on the baking sheet. Roast for 30-35 minutes or until they are blackened and blistered in a couple of places.

As soon as they come out of the oven, transfer the peppers into a bowl and cover it with plastic wrap. Let it sit for 10-15 minutes.

Turn down the oven temperature to 325 degrees. Spread the walnuts in a separate baking sheet and toast for 7-9 minutes. Make sure to keep a close eye on them as they can burn easily. Remove from the oven and set aside to cool.

Peel the skins off the peppers and transfer them into the bowl of a food processor. Add in the garlic cloves, rest of the olive oil, lemon zest, lemon juice, cumin, paprika, cayenne pepper, salt, and now-cooled walnuts. Process until smooth, but still chunky.

Taste for seasoning and add if necessary. Place the dip in a bowl and garnish it with fresh chopped parsley and a couple of walnut pieces. Serve it with pita bread, chips, or crackers of your choice.
Nutrition
Calories:
172
kcal
|
Carbohydrates:
7
g
|
Protein:
4
g
|
Fat:
16
g
|
Saturated Fat:
2
g
|
Sodium:
197
mg
|
Potassium:
218
mg
|
Fiber:
3
g
|
Sugar:
3
g
|
Vitamin A:
1910
IU
|
Vitamin C:
78
mg
|
Calcium:
26
mg
|
Iron:
1
mg
This recipe is adapted from Sarah Britton's cookbook My New Roots.
---
Like this recipe? Consider sharing: