It seems every chain restaurant has their own version of a Southwest salad – Panera, Chili's, Applebees, Weight Watchers, Chipotle, McDonald's (just to name a few).
Although I love the ease and convenience of ordering a prepared chicken salad out at restaurants, making it at home allows you to customize the ingredients and flavors to your own personal taste.
That's what makes this Southwest Style Salad recipe so special!
It starts off with paprika and cumin-spiced baked bone-in chicken breasts cooked to perfection.
Then, all I have to do is mix together my favorite southwestern vegetable blend (beans, corn and peppers) along with some delicate leafy greens and toss it all together in an insanely delicious creamy avocado dressing.
It's easy, filling and satisfying meal any night of the week.
And if you cook the chicken ahead of time, the salad takes less than 30 minutes to make from start to finish. That's much faster than ordering take-out at any of your favorite chain restaurants.
Southwest Chicken Salad Ingredients
This Southwestern chopped chicken salad recipe is made with a handful of fresh and pantry ingredients.
For the chicken, gather together salt, pepper, sweet paprika, ground cumin, olive oil and three bone-in chicken breasts.
For the salad, you will need romaine lettuce, canned black beans, canned corn, colorful mini peppers, jalapeno, scallions, cherry tomatoes, fresh cilantro, cheddar cheese and creamy avocado dressing.
A few helpful tips on ingredients:
Paprika: I used sweet paprika but if you like additional heat, feel free to use spicy hot paprika instead.
Chicken: This recipe calls for three bone-in, skin-on chicken breasts for the right proportion of chopped chicken to the salad. Since chicken breasts typically come in packages of two, I recommend purchasing two packs and cooking the extra chicken breast (seasoned with salt and pepper so as not to steal away from the paprika seasoning) right alongside the other three breasts. This way, you have an extra chicken breast prepped and ready to add to leafy green salads or sandwiches throughout the week.
Alternatively, you can also use storebought rotisserie or grilled chicken for this healthy Southwest salad recipe.
PRO TIP: If working with split chicken breasts is new to you, check out my post on Baked Bone-In Chicken Breasts for an in-depth understanding of how to cook chicken to moist, succulent goodness every time.
Canned Black Beans and Corn: Whenever I think of Southwestern food, the first veggies that come to mind are beans, corn, and peppers. They are my go-to Southwest chicken salad toppings. When preparing them for the salad, make sure to rinse, drain and dry thoroughly. Too much water on the surface can dilute the dressing.
Peppers: I used a few colorful sweet mini peppers, but one bell pepper (any color) would be a wonderful substitute.
Jalapeno: You can't have Southwestern food without a kick of spice. Easily control the amount of spice by using or removing the seeds and ribs (this is where the majority of the spice lives).
Cheese: I love a sharp, yellow cheddar cheese, but feel free to use mild or white cheddar, pepper jack or Monterey jack, whatever you have on hand.
How to make a Southwest salad
This southwest salad is a filling, satisfying, flavorful weeknight salad recipe easily made by prepping the chicken and then assembling the salad.
The Chicken
Mix the spices. Preheat the oven to 425 degrees F. In a small bowl, mix together salt, pepper, paprika and cumin.
Roast the chicken. Place the chicken on a parchment-lined baking sheet, coat with olive oil and sprinkle both sides with the spice mix. Bake for 30-35 minutes, or until the internal temperature registers 165 degrees F on an instant-read thermometer when inserted into the thickest part of the breast without touching the bone. Set aside to cool for 10 minutes while you prepare the salad.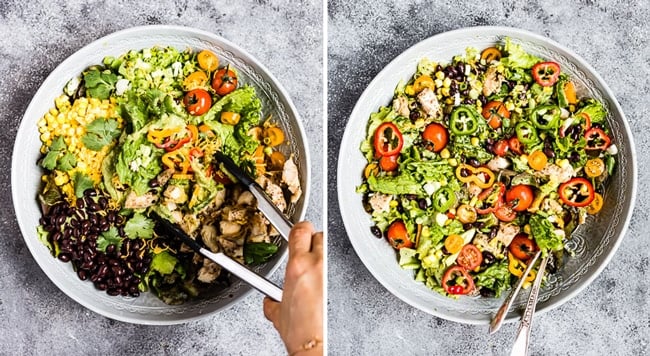 The Salad
Assemble: Layer the salad greens, black beans, corn, peppers, jalapeno, scallions, cherry tomatoes and fresh cilantro in a large bowl.
Toss: Add the creamy avocado dressing and toss to combine and ensure that all ingredients are coated with the dressing.
Cube the chicken: Cut the cooked and rested chicken into small cubes and place on top of the salad.
Sprinkle with cheese and serve: Add the shredded cheese, give it a gentle toss and serve, with more avocado dressing.
How to make a Southwest dressing
I find the best dressing for a southwest chicken salad is my avocado cilantro lime dressing. The recipe calls for ½ cup dressing, but when I make it for us, I go crazy with the dressing because we are big fans of avocado.
Not only does the avocado provide a healthy dose of fat, but the flavors marry beautifully with the spices, vegetables, and cheese.
Prefer more of a traditional Southwest salad dressing?
That being said, if you are looking for different dressing options to try, I think the closest you can get to some of the restaurant versions of this salad is my go-to creamy southwest dressing, Chili and Lime Dressing, which adds a nice sweet-and-spicy touch. It takes the humble flavor of beans and corn to another level.
Toppings & Variations
I like to consider toppings as the fun and creative part. It's also the ingredients that are easily customizable to suit your taste buds. A few of my favorite variations include:
Grilled Chicken: Prepare the chicken breasts on an outdoor grill during the spring and summer for a delicious Southwest grilled chicken salad. Grill marks combined with all the rest of the ingredients adds a nice, fire-roasted flavor.
Rotisserie Chicken: Short on time? Head on over to the store and get an already cooked chicken for a quick and easy, meal worthy salad for dinner.
Taco Seasoning: Replace the paprika and cumin with 2 teaspoons taco seasoning for a Tex-Mex seasoned chicken.
Tortilla Chips: Crush a few tortilla chips in your hands and sprinkle on top of the salad just before serving.
Change it up with different dressings: If you like this salad you can switch it up by using different dressing like homemade ranch dressing, or better yet, my healthier Greek Yogurt Salad Dressing.
How many calories are in southwest chicken salad?
One serving of this homemade southwest salad is 769 calories, which includes the chicken, vegetable ingredients, leafy greens, and 2-3 Tablespoons of the creamy avocado dressing.
Keep in mind that it is the quality of those calories that really matter. Unlike restaurant versions, when I make this southwestern chicken salad at home, I can control the quality and quantity of ingredients.
How to store?
If you happen to have leftover salad that's already been dressed, store it in an airtight container in the refrigerator for up to 1 day. I would not keep it any longer as the avocado dressing begins to wilt the greens.
For longer storage, you can cook the chicken, assemble the salad, make the dressing and store each component in separate glass containers. The prepped ingredients will keep well for up to 4 days in the fridge.
Other healthy chicken salad recipes you might like
Other easy chicken recipes you might like
---
Southwest Chicken Salad with Creamy Avocado Cilantro Lime Dressing
This delicious and easy-to-make Southwest Chicken Salad is flavored with my homemade Creamy Avocado Dressing. It is topped off with beans, corn, scallions, cherry tomatoes, and cheddar cheese. You can use leftover or rotisserie chicken for a meal-worthy weeknight dinner, or if you have time, cook your own chicken.
Print Recipe
Ingredients
For The Chicken:
1 ½

teaspoon

kosher salt

¾

teaspoon

black pepper

1

teaspoon

sweet paprika

1

teaspoon

ground cumin

6

tablespoons

olive oil

3

bone-in chicken breasts

(14-15 oz each), patted dry
For the Salad:
6

cups

leafy salad greens or romaine lettuce

rinsed and spin-dried

1

15-oz black beans, drained and rinsed

1

15 oz. of corn, drained and rinsed

3

mini peppers

rinsed and thinly sliced

1

jalapeno pepper

seeded or not – based on your heat preference – sliced thinly

4

scallions

sliced thinly – both white and green parts

1

cup

cherry tomatoes

washed and sliced

1

cup

fresh cilantro leaves

rinsed (optional)

½

cup

cheddar cheese

shredded
Instructions
To cook the chicken: Preheat the oven to 425 degrees F. Mix salt, pepper, paprika, ground cumin in a small bowl. Drizzle chicken with olive oil and sprinkle with the spice mixture on both sides. Place it on a sheet pan and roast for 30-35 minutes or until it registers 165 degrees F when a thermometer inserted in the middle of a breast. Remove from the oven and set it aside to cool for 10 minutes.

To assemble the salad: Place salad greens, black beans, corn, peppers, jalapeno pepper, scallions, tomatoes, and cilantro in a large salad bowl.

Drizzle it with the creamy avocado dressing. Give it a gentle toss to make sure that everything is thoroughly mixed.

Cut the now-cooked and rested chicken in small cubes (or slices) and add it in the salad.

Sprinkle with shredded cheddar cheese and serve.
Nutrition
Calories:
512
kcal
|
Carbohydrates:
7
g
|
Protein:
34
g
|
Fat:
39
g
|
Saturated Fat:
10
g
|
Cholesterol:
102
mg
|
Sodium:
1061
mg
|
Potassium:
686
mg
|
Fiber:
3
g
|
Sugar:
3
g
|
Vitamin A:
7908
IU
|
Vitamin C:
46
mg
|
Calcium:
160
mg
|
Iron:
3
mg
This Southwest Chicken Salad recipe was originally published in September 2016. It has been updated with more helpful information in July 2020.
Like this recipe? Consider sharing: