If you have been following me for a while you know that I am a huge fan of quinoa salads and make them often. I know you like them too because my Mediterranean Quinoa Salad, Avocado Quinoa Salad, Quinoa and Kale Salad, Quinoa Black Bean Avocado Salad and Butternut Squash Quinoa Salad recipes are some of the most popular recipes on Foolproof Living.
This Thai Quinoa Salad recipe is the newest addition to the collection.
So when my friends at Shaw's asked me to share a recipe using their O Organics® Roasted Cashews and Almonds and their Open Nature® Creamy Almond Butter, I knew that it was time to create a next-level crunchy Thai Style Quinoa Salad recipe for the blog.
Made with my all-time favorite creamy vegan Thai salad dressing, Sesame Ginger Dressing, fluffy quinoa and crunchy and colorful veggies, this delicious salad is addictive but in a good way. Packed with a ton of everyday vegetables and topped off with roasted nuts (including but not limited to cashews, almonds, and peanuts), it is wholesome, vegan, and gluten-free.
What is in This Recipe?
As in most salad recipes, this easy Thai quinoa salad has 2 sets of ingredients; The salad dressing and the salad ingredients.
Asian Sesame Ginger Dressing: For the dressing ingredients, you will need Open Nature's creamy almond butter (or peanut butter would also work), maple syrup, rice vinegar, tamari (or soy sauce), sesame oil, fresh garlic, fresh ginger and chili pepper sauce (like Sriracha or sambal oelek).
If you need information on making ahead or storing this dressing recipe, be sure to check out my recipe post on how to make sesame ginger dressing.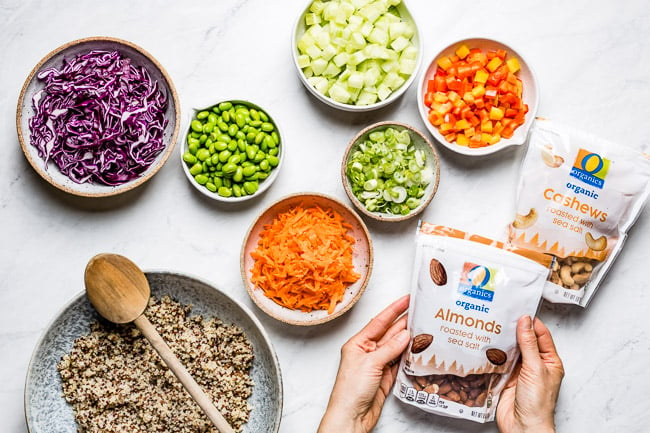 Salad Ingredients: In terms of the salad ingredients, you will need 3 cups of cooked quinoa, purple cabbage, carrots, red bell peppers, scallions, cucumbers, edamame, cilantro (optional), and roasted nuts like O Organics Cashews, Peanuts, and Almonds (for extra crunch).
Substitutions and Helpful Notes For The Ingredients:
Red Cabbage: As I mentioned in my No Mayo Coleslaw and Greek Yogurt Coleslaw recipes, the secret to making cabbage salads work is to slice the cabbage as thinly as you can. This Thai cabbage salad is no different. Because, doing so allows the cabbage to soften as soon as it is mixed with the salad dressing and turns it into a soft yet still crunchy salad ingredient. If you do not have purple cabbage you can use green cabbage instead.
Green Onion: Scallions are a classic for any salad but you can also use thinly sliced red onion.
Shelled edamame: I consider edamame a staple ingredient for any of my Asian-style salad recipes (i.e. Asian Chicken Salad recipe). However, if you cannot get your hands on it you can use sugar snap peas instead or omit it altogether.
Quinoa: I used 3 cups of cooked tricolor quinoa but any type of quinoa (tricolor, white, and red quinoa) would work in this recipe. I usually cook quinoa in bulk and freeze it to have it on hand fast.
Use Peanut Butter instead of almond butter: You can use almond butter and peanut butter interchangeably in this recipe. I love using Open Nature's almond or peanut butter as it is made with nothing but nuts and a bit of sea salt. Not to mention it is super creamy.
How To Make?
Cook the quinoa: I believe that the best way to make quinoa taste good is to cook it in vegetable stock after rinsing it. I cooked my quinoa in a pressure cooker but you can cook it in a rice cooker, microwave or on the stove top as well.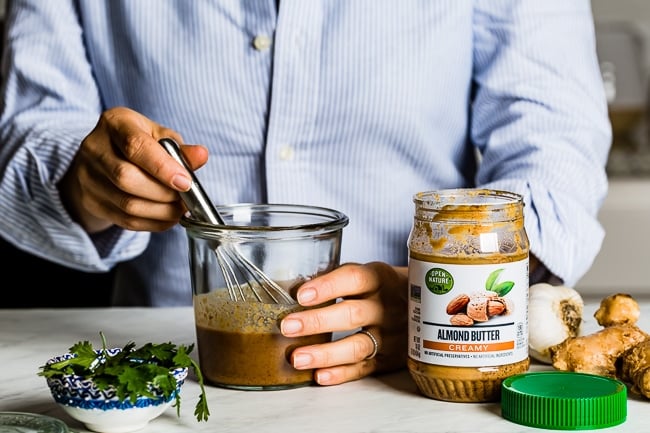 Make the salad dressing: While the quinoa cooks make the dressing. Place all salad dressing in a jar (or a small bowl) and give it a whisk until it is creamy.
Assemble the salad: Place the now-cooked quinoa in a large salad bowl and top it off with all the chopped veggies.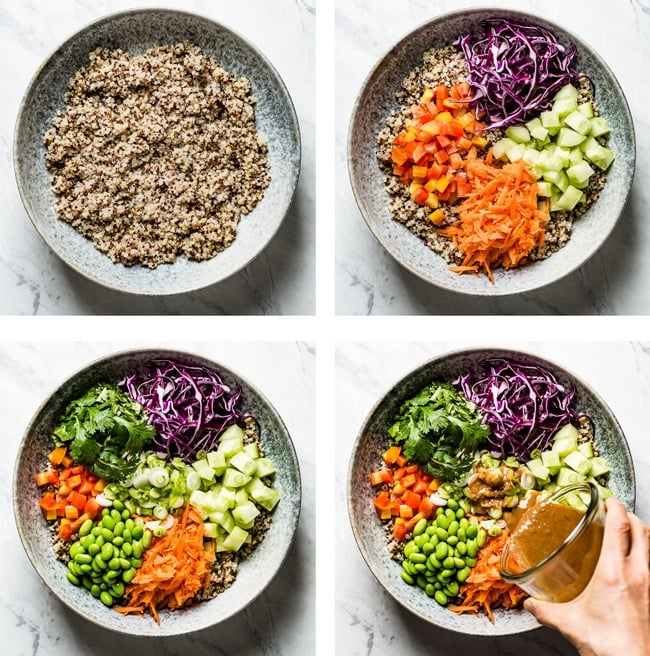 Drizzle it with the dressing: Pour the dressing over the salad and give it a gentle toss.
Garnish & Serve: Top it off with chopped O Organics organic roasted almonds and cashews with sea salt (for extra crunch) and chopped fresh cilantro (optional).
Serve Warm or Cold:
One of my favorite things about this Thai quinoa recipe is that it can be served warm or cold.
If I am serving it as a main dish I usually serve it warm. I love that the freshly cooked and still warm quinoa absorbs the dressing right away and makes it incredibly delicious and creamy.
On the other hand, if I am serving this as more of a vegetable side dish to serve along with my Thai Lemongrass Chicken or Orange Ginger Chicken, I serve it cold.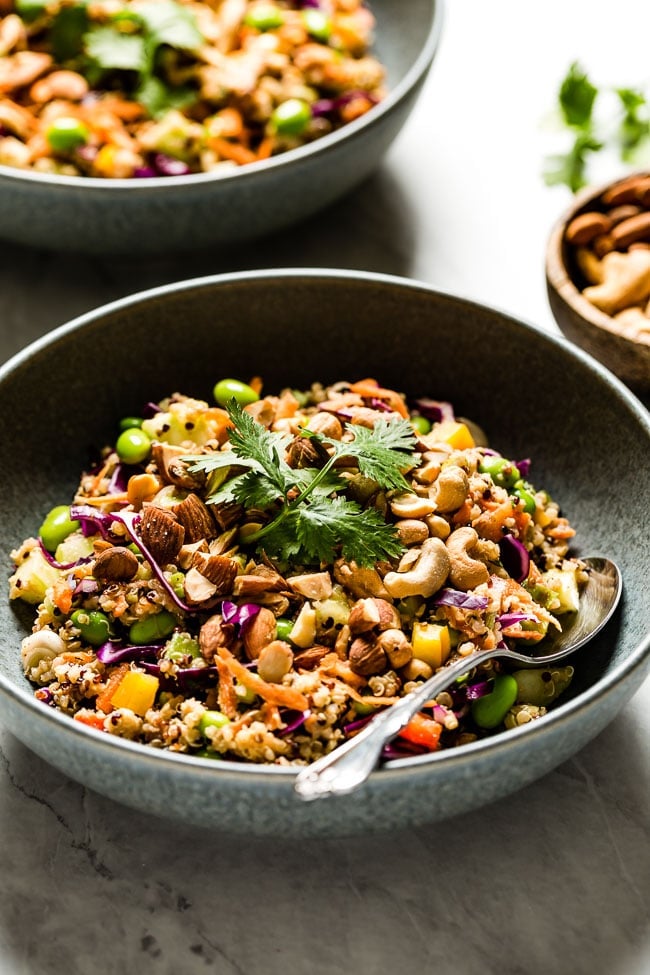 Can I Make It Ahead?
You sure can. As a matter of fact, I usually make it as a part of my weekly meal prep and store it in containers to enjoy throughout the week.
If you decide to do so, I highly recommend storing the dressing separately and tossing it with the salad right before serving it.
How To Store Leftovers?
You can store the leftovers of this quinoa cabbage salad in an airtight container in the fridge for up to two days.
A Few Helpful Tips & Variations:
Taste for seasoning: I highly recommend giving a taste to the salad before serving it. I used a minimal amount of tamari sauce in the recipe below to make it work for everyone. However, as someone who is addicted to salt, I use almost double the amount of tamari when I make this salad for us.
Turn it into a Thai Chicken Quinoa Salad: If I am serving this for my meat-loving husband I usually bake split chicken breasts, cut them into cubes and incorporate them into the salad.
If you'd rather use peanut butter, simple swap almond butter with peanut butter to turn it in to a delicious Thai Peanut Dressing.
Check Out These Products and More in Shaw's:
There you have it friends, a Thai-style crunchy quinoa salad recipe that you can make all year round. I love shopping at our local Shaw's and appreciate that they have a great collection of organic ingredients that I can use in my everyday cooking.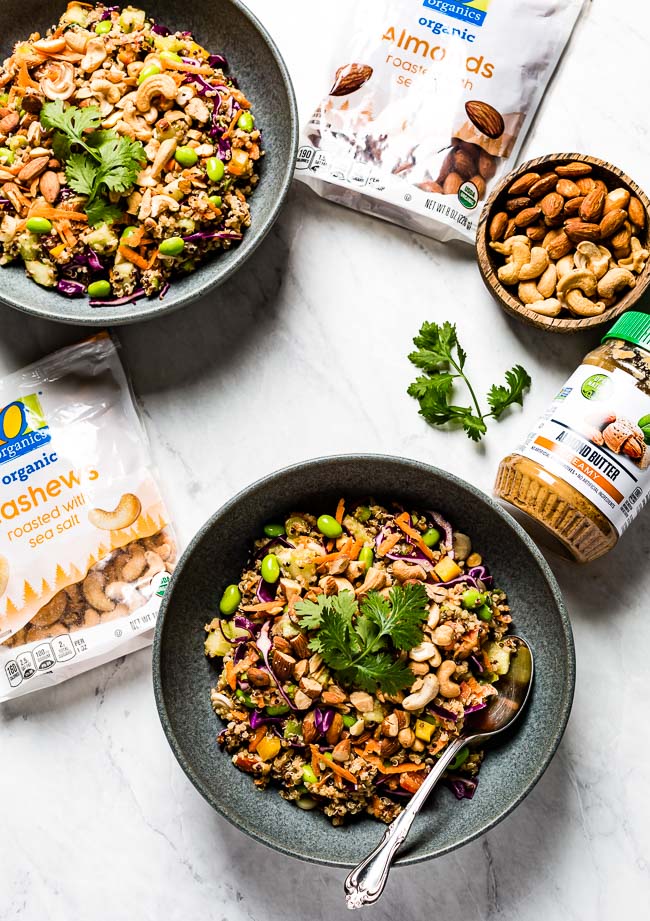 Next time you visit your closest Albertsons Companies family of stores, including ACME Markets, Jewel-Osco, Vons, Pavilions, Randalls, Tom Thumb, Shaw's, Star Market, United Supermarkets and Carrs/Safeway, be sure to check out their O Organics® and Open Nature® products for a rich collection of plant-based, gluten-free, high protein, biodegradable and compostable items.
And with their Delivery or Drive-Up and Go feature, I love that I can shop online and have it delivered to save a trip to the store.
Other Quinoa Recipes You Might Like:
If you liked this easy quinoa salad recipe, I suspect that you are like me; a fan of quinoa salads and include it in your weekly meal prep.
Thai Quinoa Salad Recipe
This Thai Quinoa Salad recipe is my go-to weekday lunch. It is easy and quick to make, naturally vegan and gluten free. Packed with crunchy veggies like carrots, cabbage, and cucumber and tossed with a peanut butter/almond butter dressing, it is guaranteed to impress.
Print Recipe
Ingredients
For The Peanut Butter Dressing:
3

tablespoons

Open Nature® almond or peanut butter*

(unsweetened/unsalted)

2

tablespoons

maple syrup

or honey

1/4

cup

rice vinegar

2

tablespoons

tamari

or soy sauce

2

teaspoons

toasted sesame oil

1

clove

of garlic minced

1

tablespoon

fresh ginger grated

1

teaspoon

chili pepper sauce I used Sriracha – optional

1/4

teaspoon

coarse sea salt
For The Salad:
3

cups

cooked quinoa

warm or cold

3

small carrots

peeled and shredded

1

cup

red cabbage

sliced thinly

1

red bell pepper

chopped

5

stalks of scallions

sliced thinly (both green and white parts)

2

Persian cucumbers

peeled and cut into small pieces

1

cup

edamame or sugar snap peas

½

cup

fresh cilantro

chopped

1

cup

roasted and lightly salted nuts

chopped ( I used cashews and almonds)
Instructions
To make the dressing: Place all the ingredients in a jar and whisk until emulsified.

To make the salad: Place the quinoa, carrots, cabbage, bell pepper, scallions, cucumber, edamame, and cilantro in a large salad bowl.

Drizzle the dressing over the salad. Give it a toss. Garnish with cashews and almonds. Serve.
Nutrition
Calories:
395
kcal
|
Carbohydrates:
40
g
|
Protein:
17
g
|
Fat:
21
g
|
Saturated Fat:
3
g
|
Sodium:
494
mg
|
Potassium:
770
mg
|
Fiber:
9
g
|
Sugar:
10
g
|
Vitamin A:
6091
IU
|
Vitamin C:
41
mg
|
Calcium:
95
mg
|
Iron:
4
mg
Like this recipe? Consider sharing: