A reader recently sent me an email saying that no matter what she does she cannot change her family's mind about quinoa. They just don't like it. She asked that I give her some suggestions as to how to make quinoa taste better, or even perhaps, help her find ways to hide it so that they won't notice that it is there.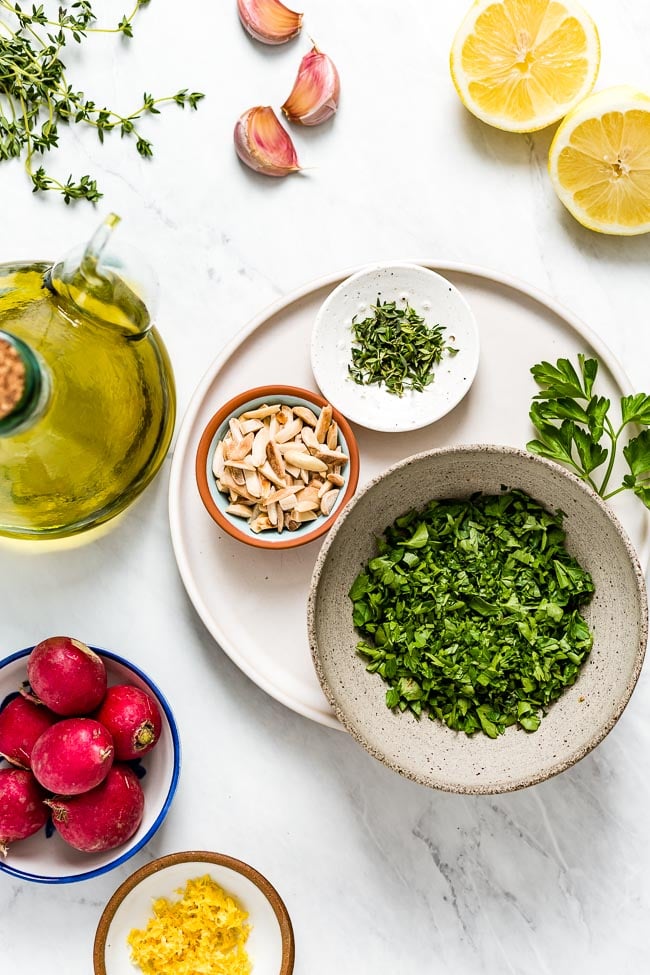 Well, I don't know about "hiding it" per se but I have a few good tips on ways to make quinoa flavorful. I have been using this ancient superfood in my everyday cooking for over 8 years now. As a result, I have learned a thing or two about how to make it taste good.
In this post, I will share my favorite ways on how to jazz up quinoa with the hopes that even the pickiest eaters in your family will give it a chance. I will also answer some questions as to what it tastes like, how to spice it up, and what to add in it to make it irresistible along with my most flavorful quinoa recipes for inspiration.
What Does Quinoa Taste Like
I think the taste of quinoa is somewhere between oatmeal and brown rice with a mild earthy and nutty flavor that pairs with just about anything. When I am creating recipes with quinoa I think of it as a blank canvas or as a messenger to carry over the flavors that I want to have in my dish.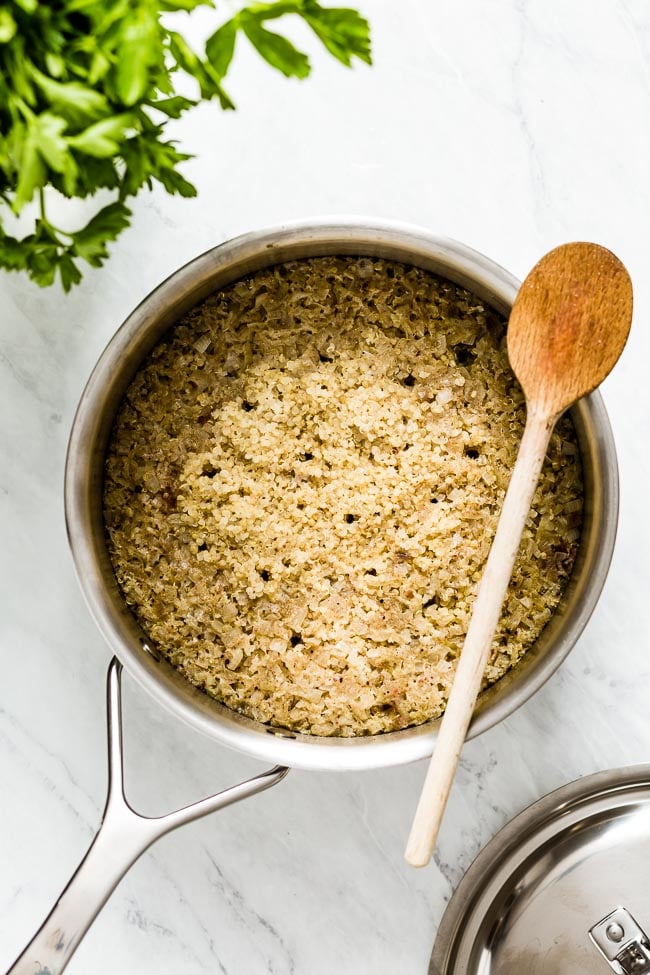 It also has a nice crunch to it as it is actually a seed rather than a grain. When cooked properly, it provides a bit of crunch, a bit of creamy and a bit of nutty flavor all at the same time.
How To Season Quinoa To Make It Taste Better
Now that we covered what it tastes like, let's talk about a few ways to make quinoa flavorful: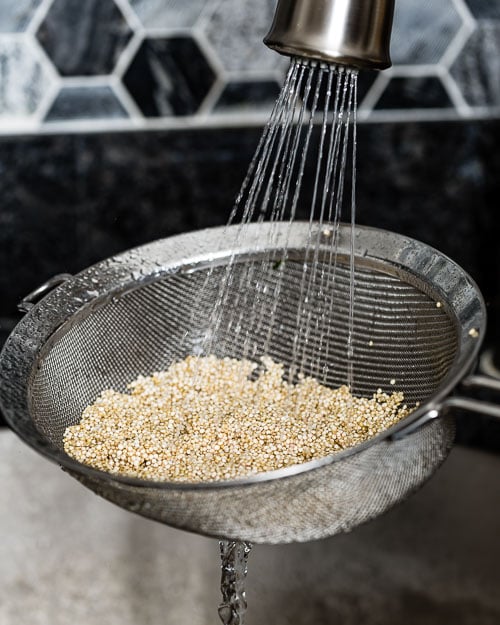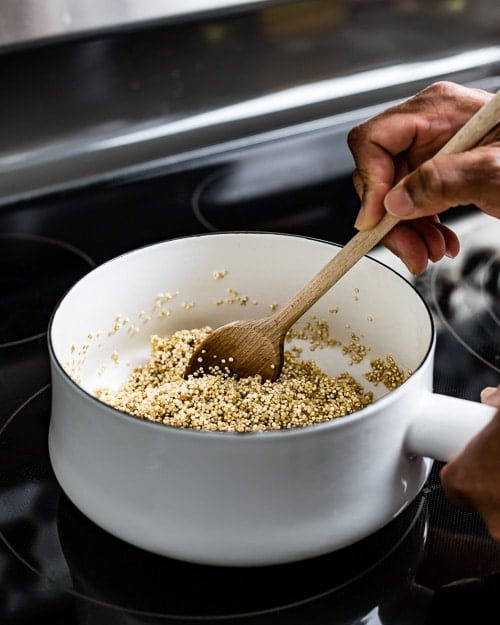 Rinse quinoa before cooking: If you have cooked quinoa before you probably heard a lot of chefs suggest giving quinoa a good rinse before cooking. This is because quinoa has a bitter-tasting natural coating called saponin. Essentially, it is a self-defense mechanism for the plant to protect itself from fungi, birds, insects, and other foraging animals in its natural habitat.
While virtually all quinoa that is sold in the markets today has already had the saponin removed with various techniques some people might taste the bitterness that may have remained after processing. That is why I recommend giving quinoa a good rinse under cold water until the water runs clear.
Toast quinoa with a little bit of oil: It might be a few minutes of extra work but toasting quinoa unlocks its nutty flavor and even produces fluffier cooked quinoa. For additional flavor, I like to toast quinoa with a bit of oil (coconut oil, avocado oil, grapeseed oil, or even butter would work) over medium heat for 4-5 minutes or until it is lightly browned.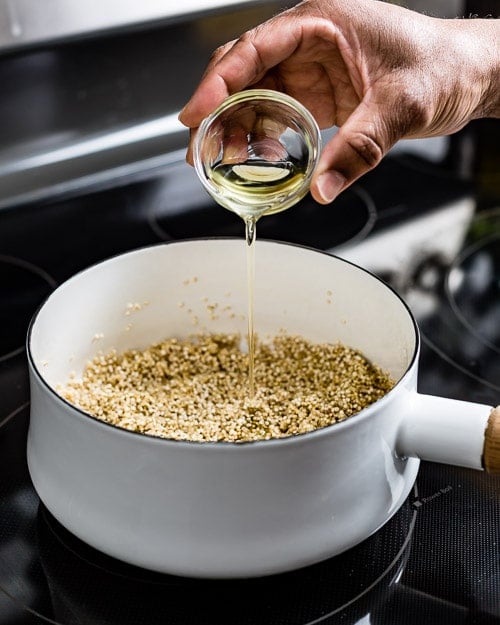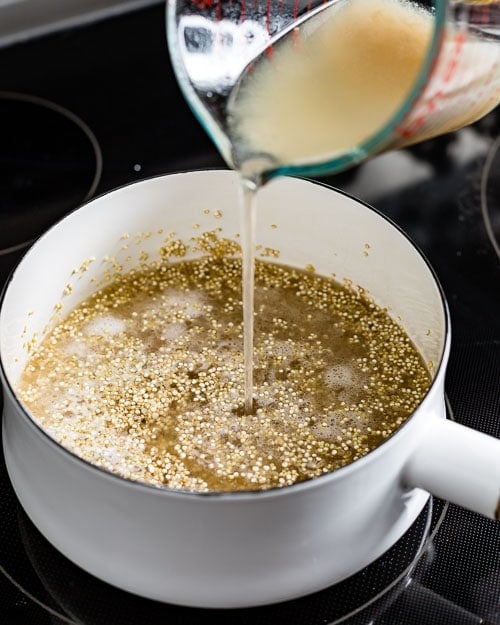 Cook in vegetable, chicken or beef broth: Cooking quinoa in chicken, vegetable, or beef stock is probably the easiest way to flavor it. You can simply swap the water with your choice of stock and use the same amount to cook your quinoa. Alternatively, if you prefer you can also use half water and half stock.
Season the liquid well if you are using water: While there is nothing wrong with cooking quinoa in water, similar to pasta and rice, it needs to be seasoned well. I personally add a ½ teaspoon kosher salt for every cup of raw quinoa I cook.
Add some seasoning into the pot during the cooking process: You can easily up the flavor of quinoa by using some of the basic pantry items. I find that some of the best seasonings for quinoa are cumin, dried bay leaf, turmeric, and salt and black pepper. I also love to flavor it with fresh garlic and herbs such as parsley, dill, and cilantro.
You can add the seasonings of your choice into the pot at the same time with the liquid and cook it as directed. Alternatively, you can also add them in after your quinoa is cooked.
Seasoned Quinoa Recipe Ideas for Inspiration
Below are a few examples of well-seasoned quinoa recipes from my archives and a few of my tips on how I use seasonings and spices to flavor quinoa in my everyday cooking. Click on the recipe name to take you to the full post.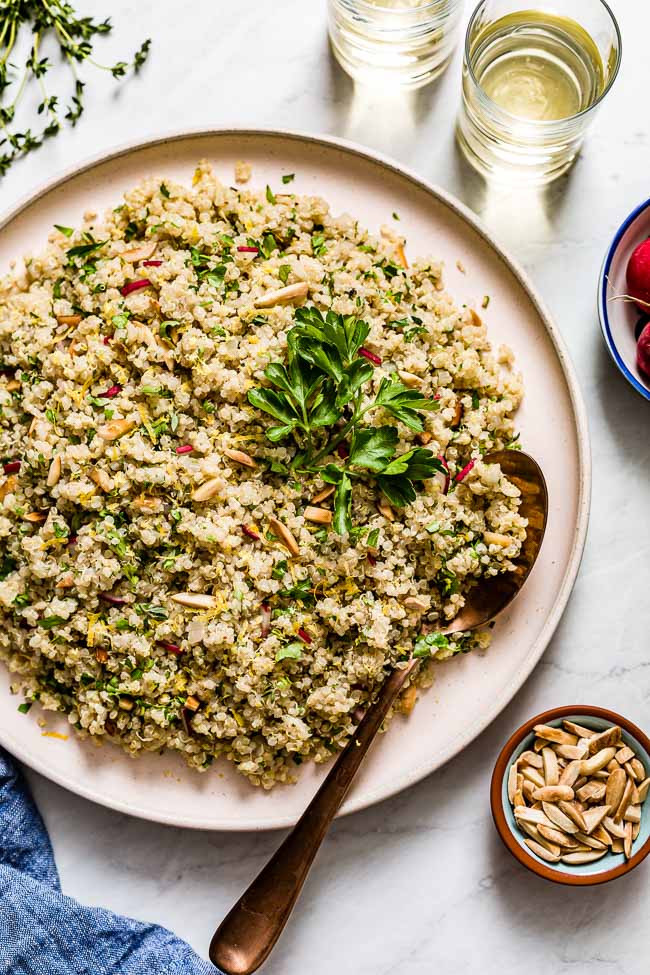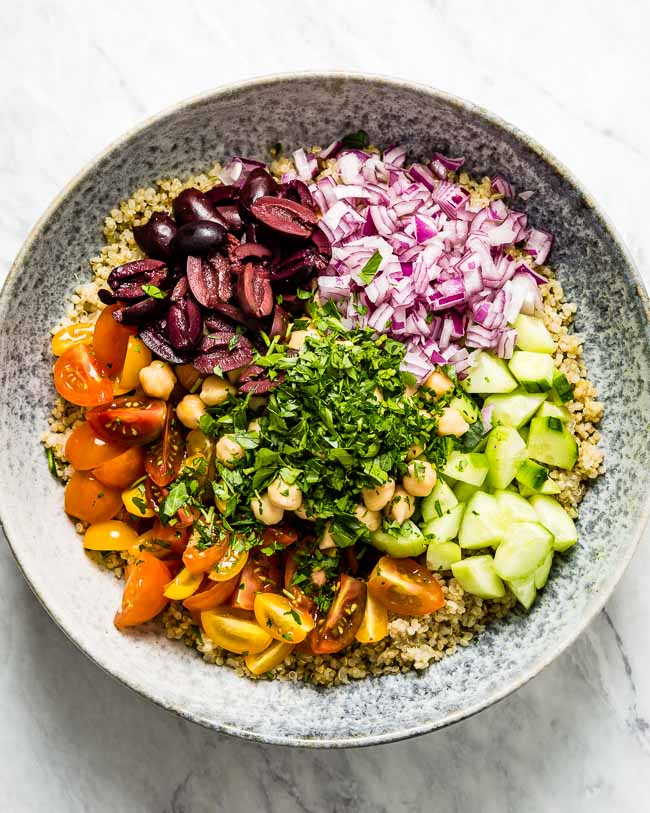 What Goes With Quinoa:
Before I let you go, I also wanted to share a few recipes that I serve quinoa with. Similar to other grains like pasta, bulgur, and wild rice, I think with its short cooking time that requires no advance planning, quinoa makes the perfect side dish.
I love serving quinoa with meat dishes such as:
There you have it, friends. These are all my tips and tricks on how to spice up your quinoa. I hope you'll try a few of them and even figure out your own ways to serve this incredibly versatile ancient superfood to your family on the regular.
Like this recipe? Consider sharing: