I said this before and I will say it again.
One of the best parts of living on an island in the Caribbean is the fact that it is so easy to hop around the islands nearby. At the very beginning stages of our island life my husband Dwight and I decided that during the time that we are living in the Caribbean, we would like to see and experience as many islands as possible. Mainly because, as we have witnessed again (St. John) and again (Dominica) and again (Peter Island) and again (Jost Van Dyke), they all offer something different to enjoy.
Therefore, as we both needed a break from our island Virgin Gorda, last weekend we took a trip to Vieques, Puerto Rico.
To get there, we flew from Virgin Gorda to San Juan and from San Juan to Vieques. With a layover of 2 hours in between, it took us 4 hours (45 min to San Juan and 20 min to Vieques) to get there.
We stayed at the W Vieques and enjoyed our time immensely. This blog post is some of my notes and pictures from our 3-day getaway to Vieques.
W Vieques Retreat & Spa
As we landed, we were welcomed with a staff member and walked over to the lounge of the hotel at the small airport of Vieques. From there, a staff member picked us up and drove us to the hotel.
The W Vieques offers a welcoming environment with its charming contemporary design. With two swimming pools, a pool bar, a full restaurant, a cafe, and a couple of beaches, the hotel is a paradise for people, who are looking for a getaway "in style".
As we were going there I had three things in mind. (1) To get some rest and spend some quality time with my husband (2) to spend some time outside to the hotel and do some sightseeing and (3) do the Bio Bay tour.
I can safely say that we did all that and more.
On the day of our arrival, we spent the rest of the day resting by the pool. For dinner, we went to the hotel's beach restaurant , Sorcé. Although Sorcé's menu mainly offers Puerto Rican dishes made with very Caribbean ingredients like plantains, malaga, and rum, you can still find a simple salad and a Mediterranean meze plate.
For breakfast, you could either go to Sorcé for a full open buffet with an omelette station, or for a cup of coffee and a quick sandwich (and/or a pastry), you could stop by the W Cafe, which is located right next to the hotels 24 hour open gym. W Cafe is open during the day and could be an option for a light lunch. However, I would highly recommend the Vieques Burger on the menu of the pool bar, which is your other option for lunch in the hotel. The cold cocktail options on their menu are perfect to sip on while you are laying on the floats in the pool.
The Island Tour
There is a convenient car rental place in the hotel but since we did not know the island very well we wanted to do one of the guided island tours. The concierge referred us to a company called Vieques Island Tours and Transportation. Angie, a middle aged woman with a welcoming smile, a born and raised Viequense, and also the owner of the company gave us an enjoyable tour of the island. Along the tour, we learned valuable information about the island's history and culture.
Vieques is a 21-mile long and 4-mile wide island located in the East of Puerto Rico. It is an island-municipility of Puerto Rico. Between the years of 1940 and 2003, a portion of the island was used by the United States Navy as a testing (and storage) ground for some of its weapons. As a result of serial protests by the locals,the Navy left the island and today the former Navy land is turned into a national wildlife refuge.
Still, the remains of those days are available and are being shown to tourists. The picture below is one of the bonkers that Angie showed us.
As a part of the tour, Angie took us to a couple of beaches on the island. Since we already live on an island with beautiful beaches just like the ones on Vieques, we opted out on spending time on the beach. However, if you are interested in swimming or snorkeling the Sun Bay Beach and the Media Luna Beach that Angie showed us are just a couple of the many options on the island. If you are interested in spending more time on the beach, Angie offers a beach tour where she also takes you to the famous Blue Beach.
For us, the interesting part was to see locals gathered on the beach eating, dancing, singing, and simply having a good time. Angie told us that camping on the beach is a favorite pass time for locals. As I asked a couple of people if I could take their pictures they were very welcoming and happy to pose for a photograph.
As we drove around the island, we saw many wild horses. To my surprise, there are more than 3500 wild horses on the island. Though I never attempted to pet them, when I tried to get close to take a picture they were pretty shy. Still, it was so beautiful to see many wild horses as we were driving around the island.
They consider the 300 year old Ceiba Tree you see below as the oldest resident of the island. As we were admiring the tree, Angie showed us Kapok, the silken fiber from the seed pods of the tree. Kapok is much lighter and silkier when compared to the cotton we picked up from the nearby cotton plants.
As we drove along, in several occasions, Angie stopped to show us the local plants that are rarely found anywhere else.
Esperanza, mostly a residential area is also home to El Malecon – The Strip, the coastal strip overlooking to the Caribbean Sea. The Strip is full of restaurants ranging from an all American steakhouse to local Puerto Rican cuisine.
There are also a couple of cool stores to do some souvenir shopping in Esperanza.
We went back there for a quick lunch the next day. It is a short 15-minute taxi ride from the hotel, which only costs $10.
As we walked along the coast, we came across an area where mostly locals were hanging out. Located on the same strip, a small collection of bars played loud Latin music while locals danced and smoked with pleasure. The further we explored this strip, the friendlier everyone became. Many welcomed us with wide smiles and eager questions, embracing us with their rich culture.
With its rustic charm, Isabel II is the capital city of Vieques. Even though it feels very authentic, you get to see locals going by their day reminding you that even on a paradise-like island people still have to work for a living. Still, it was nice to walk around and be in the presence of the old Spanish houses where locals have built their lives.
Bioluminescence (Bio) Bay (Mosquito Bay)
I must say – Bio Bay was the BEST part of our getaway. I have experienced bioluminescence once or twice in my life before, but nothing like it was in Bio Bay.
Unfortunately, I have no pictures because it was pitch dark.
If you do not know what bioluminescence is, the paragraph I took from this website (link no longer available) explains it the best.
"The still, undisturbed water of Mosquito Bay is home to the world's highest concentration of dinoflagellates, with 720,000 of these tiny microorganisms per gallon of water. Each individual bioluminescent flash from these microorganisms lasts only 1/10 second, but together, they light up the water in a vivid electric blue which can be seen for miles around. As a result, Mosquito Bay may be the brightest bioluminescent bay in the world."
The concierge at the hotel booked our Bio Bay tour with one of the local tour companies, Eco-Tours Vieques. We were told to meet at the lobby at 8:30 pm for the 9:30 pm session. We were picked up from the hotel and taken to a meeting point. From there, with 6 other couples, we were taken to the Bio Bay.
The road to Bio Bay was quite bumpy. Our tour guide Pepe, told us that it may feel like going through the Jurassic Park. He was right. It took us 15-20 minutes to get to the bay, and at times, it was quite scary.
From there after a brief introduction, as a couple we hopped onto our kayaks and followed Pepe. It was the most surreal thing to see the magical sparkling lights that these microorganisms create.
If you ever go to Vieques, you must do the Bio Bay tour. However, one very important thing to remember is to make sure that you a plan your trip around the moon calender as you won't be able to see much of the sparkling during the times when the moon is shining.
Also, it is imperative to wear clothes that are comfortable as you have to kayak through the bay. Wear something that you wouldn't mind getting wet.
Pepe told us that swimming on the bay is not allowed by law to protect the water and microorganisms.
Like I said earlier, if you ever go to Vieques this is a must-do.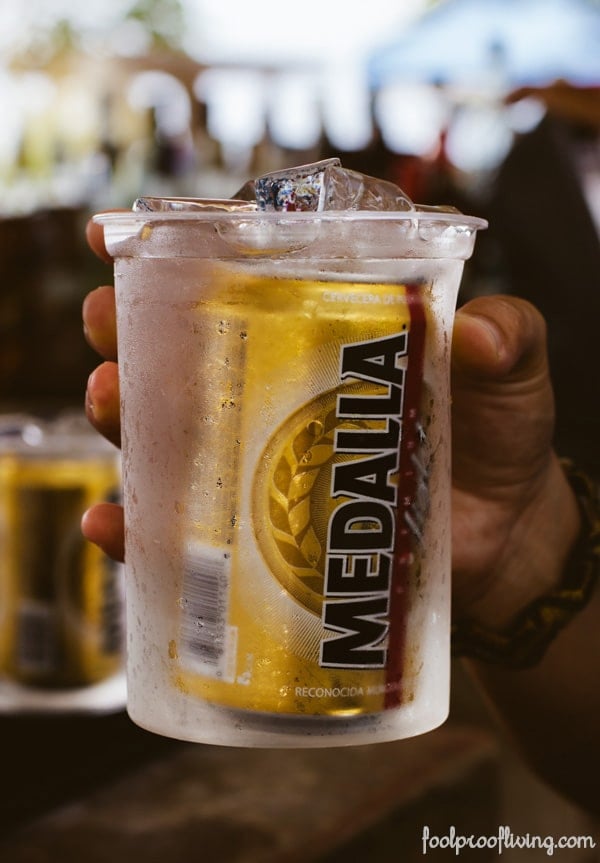 All in all we had a great time in Vieques. It felt great to leave our rock to go to another rock, even if it was only for a couple of days. I strongly recommend a quick trip to Vieques for anyone thinking a trip down to the Caribbean. With all of its natural beauty and beautiful people, there is so much to see and experience on this island.
Oh also, when you are there do not forget to order a cold Medalla, the delicious local beer of Puerto Rico…
Cheers!
Like this recipe? Consider sharing: