The buzz about the viral recipe eventually caught the attention of Aniston, who spoke out in a recent interview, saying she actually never ate the famous salad on set! The mix-up arose when Aniston shared the salad recipe during an Instagram takeover for the Living Proof brand.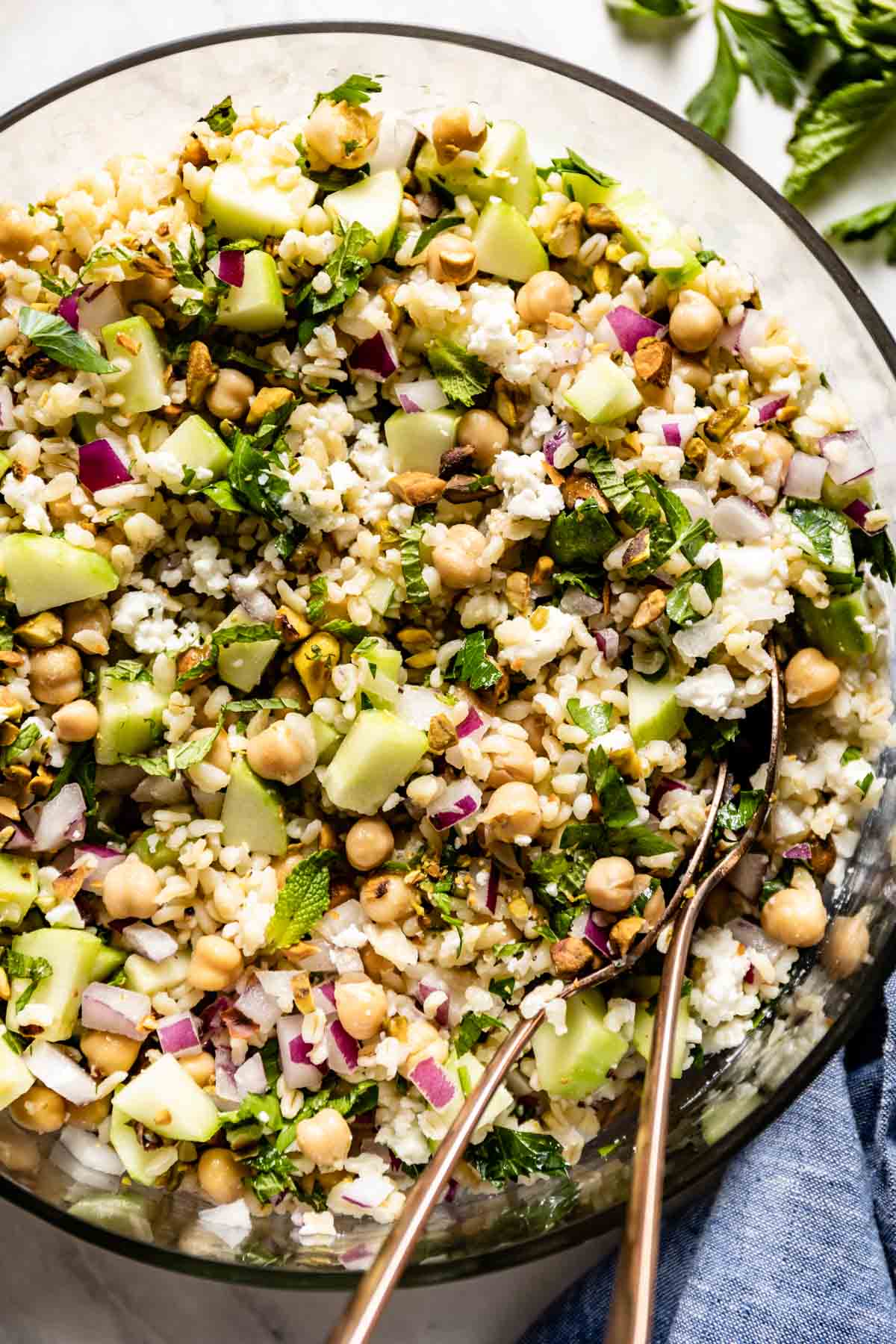 So while she did eat the "Jennifer Aniston Salad," it wasn't the same one she had on set. According to a Los Angeles Times article, Aniston's fellow co-stars (Lisa Kudrow and Courtney Cox) said the real salad recipe Jennifer Aniston ate on Friends was a "doctored up" Cobb salad, to which she added chickpeas and turkey bacon.
Regardless of the mix-up, the salad that we initially thought to be "The Jennifer Salad" is still delicious, viral-worthy, and incredibly satisfying. We love cooking with bulgur wheat here on the blog, so we just had to share the recipe!
Why is This Recipe Worth the Hype?
It's no wonder this legendary salad went viral on social media. It's fresh, healthy, colorful, and filling- everything you could ever ask for in a salad! Here are some other reasons to give this internet-famous recipe a try:
Quick, easy to make, delicious, and filling: In our opinion, a good salad is just as filling as it is nutritious! Thanks to bulgur as a base, this salad will keep you satisfied for hours. It's also super quick to throw together and, most importantly, incredibly delicious!
Easy to customize (make it your own): While we love Jennifer Aniston's original combo, feel free to customize this salad and swap out ingredients to make it your own! Play with various veggies, nuts, and herbs to see what combo suits your taste buds.
Perfect for meal prep: This wholesome Jen salad recipe is the perfect salad for meal prep. It keeps in the fridge for up to 5 days, so you can make a big batch on the weekends and enjoy it for lunch all week!
Ingredients
This easy salad recipe has three sets of ingredients: hearty bulgur wheat for the base of the salad, a combination of fresh, colorful veggies and herbs, and a simple lemon juice and olive oil dressing. Here's what you'll need: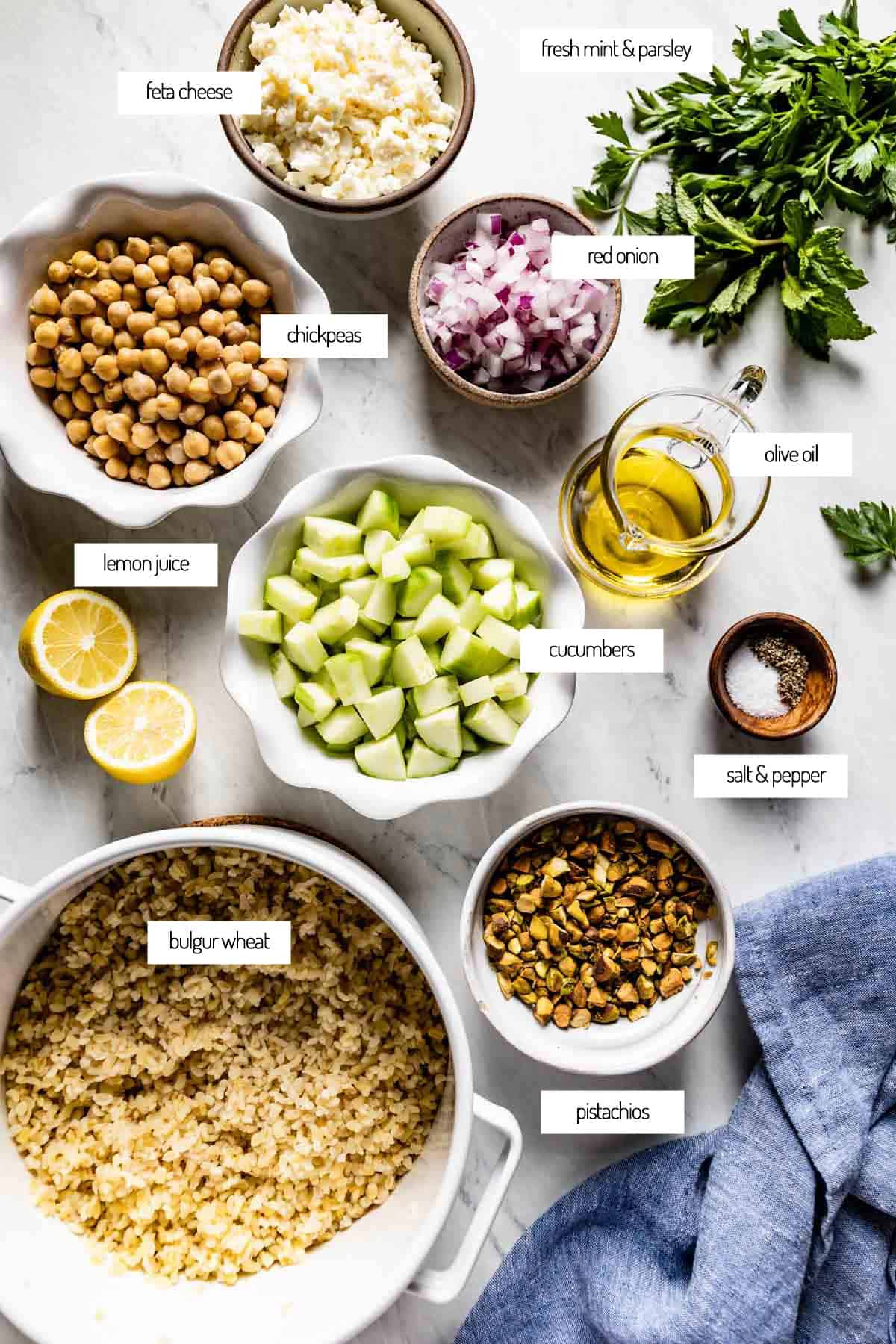 Bulgur wheat: Any type of bulgur that you have on hand will work, but I personally like to use medium coarse bulgur. You can pick up Bob's Red Mill (affiliate link) bulgur from the grocery store or get this brand (affiliate link) online. If you want to learn more about bulgur, check out my Types of Bulgur guide. I also have a How to Cook Bulgur guide that outlines the best way of cooking bulgur for foolproof results.
Salad dressing: For the salad dressing, gather fresh lemon juice, extra virgin olive oil, kosher salt, and ground black pepper.
Salad ingredients: For the salad, you'll need an English cucumber, a can of chickpeas, red onion, fresh mint, fresh parsley, pistachios, and crumbled feta cheese.
Substitutions & Variations
Use quinoa instead of bulgur: If you don't have bulgur on hand or can't find any at your local grocery store, you can use an equal amount of cooked quinoa (for gluten free option), cooked farro, or another bulgur substitute instead! Either will provide a filling, hearty base for your salad.
Fresh herbs: If mint or flat-leaf parsley don't suit your taste buds, fresh dill or basil could take their place!
Cucumber: The cucumber in this celebrity salad adds extra color and a nice crunch. You can either use one large English cucumber, Persian cucumbers, or mini cucumbers.
Cheese: Feel free to swap the feta cheese in this recipe for your favorite cheese or whatever you have in the fridge. Mozzarella or shredded cheddar are great options! Keep in mind that feta adds a nice salty flavor to the salad, so you may need to add more salt if using a different type of cheese.
Red onion: Are red onions just a bit too sharp for you? Try subbing them for scallions (green onions), or try my Mexican Pickled Onions recipe!
Make it vegan: To make Jennifer Aniston's salad vegan, simply omit the cheese!
Add an avocado: To add some extra healthy fats to this viral salad and make it even more filling, try adding an avocado.
Extra protein: Turn this Jennifer Aniston bulgur salad into an easy, protein-packed weeknight dinner to add to your list of main courses by topping it with my Bone-In Chicken Breast, Baked Turkey Bacon, or these Air Fry Chicken Legs!
How to Make This Recipe
The Jennifer salad recipe just requires a little bit of chopping, which you can do while the bulgur cooks. All it needs is a gentle toss and a drizzle of dressing, and you're done! Here are the details: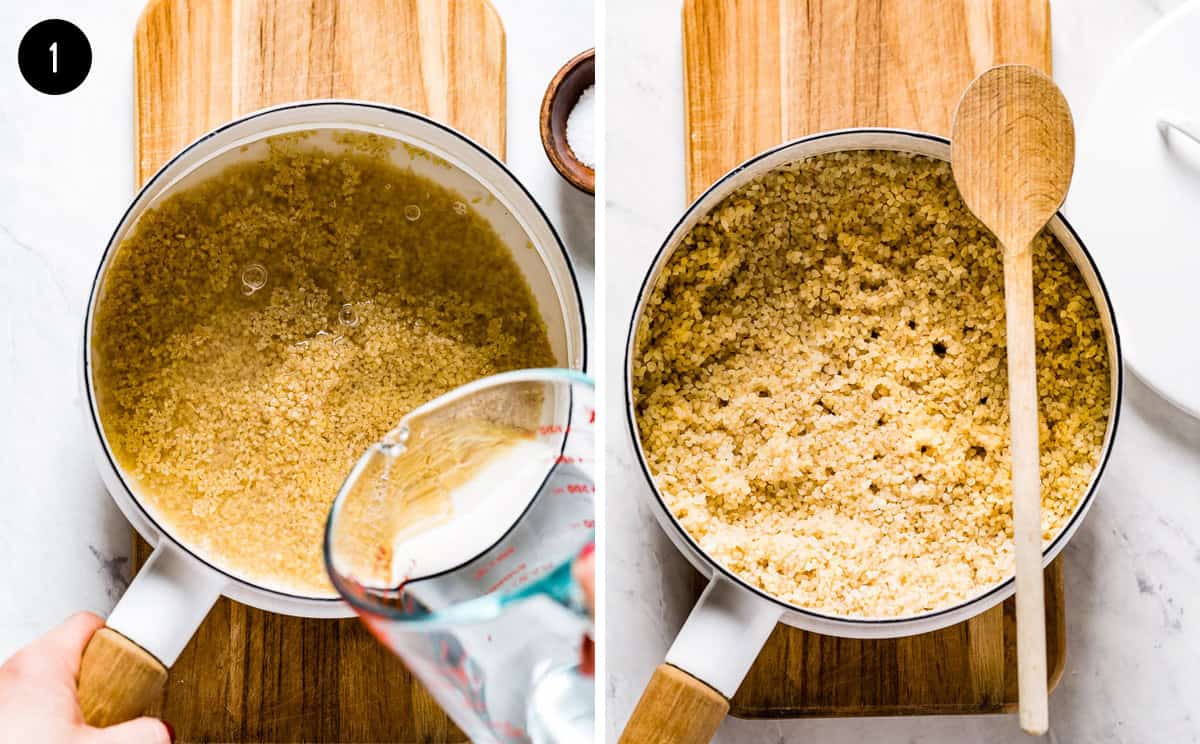 Cook the bulgur: Add the bulgur and 2 cups of water (or chicken/veggie broth) to a small saucepan over medium heat. Bring to a boil, cover, and simmer over low heat until all the liquid is absorbed. Let it rest while you prepare the rest of the salad. If you are new to cooking bulgur, be sure to check out our guide on How To Cook Bulgur Wheat.
Make the dressing: Add the lemon juice, olive oil, salt, and pepper to a small bowl or measuring cup. Whisk until combined.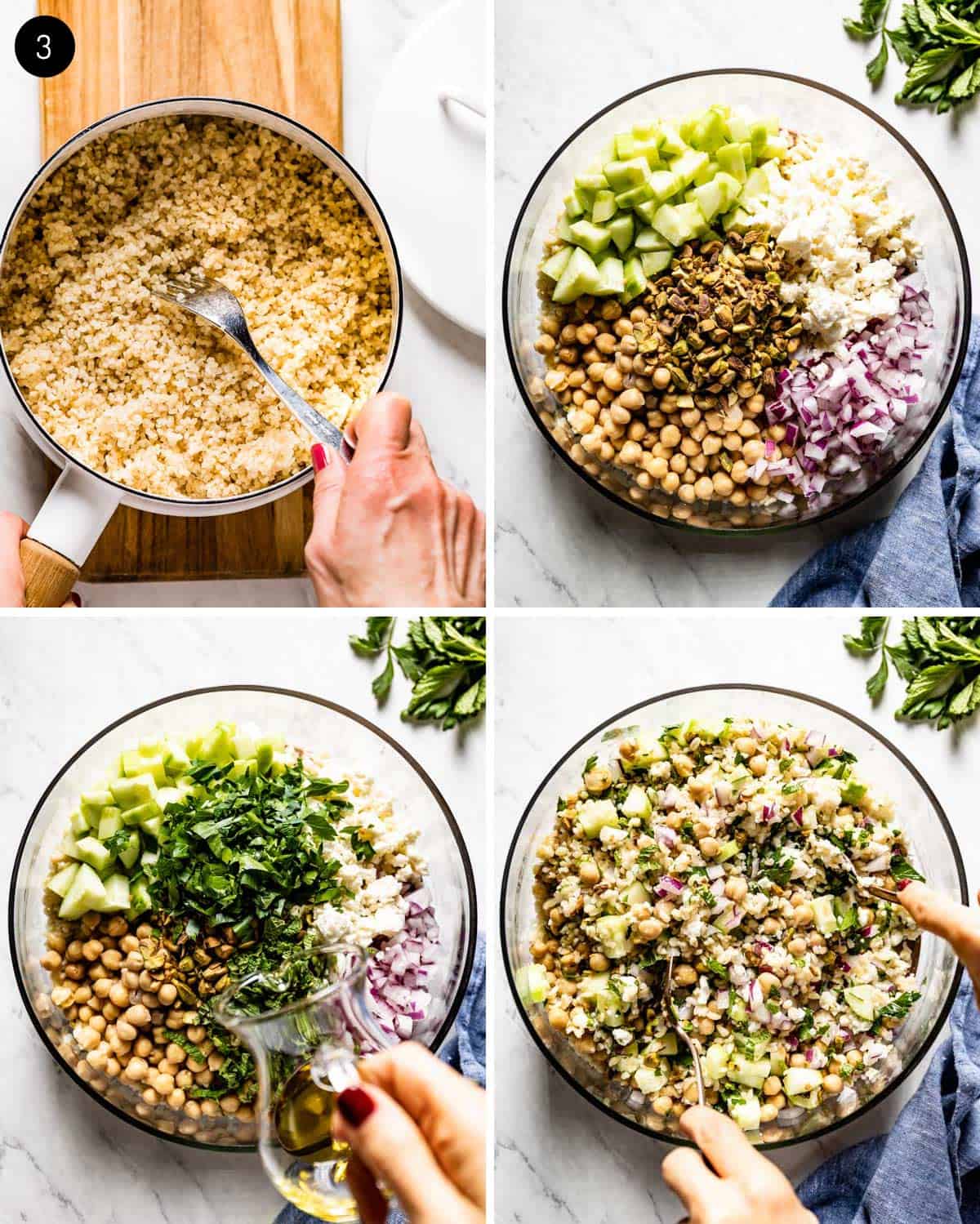 Assemble the salad: Place the cooked bulgur (make sure to fluff with a fork before adding), cucumber, chickpeas, red onion, fresh herbs, pistachios, and feta cheese in a large mixing bowl. Drizzle with the dressing, gently toss and taste for seasoning. Add more salt or pepper if desired.
How to Store
This salad stays fresh in the fridge in an airtight container for up to 5 days, making it perfect for meal prep. The grains and veggies soak up the dressing and herby flavors while it sits, so it gets better and better each day!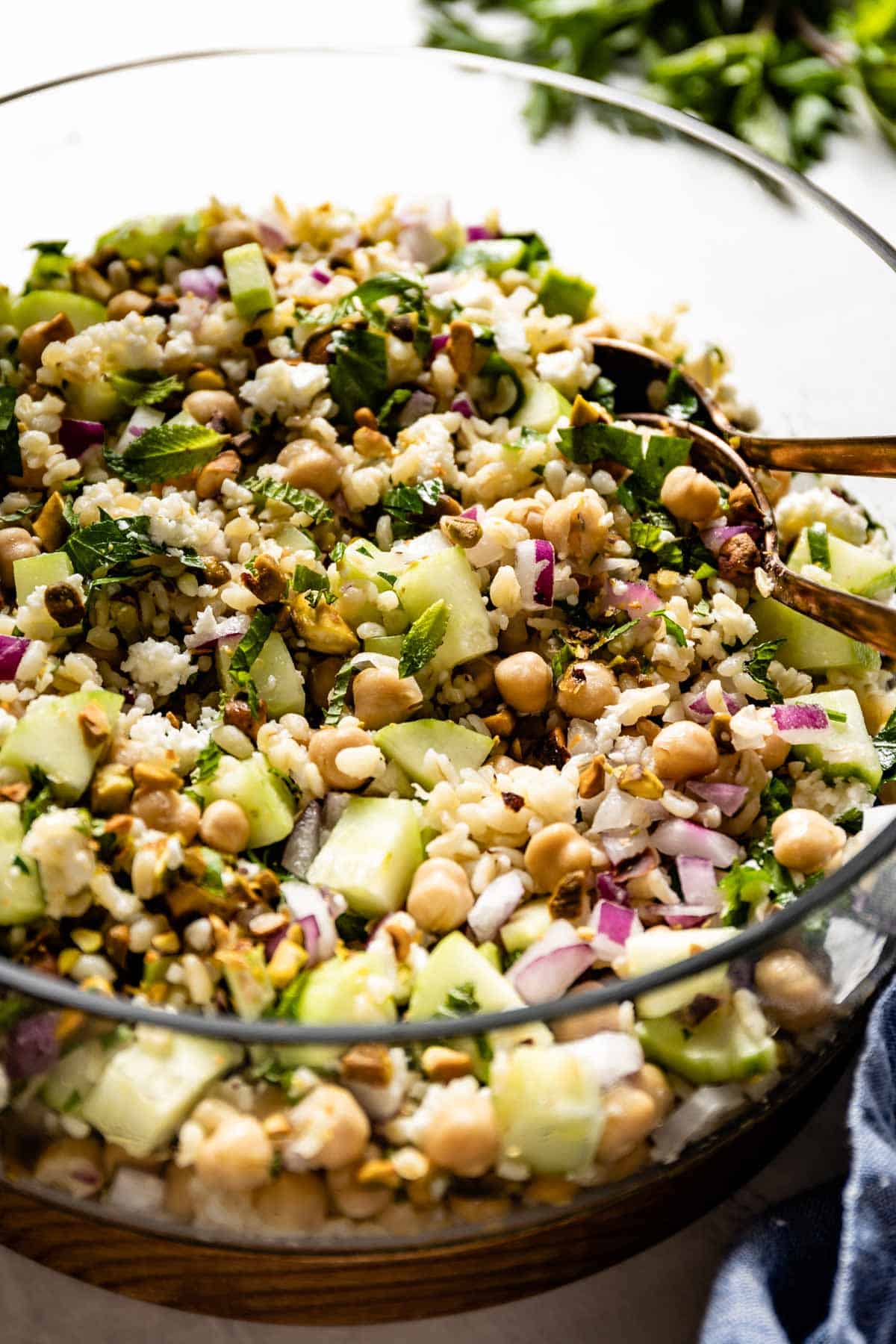 FAQs
What's in the Jennifer Aniston salad?
This viral Jen Aniston salad, also known as the Rachel Salad, is made up of bulgur wheat, cucumber, chickpeas, red onion, fresh mint and parsley, pistachios, and feta cheese. The simple salad dressing recipe combines lemon juice, olive oil, salt, and pepper.
Is Jennifer Aniston salad healthy?
Yes, Jennifer Aniston's favorite salad is very healthy! Bulgur wheat, which makes up the base of the salad, has many health benefits, as it's a great source of plant-based protein, fiber, magnesium, and iron. No wonder everyone wants to partake in the Friends diet!
How many calories is the Jennifer Aniston salad?
One serving of the Jen salad recipe contains about 402 calories. You can learn more about the nutrition facts of this salad in the recipe card below.
What did Jennifer Aniston eat every day on the set of Friends?
While many believe that Aniston ate the viral "Jennifer Aniston Friends Salad" every single day while working on the set of the show Friends, she actually ate a spruced-up Cobb salad. This Jennifer Aniston Cobb salad recipe included many of the usual Cobb salad ingredients plus her special additions of garbanzo beans and turkey bacon.
Other Grain-Based Salad Recipes You Might Like
If you're looking for more fresh, colorful, flavorful, and filling salads like this viral Bulgur Salad recipe, you're in for a treat! Browse my other delicious salad recipes using the links below:
If you try this popular salad recipe or any other recipe on Foolproof Living, please take a minute to rate the recipe and leave a comment below. It helps others who are thinking of making the recipe. And if you took some pictures, be sure to share them on Instagram using #foolproofeats so I can share them on my stories.
Jennifer Aniston Salad Recipe
The Jennifer Aniston Salad is definitely worth the hype! This recipe is so filling, fresh, and delicious, thanks to hearty bulgur (or quinoa), fresh veggies, fragrant herbs, creamy feta cheese, and salty pistachios. Whip up this wholesome salad for a quick weeknight dinner, or meal prep it for flavorful lunches all week!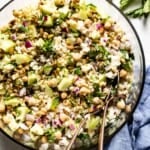 Print Recipe
Ingredients
For the Bulgur Wheat:
1

cup

bulgur wheat*

or quinoa

2

cups

water

or vegetable or chicken stock*
For the Salad Dressing:
¼

cup

freshly squeezed lemon juice

¼

cup

extra virgin olive oil

½

teaspoon

kosher salt*

more to taste

¼

teaspoon

ground black pepper
For the Salad:
1

English cucumber

chopped (about 1 cup)

1

15 oz. can chickpeas, drained and rinsed

⅓

cup

red onion

chopped

½

cup

fresh mint

chopped

½

cup

fresh parsley

chopped

½

cup

pistachios

shelled and roughly chopped

½

cup

crumbled feta
Instructions
To cook bulgur wheat, place bulgur and 2 cups of water (or chicken or veggie broth) in a small saucepan (with a lid) over medium heat. Bring to a boil, put the lid on, turn down the heat to low and cook until all the cooking liquid is absorbed. Let it rest while you are working on the rest of the ingredients. Right before adding it to the salad, fluff it with a fork.

To make the salad dressing: In a measuring cup (or a small bowl), whisk together lemon juice, olive oil, and salt and pepper.

To assemble the salad: In a large salad bowl, place the now-cooked bulgur, cucumber, chickpeas, red onion, fresh herbs, pistachios, and feta cheese. Drizzle with the salad dressing. Give it a gentle toss, taste for seasoning, and add more if necessary before serving.
Notes
Bulgur or Quinoa: I used medium coarse bulgur, but Bob's Red Mill's Red Bulgur or quinoa can also be used in this recipe. If you need a refresher, be sure to check out my guide on How To Cook Quinoa.
Salt & Feta cheese: As it is with any salad that uses feta cheese, I recommend tasting the feta cheese before adding a lot of salt to this salad.

Swap water with chicken stock or vegetable broth: One of the easiest ways to make this easy salad even more flavorful is to cook the grain of your choice (whether it is bulgur, quinoa or farro) in vegetable or chicken stock.
Storage: Store in the fridge in an airtight container for up to 5 days.
Serving size: This recipe is approximately 1 1/2 (one and a half) cups per serving.
Nutrition
Calories:
402
kcal
|
Carbohydrates:
38
g
|
Protein:
11
g
|
Fat:
25
g
|
Saturated Fat:
5
g
|
Polyunsaturated Fat:
4
g
|
Monounsaturated Fat:
14
g
|
Cholesterol:
17
mg
|
Sodium:
525
mg
|
Potassium:
534
mg
|
Fiber:
9
g
|
Sugar:
4
g
|
Vitamin A:
1098
IU
|
Vitamin C:
22
mg
|
Calcium:
165
mg
|
Iron:
3
mg
Like this recipe? Consider sharing: