I am not a vegetarian. I do not think that I can ever become one. However, I mostly eat a vegetarian diet. Many years ago, when most of my friends were going vegetarian, I decided that instead of never eating meat again, I would just cut down on my meat consumption.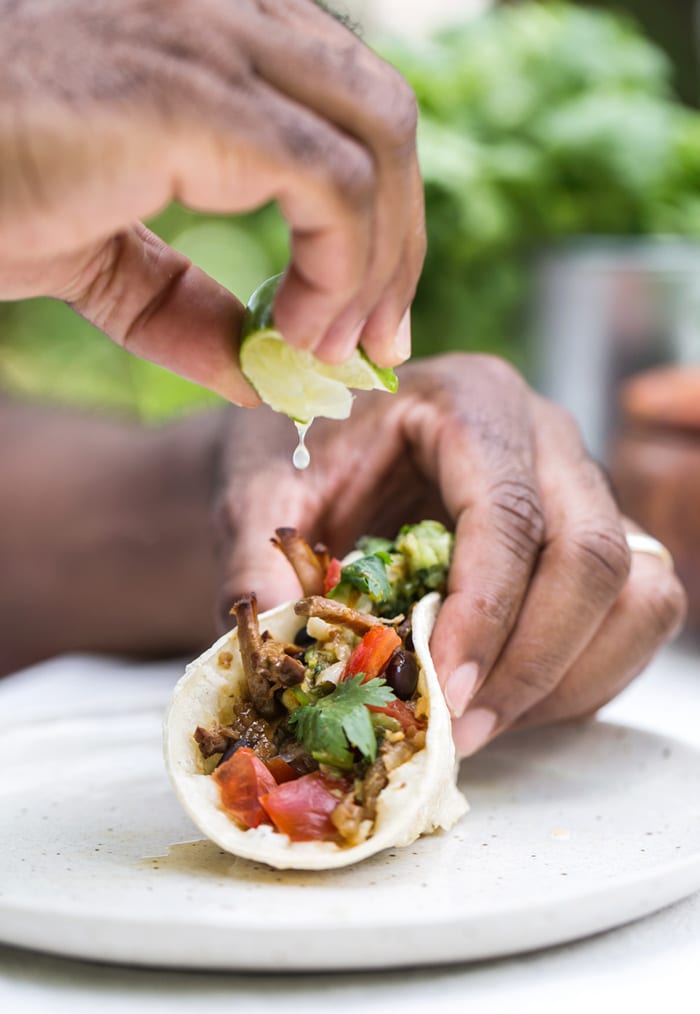 I also promised myself that I will only eat meat if it is out-of-this-world delicious or I have never had that particular cut before. This slow-cooked beef brisket falls into the first category.
I usually make this brisket taco recipe when I have guests for dinner, especially because it is a great crowd-pleaser. Not to mention, the slow cooker does most of the work.
With that being said, it requires a little bit of planning in advance, but I promise it is worth every minute of the effort, especially because if you time it right, your main course will be ready when you are ready to serve.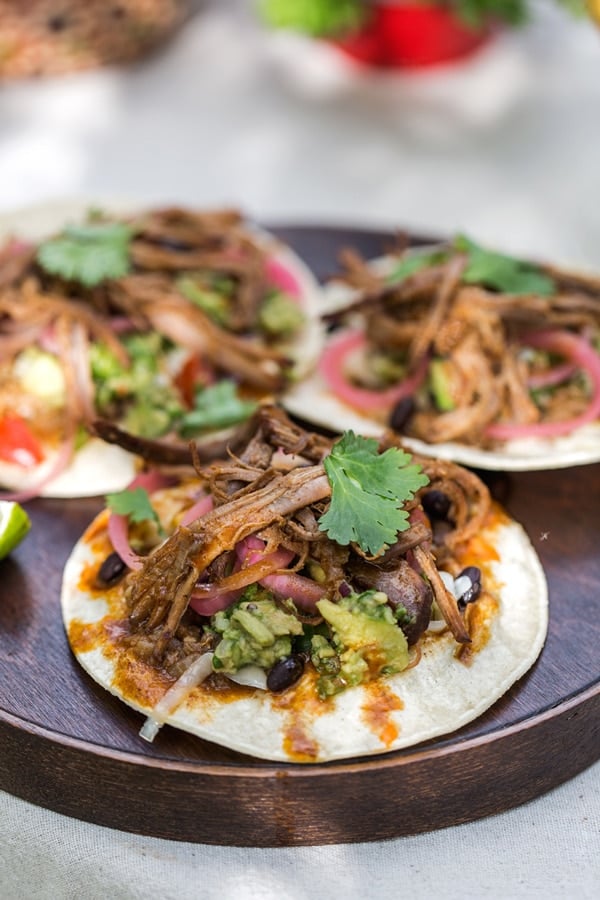 How To Cook Brisket in Slow Cooker
This crockpot brisket tacos recipe has 3 parts.
First part is the overnight prep. To do so, you start with sautéing some onions with a little bit of salt and sugar and then stir in some tomato paste and flour to thicken. You let the mixture cool for 10 minutes, pour it in an airtight container, and place it in the fridge.
While the onion mixture is cooking you prick the brisket in several places with a fork and rub it with a spice mixture made up of chili, onion, garlic, and a pinch of cayenne pepper. Then cover it tightly with stretch film and place it in the fridge to cure with all those delicious spices overnight.
Like I said, it is just a little bit of a prep, but the rest of the recipe is pretty straight forward.
Second part of the recipe is the part where everything conveniently happens in your slow cooker. In the morning, all you have to do is to place the brisket and the onion mixture in your slow cooker and cook for 9 to 10 hours in low-heat setting.
Here, there are 2 things I want to mention:
First, it is okay if the edges of the brisket sit above the liquid in your slow cooker, because as it cooks it will shrink and will become submerged.
Second, after you take out the meat you will end up with a lot of liquid, which I think is the best part. After I take the meat out and let it rest, I pour the mixture into a saucepan and cook it to reduce it to later use a sauce to drizzle my tacos.
The last part of the recipe is the assembly of the tacos. With that being said, even though I served this brisket slow roast to use in tacos, it can also be served with rice, pasta or vegetables.
Since we decided to have a picnic by the ocean, I decided to make tacos out of them. I had already had some freshly cooked homemade corn tortillas so it was inevitable. To serve with tacos I made some guacamole, pickled red onions, and fresh salsa (pico de gallo). To assemble, I shredded some of the briskets, laid it on top of a corn tortilla and garnished it with black beans, guacamole, onions, and salsa and finished it with a squeeze of lime.
All in all it was a treat. If you have tried slow cooker brisket of beef, I just can't recommend giving it a try.
On a final note, below are some recipe links that you can use if you want to make your own condiments for these brisket tacos:
Homemade Guacamole (for guacamole and pico de gallo recipe) II Homemade Corn Tortillas II Pickled Red Onions
Other beef recipes you might like:
Other Mexican inspired recipes you might like:
Slow Cooked Beef Brisket Tacos
This Slow Cooker Beef Brisket Tacos Recipe requires little hands on time, but every minute is worth the effort. Corn tortillas filled with slow cooked brisket, guacamole, pico de gallo and pickled red onion are out-of-this-world delicious.
Print Recipe
Ingredients
For the meat:
1 1/2

tablespoon

olive oil

3

onions

halved and sliced 1/2 inch thick

1

tablespoon

light brown sugar

1/4

teaspoon

+ 1 teaspoon salt

divided

1

tablespoon

tomato paste

2

tablespoons

all purpose flour

3

cloves

of garlic

pressed through a garlic press (or minced)

1 3/4

cups

chicken broth

low-sodium or homemade

1

+1 tablespoons red wine vinegar

divided

1

tablespoon

paprika

1

tablespoon

chili powder

2

teaspoons

onion powder

1

teaspoon

garlic powder

pinch

cayenne pepper

One 5

lbs.

flat-cut beef brisket

trimmed of excess fat

3

sprigs fresh thyme

3

bay leaves
For the tacos:
12

6-inch

corn tortillas

homemade corn tortillas or supermarket-bought

1 1/2

cups

guacamole

1

cup

cooked black beans

or a can of cooked black beans

4

fresh tomatoes

cut into small pieces

1

cup

red pickled onions

1

cup

shredded cheddar cheese

or any other cheese you like

2

fresh limes

sliced into wedges

Handful of fresh cilantro leaves

washed and dried
Instructions
Heat the oil in a large pan in medium-heat until it is shimmering. Add in the sliced onions, brown sugar, and 1/4 teaspoon of salt. Cook, stirring regularly, until the onions are wilted, 10-12 minutes.

Stir in the tomato paste and flour. Cook for 2-3 minutes. Add in the garlic and cook for 30 seconds.

Stir in the chicken broth and cook until it thickens, 4-5 minutes. Take it off the heat and add a tablespoon red wine vinegar. Let it cool for 10 minutes and place it in an airtight container. Keep it in the fridge overnight.

Mix 1 teaspoon of the salt, paprika, chili powder, onion powder, garlic powder, and cayenne pepper in a bowl. Prick the both sides of the beef brisket in several places (40-50 hits) using a fork. Rub the spice mixture all over the brisket. Cover it tightly with stretch film (or plastic wrap) and let it sit in the fridge overnight.

In the morning, take them out of the fridge. Spread half of the onion mixture in the bowl of your slow cooker. Add in the thyme sprigs and bay leaves. Place the brisket (fat side up) on top. Spread the rest of the onion mixture on top of the brisket.

Cover it with the lid. Set the slow cooker in low heat setting for 10-11 hours. You can also set it to high heat setting for 6-7 hours.

Transfer the brisket on to a cutting board. At this point, you can either slice it or shred it using two forks (this is what I did). Place the meat onto a serving platter and cover it with aluminum foil to keep warm.

Meanwhile, discard the thyme sprigs and bay leaves. Transfer the leftover juices into a large skillet and stir in a tablespoon red wine vinegar. Bring it to a boil and let it simmer for 15 - 20 minutes or until it is thickened to your liking.
To assemble the tacos:
* Do this only if you are using supermarket-bought corn tortillas. If you are making your own fresh ones, you can skip this step* Pre-heat the oven to 300 degrees. Spread 5-6 corn tortillas on to a large baking sheet. Lightly spray them with oil. Heat 2 minutes on each side. Repeat the same process for more tortillas, depending on how many tacos you want to make.

Make the tacos one at a time. Spread 2 tablespoons of the reduced sauce on top of a warm corn tortilla. Top it off with some of the shredded (or sliced) brisket. Garnish it with guacamole, black beans, chopped tomatoes, pickled red onions, shredded cheese, and sprinkle it with fresh cilantro leaves. If you prefer, you can drizzle more of the reduced-sauce on top. Continue with assembling rest of the tacos.

Serve it immediately with fresh limes.
Nutrition
Calories:
563
kcal
|
Carbohydrates:
25
g
|
Protein:
61
g
|
Fat:
23
g
|
Saturated Fat:
8
g
|
Cholesterol:
169
mg
|
Sodium:
465
mg
|
Potassium:
1216
mg
|
Fiber:
5
g
|
Sugar:
5
g
|
Vitamin A:
529
IU
|
Vitamin C:
14
mg
|
Calcium:
63
mg
|
Iron:
6
mg
Recipe adapted (with changes) from Cook's Country.
Like this recipe? Consider sharing: