Once you try a bite of this refreshing, vibrant salad, you'll be adding avocado to all your summer fruit salads. While I think that creamy avocado and ripe mango are a match made in heaven, avocado is also the perfect addition to other fruit salads. Try this Peach Avocado Salad or Watermelon and Avocado Salad for a refreshing twist. Readers also love my Kale Avocado Salad or this Avocado Quinoa Salad for a more savory option.
And if you have some leftover mangoes, try our Pineapple Mango Salsa.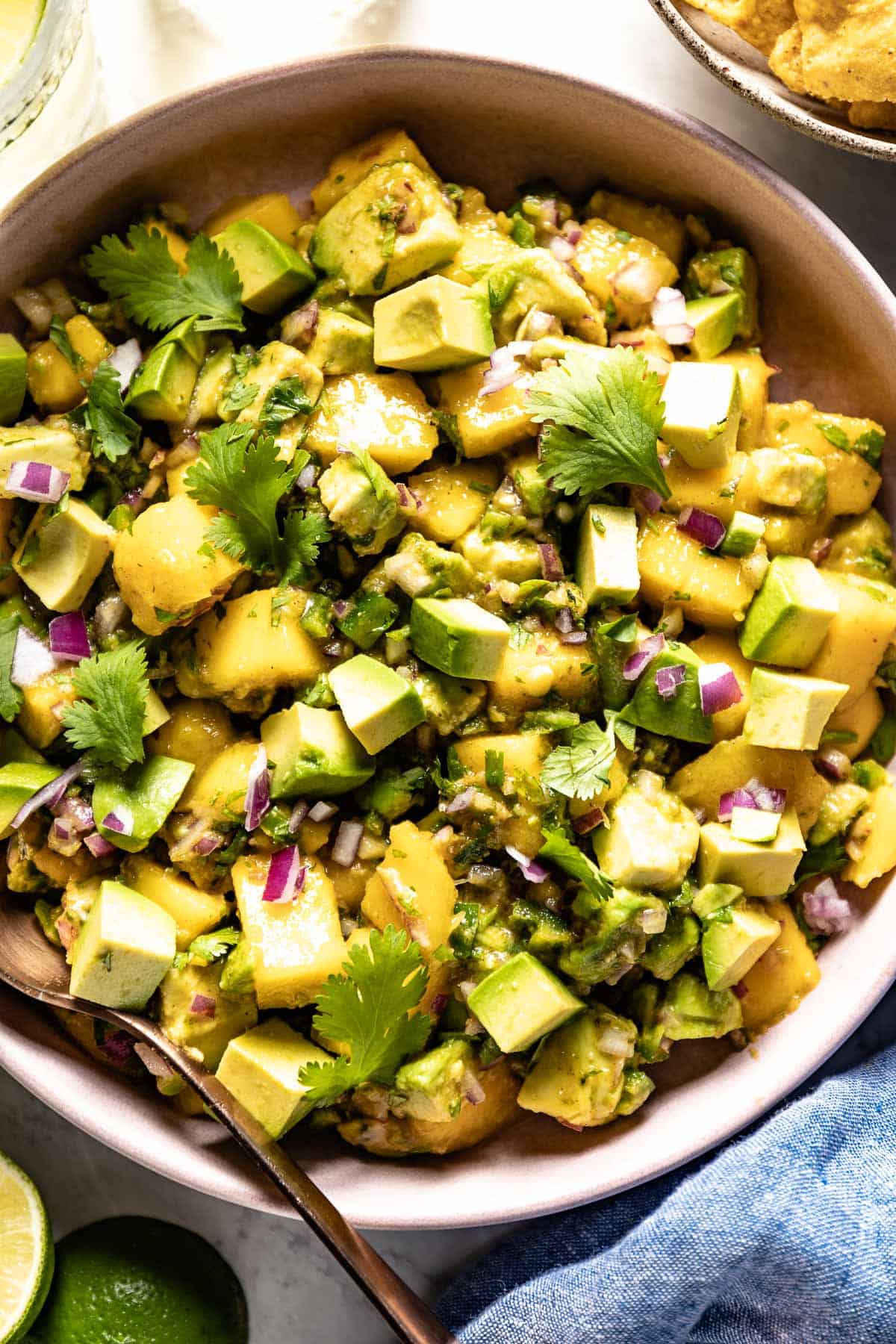 Ingredients
You'll need two sets of simple ingredients to make this mango salad with avocado. A few well-loved, familiar pantry items make up the dressing, and a handful of fresh produce from your local farmer's market or grocery store comprise the salad.
For the chili lime dressing, you'll need extra-virgin olive oil, lime zest, fresh lime juice, garlic, ground cumin, chili powder, kosher salt, and maple syrup (or honey).
To make the recipe for mango salad, gather ripe avocados and ripe mangoes, thinly sliced red onion, jalapeño, and fresh cilantro.
Substitutions and Possible Additions
Dressing: If a spicy mango avocado salad isn't your thing, try this Balsamic Lemon Dressing for a tangy, balsamic vinegar-based salad addition with fresh lemon juice.
Fresh herbs: I know that Mango Salad with cilantro might not be everybody's cup of tea. If that is you, feel free to swap it with fresh parsley or mint to pack an aromatic punch.
Onions: If you don't have red onion on hand, green onions are a perfect substitute!
Peppers: Not a fan of jalapenos? Use a small red bell pepper or
Nuts & Seeds: For a salty crunch that beautifully balances the sweetness of the mango, try adding a handful of pumpkin seeds or chopped walnuts.
Other produce: Create endless salad varieties with any fresh summer produce you have on hand. Turn this recipe into a Mango Avocado Tomato Salad by tossing in a cup of cherry tomatoes, or throw in a cup of diced English cucumber for some extra crunch.
Salad greens: Make a green salad with mango and avocado by adding in some spring mix, butter lettuce, or your favorite leafy greens.
Add in some protein: Looking for a good protein source to make this salad more filling? Try adding a few grilled or baked chicken breasts for a delicious copycat version of the fan-favorite Cheesecake Factory salad with mango and avocado. Or if you have the grill on, top it off with grilled shrimp on top.
How to Make Mango Salad
With a little bit of chopping and a gentle toss of the ingredients, this delicious avo mango salad comes together in the blink of an eye and is sure to impress at any summer gathering. Simply:
Make the dressing: Add all ingredients into a mason jar. Screw on the lid tightly and shake until thoroughly combined.
Assemble the salad: Grab a large bowl and add in your cubed avocado, chunks of fresh mango, sliced red onion, chopped jalapeño (optional), and freshly chopped cilantro.
Add the dressing: Drizzle the dressing over the salad and toss it gently until just combined.
Season: Season to taste with salt and black pepper, if necessary. Enjoy!
How to Make Ahead and Store Leftovers
Dressing: To make this recipe come together quickly, you can make the dressing a day in advance. Simply combine all ingredients in a mason jar and place in the fridge.
Prep: Avocado is difficult to prep ahead of time because it can quickly turn an unappealing brown color once cut. I recommend chopping up the ripe avocado and the rest of the ingredients as soon as you're ready to assemble the salad. You can, however, prep the mango and jalapeño in advance, but be sure to store them in an airtight container in the fridge.
Storage: You can store the salad in an airtight container in the fridge and enjoy it for up to two days.
What to Serve it With
A salad this versatile, refreshing, and vibrant is sure to brighten up your favorite summer main dish. Here are some serving suggestions:
Expert Tips
While this recipe for avocado and mango salad is super simple and easy, follow these helpful tips to achieve maximum results and flavor!
Use ripe fruit: Avocados and mangoes have the best texture and flavor when they're ripe. Also, it is best if you cut them in bite-sized pieces.
Ensure your prepped fruit is similar in size: Make sure every bite of your salad is consistent by cutting your mango and avocado into equal-sized cubes or chunks.
Toss gently: Avocado tends to turn mushy if over-handled, so be sure to toss your salad gently when combining.
FAQs
How do you know if a mango is ripe?
To tell whether a mango is ripe, use your thumb to gently apply pressure to the skin. If it feels soft or gives slightly, it's ready! If you're not quite sure, locate the fruit's stem and give it a whiff. If it gives off a sweet, fruity aroma, it's ripe.
Is mango skin edible?
Mango skin is edible, and studies show that the skin contains a variety of health and nutritional benefits. However, keep in mind that eating mango skin may cause allergic reactions or lead to the ingestion of pesticides or harmful chemicals. The skin is also generally bitter and tough to chew.
Why Should You Make this Salad?
I know you'll love this mango and avocado salad as much as I do! Here's why:
Quick, easy, and nutrient-dense: Healthy has never been easier! Throw this simple salad together in 15 minutes for your daily dose of essential fatty acids and vitamin-C.
The ideal accompaniment to grilled favorites: This is a perfect salad to pair with fish tacos, grilled seafood, meats, and other main dishes. Or, serve it as a mango salsa with your favorite tortilla chip!
Bursting with refreshing summer flavor: This fresh summer salad is the perfect way to cool off on a hot summer day.
Other Fruit Salads You Might Also Like
If you loved this avocado mango salad, here are some other fruity salad recipes you need to try!
If you try this delicious Mango Avocado Salad recipe or any other recipe on Foolproof Living, please take a minute to rate the recipe and leave a comment below. It is a great help to others who are thinking of making the recipe. And if you took some pictures, be sure to share them on Instagram using #foolproofeats so I can share them on my stories.
Mango Avocado Salad Recipe
This Mango Avocado Salad recipe is made with fresh mango, ripe avocados, and chili lime dressing. Ready in 15 minutes, it is the perfect side dish for the grilling season.
Print Recipe
Ingredients
For The Chili Lime Vinaigrette:
¼

cup

extra virgin olive oil

1

teaspoon

of lime zest

4

tablespoons

lime juice freshly squeezed

1

clove

garlic minced

1

teaspoon

ground cumin

½

teaspoon

chili powder

¾

teaspoon

kosher salt

½

teaspoon

maple syrup/honey
For The Salad:
2

ripe avocados

cut into cubes

2

ripe mangos

cut into 1-inch chunks

½

cup

red onion

thinly sliced – from a small red onion

1

small jalapeno pepper

seeded and chopped (optional)

½

cup

chopped fresh cilantro
Instructions
Make the dressing by combining everything in a mason jar. Close the lid tightly and give it a shake until all ingredients are thoroughly mixed.

Place the cubed avocados, mango chunks, red onion slices, jalapeno, and cilantro in a salad bowl.

Drizzle it with the dressing and give it a toss to combine.

Taste for seasoning and add in if necessary.
Notes
The finished salad is about 4 cups with 1 cup per serving.
Storage

: You can store the salad in an airtight container in the fridge and enjoy it for up to two days.

Cut them in similar bite-size chunks: For best results, cut avocado and mango cubes in similar sizes.
Toss gently

: Avocado tends to turn mushy if over-handled, so be sure to toss your salad gently when combining.
Nutrition
Calories:
358
kcal
|
Carbohydrates:
28
g
|
Protein:
3
g
|
Fat:
29
g
|
Saturated Fat:
4
g
|
Polyunsaturated Fat:
3
g
|
Monounsaturated Fat:
20
g
|
Sodium:
452
mg
|
Potassium:
743
mg
|
Fiber:
9
g
|
Sugar:
16
g
|
Vitamin A:
1528
IU
|
Vitamin C:
59
mg
|
Calcium:
38
mg
|
Iron:
1
mg
Like this recipe? Consider sharing: