The first lesson you learn after spending a summer in Vermont is that they are worth waiting for. After a 9-month of brutal winter, you get no mercy when spring makes an appearance, because around here spring means mud. Lots of it.
Here you are, feeling like you are about to get a break, but instead, you find yourself looking for someone to help you get your car out of the nasty, deep, and dark pile of mud that is stuck in.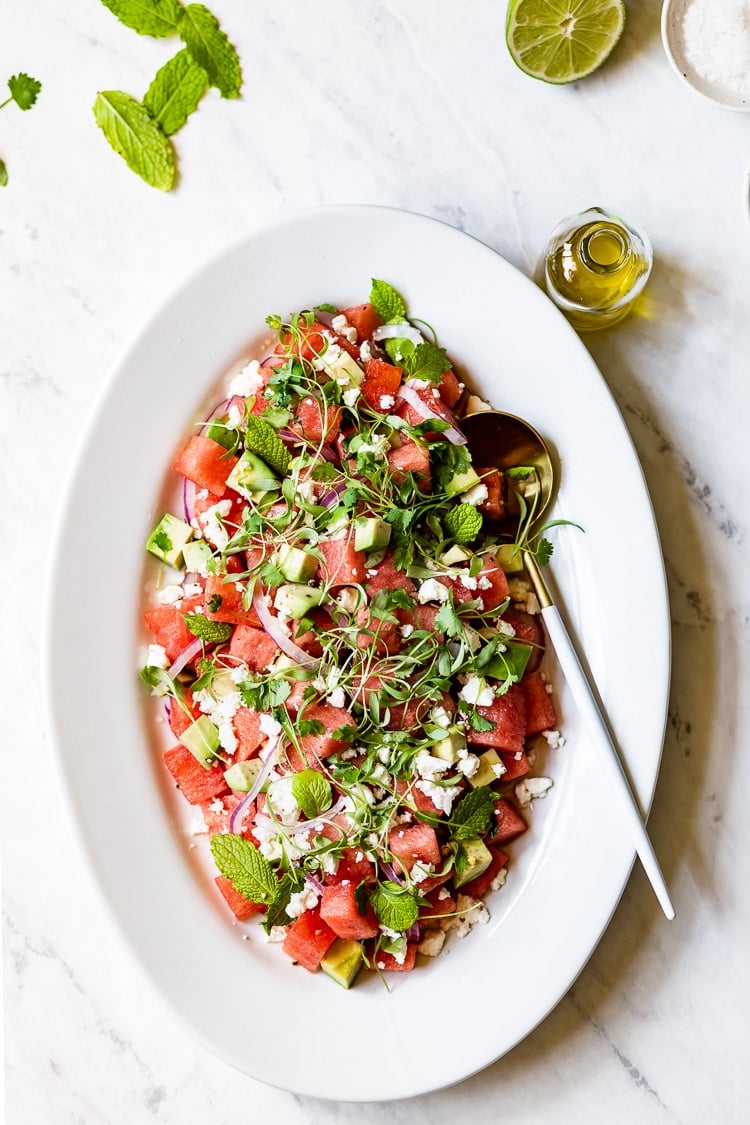 I am not going to lie, I used profanity when that happened to me. Not a lady-like move, but I needed to let it all out.
But then one day, summer finally arrives.
You find yourself wondering whether or not it was all a lie. When everything- I mean, EVERYTHING – turns green, it feels like nature is making fun of your sorrows and laughing behind your back with all of its glory.
If you have read this far and thinking like, "What the heck does summers in Vermont has to do with Watermelon Avocado Salad?"
Well, there is a lot actually.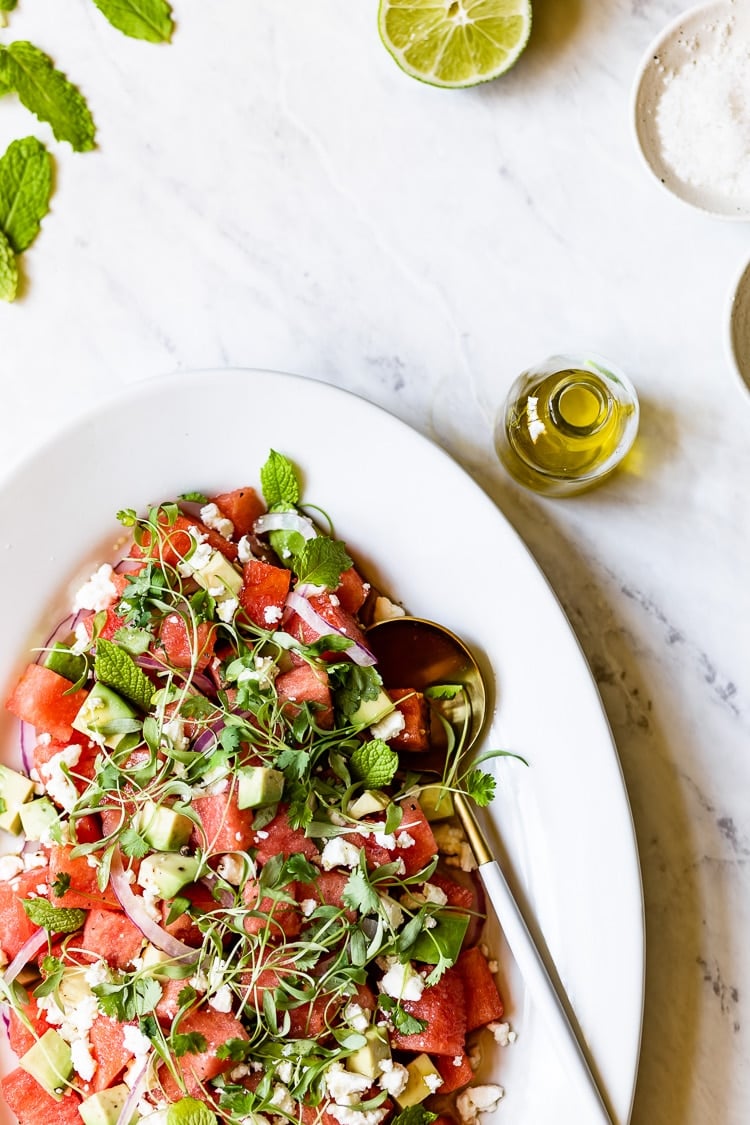 Here I am sitting on my deck and typing this up with a big bowl of this watermelon mint salad and trying to come to terms with the new norms of the season. How is it that there were 3 feet of snow just a few short months ago on the same deck I am writing this right now?
But truth be told, there is no place I would rather be: Right here with a plate full of this Mediterranean classic. And if you are at a place where summer is overwhelmingly hot and need something refreshing, you owe it to yourself to give it a try.
I may even go as far as to tell you that this is the BEST WATERMELON SALAD recipe in the world. Not just because it is made with just a few ingredients and takes less than 15 minutes to put it all together, but also I can't think of any other salad that embodies the best that summer produce has to offer.
Having grown up in a Mediterranean country, watermelon salad was a way of life. It was (and still is) a summer staple. The combination of watermelon, feta, mint, and red onion made an appearance on our dinner menu almost every night. So naturally, as I am dealing with the heat, I am finding comfort in the familiar territory and making our version of "summer comfort food."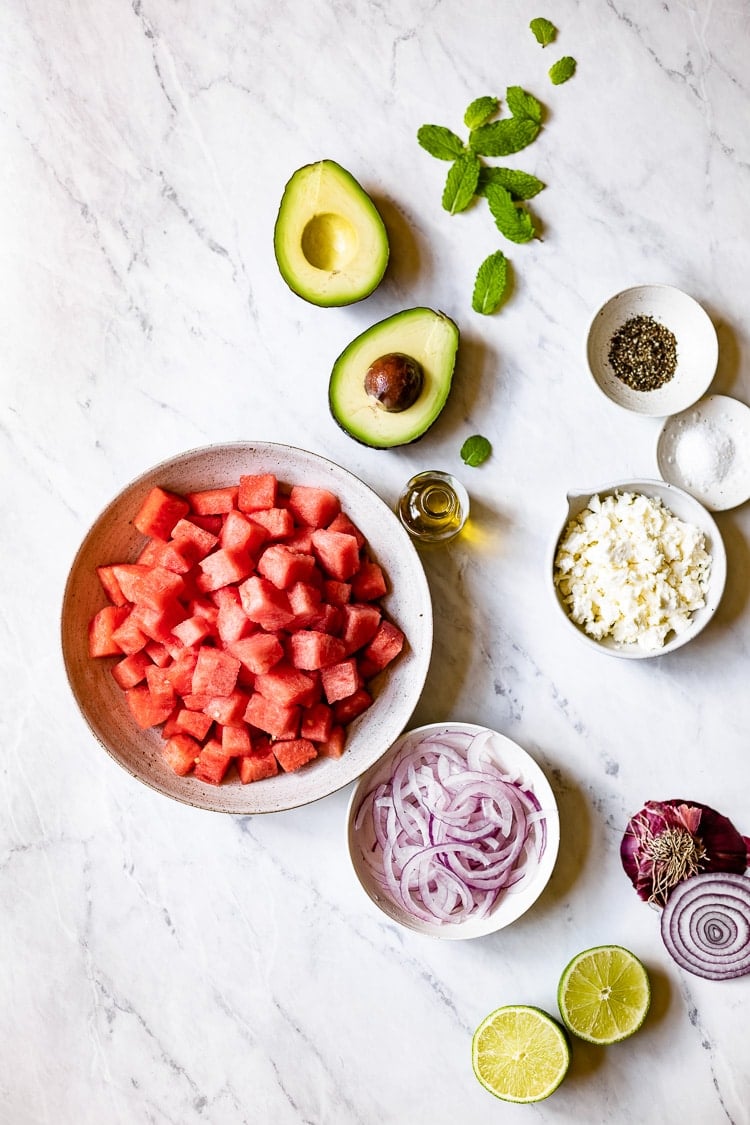 Before I continue further, I want to let you know that this recipe was originally published back in 2014, right after I started Foolproof Living. We were still living in the Caribbean and I had very limited access to fresh food. The Dominican farmer rarely made an appearance, and when he did and had watermelon available, this salad was what we had for dinner every night.
Now 4 years after, I am still making this salad regularly. I thought that it would be nice to give it a new life with some new photos and an updated recipe (with a few more tips).
If you scroll down, you can see some of my embarrassing food photography (please don't). The sad thing is that I still remember feeling so proud of myself on the day I took these photos. Now looking at them, I feel somewhat embarrassed yet proud at the same time of how far I have come.
Though I can't help but wonder how I will feel about the new set of photos in 4 years. 2022?!! WOW!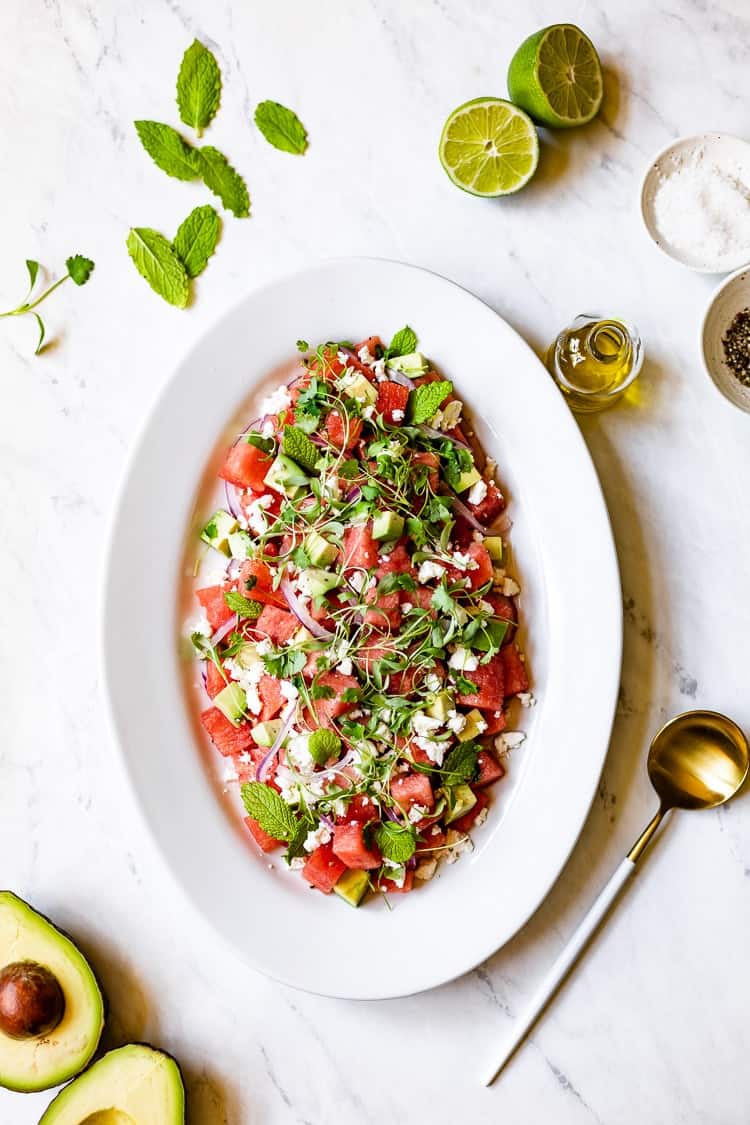 How To Make Watermelon Feta Mint Salad with Avocados
The recipe has 2 folds:
The Vinaigrette: Made with only 4 ingredients, the vinaigrette is made with whisking olive oil with freshly squeezed lime juice and salt and pepper. While you can substitute lime with lemon juice, I personally prefer the combination of lime, mint and watermelon flavors. Still, feel free to use whichever you have on hand.
The Salad: The "salad" portion of the recipe is made with cubed watermelon, ripened avocado, thinly sliced red onion, and crumbled feta. If I am being honest, my mother's version of this watermelon salad did not include avocado or lime. However, after I moved to the US and discovered the magic of avocado and lime combination, I couldn't imagine making it in any other way.
Once you have your salad ingredients and vinaigrette ready, all you have to do is to toss them together. If you have time, I recommend letting it sit in the fridge for 30 minutes so that the flavors will have some time to marinade, but it will still be delicious if you don't have the time.
Whether you serve it for a quick lunch for yourself or for your next summer party, I am confident that this watermelon avocado salad recipe is the best one out there.
A Few Notes on The Recipe:
You can make this salad a day in advance. Though if you do so, I recommend mixing the dressing, feta cheese and the rest of the salad ingredients right before serving.
If you have leftovers, feel free to place them in an airtight container and store in the fridge. They should still be good on the next day.
If you want to switch things up, you can substitute feta with fresh (small) mozzarella balls and mint with basil. You can also add a splash of balsamic vinegar to the dressing to give it a little bit of a sour kick.
If you like this recipe, you might also like:
Need more inspiration to up your salad game? Check out all our easy salad recipes on the blog.
Watermelon Avocado Salad Recipe
Watermelon Avocado Salad with Feta and Mint – A Mediterranean classic made with just a few ingredients and ready in less than 15 minutes.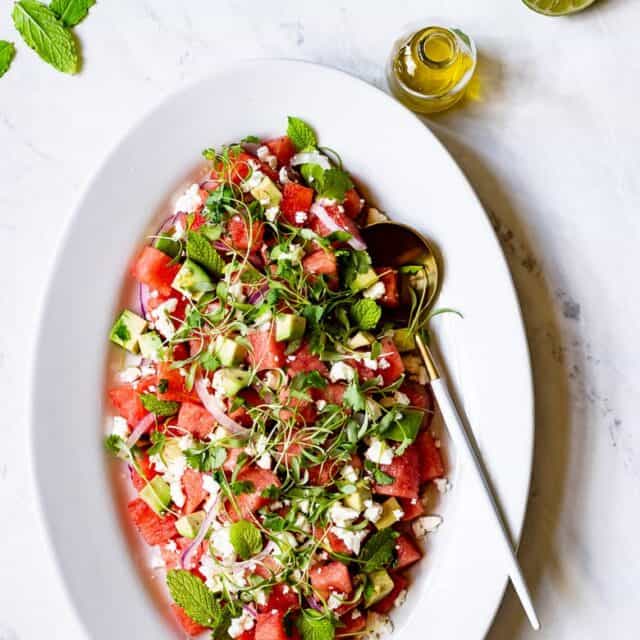 Print Recipe
Ingredients
For the Salad
4

cups

of cut watermelon

1 inch cubes

1

ripe avocado

cut into small slices or cubes

1/2

red onion

thinly sliced

1/2

cup

fresh mint

chopped

1/2

cup

feta cheese

crumbled
For the dressing:
2

tablespoons

olive oil

1

tablespoon

lime juice

freshly squeezed

1

teaspoon

coarse sea salt

1/4

teaspoon

black pepper
Instructions
For the salad: Place watermelon, avocado, red onion slices, and mint in a large salad bowl.

To make the dressing: Whisk together olive oil, lime juice, salt and pepper.

Drizzle the dressing over the salad. Gently toss to combine.

Cover it with stretch film and let it marinade in the fridge for 30 minutes.

When ready to serve, sprinkle crumbled feta cheese on top.
Nutrition
Calories:
248
kcal
|
Carbohydrates:
19
g
|
Protein:
5
g
|
Fat:
19
g
|
Saturated Fat:
5
g
|
Cholesterol:
17
mg
|
Sodium:
798
mg
|
Potassium:
478
mg
|
Fiber:
5
g
|
Sugar:
11
g
|
Vitamin A:
1256
IU
|
Vitamin C:
21
mg
|
Calcium:
126
mg
|
Iron:
1
mg
This post was originally published in 2014. It has been updated with additional helpful information in July 2020.
The small stand that a Dominican man opens up every Friday afternoon is the closest thing we get to having a farmers market on Virgin Gorda. On any other day of the week, the area he sets up is a large empty land in the middle of our downtown on the island. However, when he is there, it looks like there is a big event happening.
I promise you, during the time he is there it is possible to see almost all of the local home cooks of Virgin Gorda. And since it is a small island, everyone knows each other. So it is like a very friendly environment, where everyone talks to each other as they are doing their shopping.
I look forward to going there because I get to chat with them and ask what they are making with the stuff they buy. I love learning about some of the local dishes and techniques that they use to cook.
Depending on the season, the Dominican man sells fresh fruits and vegetables like coconuts, bananas, papayas, watermelon, sweet potatoes, yams, plantains, etc.
Last week, Dwight and I went there hoping that we could get some watermelon. We both think that there is nothing more refreshing than a cold slice of watermelon under the hot Caribbean sun.
Luckily, he had plenty available. Without thinking further, we bought two (10-pound each) watermelons. For some reason, up until it was time for us carry them up to our apartment, we did not think that it would be too much for just the two of us.
As you can imagine, it took us close to a week to finish one 10 lbs. watermelon.
I don't what we were thinking?!?
Since I did not want the second one to go bad, I decided to cut it up into cubes and make a salad with it. At first, I thought about crumbling some feta cheese on top and serving it simply that way.
But then I decided to make it a little more interesting by adding some ripe cubed avocados, chopped fresh mint, and thinly sliced red onions. I made a quick dressing with a splash of olive oil, freshly squeezed lime juice, and salt and pepper. After I drizzled it over the salad and gave it a gentle stir, we ended up with a perfect salad that is full of summer flavors.
Like this recipe? Consider sharing: