If you are fan of consuming warm drink recipes like golden milk or turmeric tea on the regular, then today you are in for a treat. Because today, we are making turmeric smoothies. Known with its anti-inflammatory properties, turmeric is a superfood that has been around for a very long time.
In this post, I will answer some of the most popular questions about using fresh or ground turmeric in smoothies along with my favorite turmeric smoothie recipes that I make on the regular. Similar to all of my other healthy smoothie recipes, the ones I am sharing here are vegan (no dairy), no added sugar and made with simple every day ingredients that you can easily find in your local grocery store.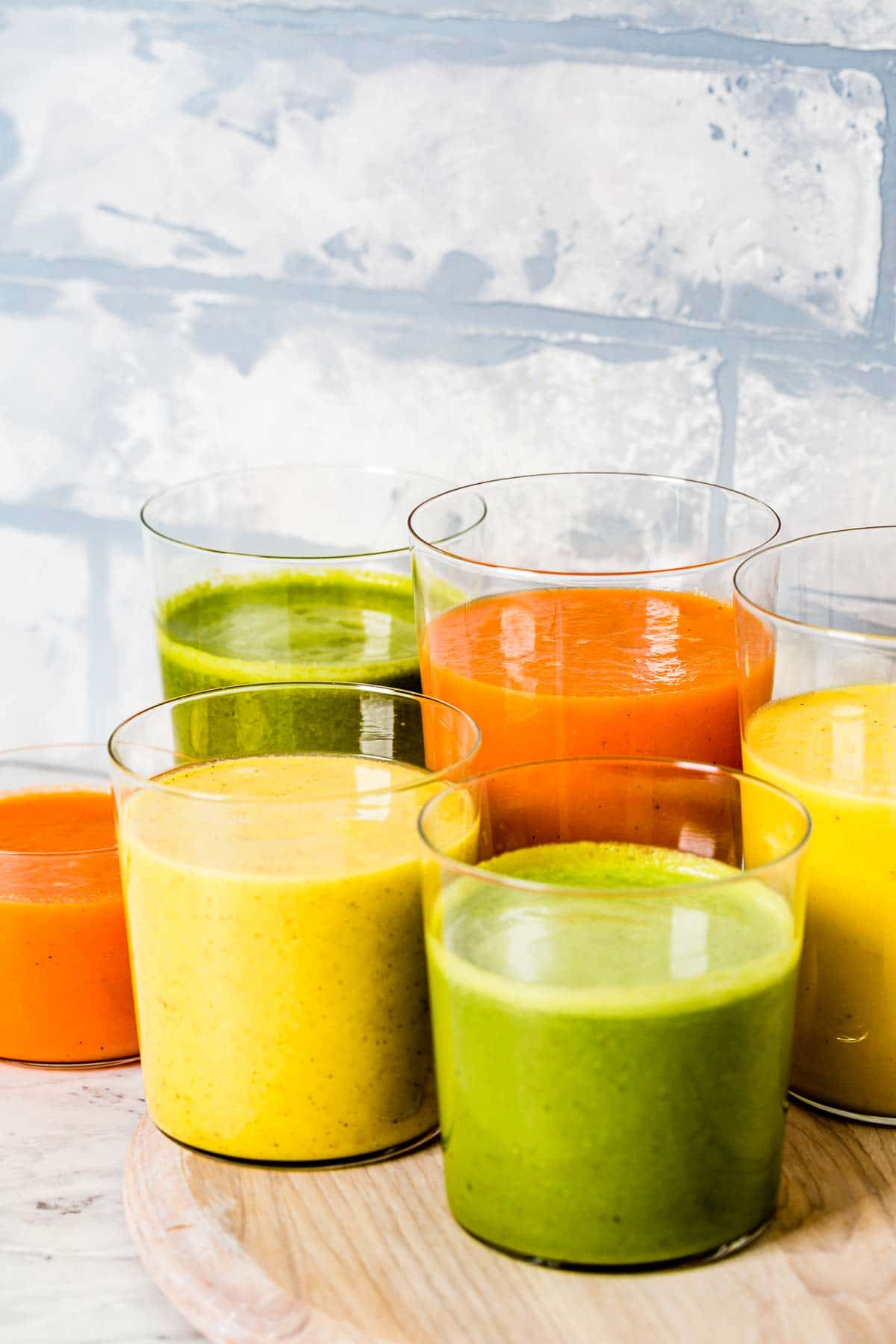 Though before I continue I want to mention one thing. Please consult your doctor for personalized medical advice and eat based on his/her recommendations. The long list of health benefits of turmeric is quite well known and accepted but you and your doctor know your needs better than anyone.
Why Should You Try My Turmeric Smoothies:
Quick & Easy: Making a quick and creamy turmeric smoothie in the morning is an easy way to get your daily dose of superfoods and strengthen your immune system, even when you are on the go.
Good for you: In addition to being a powerful antioxidant, turmeric helps with inflammation issues, especially when mixed with other superfoods like fresh ginger, chia seeds, spinach, flax seeds, tropical fruits, etc.
They taste good: I developed these recipes to make sure that they have the right balance of natural sweetness coming from fruits to mask the spicy flavor of turmeric (especially if you are using ground turmeric) that some people don't care for.
Below are my answers to some of the FAQs along with a few of my favorite turmeric smoothie recipes.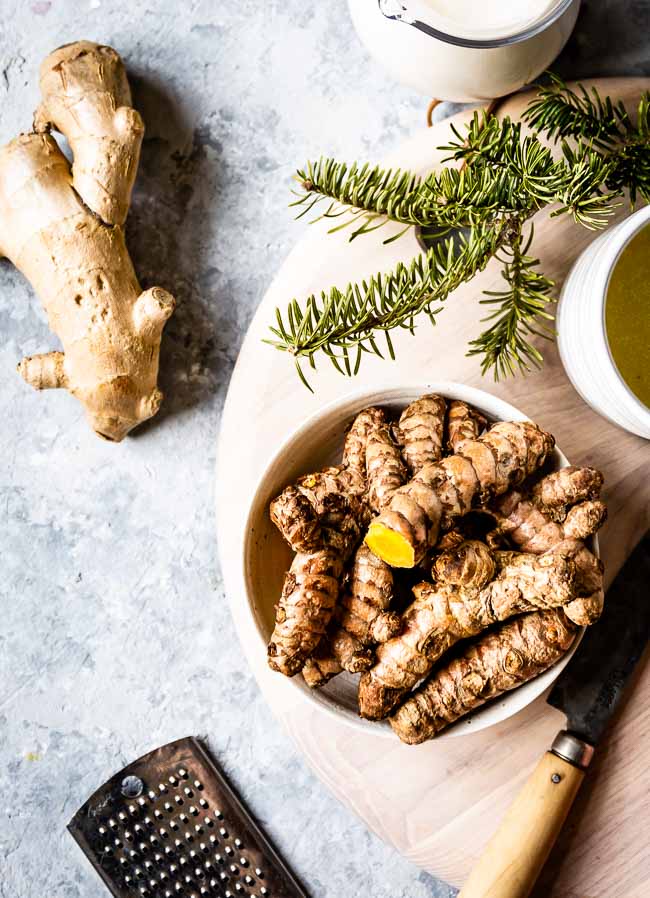 Why do we use black pepper and oil with turmeric?
Before I share the following recipes, I want to talk about two ingredients that I used in every single smoothie below that come as a surprise to you: Black Pepper and Coconut Oil.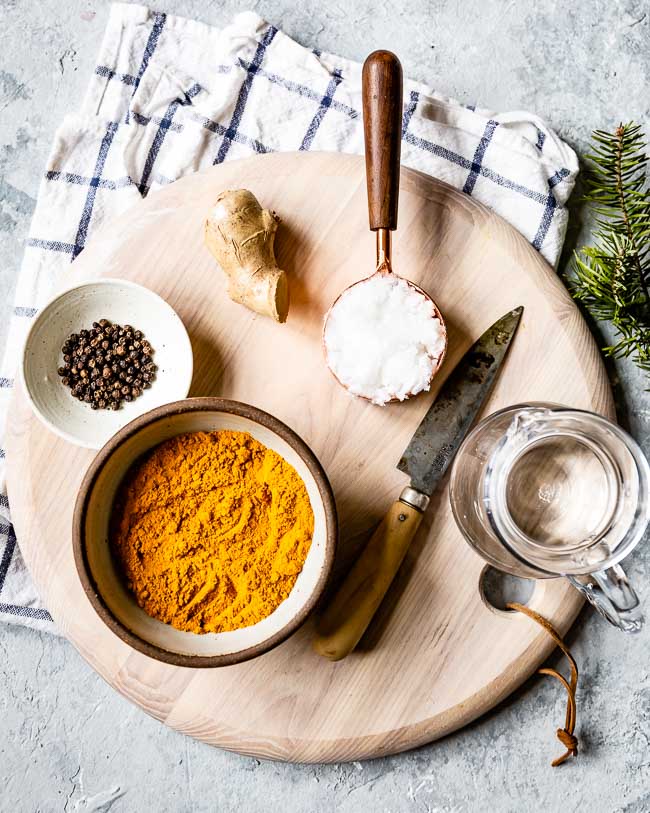 Add a pinch of black pepper
The most well known and researched component in turmeric that is hailed for health is called curcumin. Its usage goes back to the ancient Ayurvedic practice and has been known to promote the holistic health of the body with its powerful anti-inflammatory antioxidant, antibacterial, and anti-cariogenic properties.
The sad thing is that our bodies cannot absorb curcumin when we consume it just by itself.
This is where black pepper comes handy. The active ingredient in black pepper, piperine, increases the bioavailability (here is a detailed definition of this technical word) of curcumin by 2000% (source).
The good news is that you do not need to use a lot. All you need is a pinch of black pepper. In the turmeric smoothie recipes below, you don't even taste it.
A Splash of coconut oil or ghee
If you look back at the ancient Ayurvedic practice you will see that they make their golden milk with a little bit of clarified butter. They do this because curcumin has poor solubility in water. In other words, consuming turmeric with a little bit of fat helps us benefit from curcumin's full potential.
Therefore, I added a little bit of oil in my smoothies. I opted for ½ teaspoon coconut oil as it is widely available, but if you have access to ghee you can use that as well.
Again, similar to black pepper, you do not taste the coconut oil in the smoothie recipes I shared in this post.
FAQs
How to use turmeric in smoothies?
You can use both ground turmeric spice (also known as turmeric powder) or fresh turmeric root in your smoothie recipes.
How much turmeric to put in a smoothie?
The following ratios might change depending on the recipe, but my general rule of thumb for 2 servings of a turmeric smoothie is to use ½ teaspoon of ground turmeric spice or ¼ teaspoon of grated fresh turmeric root (about 1-inch).
I personally find fresh turmeric root to be more potent compared to its spice version so I use half the amount. However, I recommend starting with these ratios and adjusting it to your liking.
Delicious turmeric smoothie recipes for all year round
Below are my favorite turmeric smoothies that I make throughout the year. All of the recipes below are vegan (dairy-free), gluten-free, and no sugar added.
If I am making these during the winter months I usually do not add ice into the blender. However, during the summer months, I almost always add in a cup of ice cubes to make it even more refreshing.
This is the smoothie that I make when I am in need of the tropical flavors. Made with fresh mango and pineapple, it is made even more nutritious with the addition of a tablespoon of chia seeds.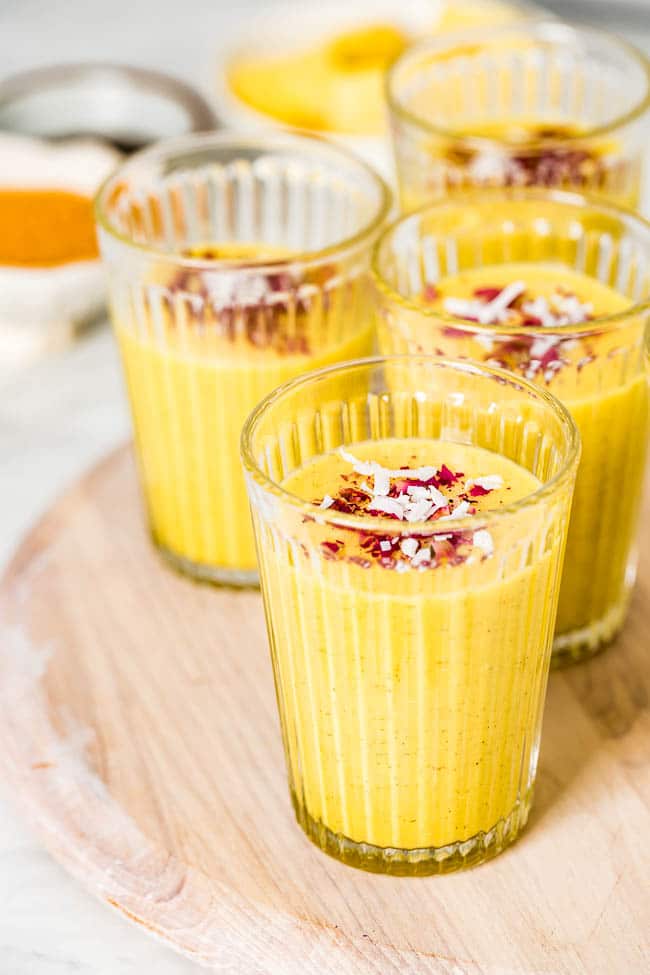 Don't have access to fresh fruit? You can also use frozen fruit to make this smoothie.
---
This is what I call the superfood smoothie of all times. This turmeric smoothie is carrot and orange-based, so you also get your daily dose of Vitamin C right off the bat. Since they are both so sweet and flavorful, when used together they can mask the potent flavors of fresh ginger and turmeric pretty well.
This is the smoothie I make myself when I feel like I need an afternoon pick me up. It opens my eyes and makes me feel good immediately.
---
This is my favorite green smoothie recipe. Made with almond milk, spinach, ground flaxseeds, and fresh (or frozen) pineapple, it is packed with all kinds of good-for-you ingredients.
Want to switch it up? Feel free to switch things up by using fresh kale instead of baby spinach or coconut milk instead of almond milk or chia seeds instead of ground flaxseeds. And if you like kale and pineapple combo, be sure to try my Pineapple Kale Smoothie recipe.
---
Are you someone who enjoys turmeric drinks on the regular?
If you are someone who enjoys adding turmeric to smoothies, curries, or simply in hot milk before bed, I highly recommend keeping a jar of turmeric paste in your fridge. I usually make it once a month and use a small amount (usually about 1 teaspoon) every day.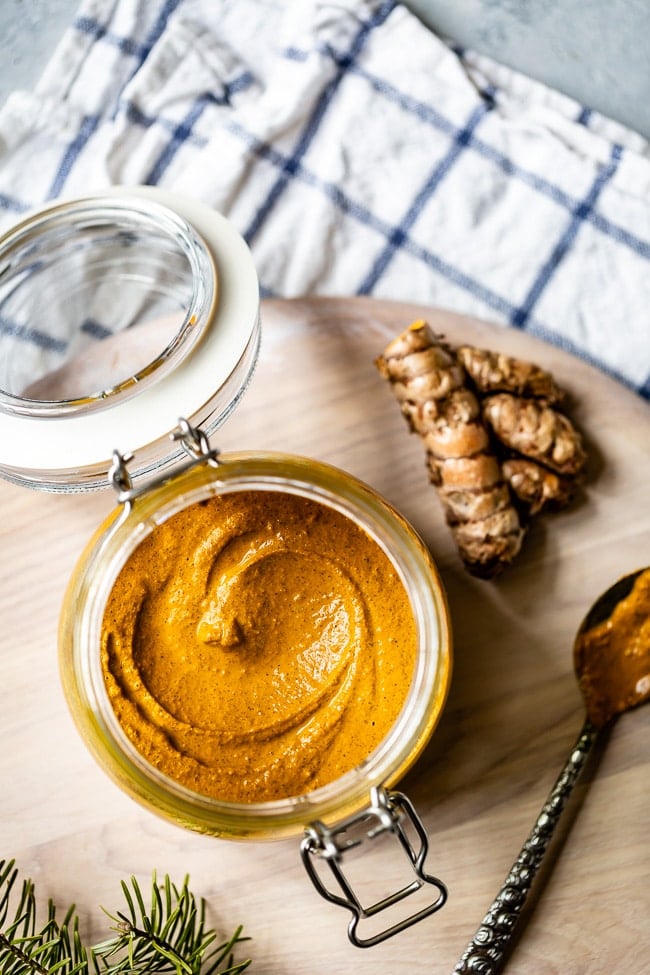 And if you want to use this turmeric paste in these smoothie recipes instead of the turmeric spice, black pepper, and coconut oil, you can simply use ½ teaspoon of turmeric paste instead.
---
Need more smoothie recipe inspiration?
Here are a few more posts to get you inspired:
Turmeric Smoothie Recipes
Get the recipe for my go-to dairy-free, no sugar added and vegan spinach turmeric smoothie recipe.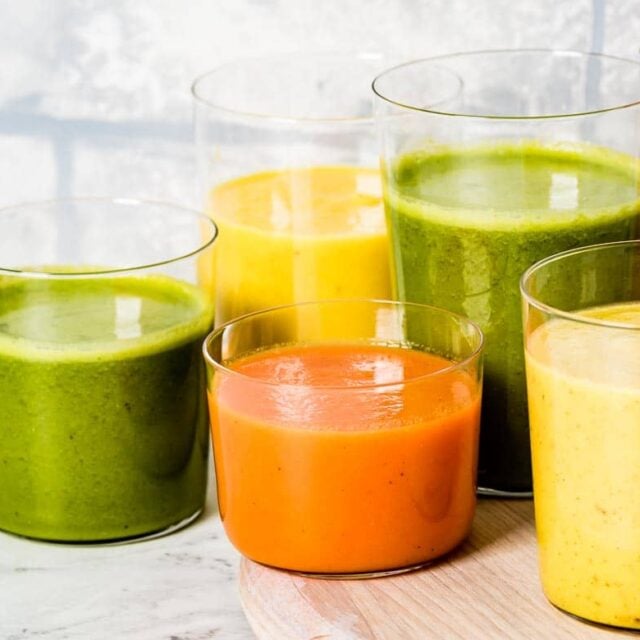 Print Recipe
Ingredients
Spinach Turmeric Smoothie
2

cups

baby spinach or kale

rinsed and washed

3

cups

of pineapple chunks

fresh or frozen

½

teaspoon

of ground turmeric spice

1

tablespoons

ground flaxseeds

1

cup

of water

1

cup

unsweetened almond milk

or coconut milk

Pinch

of black pepper

½

teaspoon

coconut oil

melted and cooled
Mango Turmeric Smoothie
2

cups

of chopped mango

fresh or frozen

½

cup

pineapple chunks

fresh or frozen

½

cup

unsweetened shredded coconut flakes

½

teaspoon

ground turmeric

1

teaspoon

chia seeds

1 ½

cups

of coconut water

A pinch of black pepper

¼

teaspoon

coconut oil
Turmeric Ginger Smoothie
3

stalks of carrot

washed peeled and cut into chunks

1 ½

cups

of chopped oranges

1 ½

cups

of coconut water

1-

inch

fresh ginger

grated (about ½ teaspoon)

½

teaspoon

ground turmeric

Pinch

of black pepper

½

teaspoon

coconut oil
Instructions
Place all ingredients in the bowl of a blender and blend until smooth.

Serve immediately.
Video
Notes
Do I add ice to the blender? If I am making these during the winter months I usually do not add ice into the blender. However, during the summer months, I almost always add in a cup of ice to make it even more refreshing.
Can I make these smoothies the night before? Yes, you can. Simply make a batch in the blender, place it in a jar or bottle with a tight fitting lid and store it in the fridge until the morning. Be sure to give it a good shake before drinking. I recommend consuming your turmeric smoothie within the 24 hours.
Like this recipe? Consider sharing: