Viral salads are all the craze these days, much like the La Scala Salad (aka Kardashian Salad) and Jen Aniston Salad. And this Columbia 1905 salad recipe has so much rich history, it's no wonder it has taken the internet by storm.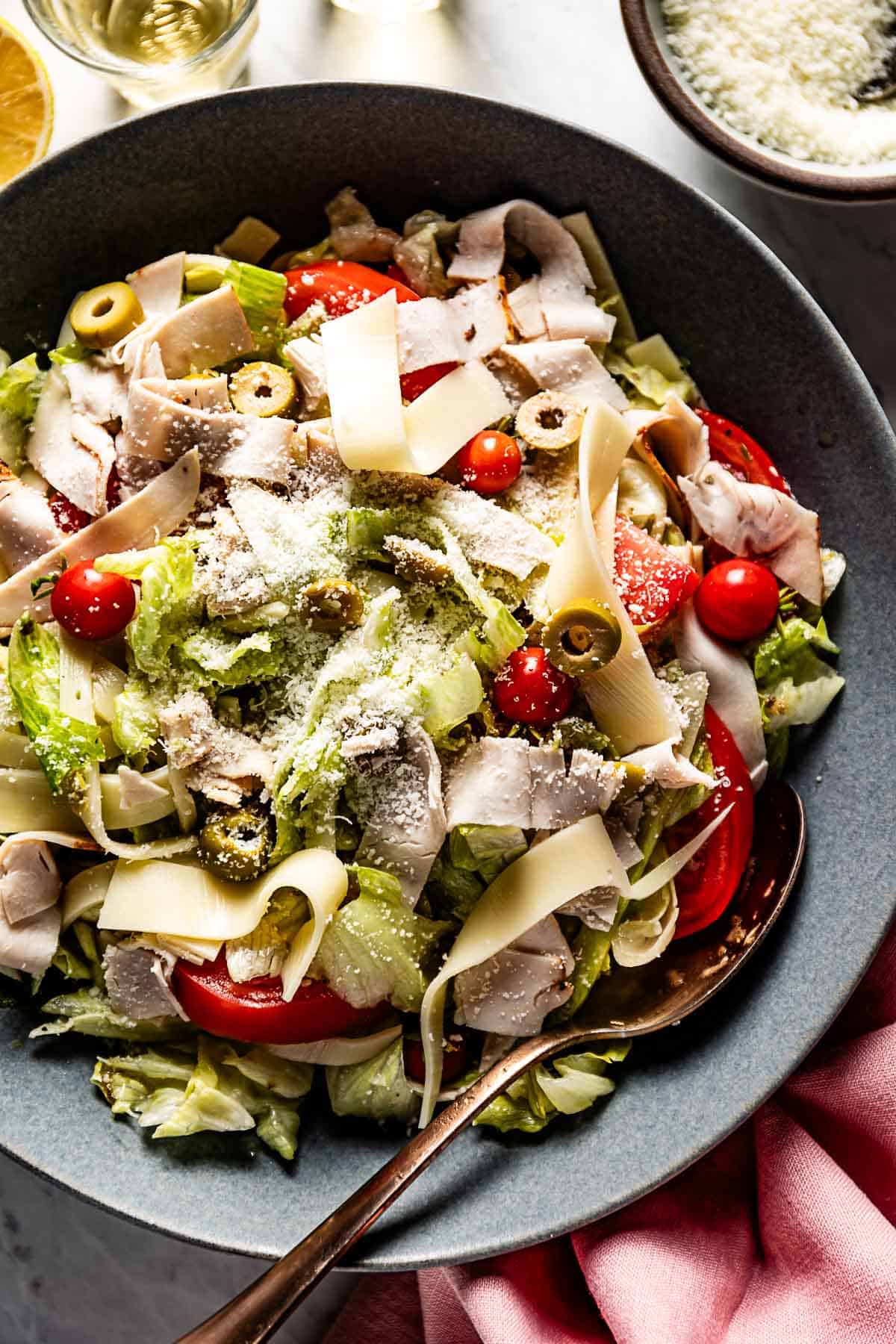 What is 1905 Salad?
The 1905 salad was invented by a waiter named Tony Noriega at the Columbia Restaurant (one of the most iconic restaurants in America) in the heart of the Ybor City neighborhood of the Tampa Bay area in Florida. He was working late at the restaurant one night and used some leftovers in the fridge to create what the restaurant now serves tableside (with some minor adjustments made to the original).
Contrary to its name, it was actually created in the 1940s and was later adapted by Columbia and added to the menu in the 1970s as an answer to the salad bar. The name of the salad, '1905', was created to celebrate the year the restaurant was founded as Florida's oldest restaurant.
Since then, the unique flavors of the 1905 salad have been considered a culinary representation of the Cuban and Spanish heritage of Ybor City and the Tampa Bay area. Because of its Cuban/Spanish origin, the salad goes by many names, including the 1905 Columbia Salad, Cuban 1905 Salad, Florida Salad, Tampa Salad, or Tony Salad.
Ingredients
The beauty of the 1905 Columbia salad recipe is that it relies on simple, yet delicious, ingredients. Yet there are details in both the dressing and salad that are important to point out. I highly recommend sticking to the below ingredients to make the original 1905 Columbia salad recipe, but I also offer plenty of substitutions to give it your own unique flavor.
Columbia Restaurant Salad Dressing
This Columbia 1905 salad dressing has become so popular over the years, that it is now sold as a salad dressing in grocery stores like Publix and even online stores like Amazon. While you can always buy a bottle, making it at home is so easy. Here's what you will need: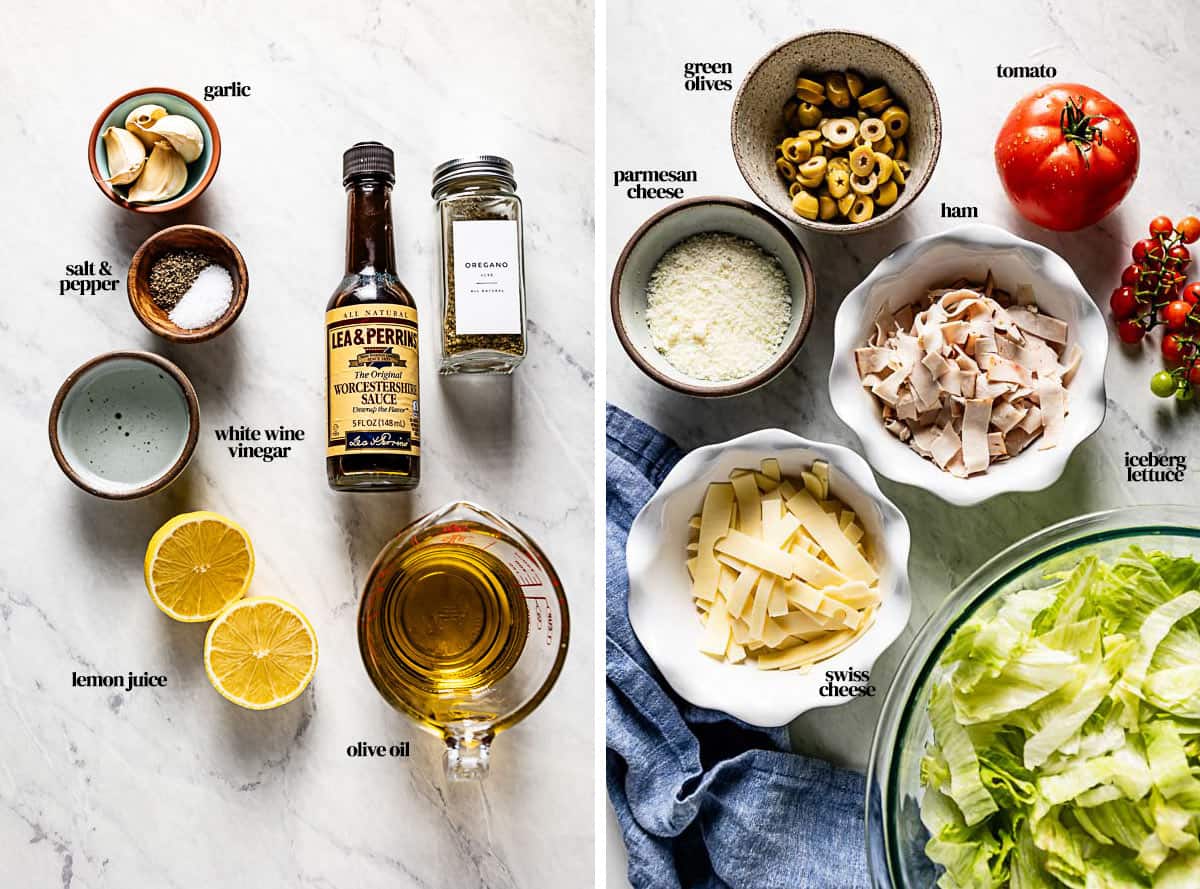 Garlic: Freshly minced garlic cloves will provide the best flavor. In this case, I would not substitute it with garlic powder.
Dried Oregano: I used dried oregano, but you can use 1 sprig of fresh oregano for a stronger, floral flavor.
Worcestershire Sauce: This is the secret ingredient that gives the salad dressing that special umami flavor. Pick up a bottle of the popular Lea and Perrins Worcestershire Sauce (affiliate link) for authentic flavor.
Extra Virgin Olive Oil: The original recipe calls for extra-virgin Spanish olive oil, but you can use whichever olive oil you have on hand.
White Wine Vinegar: White wine vinegar provides a nice bit of acidity.
Fresh Lemon Juice: Use freshly squeezed lemon juice, which would be the juice of about 1 lemon.
Kosher Salt + Black Pepper
Salad Ingredients
Iceberg Lettuce: We need 7-8 cups of crisp lettuce, which you can get from about one large head of iceberg lettuce. The key is to slice, rinse, and then dry it really well. If you have a salad spinner, this is the time to use it.
Tomatoes: Ripe, juicy tomatoes are key, but any kind will do. My favorites are heirloom, beefsteak, tomatoes on the vine, cherry, or Roma tomatoes.
Ham Slices: We need about 4-5 slices of deli ham. Slice them into thin, julienne slices (matchstick strips) when you get home.
Swiss Cheese: The same goes for the Swiss cheese. We need about 5 slices, also sliced into julienne.
Green Olives: Use pitted green olives, roughly chopped, or even pimento-stuffed green Spanish olives if you want to take it up a notch.
Pecorino Romano: The original recipe uses Romano cheese, which is Pecorino Romano sold here in the United States. Pick up a box of finely grated cheese or grate a whole block at home.
Substitutions & Optional Add-Ins
While I highly recommend sticking to the original 1905 salad recipe, I wanted to make sure I provided you with a few substitutions and optional additions.
Salad Greens: A good substitute for iceberg lettuce would be romaine lettuce. Just be sure to slice it as thinly as you can.
Celery Stalks: Add some thinly sliced celery stalks for extra crunch.
Black Olives: Swap out the green olives for milder black olives instead.
Ham Substitutions: If you are not a fan of ham, you can use thinly sliced, deli-style chicken, turkey breast, salami, or pepperoni, or try some Grilled Shrimp instead.
Cheese: If you don't have Pecorino Romano, finely grated Parmesan cheese will also work.
Croutons: Whether store-bought or Homemade Croutons, add a handful to the top for some extra crunch.
Hard-Boiled Eggs: Slice or dice some hard-boiled eggs for extra protein.
Onion: Toss in some thinly sliced red onion or green onions for an extra savory bite.
Make it Vegetarian: Omit the ham and use some Baked Tofu instead, or simply add more Swiss and green olives to compensate for the lack of meaty flavor.
How to Make 1905 Salad Recipe?
The recipe for the 1905 salad follows the same basic steps as any other salad: First, whip up the salad dressing, prepare the salad ingredients, and then toss them all together. Here's how to do it in a few easy steps: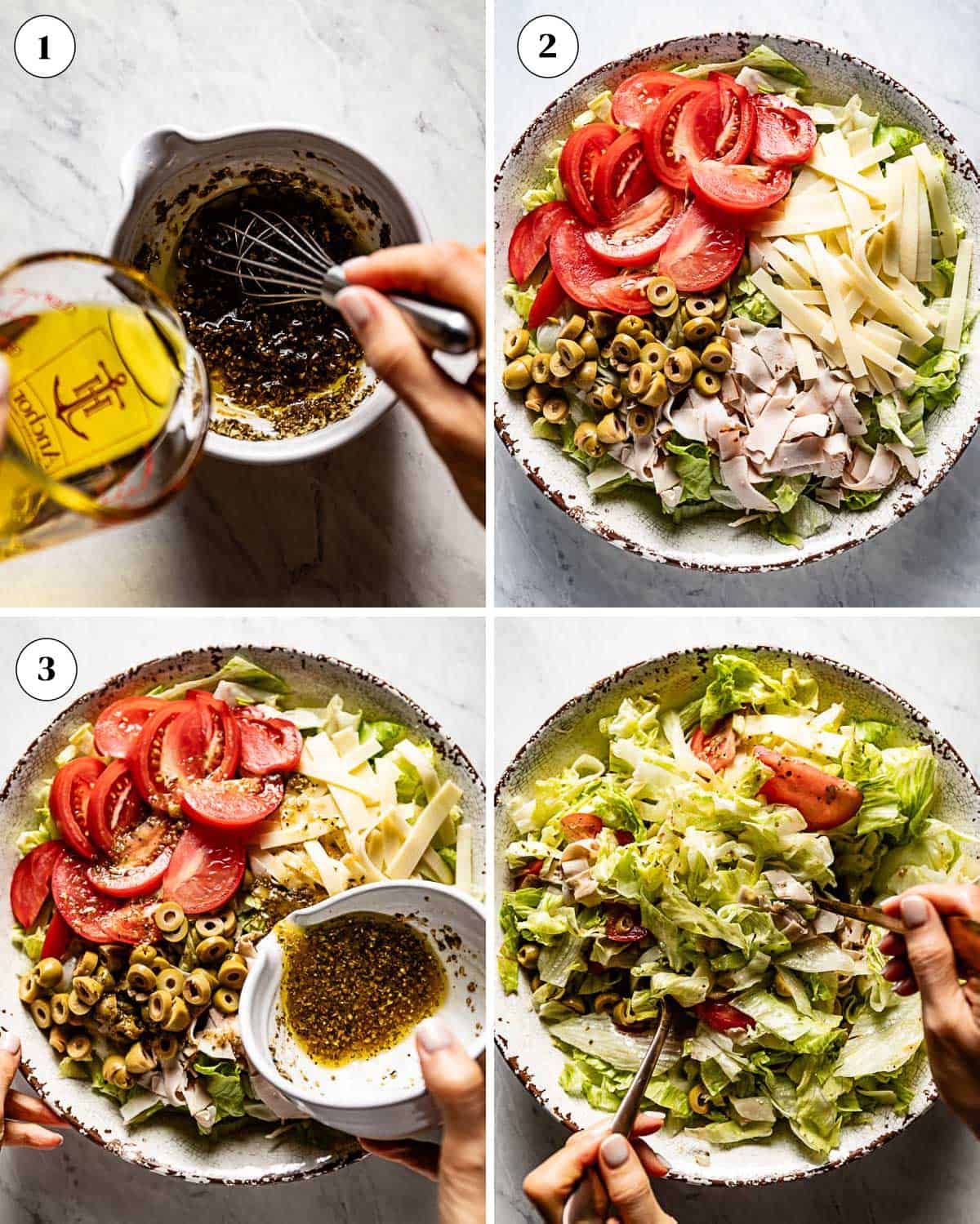 Make the 1905 Salad Dressing: In a small bowl, whisk together the garlic, dried oregano, and Worcestershire sauce. Slowly add the olive oil while whisking constantly to form an emulsion. Stir in vinegar, lemon juice, salt, and pepper, while still whisking until smooth.
Assemble the Salad: In a large salad bowl, combine lettuce, tomatoes, ham, Swiss cheese, and green olives.
Toss: Toss salad ingredients with the dressing. Sprinkle with Romano cheese, taste for seasoning, and add more, if desired. Serve and enjoy!
How to Make Ahead and Store Leftovers?
The Columbia Salad can be made ahead and even stored for later if done properly. Here are my best storage tips:
Make Ahead: Columbia restaurant actually recommends making the dressing 1-2 days in advance, but I find it lasts up to 3 days if stored in an airtight container or mason jar in the refrigerator.
Storage: The dressed salad will only keep fresh for 1 day. Please be aware that as it sits, it releases all of its juices. If you plan to store the salad for longer or know you will have leftovers, refrain from tossing the salad with the dressing until the day you are going to serve. Store the prepared salad ingredients in a large airtight container with a paper towel to absorb excess moisture for 2-3 days.
What to Serve With the 1905 Salad?
This is a hearty salad all on its own, so it can be served simply with bread and butter. The Columbia Restaurant serves it with a Cuban sandwich from the menu. Here at home, I love to serve it as a side salad with any of the following: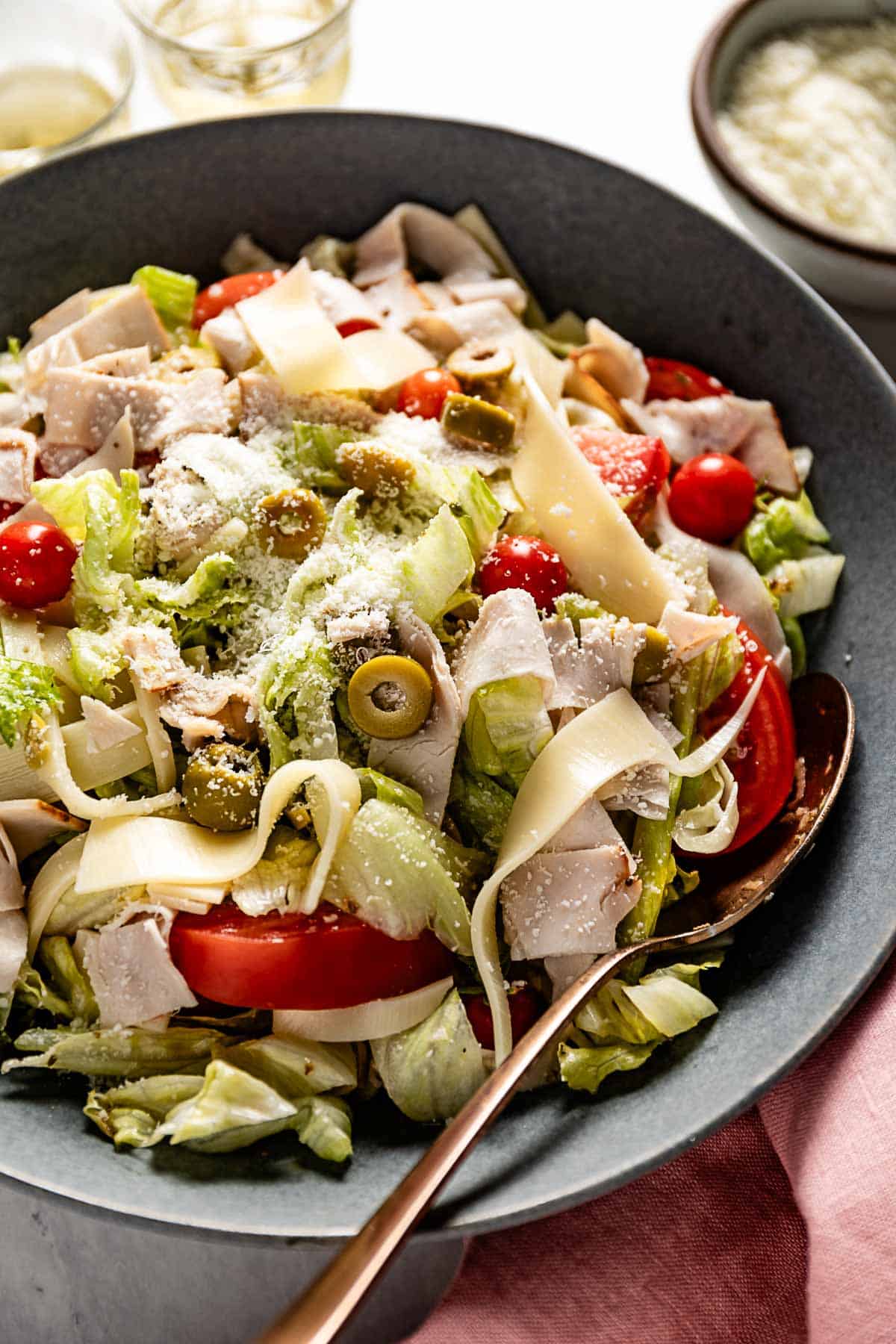 Expert Tips
Authentic flavors: The reason this salad became so famous is because it is so well-balanced. I highly recommend sticking to the original recipe to bring out all those Spanish flavors. This may mean a quick trip to the store, but I promise it is worth it.
Take your time when making the dressing: It's interesting to note, that The Columbia restaurant actually adds the Worcestershire sauce and lemon juice at the end so that you can taste more of the savory, bright components. But I find the ingredients marry together well when mixed into one. The key is to emulsify the dressing so that the olive oil is mixed well with the Worcestershire sauce, vinegar, and lemon juice. To do so, slowly drizzle in the olive oil and give it one more good whisk just before tossing.
Assembly: The salad at the Columbia restaurant is prepared tableside for all guests who order it. If you really want to stick to history, serve this salad tableside for all your family members and friends, and for extra flair.
Salt: I intentionally included less salt in the salad dressing since this salad contains many salty ingredients, like ham, Swiss, salty green olives, and grated cheese. Be sure to taste test once you mix the dressing with the salad. The exact measurements will be based on your personal preference.
Mix at the last minute: Drizzle with the dressing just before serving to keep the iceberg lettuce crisp and crunchy and the rest of the ingredients fresh.
Presentation: Each ingredient brings its own color, taste, and texture, so have fun with the presentation, especially if serving this salad to a crowd. For extra bonus points, serve in a chilled salad bowl to keep it super cold.
FAQs
Why is it called 1905 salad?
Although the 1905 salad was technically invented in the 1940s, it is named after the year the Columbia restaurant was founded.
Who invented the 1905 salad?
The 1905 salad was invented by waiter Tony Noriega, who pulled leftovers from the fridge one night after work to create this famous salad.
How many calories are in a 1905 Columbia Salad?
One serving of the 1905 Columbia Salad is 306 calories. This will vary based on the amount of Romano cheese you add at the end.
Other Meal-Worthy Salad Recipes You Might Also Like:
If you try this 1905 Salad recipe, please take a minute to rate the recipe and leave a comment below. It helps others who are thinking of making the recipe. And if you took some pictures, be sure to share them on Instagram using #foolproofeats so I can share them on my stories.
1905 Salad Recipe
Be a part of the viral sensation and make the famous 1905 salad right at home! Made with the iconic Columbia Restaurant's garlic salad dressing, sweet ham, and creamy cheese, it is an easy salad you can make in 15 minutes.
Print Recipe
Ingredients
For The Salad Dressing:
4

garlic cloves

minced

2

teaspoons

dried oregano

2

tablespoons

Worcestershire Sauce

½

cup

extra virgin olive oil

3

tablespoons

white wine vinegar

4

tablespoons

lemon juice

½

teaspoon

Kosher salt

plus more to taste

¼

teaspoon

black pepper
For The Salad:
1

head

iceberg lettuce

sliced and rinsed (~7-8 cups)

1

large

ripe tomato

sliced

½

cup

ham slices*

julienned – about ¼ lb or 5 slices of ham

½

cup

Swiss cheese

julienned – 5-6 slices

½

cup

green olives

pitted and chopped

¼

cup

Pecorino Romano

grated or grated Parmesan cheese
Instructions
To make the dressing, whisk garlic, dried oregano, and Worcestershire sauce in a bowl. Gradually add the olive oil while whisking constantly to form an emulsion. Stir in vinegar, lemon juice, salt and pepper. Whisk until thoroughly combined.

To assemble the Columbia restaurant salad, place iceberg lettuce, sliced tomatoes, julienned ham and Swiss cheese, and green olives in a large bowl.

Drizzle the salad with the dressing. Give it a toss until combined. Sprinkle it with Romano cheese.

Taste for seasoning, add more if necessary, and serve.
Notes
Yields: This recipe yields a large bowl of salad (about 7-8 cups), which is ideal for 6 servings as a side dish.
Ham: The original recipe uses baked ham. If you have some on hand, go ahead and use it. Otherwise, deli-style ham slices are a good substitution. You can also use deli-style chicken/turkey breast or even shrimp.
A word on salt:

I intentionally included less salt in the salad dressing since this salad contains many salty ingredients, like ham, Swiss cheese, salty green olives, and Romano cheese. Be sure to give it a taste right after mixing it and adjust it according to your taste buds.

Store: This salad is best on the day it is made. However, leftovers can be stored in an airtight container in the fridge for one day. Please be aware that it gets watery as it sits, so it is best to give it a good mix before serving.
Nutrition
Calories:
306
kcal
|
Carbohydrates:
8
g
|
Protein:
9
g
|
Fat:
27
g
|
Saturated Fat:
6
g
|
Polyunsaturated Fat:
3
g
|
Monounsaturated Fat:
17
g
|
Cholesterol:
25
mg
|
Sodium:
756
mg
|
Potassium:
346
mg
|
Fiber:
2
g
|
Sugar:
4
g
|
Vitamin A:
857
IU
|
Vitamin C:
12
mg
|
Calcium:
173
mg
|
Iron:
1
mg
Like this recipe? Consider sharing: