It's no secret that air-fried red potatoes are an easy way to fill your table with savory, expertly seasoned taste. If you can't get enough of the subtle sweetness and creamy texture of red-skinned potatoes, get out your recipe book! My Red Potato Salad combines savory bacon, crisp dill pickles, and fresh dill with a creamy mayo dressing guaranteed to wow all your dinner guests.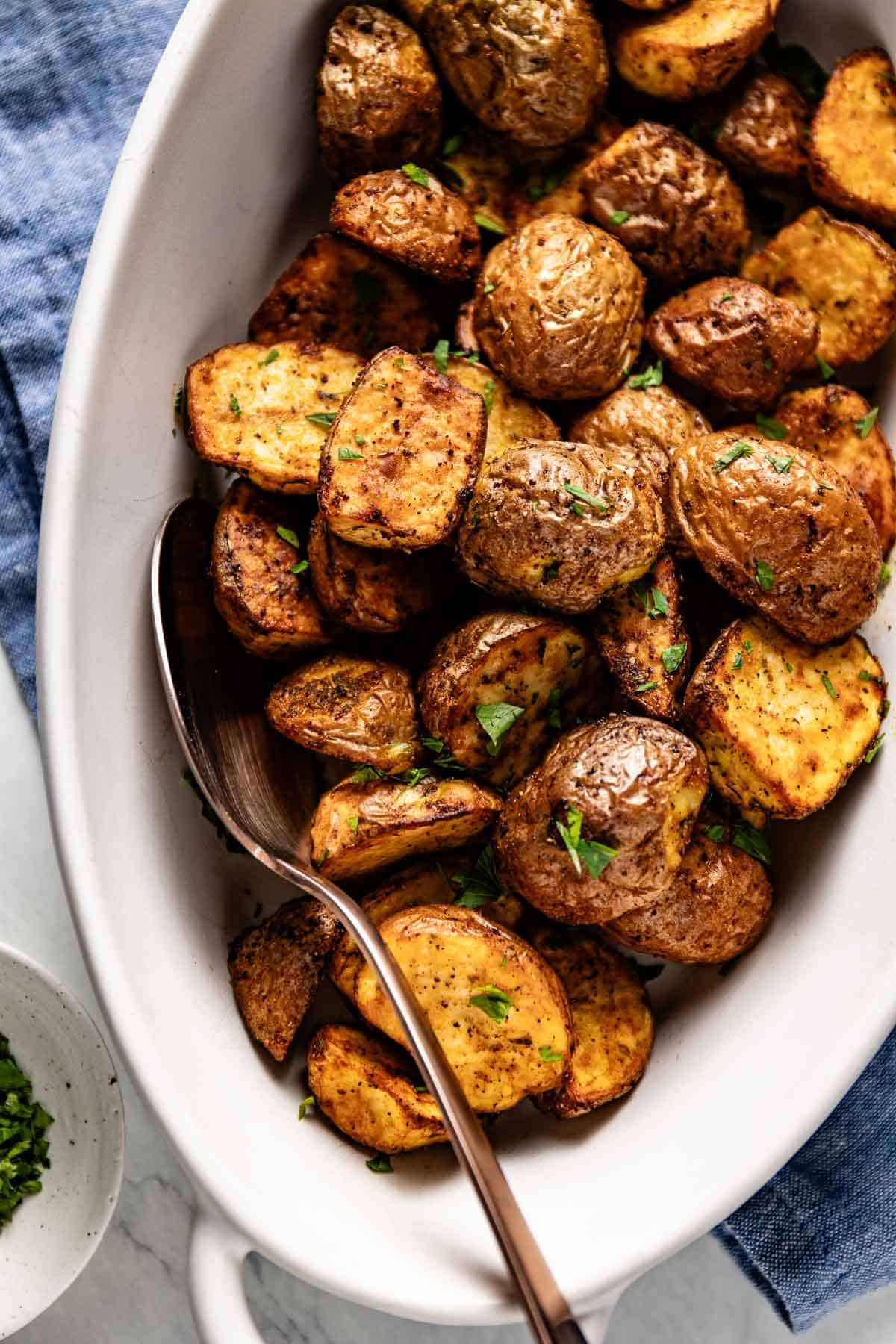 Ingredients
Cooking new potatoes in the air fryer requires only a handful of ingredients you likely already have in your pantry.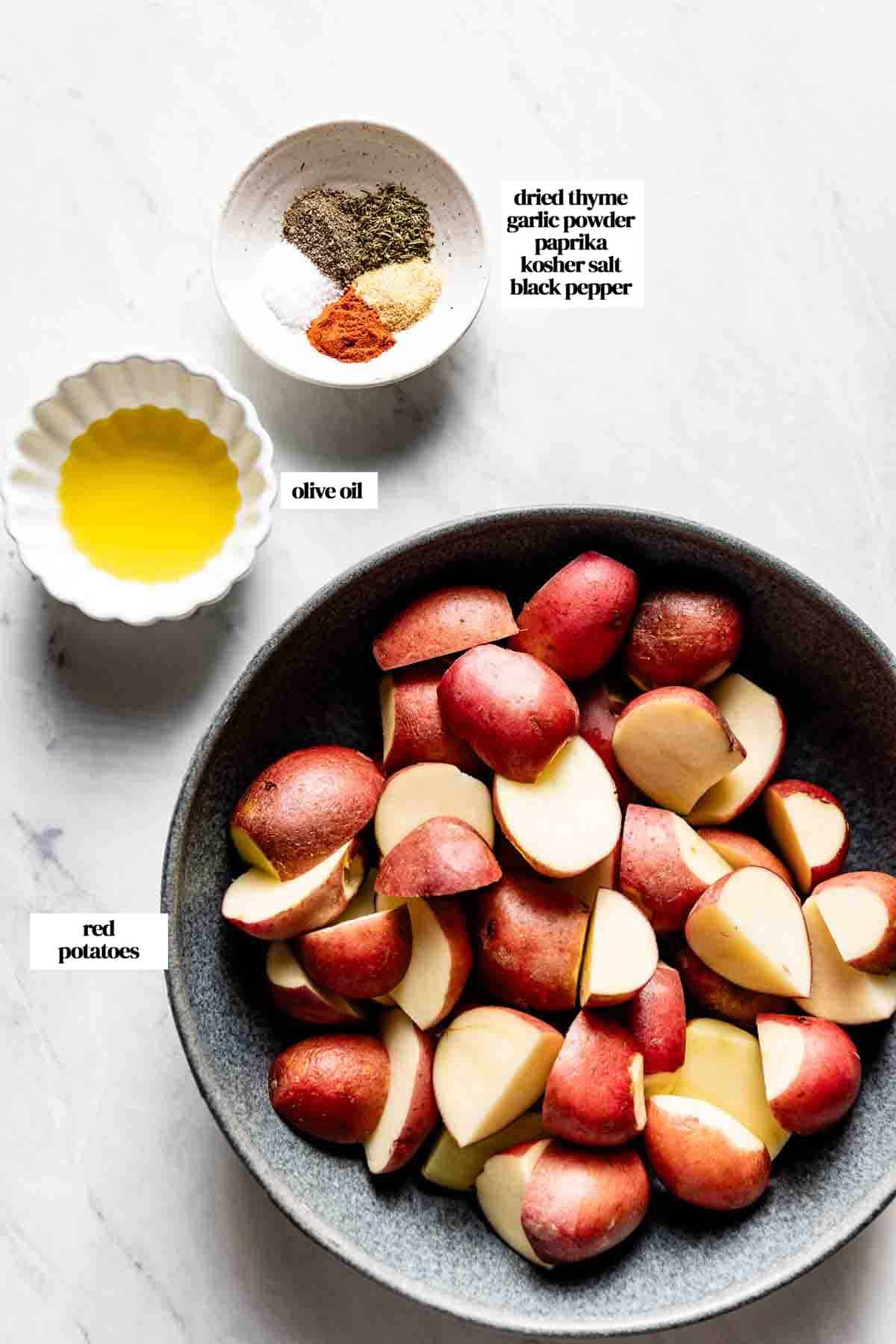 Red potatoes: Small, creamy, and mildly sweet red potatoes (also known as red skin and new potatoes) are a must for this air fryer recipe. Though I use small red potatoes for this dish, other small, tender potatoes, such as Yukon Gold potatoes, would also work. However, avoid using potatoes with too much starch—such as russet potatoes—as they won't crisp up or tenderize as well as other potato types.
Oil: I use olive oil to give my little red potatoes their irresistible crispiness and well-seasoned exterior. However, you may substitute olive oil with any other mild-flavored oil, like avocado oil or ghee.
Seasonings: I chose to season my air-fried new potatoes with a basic, savory mix of dried thyme, garlic powder, paprika, salt, and ground black pepper. To give your potatoes extra smoky undertones, you may also use smoked paprika.
Other Seasoning Ideas
Want to take your air fryer roasted red potatoes to the next level? Though optional, these expert seasoning ideas allow you to customize your red potatoes with dozens of other tasty flavor profiles.
Favorite spice mixtures: One of the best parts about air fryer potato recipes is how easy they are to customize based on the dish with which you serve them. For a sweet and peppery flavor profile, Italian seasoning makes a delicious seasoning mix. Or, you can enhance this dish's spice and savoriness by opting for authentic Cajun seasoning, which you can easily make using my Blackened Seasoning recipe. Or, you can give your new potatoes a herby, warm, and bright finish using Mediterranean Seasoning, Baharat Spice Mix, or Ranch Seasoning.
Spices: If you love spicy food, a few simple additions can give your air-fried potatoes a hot kick. Depending on what you serve with your potatoes, curry powder, red pepper flakes, cayenne pepper, chili powder, onion powder, and more can transform your red potatoes into a piquant side fit for even the biggest spice fans.
Fresh herbs: Enliven your air fryer new potatoes with fresh, gourmet flavor by finishing them off with a sprinkle of chopped fresh thyme, fresh parsley, fresh basil, or fresh rosemary.
Parmesan cheese: A great way to give your little red potatoes a rich, umami flavor is to sprinkle them with parmesan at the end of cooking. Cheesy and salty, these garlic parmesan air fryer potatoes will have the whole table asking for your recipe.
How to Cook Red Potatoes in the Air Fryer?
Making baked red potatoes in the air fryer is one of the quickest, simplest ways to delight your tastebuds and cut your kitchen prep in half. Six steps and twenty minutes are all you need to make this mouthwatering side.
Prepare the air fryer: Preheat the air fryer to 400 degrees F.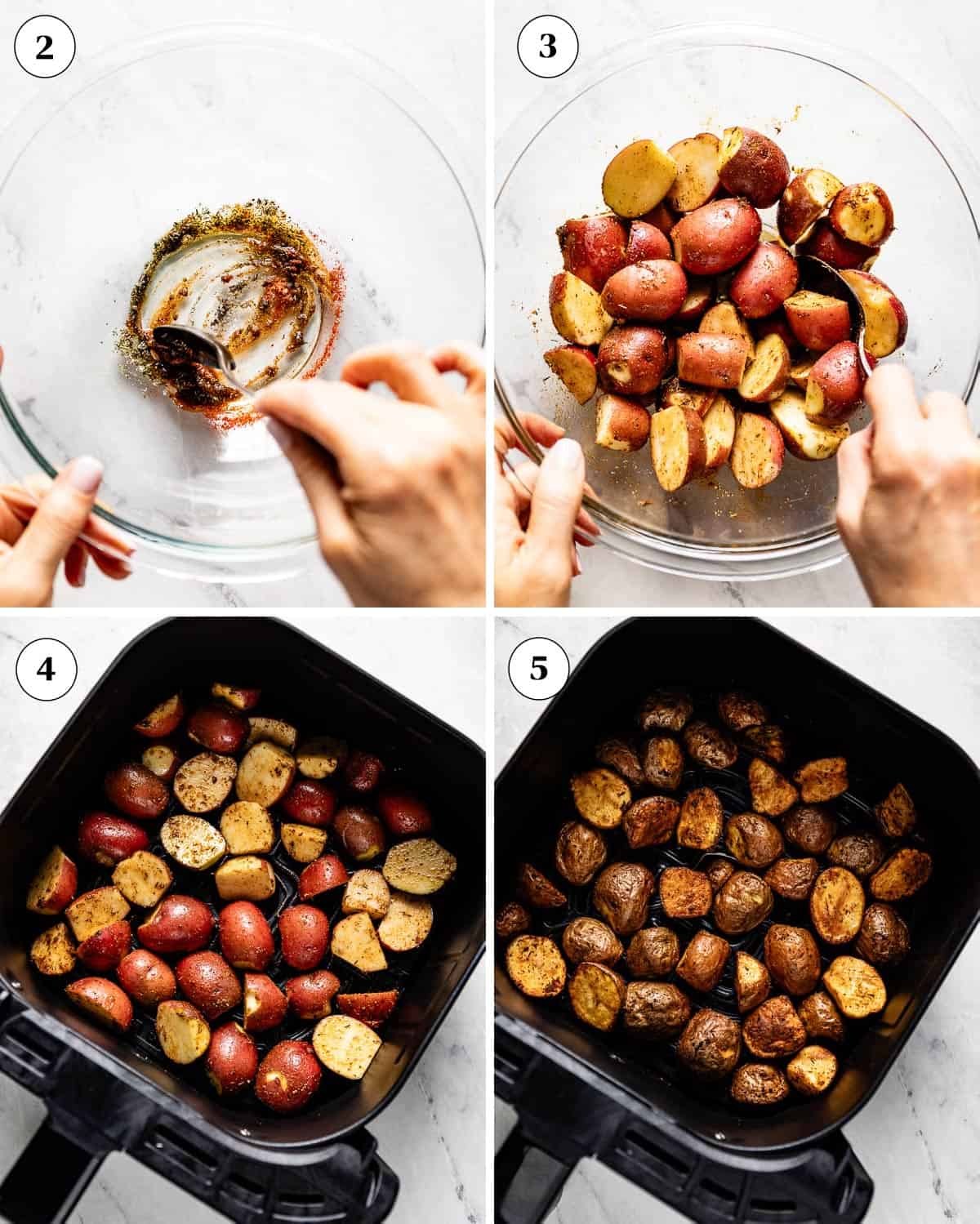 Combine the seasonings: Take out a large bowl and add the olive oil, dried thyme, garlic powder, paprika, salt, and pepper. Whisk until thoroughly combined.
Toss potatoes: Add the baby red potatoes to the seasoning mixture and toss until each potato has an even coating.
Arrange the cut potatoes: Place the seasoned potatoes in the air fryer basket, arranging them in a single even layer without overcrowding.
Air fry the red potatoes: Cook the potatoes for about 15 minutes, shaking the basket every five minutes, until the potatoes are tender when pierced with a knife. If the potatoes aren't fork-tender at the end of 15 minutes, continue cooking them in one-minute increments until done.
Serve: Transfer your fresh air-fried red potatoes onto a serving platter and serve with your favorite sauce on the side.
How to Store and Reheat?
To ensure maximum crispiness, I recommend eating them on the day of cooking. However, you can store your leftover potatoes in a pinch with these pro storage tips.
Storage: These air fryer mini red potatoes will stay fresh for up to three days when you store them in an airtight container in the refrigerator.
Reheat: To reheat your red potatoes, place them in the air fryer at 350 degrees F. for 5-7 minutes or until warmed through.
Serving Suggestions:
This simple air fryer side is one of the tastiest, most versatile potato recipe ideas in my cookbook. Hassle-free and quick, this simple side dish takes the stress out of complicated meal prep.
Side dish with meat dishes: Hands-down, these bite-size potatoes make for the perfect weekday dinner side dish. Serve them with your favorite chicken main—like my effortless Baked Chicken Kabobs or perfectly portioned Air Fried Cornish Hens—for a menu the whole family can enjoy. Or, try a savory beef recipe, such as Reverse Sear Tenderloin or classic Pot Roast, to make a meal worthy of a gourmet dinner spread.
Serve as finger food: Not only are air fryer red potato wedges a perfect side dish for countless mains, but they're also excellent finger food! Serve a plate of air-roasted potatoes with a side of your favorite dipping sauce—like my Blue Cheese Dip and Yogurt Ranch Dip, and watch them disappear in minutes.
Expert Tips
Preparing baby red potatoes in the air fryer is a surefire way to fill your plate with savory, crisp, and creamy flavors. These pro tips will guarantee your potato side is as delicious as possible—with none of the hassle!
Wash and dry: Washing your red potatoes is essential to removing bacteria and debris before cooking. After washing, though, dry the potatoes thoroughly with paper towels or a clean kitchen towel before adding them to your recipe. Otherwise, the seasoning will not stick to the potato skin, and they won't come out as crispy.
Cut them evenly: When cutting new potatoes for this dish, slice them into uniform sizes to ensure even cooking. If they're small enough, you may cook whole red potatoes in the air fryer, but if you have larger potatoes, I recommend cutting them into even, bite-sized pieces for the best results.
Don't overcrowd: When cooking small red potatoes in the air fryer, it's vital that you don't overcrowd the basket to ensure proper air circulation and even cooking. I found that my 6-qt. air fryer (affiliate link) was large enough to accommodate one pound of red potatoes. However, if you have a smaller air fryer, you may need to cook your potatoes in two batches to ensure they lay in a single even layer.
Toss a few times while cooking: To ensure even roasting, I recommend tossing your potatoes a few times during the air frying process, preferably every five minutes.
Check for doneness: The best way to tell the doneness of your red skin potatoes is by using the "knife test." Pierce the center of a potato with a knife or fork. If the blade enters and exits the flesh easily, you may remove your potatoes from the heat. If the blade encounters resistance, continue air frying the potatoes in one-minute increments until done.
Every air fryer is different: As you prepare your red baby potatoes, remember that different air fryers result in different heat levels and cooking times. I tested this recipe using an Instant Pot (affiliate link) and a Ninja Air Fryer (affiliate link), but if you have a different model, be sure to check your potatoes throughout the cooking process to avoid under or over-cooking.
FAQs
There's no reason to stress over this simple air fryer recipe. This easy FAQ will answer all your remaining questions, from how long to cook red potatoes in the air fryer to nutritional information.
Can you air fry red potatoes?
Definitely! Air frying red potatoes results in expertly seasoned, delectably crisp, and lusciously tender potatoes in half the time as regular frying. All you need to do is season and oil your potato slices, air fry them at 400 degrees F. for 15-17 minutes (tossing occasionally), and enjoy.
Should you boil potatoes before air frying?
No, there's no need to boil your potatoes before air-frying them. Boiling them first will make them mushy, and they won't maintain their shape while eating.
What temperature to air fry potatoes?
Though you may air fry red skin potatoes at 350 and 375 degrees F., we found that 400 degrees F. for 15 minutes resulted in the crispiest, most tender potatoes. Remember, however, that you must adjust your cooking time should you choose a different temperature.
Are air-fried red potatoes healthy?
Air-frying is generally healthier than traditional frying methods, as it uses less oil, reduces calories and trans fats, and helps retain more nutrients in your main ingredient. However, it's also important to note that potatoes—no matter your preparation method—are high in carbohydrates and low in protein, though they also contain vitamins and minerals, like Vitamin C and potassium (source.) Therefore, I encourage you to customize your menu depending on your dietary needs and the dishes with which you plan to pair your air-fried potatoes.
How long to air fry red potatoes at 400 degrees F.?
I recommend cooking your small red potatoes for 15-17 minutes at 400 degrees F., shaking the basket every five minutes to ensure even cooking.
How to make French fries with red potatoes in the air fryer?
To make air fryer red potato French fries, begin by washing, drying, and slicing your potatoes into thin, even-sized strips (i.e., into the shape of a French fry). Then, place potatoes in a large bowl of cold water and soak for 30 minutes. Once done, drain and dry the potatoes with a clean kitchen towel, toss them in olive oil and your desired seasonings until evenly coated. Next, arrange your seasoned potato slices in a single even layer in your air fryer basket and cook them at 375 degrees F. for 12-15 minutes, shaking the basket halfway through. When the air fryer red potato fries reach your preferred level of crispness, remove them from the heat, sprinkle them with any additional seasoning, and serve.
Other Potato Side Dishes You Might Also Like
Making crispy red potatoes in the air fryer is one of my favorite ways to please a crowd. For even more fan-favorite potato dishes, these tasty recipes will fill your menu with creamy, savory goodness every night of the week.
If you try this crispy Air Fryer Red Potatoes recipe or any other one of our Air Fry Recipes, please take a minute to rate the recipe and leave a comment below. It is a great help to others who are thinking of making the recipe. And if you took some pictures, be sure to share them on Instagram using #foolproofeats so I can share them on my stories.
Air Fryer Red Potatoes Recipe
Get ready to tantalize your taste buds with this Air Fryer Red Potatoes recipe! In just 20 minutes, you can transform simple ingredients into a delectably crispy and flavorful weeknight dinner side dish or snack. Use this easy recipe to make a delicious side dish or a quick snack that is guaranteed to impress.
Print Recipe
Ingredients
1

pound

baby red potatoes

washed, blemishes removed and halved (no need to peel)

1

tablespoon

olive oil

½

teaspoon

dried thyme

½

teaspoon

garlic powder

¼

teaspoon

paprika

½

teaspoon

kosher salt

¼

teaspoon

ground black pepper
Instructions
Preheat the air fryer to 400 degrees F.

In a large mixing bowl, whisk together the olive oil, dried thyme, garlic powder, paprika, salt, and pepper.

Add the baby red potatoes and toss to combine.

Place the potatoes in a single layer into the air fryer basket, being sure not to overcrowd them.

Cook the potatoes until tender when pierced with a knife, about 15 minutes, shaking the basket every 5 minutes. If not tender after 15 minutes, continue to cook in 1-minute increments until done.

Transfer the air-roasted potatoes onto a serving platter and serve.
Notes
Yields:

This recipe makes 1 pound air fried red potatoes that are ideal for serving 4 people. The nutritional values below are per serving.

Rinse and dry:

It is important to make sure the potatoes are dry before tossing them in the olive oil mixture to ensure that the potatoes are evenly coated and can crisp up during the cooking process.

Do not overcrowd your air fryer:

Cook in batches, if needed, so that the heat is evenly distributed and they have enough room to crisp up.

Sprinkle it while it's still hot:

Though optional, you may sprinkle your air-fried small red potatoes with additional salt, herbs, and parmesan cheese directly after cooking (while the potatoes are still hot). Doing so ensures that the baby red potatoes heat and develop the new flavors—making them as rich and savory as possible—while also melting any additional cheese.

Storage:

To ensure maximum crispiness, I recommend air frying them right before serving. However, you can store your leftover potatoes in an airtight container in the fridge for up to 3 days.

Reheat

: To reheat, place them in the air fryer at 350 degrees F. for 5-7 minutes or until warmed through.

Oven roasting:

If you do not have an air fryer, you can roast your red potatoes in the oven. Simply use 2 tablespoons of oil (instead of one), transfer the cut potatoes onto a parchment-lined baking sheet, and roast in a preheated 450-degree oven for 25-30 minutes.
Nutrition
Calories:
113
kcal
|
Carbohydrates:
19
g
|
Protein:
2
g
|
Fat:
4
g
|
Saturated Fat:
1
g
|
Polyunsaturated Fat:
0.4
g
|
Monounsaturated Fat:
3
g
|
Sodium:
312
mg
|
Potassium:
526
mg
|
Fiber:
2
g
|
Sugar:
1
g
|
Vitamin A:
75
IU
|
Vitamin C:
10
mg
|
Calcium:
15
mg
|
Iron:
1
mg
Like this recipe? Consider sharing: