Today's recipe, easy mashed sweet potatoes, is one of my go-to recipes that I make every year for our Thanksgiving meal. Made by cooking the sweet potatoes on the stove top with a little bit butter and heavy cream, it is easy and quick to make.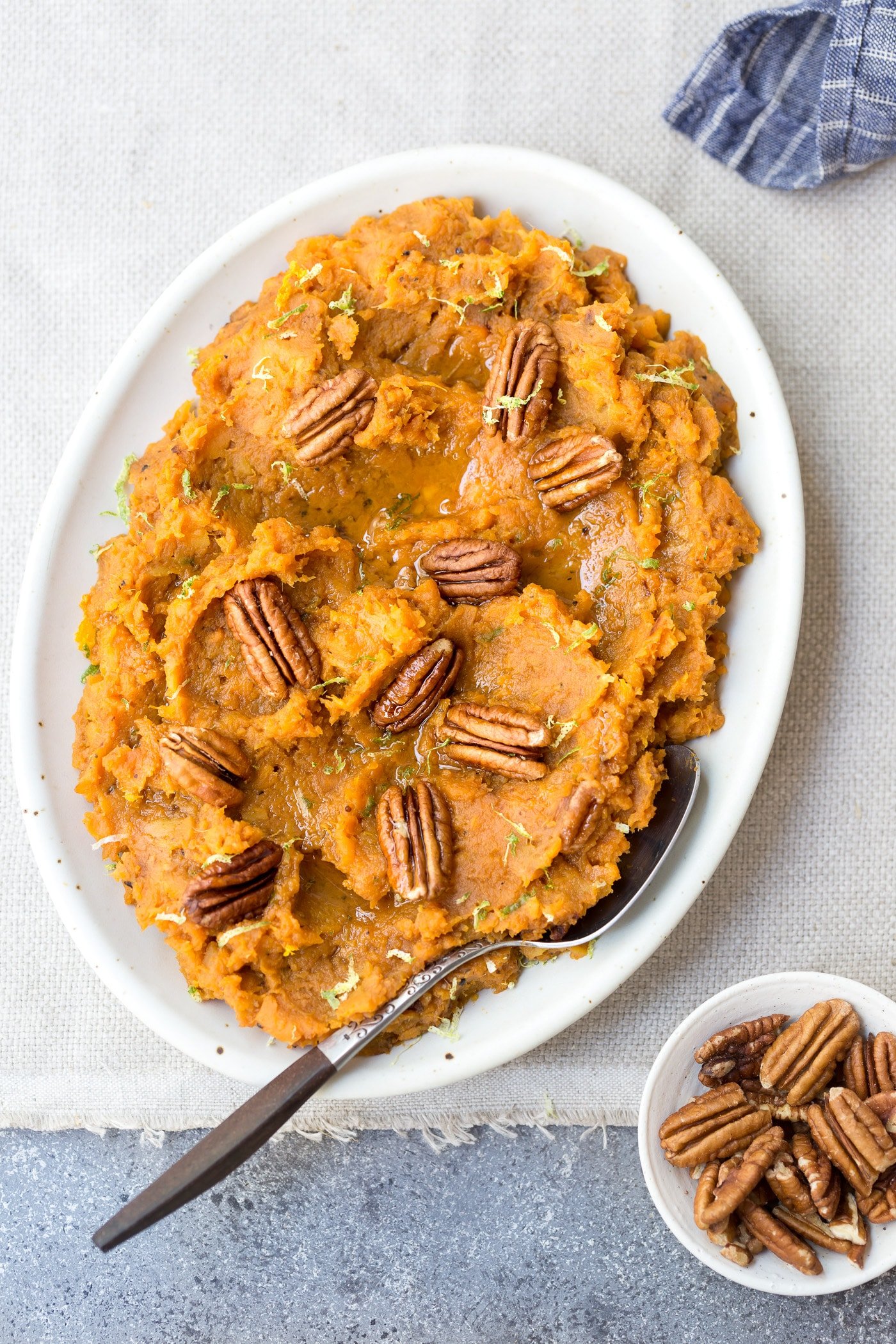 I love this simple mashed sweet potatoes recipe because:
It does not require baking sweet potatoes, which is great because then I do not need to use my oven when I need it for other things.
I can use this basic mashed sweet potatoes recipe and flavor in any way I like. It is easy to switch it up by adding fresh herbs like rosemary or sage or use different seasonings.
It can be served with or without maple syrup making it very easy to adapt to your taste buds.
It is a super easy recipe that is perfect for beginners who are new to making mashed sweet potatoes. It doesn't require any special equipment. All you need is a saucepan to cook and a fork to mash the potatoes.
Ingredients:
This recipe has only 7 ingredients.
You will need unsalted butter, heavy cream, sweet potatoes, and salt and pepper. The rest of the ingredients, maple syrup and pecans are optional.
About the recipe – How To Make Mashed Sweet Potatoes?
When it comes to simple mashed sweet potatoes most people ask the same question: Bake, steam or boil? While I am sure the world of internet offers a recipe for every one of those methods, I found that the best way to make mashed sweet potatoes includes none of those methods.
To do so, simply:
Cook the sweet potatoes: Place peeled and cubed sweet potatoes in a saucepan with a little bit of butter, heavy cream, and a splash of maple syrup. No need to add water or any other liquid. Since they already contain so much liquid, when heated, they release their juices and with the help butter they become perfectly mashable (is there a word like that?).
Let them cook until softened: It takes about 30 minutes or so for them to cook. I highly recommend giving keeping an eye on them and stirring occasionally.
How to mash sweet potatoes?
I mashed mine with a fork (or a potato masher would be ideal) as I like my mashed sweet potatoes on the chunkier side, but if you like yours smooth try using an immersion blender, high powered blender (like Vitamix) or a food processor. You can't go wrong either way.
It is optional, but if you want you can put it back in the saucepan and warm it up if you like to serve your mashed sweet potatoes warm.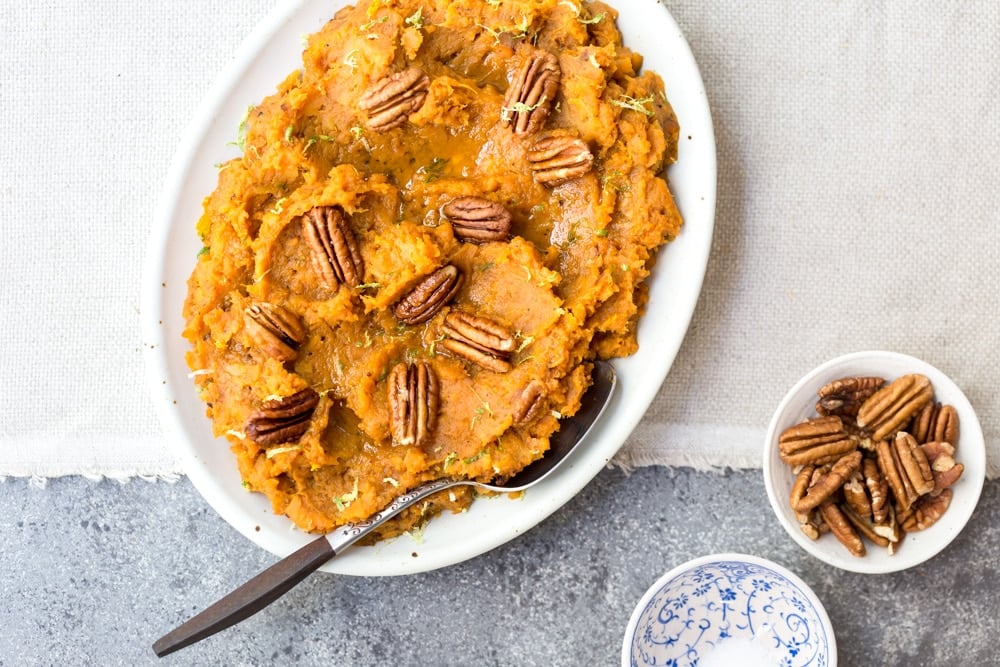 Can I make it ahead?
This sweet potato mashed potato recipe can be made a day in advance. Be sure to keep it in an airtight container in the fridge until you are ready to serve.
You can serve it cold but I usually warm it up on the stove top with a tablespoon of butter in low heat. If you decide to do so be sure to stir it constantly to prevent it from sticking to the pan.
How to Store Leftovers?
If you have any leftovers, place them in an airtight container with a tight lid. It should keep fresh up to 2 days.
Variations:
As I mentioned earlier, this simple and basic mashed sweet potatoes recipe is so easy to flavor and adapt to make it work for your taste buds. Here are a few ideas:
To make it vegan: If you'd like to turn this into a vegan mashed sweet potato dish you can swap butter with the same amount of vegan butter and heavy cream with the same amount of full-fat coconut milk.
Flavor with fresh herbs: Add in a small amount of chopped rosemary or sage to make it even more festive.
Make it sugar free: If you want to make it without sugar simply omit using maple syrup.
What Does Sweet Potato Mash Go With?
While traditionally most people serve this whipped sweet potato recipe with turkey on Thanksgiving, I also serve it as a side dish when I make my Cornish Game Hen recipe or Whole Roasted Chicken.
Other Sweet Potato Recipes You Might Like
Other Thanksgiving Side Dishes You Might Like
There you have it, friends. It is as easy as putting all the ingredients in a saucepan, turning the stove on, cooking them until smooth, mashing them up, and accepting all the compliments. I promise I won't take any credit for this delicious savory mashed sweet potato recipe.
Easy Mashed Sweet Potatoes Recipe
This easy mashed sweet potatoes recipe is my favorite Thanksgiving side dish that I have been making over 10 years. It is made with only 7 ingredients, cooked on the stove-top and ready in 40 minutes.
**This recipe is adapted from Cooks Illustrated Magazine.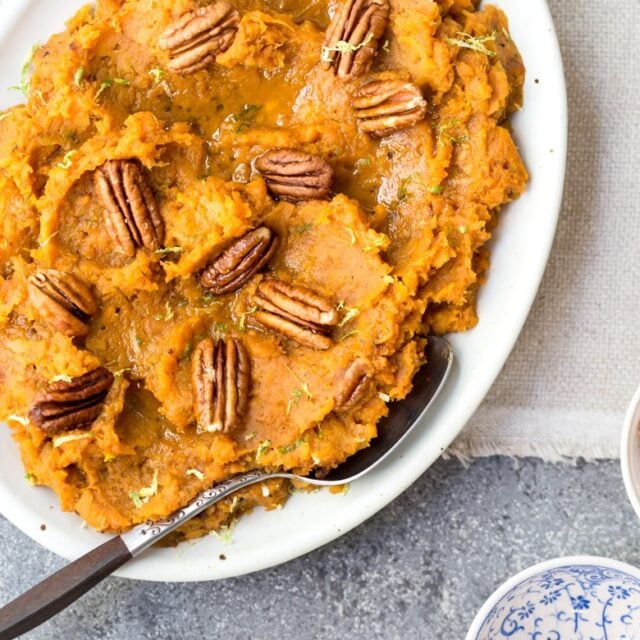 Print Recipe
Ingredients
4

tablespoons

unsalted butter

cut into 4 pieces

2

tablespoons

heavy cream

2

pounds

sweet potatoes, peeled and cut into small cubes

3 medium-sized

3/4

teaspoon

kosher salt

¼

teaspoon

black pepper

1

teaspoon

maple syrup

2

tablespoons

pecans as garnish
Instructions
Place butter, heavy cream, sweet potatoes, salt and pepper in a medium-sized saucepan. Give it a stir. Drizzle with maple syrup and cover with a lid.

Cook, stirring occasionally, in low heat until sweet potatoes are soft (almost falling apart), 30 minutes.

Using a potato masher (or a fork), mash the potatoes. Taste for seasoning and add in if necessary.

Place in a bowl or a plate (like I did) and garnish with pecans.

Serve immediately.
Nutrition
Calories:
326
kcal
|
Carbohydrates:
47
g
|
Protein:
4
g
|
Fat:
14
g
|
Saturated Fat:
9
g
|
Cholesterol:
40
mg
|
Sodium:
565
mg
|
Potassium:
764
mg
|
Fiber:
7
g
|
Sugar:
11
g
|
Vitamin A:
32636
IU
|
Vitamin C:
5
mg
|
Calcium:
76
mg
|
Iron:
1
mg
Like this recipe? Consider sharing: