My menu is ready, the shopping list is made and all of my disposable bags are in the car. I am going to brave the big day grocery shopping tomorrow early in the morning.
First, I will head to the farmer's market and then to the big grocery stores to get the rest of the shopping done. I know a lot of people (rightfully) find Thanksgiving meal shopping stressful and I am no different.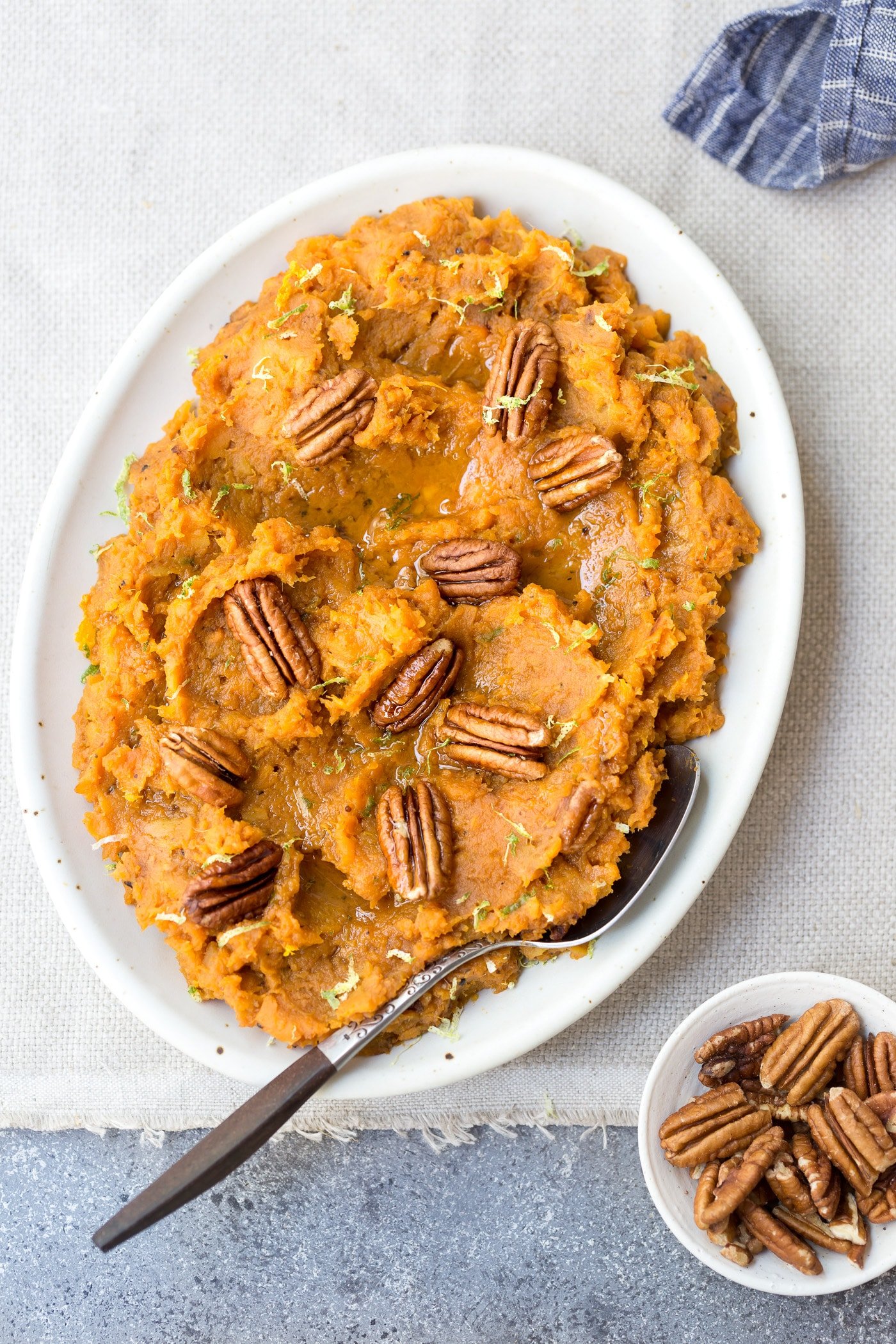 However, this year I feel like I have done a good job of planning so hopefully it won't be too bad. Still, you'll never know how I'll feel tomorrow around this time.
Today's recipe is my go-to easy mashed sweet potatoes. Growing up in Turkey, I have never had sweet potatoes until I moved to the US. I might be mistaken, but I think even today you can't find sweet potatoes back home. I still remember the day I was introduced to the sweet potatoes like it was yesterday. I couldn't believe how a potato can be sweet and orange(!!).
After eating various versions of it in restaurants and various gatherings, one day I decided to give it a try and made the dish that you are seeing in this post. This was more than 10 years ago and since then this simple sweet potato mash recipe has been one of those recipes that are near and dear to my heart.
About the recipe – How To Make Mashed Sweet Potatoes
When it comes to simple mashed sweet potatoes most people ask the same question: Bake, steam or boil? While I am sure the world of internet offers a recipe for every one of those methods, I found that the best way to make mashed sweet potatoes includes none of those methods.
Instead, I cook them with a little bit of butter, heavy cream, and a splash of maple syrup. No need to add water or any other liquid. Since they already contain so much liquid, when heated, they release their juices and with the help butter they become perfectly mashable (is there a word like that?).
I mashed mine with a fork (or a potato masher would be ideal) as I like my mashed sweet potatoes on the chunkier side, but if you like yours smooth try using an immersion blender or a food processor. You can't go wrong either way.
So go ahead, put all the ingredients in a saucepan, turn the stove on, cook them until smooth, mash them up, and accept all the compliments. I promise I won't take any credit for this delicious savory mashed sweet potato recipe.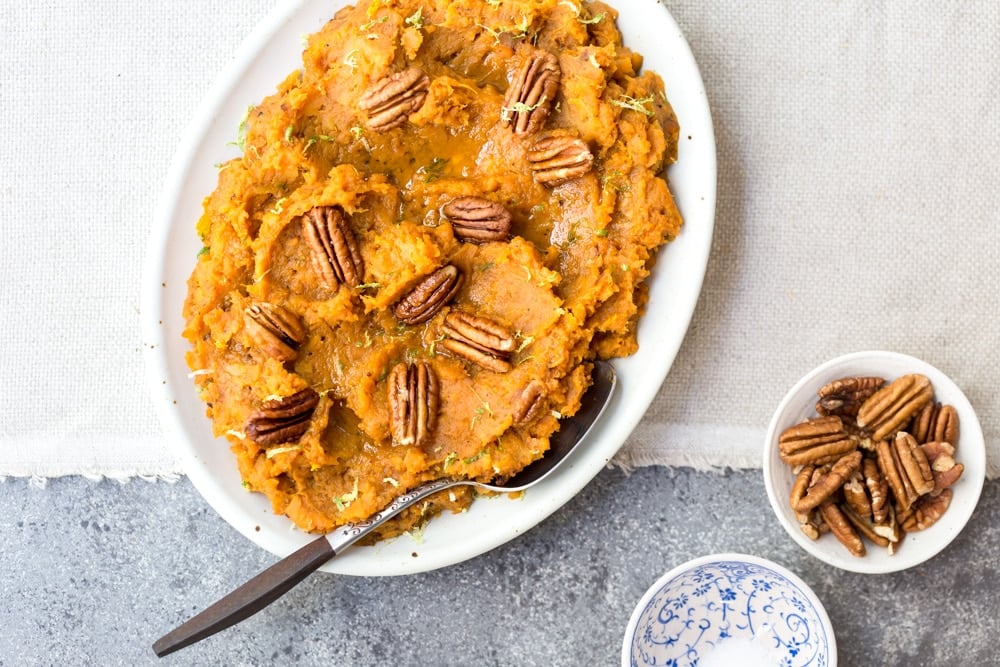 How To Make This Recipe Vegan
If you'd like to turn this into a vegan mashed sweet potato dish you can swap butter with the same amount of vegan butter and heavy cream with the same amount of full-fat coconut milk.
Other Sweet Potato Recipes You Might Like
Other Thanksgiving Side Dishes You Might Like
Easy Mashed Sweet Potatoes
This easy mashed sweet potatoes recipe is my favorite Thanksgiving side dish that I have been making over 10 years. It is made with only 4 ingredients, cooked on the stove-top and ready in 30 minutes. **This recipe is adapted from Cooks Illustrated Magazine.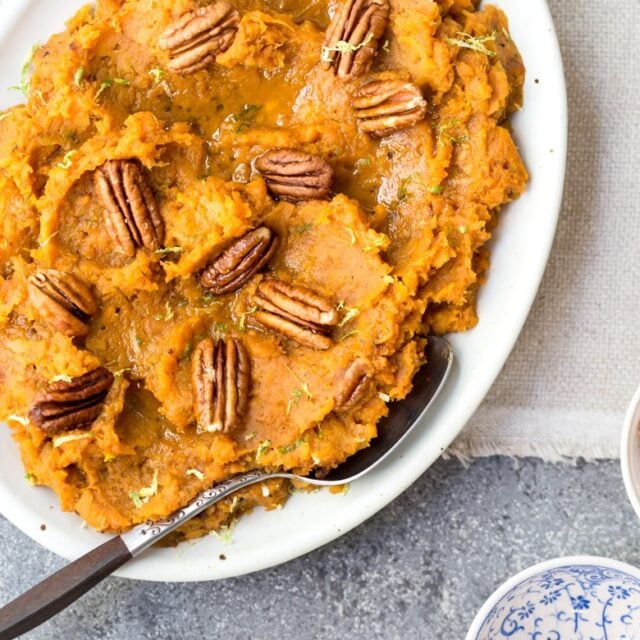 Print Recipe
Ingredients
4

tablespoons

unsalted butter

cut into 4 pieces

2

tablespoons

heavy cream

2

pounds

3 medium-sized sweet potatoes, peeled and cut into small cubes

3/4

teaspoon

kosher salt

¼

teaspoon

black pepper

1

teaspoon

maple syrup

2

tablespoons

pecans as garnish
Instructions
Place butter, heavy cream, sweet potatoes, salt and pepper in a medium-sized saucepan. Give it a stir. Drizzle with maple syrup and cover with a lid.

Cook, stirring occasionally, in low heat until sweet potatoes are soft (almost falling apart), 30 minutes.

Using a potato masher (or a fork), mash the potatoes. Taste for seasoning and add in if necessary.

Place in a bowl or a plate (like I did) and garnish with pecans.

Serve immediately.
Nutrition
Calories:
326
kcal
|
Carbohydrates:
47
g
|
Protein:
4
g
|
Fat:
14
g
|
Saturated Fat:
9
g
|
Cholesterol:
40
mg
|
Sodium:
565
mg
|
Potassium:
764
mg
|
Fiber:
7
g
|
Sugar:
11
g
|
Vitamin A:
32636
IU
|
Vitamin C:
5
mg
|
Calcium:
76
mg
|
Iron:
1
mg
Did you make this recipe?
Tag @foolproofliving on Instagram and hashtag it #foolproofeats