This oatmeal apple bake checks all the boxes for a delectably nutritious breakfast. Still, there are so many other healthy apple breakfast recipes to try! My Farro Breakfast Bowl with Apple Cinnamon will fill your bowl with sweet cranberries and nutty quinoa crunch, while my Healthy Vegan Apple Crisp is a gluten-free recipe packed with tender, warm baked apples. Or, if you're looking for a moist, grab-and-go option, my paleo Apple Almond Muffins will make every morning a piece of cake.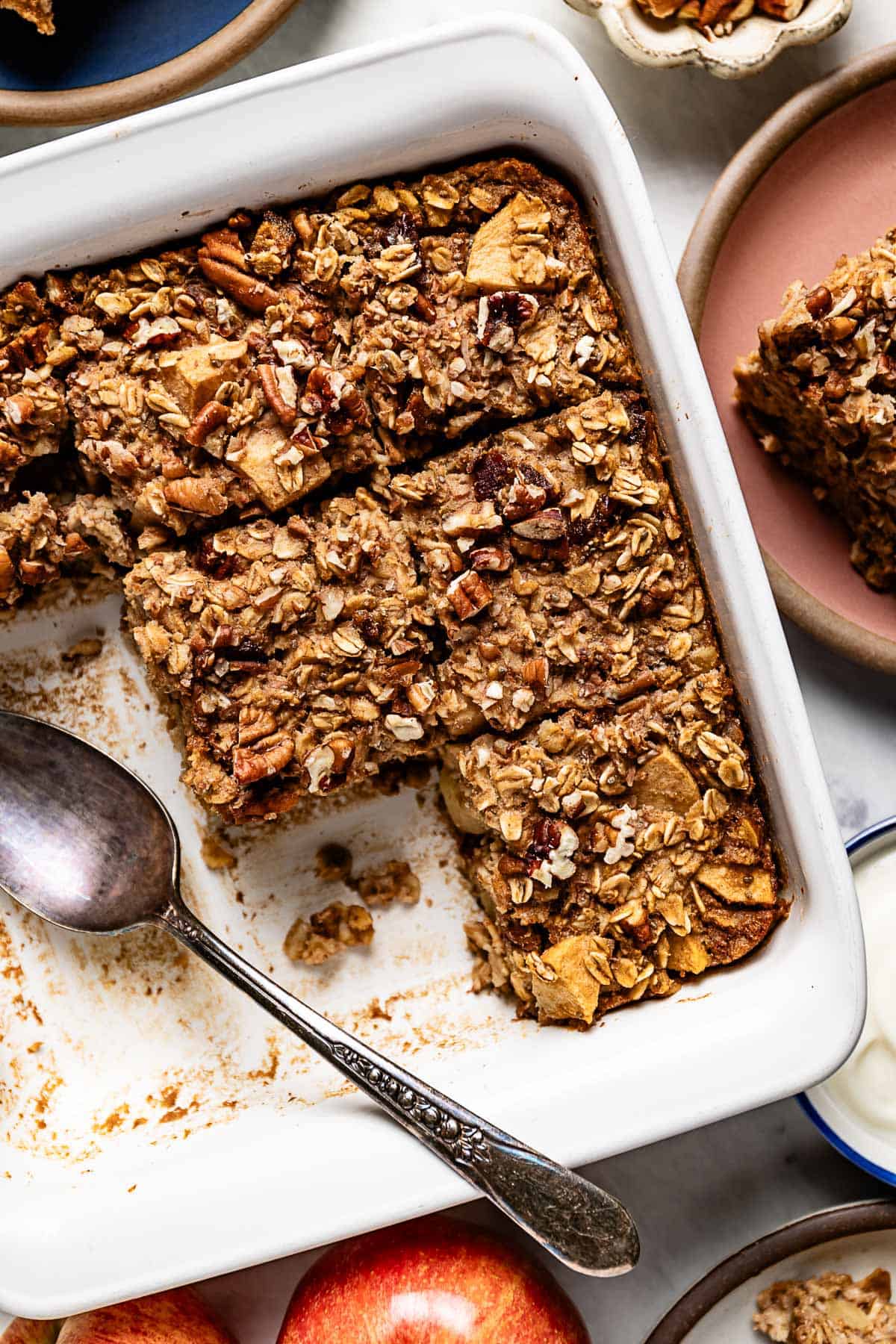 Ingredients to Make This Baked Apple Oatmeal
Made with only the tastiest natural ingredients, this apple cinnamon baked oatmeal recipe is perfect for anyone looking to transform their home pantry into a gourmet breakfast.
Coconut oil: Melted coconut oil is a must when greasing your baking dish, ensuring that your apple oat bake doesn't stick to the edges of the pan. However, you may also use butter or cooking spray, depending on what you have on hand.
Rolled oats: It's essential that you use rolled oats (also known as old-fashioned oats) in your baked oatmeal recipes. When considering the difference between Rolled Oats vs. Quick Oats, remember that instant oats (quick-cooking oats) will melt under high oven temperatures, and steel cut oats will come out thick and gummy.
Chia seeds: Though chia seeds are optional, they add deliciously nutty undertones while loading your breakfast with protein, fiber, and antioxidants. You can also incorporate other superfoods, like hemp seeds, to add nutrition to your breakfast bake.
Warm spices: The best way to season this healthy baked apple oatmeal recipe is with everyone's favorite fall classics—ground cinnamon and ground nutmeg. You can also add a pinch of apple pie spice for extra warm, woody overtones.
Baking powder and kosher salt: These two ingredients are perfect for bringing out this sweet breakfast recipe's nuanced flavors and giving it a light, pastry-like rise.
Large eggs: We use two large eggs to thicken and bind this hearty breakfast recipe. However, if you prefer a vegan apple cinnamon bake, you can substitute these eggs with a flax egg. To make flax eggs, stir together two tablespoons of ground flax seed and five tablespoons of water in a small bowl. Once combined, let the mixture rest for ten minutes to thicken it. It's ready to add to your batter when it reaches the desired consistency.
Milk: I used almond milk in my cinnamon apple oatmeal bake, but any of your favorite types of milk—from dairy-free options (i.e. oat milk, soy milk, coconut milk, etc.) to traditional cow's milk—would work.
Unsweetened applesauce: The key to making apple-baked oats as sweet, moist, and tender as possible is preparing your baked oatmeal with applesauce. I prefer using homemade Unsweetened Applesauce because it's vegan, smooth, and only uses a few simple ingredients.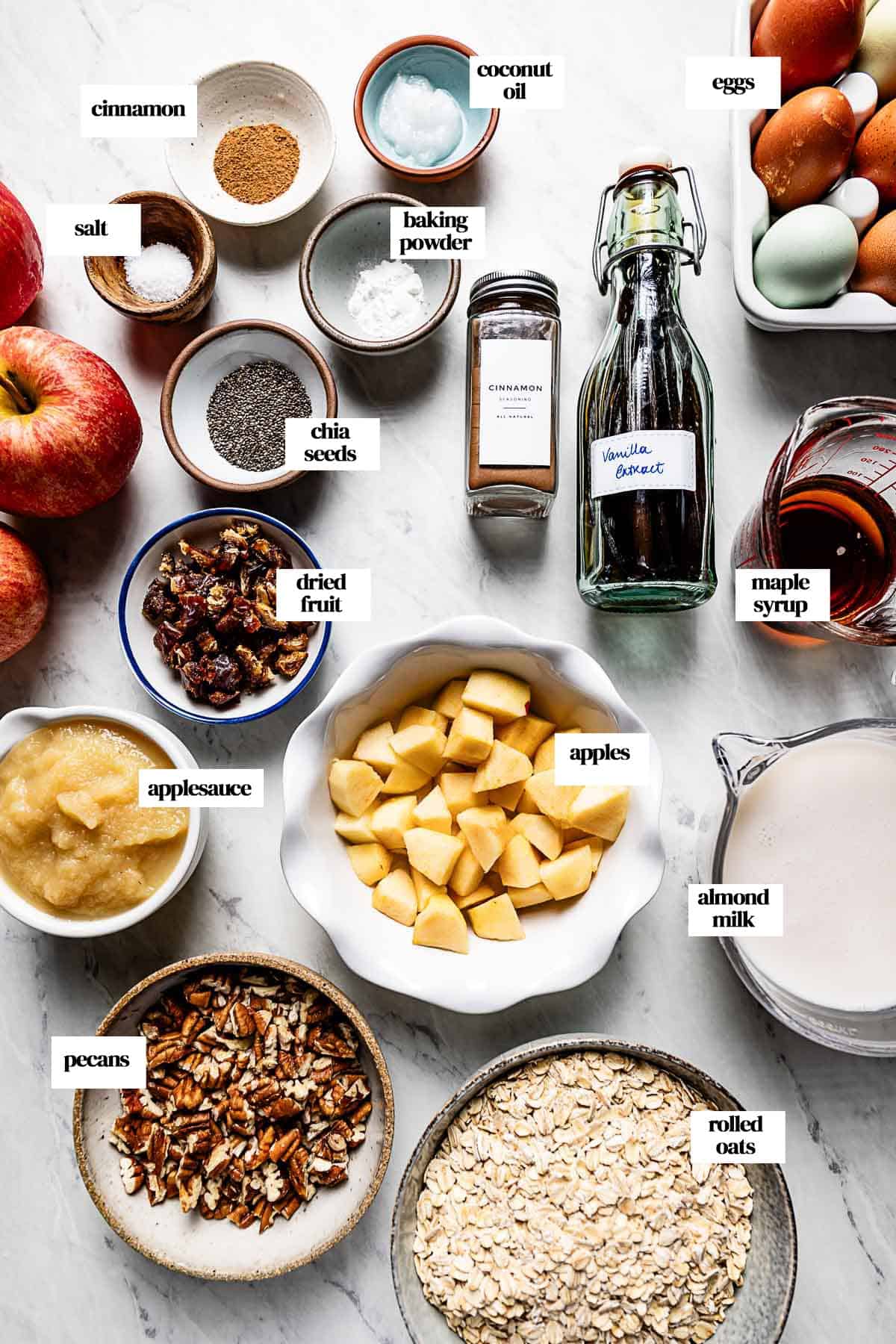 Vanilla extract
Maple syrup: I only use ⅓ cup of maple syrup to sweeten my baked apple oats, but if you like your oatmeal sweeter, you can increase it to ½ cup.
Apple: Any of your favorite fresh apples would work in this apple and oatmeal bake, including Honeycrisp, Pink Lady, Granny Smith, Fuji, Braeburn, and even Gala. Depending on your preference, you may also choose whether to use peeled or unpeeled apples for this recipe. However, you must cut them into even-sized cubes before adding them to your mix to ensure maximum tenderness and uniform baking.
Nuts: I recommend crunchy pecans, walnuts, or almonds to give your baked oatmeal a touch of earthy, buttery notes. Just be sure to give them a rough chop before adding them to your batter to ensure a balanced flavor distribution and delicious texture.
Dates: I love adding dates to my oatmeal recipe due to their rich flavor and chewy texture. However, other dried fruit—including raisins, cranberries, and figs—would also work.
Coconut or brown sugar: If you love the deep, toffee-like taste of baked sugar, you may choose to add a sprinkle of coconut sugar or light brown sugar to the top of your baked apple oatmeal.
How to Make Baked Apple Cinnamon Oatmeal
You don't have to work at a diner to make this healthy baked oatmeal with apples easily. This tasty breakfast will come out with irresistibly sweet, hearty, and warm flavors in eight easy steps.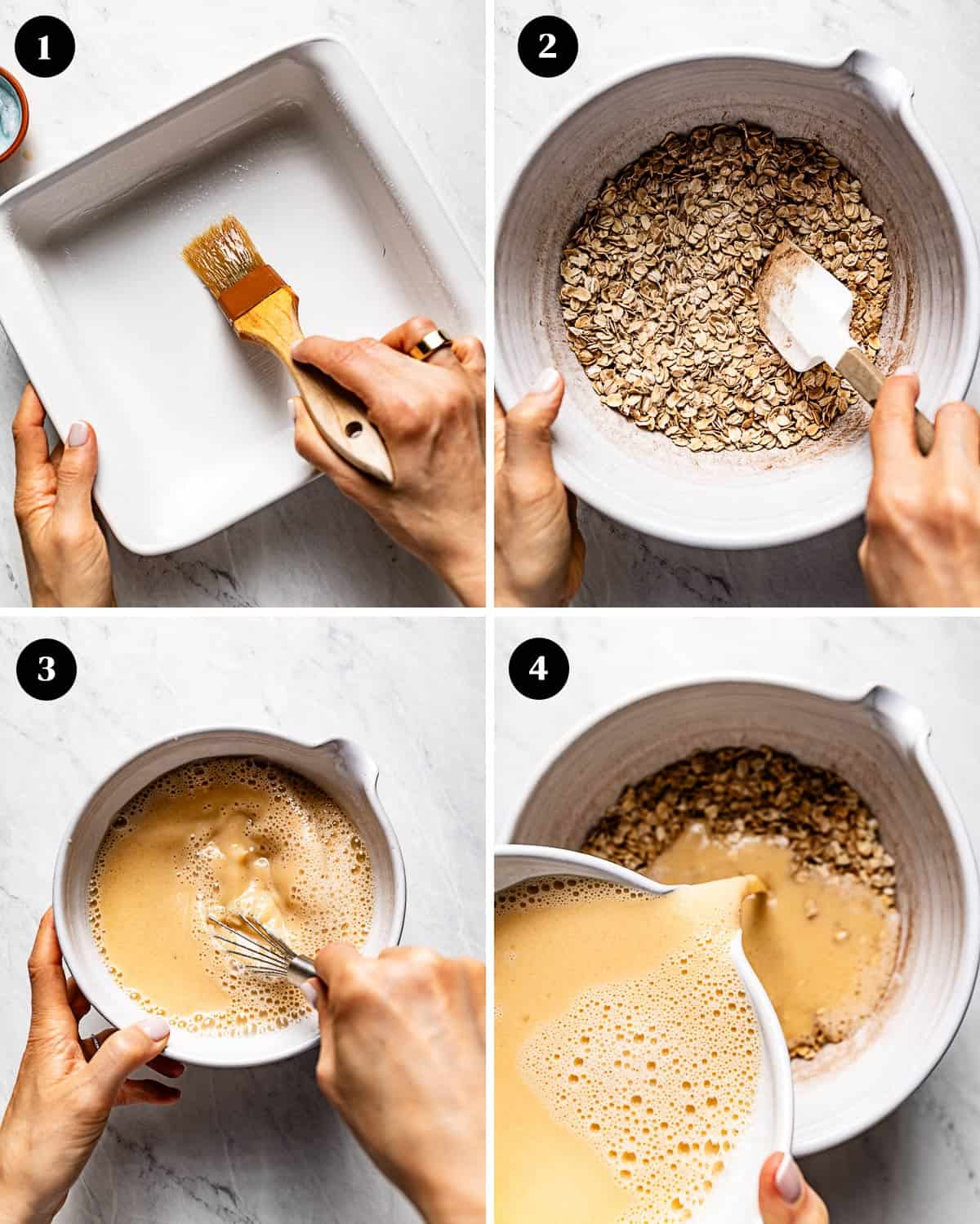 Prep the oven: Preheat the oven to 350 degrees F. While the oven heats, coat an 8×8 baking dish with coconut oil and set it aside.
Mix the dry ingredients: In a large mixing bowl, stir the oats, chia seeds (if using), cinnamon, nutmeg, baking powder, and Kosher salt. Ensure the ingredients mix evenly throughout the blend.
Whisk the wet ingredients: In a separate bowl, whisk together the eggs, almond milk, applesauce, vanilla extract, and maple syrup until thoroughly mixed.
Combine the wet and dry ingredients: Pour the wet ingredients into the bowl of dry ingredients and mix until combined.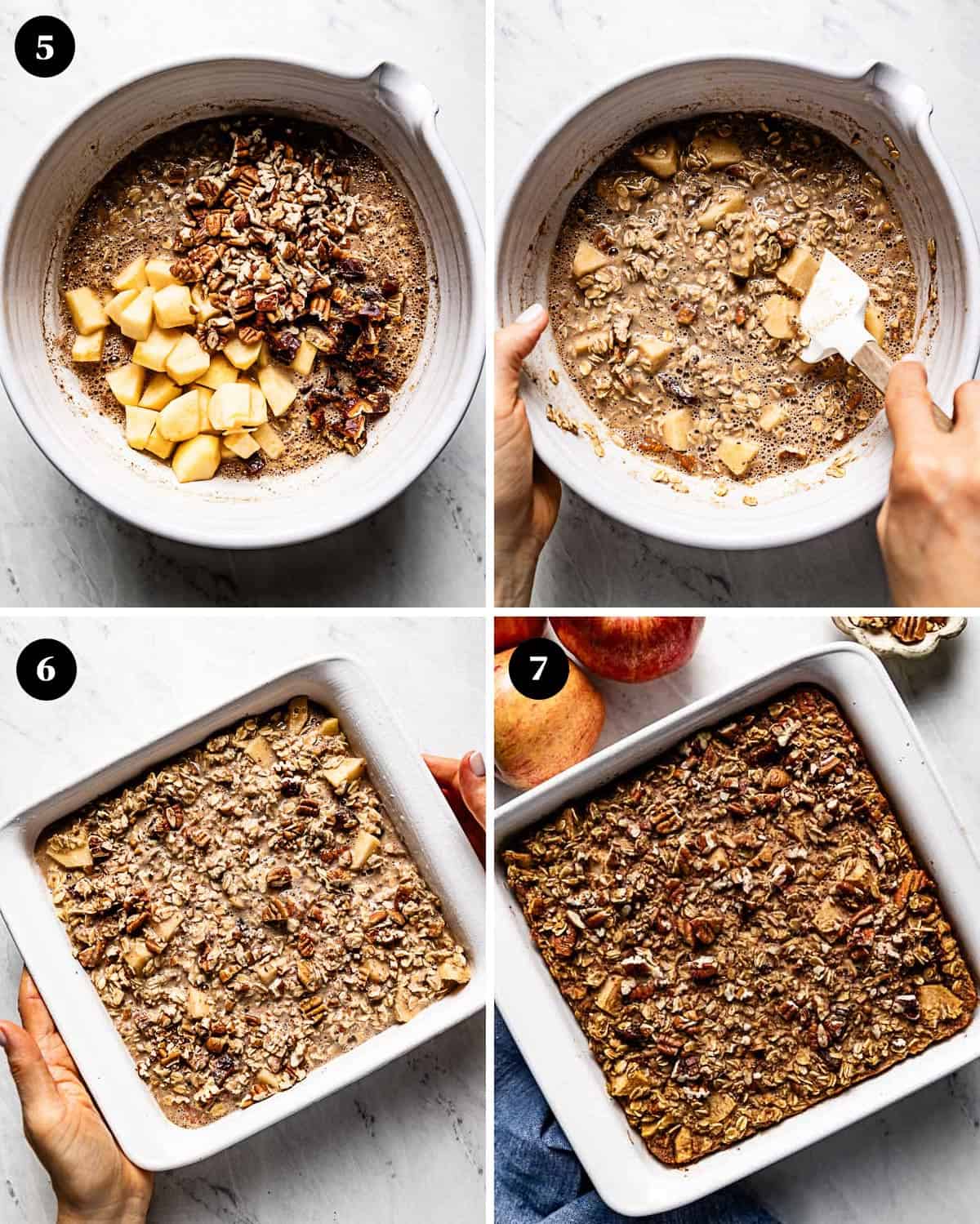 Incorporate the add-ins: Gently fold the chopped apples, walnuts, and dates into the oat mixture.
Transfer the oatmeal blend: Pour the apple oatmeal batter into the prepared baking dish and spread it into a single even layer.
Bake: Bake the dish for 35-40 minutes until golden brown.
Serve: Remove the breakfast apple bake from the oven and let it cool for 10 minutes. Then, drizzle it lightly with maple syrup and serve.
How to Make Ahead, Store, Freeze, and Thaw?
This apple cinnamon oatmeal bake is one of my cookbook's most meal prep-friendly breakfast recipes. Take the stress out of your early mornings with this must-have make-ahead breakfast.
Make ahead: To make baked apple cinnamon oats in advance, bake the recipe and let it come to room temperature. Then, store the mixture, covered, in the refrigerator for up to three days.
Store: When storing your baked oats, let them come to room temperature first. Then, transfer them to an airtight container and store them in the fridge for up to three days. You may also keep your oatmeal in individual portions for a convenient grab-and-go breakfast.
Reheat: You can reheat this recipe in the oven at 325 degrees F. for 15 minutes or in the microwave in 30-45-second intervals until warmed through.
Freeze: Though you can freeze this baked oatmeal recipe, it will likely come out a bit dry once thawed. However, if you freeze your baked oats, let them come to room temperature first, transfer them to an airtight container, and place them in the freezer. It's essential, too, to cover the oats tightly to avoid freezer burn.
Thaw: To thaw your frozen apple oatmeal, place it in the fridge overnight and reheat it in the morning.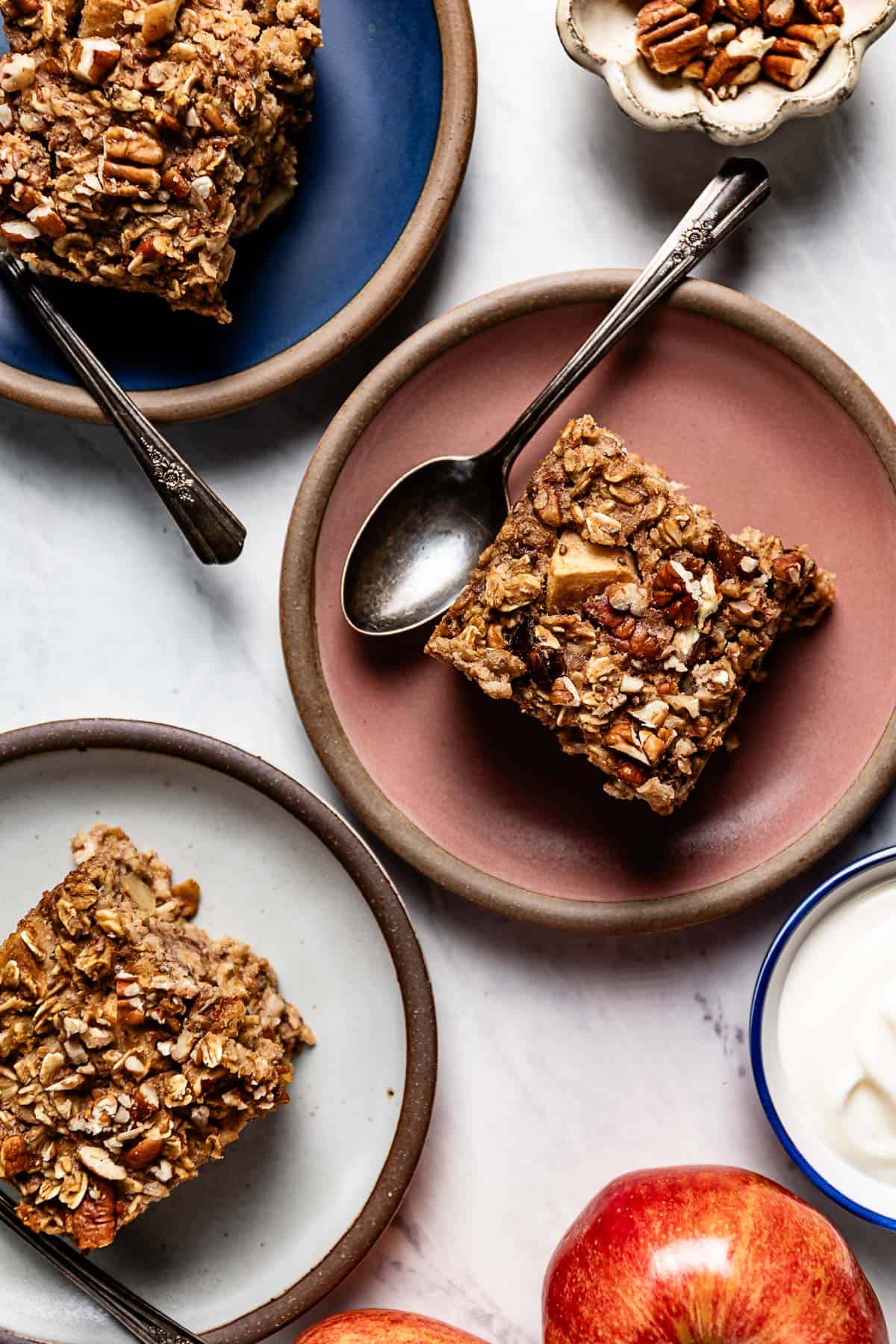 What to Serve it With?
A warm cup of coffee or tea is all you need to turn this cinnamon apple baked oatmeal recipe into a five-star breakfast. However, these easy additions will add all the creamy, sweet, and moist flavors you could want from your morning meal.
A drizzle of maple syrup or honey: If you're a fan of caramelly, floral flavors, I recommend topping your apple breakfast bake with maple syrup or honey. This simple addition will infuse every slice with a rich, complex taste.
A dollop of Greek yogurt or vanilla yogurt: Add a spoonful of yogurt to this delicious breakfast, and your baked apple oatmeal recipe will come alive with cool, creamy flavors.
Breakfast fruit salad: What pairs better with juicy apples than a brilliant blend of your favorite fruits? Made with a customizable mix of bananas, blueberries, strawberries, and pineapple, this healthy breakfast option will delight your tastebuds with just fifteen minutes of prep.
Maple whipped cream: Transform this wholesome breakfast into a sweet treat the whole family will love with a small dollop of light, fluffy whipped cream.
A dollop of almond butter or peanut butter: If you love the nutty, tart combination of apples and peanut butter, you'll love adding this creamy addition to your apple oatmeal breakfast bake.
Expert Tips
There's no secret to making an oatmeal apple breakfast bake packed with warm, caramelized flavors. This expert guide has everything you need, from what oats to use to tasty serving suggestions.
Oats: To achieve the best texture in this easy breakfast recipe, using the correct type of oats is essential. This delicious apple cinnamon bake requires rolled (AKA old-fashioned) oats for its moist, tender consistency. Instant, quick-cook, and steel-cut oats will result in a burnt, soupy, or gummy bake.
Size of your casserole dish: I tested this recipe in both an 8×8 and 9×9 pan, and either size will work when following my recipe instructions. However, if you prefer to make your apple cinnamon baked oats in a larger dish, such as a 9×13 baking dish, double the recipe.
Baking it in a muffin tin: You can also prepare this tasty breakfast in muffin tins for perfectly portioned oatmeal cups. Simply divide the batter among the cups of a 12-cup muffin pan and bake for 20-25 minutes.
Adjusting the sweetness: I designed this healthy breakfast dish with mild sweetness, a moist texture, and maximum nutrition. However, if you prefer a sweeter version, feel free to add more maple syrup, coconut or brown sugar, or other sweet add-ins for a dessert-level recipe.
Can be served warm or cold: You can serve this delicious morning recipe warm, room temperature, or cold, depending on your preference.
Other Baked Apple Recipes
This easy apple-baked oatmeal has all the sweet, tart, and warm flavors you love in your favorite baked apple recipes. Below, you'll find even more tasty apple recipes to satisfy all your fall cravings.
If you try this Baked Apple Cinnamon Oatmeal recipe, please take a minute to rate the recipe and leave a comment below. It is a great help to others who are thinking of making the recipe. And if you took some pictures, be sure to share them on Instagram using #foolproofeats so I can share them on my stories.
Apple Cinnamon Baked Oatmeal Recipe
Apple Cinnamon Baked Oatmeal offers a healthy and wholesome start to your day. Made with tender apples, warm cinnamon, and a touch of maple syrup, this healthy breakfast bake is the ultimate fall/winter oatmeal recipe.
Print Recipe
Ingredients
1

teaspoon

coconut oil

2 ½

cups

old-fashioned rolled oats

1

tablespoon

chia seeds

optional

1

teaspoon

ground cinnamon

¼

teaspoon

ground nutmeg

1

teaspoon

baking powder

½

teaspoon

Kosher salt

2

large eggs*

or flax eggs for vegan option (recipe below in the notes)

1 ½

cups

unsweetened almond milk

or any other non-dairy milk of your choice

1

cup

unsweetened applesauce

1

teaspoon

vanilla extract

⅓

cup

maple syrup

plus more to drizzle on top

1

apple*

peeled (or unpeeled) and diced into 1-inch cubes

1

cup

chopped walnuts or pecans

optional

½

cup

chopped dates

optional (5-6 Medjool dates)
Instructions
Preheat the oven to 350 degrees F. Coat an 8×8- inch* baking dish with the coconut oil and set aside.

In a large bowl, stir the oats, chia seeds (if using), cinnamon, nutmeg, baking powder, and Kosher salt until combined.

In a separate bowl, whisk together the eggs, almond milk, applesauce, vanilla extract, and maple syrup until fully combined.

Pour the egg mixture into the oat mixture and stir to combine.

Gently fold in the diced apples, walnuts, and dates.

Pour the mixture into the baking dish and gently spread it evenly.

Bake for 35-40 minutes until golden brown.

Cool for 10 minutes and serve with a drizzle of maple syrup.
Notes
Yield:

This recipe yields 9 slices of baked apple oatmeal. The nutritional values below are per slice.

Size of your baking dish:

You can use both an 8×8 or a 9×9 square dish to make this recipe. If you prefer to use a 9×13, we recommend doubling the recipe and baking it for 45 minutes.

Use flax eggs to make it vegan*:

This is a gluten-free and dairy-free recipe.

If you prefer to make this dish vegan, you can substitute the eggs with "flax eggs." To make flax eggs, mix 2 tablespoons of ground flaxseeds with 5 tablespoons of water, stirring to combine. Set aside for 10 minutes, then use it in place of the eggs.

Apple: I used Honeycrisp apples but any type of apple you have on hand would work.
Make Ahead:

You can bake apple oatmeal bake in advance and store it in the fridge for up to 3 days. Just be sure to bring it to room temperature before storing it in an airtight container.

You can reheat it in the oven at 325 degrees F for 15 minutes or microwave it (in 30-second increments) until warmed through.

Store

: Be sure to bring the leftovers to room temperature. Then, transfer them to an airtight container and store them in the fridge for up to three days. You may also keep your oatmeal in individual servings for a convenient grab-and-go breakfast.
Nutrition
Calories:
271
kcal
|
Carbohydrates:
38
g
|
Protein:
6
g
|
Fat:
12
g
|
Saturated Fat:
2
g
|
Polyunsaturated Fat:
4
g
|
Monounsaturated Fat:
6
g
|
Trans Fat:
0.01
g
|
Cholesterol:
36
mg
|
Sodium:
248
mg
|
Potassium:
270
mg
|
Fiber:
5
g
|
Sugar:
18
g
|
Vitamin A:
80
IU
|
Vitamin C:
1
mg
|
Calcium:
130
mg
|
Iron:
2
mg
---
Like this recipe? Consider sharing: