This recipe is one of the most versatile of all the breakfast fruit ideas. Serve it by itself for a healthy, light breakfast, or serve it with my Fruit Yogurt Dip on the side for a tantalizingly creamy dish perfect for a beautiful brunch spread. You can even use your fruit mix to top off or incorporate it into your morning oatmeal (hello, Yogurt Overnight Oats)for a satisfying morning meal.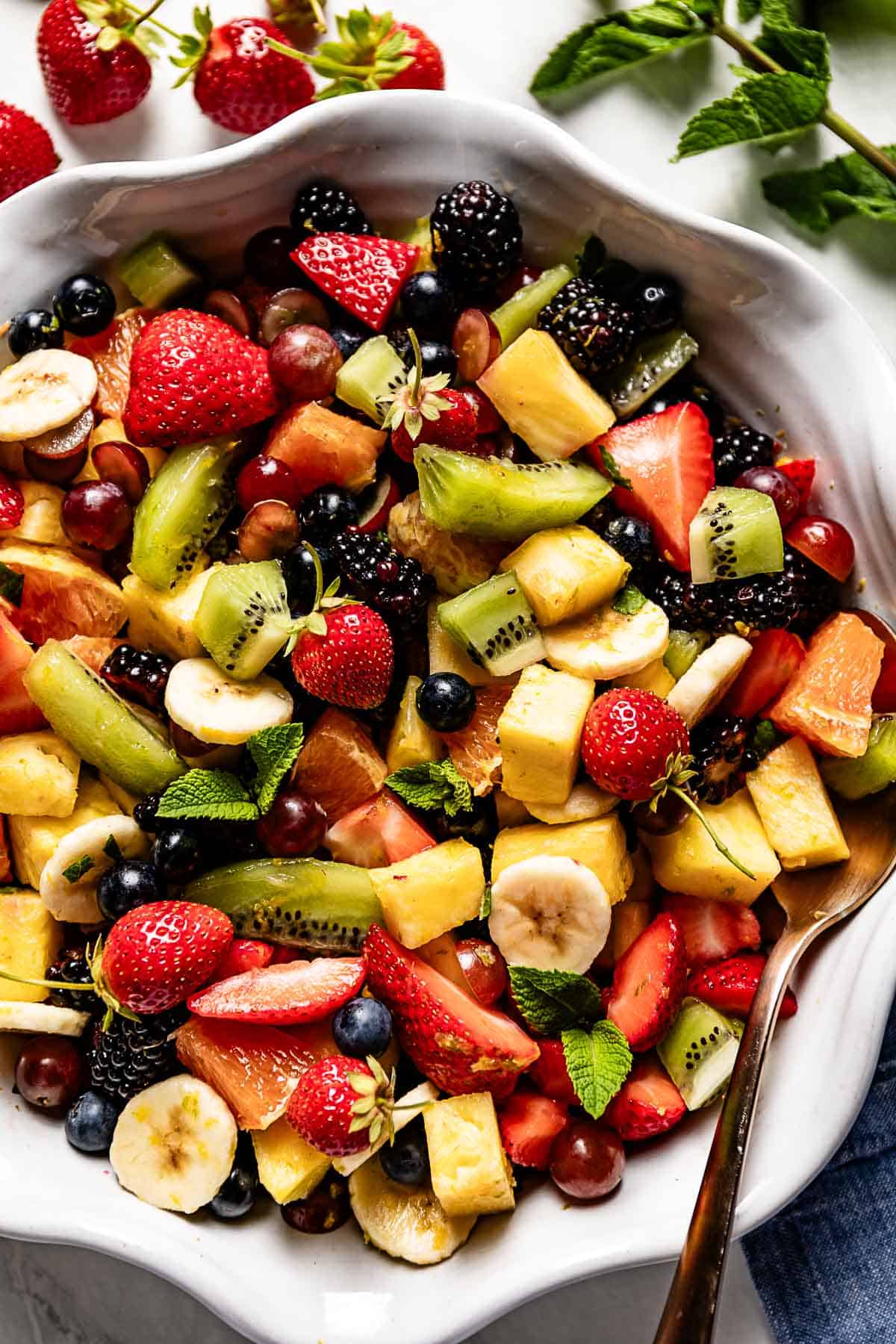 Ingredients You'll Need for Fruit Breakfast Salad
You only need two sets of simple ingredients for this breakfast fruit salad recipe: the fruits and the fruit salad dressing.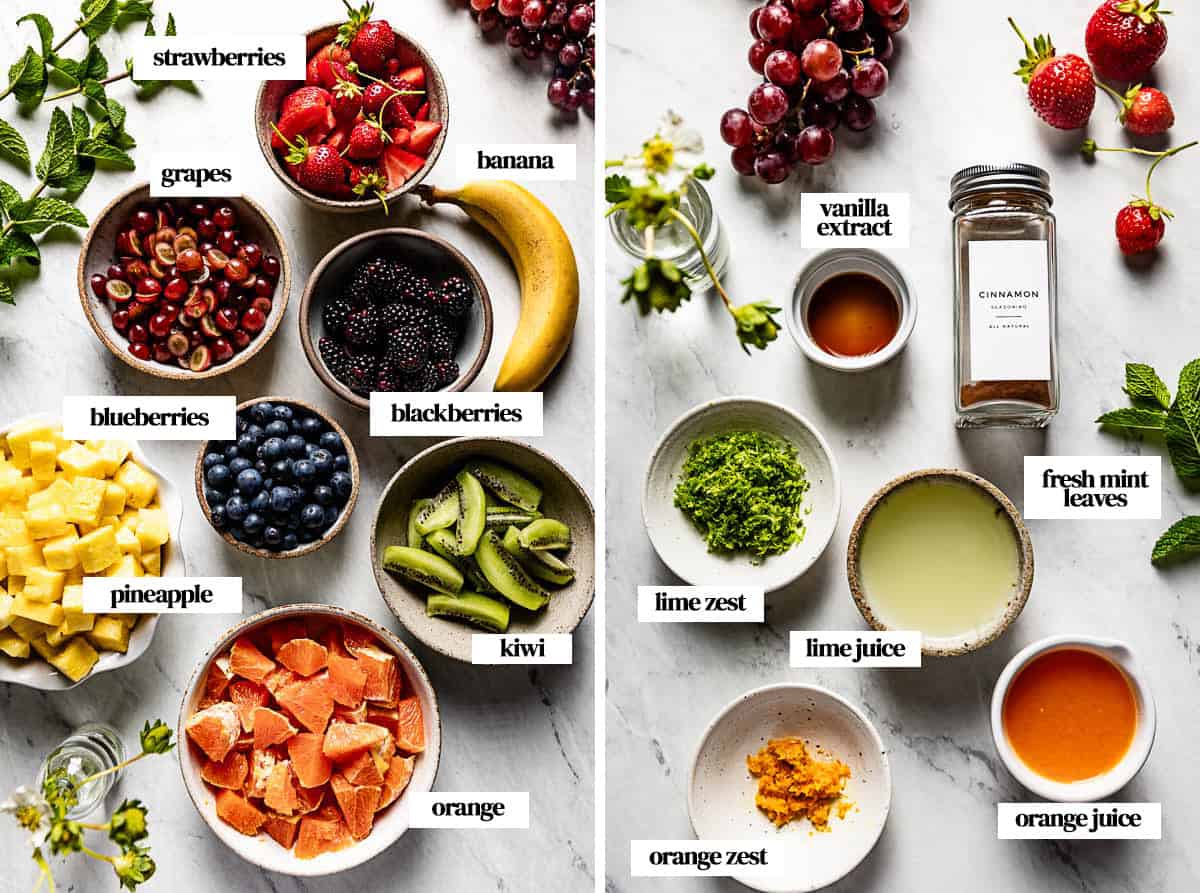 Breakfast fruits: Wondering what ingredients to include when you make fruit for breakfast? This classic mix of colorful produce will brighten your table with nutritious, brilliant flavors.
Pineapple: Pick out a ripe pineapple that is juicy and sweet.
Grapes: You can use both red and yellow grapes in this recipe. However, I would recommend getting the seedless variety.
Berries: Nearly any berry will make this simple morning dish full of ripe, juicy flavors. My favorite fresh berries include strawberries, blackberries, and blueberries.
Oranges
Kiwis
Banana: I adore the creamy, sweet taste of fresh bananas. However, you can omit this ingredient if you're not a fan of the fruit or preparing this recipe beforehand.
Fruit salad dressing:
Orange juice and orange zest: Be sure to use fresh orange juice and orange zest when you make fruit dishes for breakfast. Fresh oranges will give your recipe a delectable balance of tartness and sweetness guaranteed to satisfy your cravings.
Lime juice and lime zest: Fresh lime juice is the secret ingredient to giving this dish its zesty, bright flavor—and keeping your fruit fresh for longer! If you don't have any limes, you can substitute this ingredient for lemon juice and zest.
Vanilla extract
Ground cinnamon
Sweetener: Because this dish gets natural sweetness from fruits, adding an extra sweetener is optional. If you want to enhance the sweetness of your fresh fruit breakfast, add a bit of honey (or honey syrup), maple syrup, or agave. You could also use my Honey Lime Dressing as a citrus-sweet alternative to this classic fruit dressing.
Optional Add-Ins
Fresh mint: Amongst all fresh herbs, I think mint is the most flavorful addition to a fruit salad. Adding a few fresh leaves will enliven every bite of your breakfast fruit recipes while adding a garden-green color.
Shredded coconut flakes: I love using unsweetened coconut flakes as a healthy, no added sugar topping for this sweet spread. Not only do their sweet, nutty flavors complement this simple mix, but they also add an irresistibly crunchy texture.
Spices: To add a warm, gourmet spice to your fruit bowl recipe, you can substitute a sprinkle of cardamom, nutmeg, or poppy seeds in place of cinnamon.
Variations Based on Season and Dietary Restrictions
The best fruits for a fruit salad match the time of year. If you want to transform this easy dish into a seasonal treat or satisfy a dietary need, you'll love this collection of tasty fruits to use.
Summer: Looking to fill your morning fruit bowl with a mixture of sunny, summer-ready produce? I recommend making your summer salad with peaches, plums, raspberries, nectarines, cantaloupe, honeydew, papayas, and mango.
Fall: Fall produce makes some of my favorite fruit breakfasts. To make an autumn fruit salad, use apples, figs, pears, and pomegranate seeds for a dish perfect for the holiday season.
Winter: To make a winter fruit salad perfect for special occasions, I recommend adding tart, warm-colored fruits like Mandarin oranges, blood oranges, tangerines, grapefruit, and bananas.
Spring: When jumping into the garden-fresh spring season, you'll want these fruits in your breakfast spread. Apricots and strawberries are some of the most spring-forward fruits in the produce aisle.
Low-sugar fruit salad: If you are in need of a healthy fruit salad recipe that has low quantities of sugar, I recommend using low-sugar fruits (as recommended by Healthline), like raspberries, strawberries, blackberries, kiwis, and grapefruit.
Low-calorie fruit salad: Want to cut down on your morning calorie intake? No problem! Some of the lowest-calorie fresh fruits for breakfast include apples, berries, grapefruit, passion fruit, and stone fruits (e.g., peaches, nectarines, and apricots).
Hot to Make Fruit Salad for Breakfast?
You don't need a home garden to make a healthy breakfast. While it takes a bit of time to chop all the fruit, once you have them ready, you can prepare a breakfast or brunch fruit salad in just four simple steps: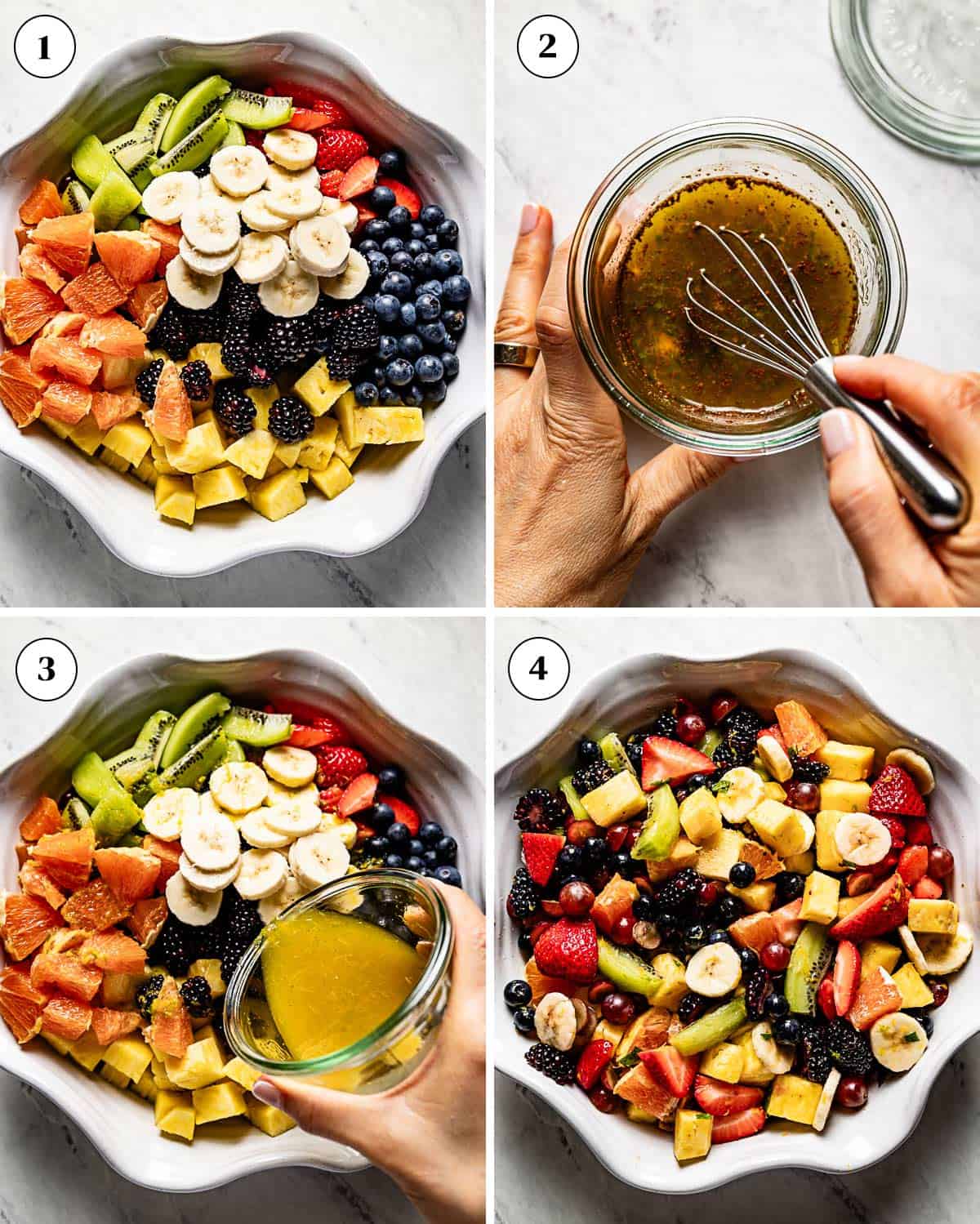 Add the fruit: Take out a large bowl, and add the fresh strawberries, pineapple, grapes, blueberries, blackberries, cut oranges, and kiwis. Add the banana if you plan to serve this dish immediately. If you're making this dish ahead, wait to add the banana just before serving.
Make the dressing: In a small bowl or mason jar, mix the orange juice, orange zest, lime juice, lime zest, vanilla extract, and cinnamon. Either whisk or vigorously shake everything until combined thoroughly. If you are using honey, be sure also to whisk that into the dressing.
Add the dressing: Drizzle the dressing over the fruit salad and gently toss to combine.
Serve: If using, garnish the fruit salad with fresh mint leaves and serve.
How To Make Ahead, Meal Prep, and Store?
It doesn't matter whether you want a make fruit salad ahead for a crowd or an easy recipe for everyday meal prep. This simple guide will show you how to keep your salad fresh for a few additional days.
Make ahead: This recipe is one of the greatest brunch fruit ideas because it's so easy to make ahead of time. Simply cut up your fruits and place them in a large mixing bowl. Then, just before serving, add the banana and drizzle the fruit with your prepared dressing.
Meal prep: Looking for easy breakfast fruit cup ideas? Divide the prepared fruit mixture into individual airtight cups or mason jars (or Weck Jars (affiliate link) as I did in the photo below), and store them in the fridge until ready to eat. Then, add the bananas right before serving and keep the dressing on the side. As long as they are stored in airtight containers, they should be fresh for up to 3 days.
Storage: You can store this sugar-free fruit salad in an airtight container in the fridge for up to three days. Remember that the salad will get watery after the second day but still taste delicious.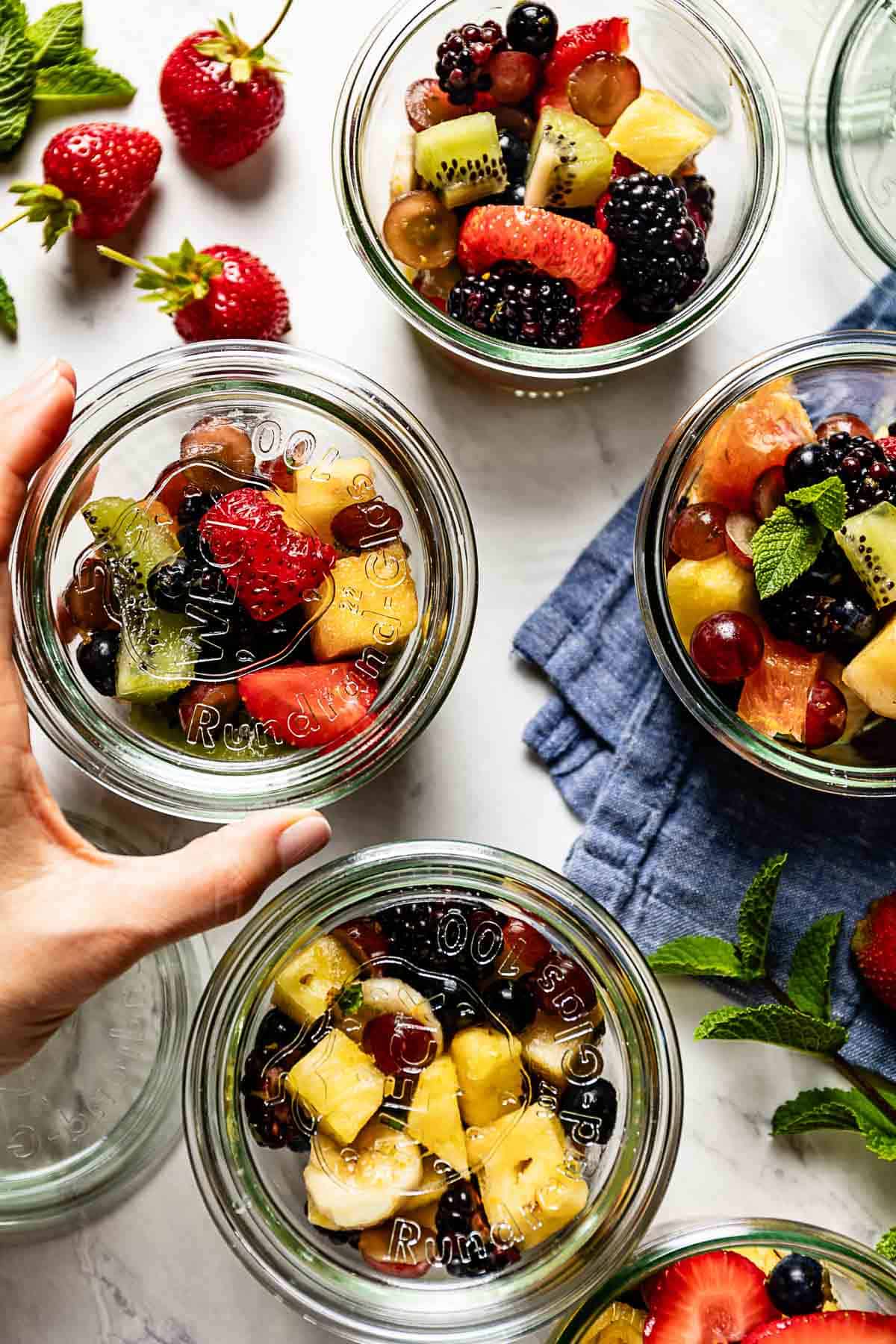 What to Serve with Fruit Salad for Breakfast?
Want to serve fruit for a brunch buffet or make a delicious fruit bowl for breakfast? When you make this easy recipe, you'll discover countless ways to transform seasonal produce into a filling meal.
Expert Tips
It doesn't matter whether you're serving this fruit salad for lunch or want to make a kid-friendly fruit salad your children will love. The below tips will ensure your salad is as fresh and flavorful on your first try.
Choose fresh fruits: The key to any good fruit breakfast is selecting high-quality fruits. Ensure your produce isn't bruised or moldy, and try to choose adequately ripe fruit. However, avoid overly ripe fruit, as these ingredients likely won't hold their shape and become mushy in your salad mixture.
Visual interest: To make the best fruit salad for a special event, I recommend using fruits in a variety of colors—red, yellow, green, and beyond! This way, it will look appetizing and add a nice pop of color to your tablescape.
Proper cutting: I recommend cutting your fruit into equal bite-sized pieces to ensure your salad is easy to eat. If you're serving this recipe as a breakfast fruit plate, you can slice your larger fruits, arrange them on a plate, fill the empty spaces with strawberries, and top the spread with blueberries.
Wash and dry your fruit properly: It's essential to ensure your fruit is clean and safe to eat before incorporating it into your homemade fruit salad. However, remember that some fruits bruise easily, and washing berries requires particular gentleness. Be sure to be equal parts thorough and light when washing your produce.
Do not skip on the lime juice or lime zest: Because of its preservational properties, a little lime or lemon juice is a great way to prevent your fruit from browning. Plus, this addition enhances the taste of the salad by balancing its sweet flavors with an irresistible tanginess.
Adding banana: Some people think banana has no place as seasonal fruit for summer. However, they add a creamy, mild taste to any fresh fruit salad, and they pack tons of Vitamin C and potassium to fuel you through your day. Still, you can easily omit it if you are not a fan.
Dress it right before serving: I recommend dressing the salad right before serving. If you drizzle on the dressing too far in advance, your salad may become overly juicy and soggy.
Make it kid-friendly: The below recipe as written, is a great fruit salad for kids due to its bright color, nutritious ingredients, and sweet taste. However, depending on your kids' age, you may want to cut your fruit into smaller or bite-sized pieces.
FAQs
Is it okay to eat a fruit salad for breakfast?
Yes! Fruit salad makes one of the healthiest options for a quick morning meal due to its high vitamin and mineral content. Plus, depending on which fruits you add, you can kick-start your day with other nutrients, such as potassium, that may help maintain healthy blood pressure, reduce your risk of diabetes, and promote immunity. With that being said, it is important to consume fruit in moderation.
Is fruit salad a healthy snack?
Definitely! Doctors recommend that people eat at least 400 grams of fruit per day (or five servings of 80 grams), so eating fruit salad as a snack will help you reach your dietary goals while reducing your risk of disease, aiding weight loss, and enhancing your body's store of essential nutrients. However, it is always best to consult your doctor and get the best advice for your dietary requirements.
Should I peel fruits when making fruit salads?
Peeling your fruit is a personal choice for this breakfast fruit bowl recipe. However, I recommend peeling off any skins that are hard to digest, such as orange, kiwi, and banana peels.
Can I use frozen fruit?
Yes, but ensure your fruits are fully thawed (room temperature is best) before adding them to your mixture.
Other Fruit Breakfast Recipes
No one can resist a sweet bowl of fruit for breakfast. If you want other ingenious ways to incorporate nutritious fruit into your morning, you'll love these simple dishes.
If you try this Breakfast Fruit Salad recipe or any other recipe on Foolproof Living, please take a minute to rate the recipe and leave a comment below. It is a great help to others who are thinking of making the recipe. And if you took some pictures, be sure to share them on Instagram using #foolproofeats so I can share them on my stories.
Breakfast Fruit Salad Recipe
Here is a breakfast fruit salad that will help you start the day in a healthy way. Made without the use of any additional sugars, this easy fruit salad can be served by itself or as a side dish served with baked goods, eggs, or oatmeal.
Print Recipe
Ingredients
For The Fruit Salad
2

cups

pineapple

peeled, cored, and cut into 1-inch pieces

1

cup

grapes

rinsed and halved

1

cup

strawberries

rinsed, hulled, and quartered

1

cup

blueberries

rinsed

1

cup

blackberries

rinsed

1

orange

peeled and cut into 1-inch pieces

2

Kiwis

peeled and cut into 1-inch pieces

1

banana

peeled and sliced – optional
For The Salad Dressing
¼

cup

orange juice

freshly squeezed

1

teaspoon

orange zest

2

teaspoons

lime zest

4

tablespoons

lime juice

from approximately 2 limes

½

teaspoon

vanilla extract

⅛

teaspoon

ground cinnamon

Handful of fresh mint leaves

chopped – Optional
Instructions
Place the pineapple, grapes, strawberries, blueberries, blackberries, cut orange, and kiwi in a large bowl. If you are serving it right away, add the banana, but if you are making it ahead of time, we recommend adding the banana right before serving.

To make the fruit salad dressing, combine the orange juice, orange zest, lime juice, lime zest, vanilla extract, and cinnamon* in a small bowl or mason jar. Whisk or shake vigorously to incorporate.

Drizzle the fruit salad with the dressing and gently toss to combine.

If using, garnish with fresh mint leaves and serve.
Notes
Yields:

This recipe yields approximately 8-9 cups of breakfast fruit salad. The nutritional values below are for 1 serving.

Sweetener*:

As we were working on this recipe, we wanted it to be a healthy no-sugar-added breakfast option. However, if preferred, you can add a tablespoon (or more) of honey (or

honey simple syrup

) to the dressing. Honey-sweetened fruit salad is slightly sweeter but has a subtle (but welcome) honey flavor.

Make ahead

: If you want to make it ahead, simply cut up the fruit (except the banana) and prepare the dressing. Store them in separate airtight containers. Then, just before serving, add the banana and drizzle the fruit with the prepared dressing.

Meal prep

: Divide the prepared fruit mixture into individual airtight cups, mason, or weck jars, and store them in the fridge until ready to eat. Then, add the bananas right before serving and keep the dressing on the side. As long as they are stored in airtight containers, they should be fresh for up to 3 days.

Storage

: The leftovers can be stored in an airtight container in the fridge for up to three days. Remember that the salad will get watery after the second day but still taste delicious.

Making it for a crowd?

Feel free to multiply the recipe as many times as you need.
Nutrition
Calories:
131
kcal
|
Carbohydrates:
33
g
|
Protein:
2
g
|
Fat:
1
g
|
Saturated Fat:
0.1
g
|
Polyunsaturated Fat:
0.3
g
|
Monounsaturated Fat:
0.1
g
|
Sodium:
4
mg
|
Potassium:
407
mg
|
Fiber:
5
g
|
Sugar:
22
g
|
Vitamin A:
232
IU
|
Vitamin C:
93
mg
|
Calcium:
46
mg
|
Iron:
1
mg
Like this recipe? Consider sharing: