Are you as crazy about plants as I am? A vibrant, lush mint plant caught my eye while browsing through the grocery store recently. Its leaves were in full bloom, my heart skipped a beat, and my mind immediately flooded with recipe ideas.
My new mint plant was the sole inspiration for today's recipe. Quinoa Lentil Salad is a naturally vegetarian and gluten-free salad, combining flavors of fresh mint, protein-packed quinoa and lentils, and tangy lemon in one bowl.
Enjoy it as a side dish or prepare it in advance for weekday lunches or meal prep.
Quinoa Lentil Salad Ingredients
I love to create quinoa recipes that combine flexible ingredients with unique flavors, like my Mediterranean Quinoa Salad. This recipe is no exception, as it's packed with fresh mint, quinoa, green French green lentils, Kalamata olives, feta cheese, and red onion.
Quinoa: This protein-packed grain comes in a variety of colors (white, red, and tricolor). I opted for tri-color quinoa but you can use whichever variety you have on hand.
French Green Lentils (aka French du Puy lentils): This variety of lentils have a greyish-green color and a nutty and peppery taste. When cooked, they hold their shape with a texture that is tender but not mushy. If you don't have them on hand, you can also use regular green lentils.
Kalamata Olives: You're likely to find Kalamata olives in many Greek or Mediterranean dishes. Find them in the olive cart or jars at your local grocery store.
Fresh Mint: In this recipe, the star ingredient of the show is mint. The combination of mint-lentils-feta is out of this world.
How To Prepare Quinoa and Lentils For Cooking
Quinoa: Always start by rinsing quinoa with water before cooking. This will wash away the grain's natural, bitter-tasting coating called 'saponin'.
Lentils: Before cooking lentils for salad, sift through them in a bowl. Remove any small pieces of debris or pebbles, which can sometimes get bagged along with the legumes. Rinse with water as an extra precaution.
How To Make
This Quinoa and lentil salad recipe is great in any season and can be easily prepared. It is filling and satisfying and does not take much time or effort to put together.
Follow these directions to have it ready in under 45 minutes from start to finish:
How To Cook Lentils And Quinoa Together: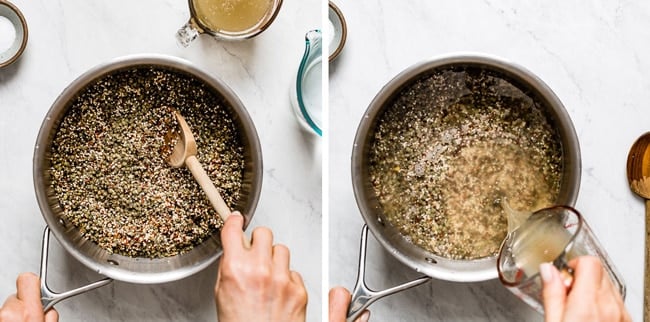 When making this quinoa salad recipe, you can either use pre-cooked quinoa (3 cups cooked from 1 cup raw) and pre-cooked lentils (2 cups cooked from 1 cup raw lentils) or cook them together.
I personally like to cook them together in the same pot as I find it to be more efficient. Here's how to do it:
Cook The Quinoa And Lentils: Place the rinsed quinoa and lentils in a medium-size saucepan with a tight-fitting lid. Pour the cooking liquid. You will need 3 cups of liquid. This can be either water or a combination of water or broth. I like to use 2 cups of water and 1 cup of vegetable stock.
Cover with a lid and cook over medium-high heat until the liquid comes to a boil.
Let it simmer: Turn the heat to low and cook for 20 minutes or until the quinoa and lentils have absorbed all of the liquid. Turn the heat off and let them rest for 10-15 minutes.
Let it rest: Fluff the lentils and quinoa with a fork and transfer to a large bowl.
Make the vinaigrette: While the quinoa and lentils are cooking make the vinaigrette and prepare the rest of the ingredients. I used my all-time favorite olive oil and lemon-based lemon vinaigrette recipe that comes together in just a few minutes.
Assemble: Add the rest of the ingredients; olives, red onion, fresh mint, and feta cheese, and drizzle it with the dressing. Gently toss and serve.
Adjust The Taste To Your Preference
As it is with all salad recipes, when it comes to seasoning it is best to taste as you go. The recipe below is just enough salty and just enough tangy as it is written. However, you can adjust it to your liking after giving it a quick taste at the end.
If You Like It Salty: Add an extra sprinkle or two of salt to the salad right before serving. Be aware that the lentils and quinoa are already seasoned, and the Kalamata olives and feta are salty-tasting before adding any extra. Remember to taste as you go!
If You Like It Tangy: Add one or two more tablespoons of lemon juice to help the salad taste of citrus and tang. And if you are a lover of tangy lemon flavor, be sure to try my Herbed Lemon Quinoa recipe as well.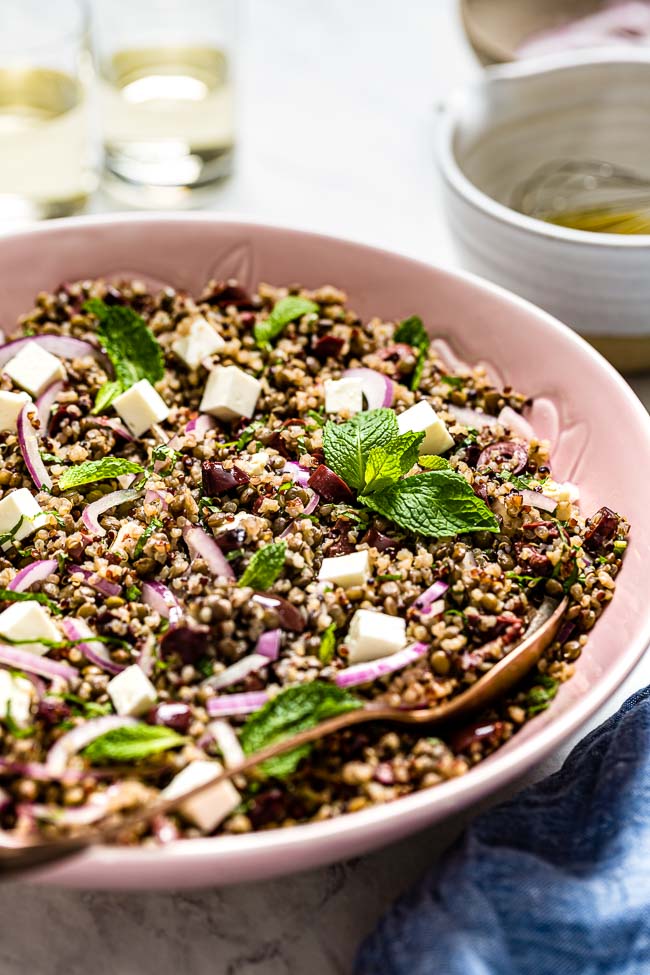 Variations For This Recipe
You can easily customize this quinoa, lentil, and feta salad according to your preferences and/or with what you have on hand. Here are a few variations:
The Onion Family: Red onion is sweet and will go well with the salad's salt and tang. It can easily be swapped with any of its onion relatives: scallions, white or yellow onion, or shallots.
Customize It For The Holidays: Make this lentil quinoa recipe perfect for the holidays by adding a handful of dried cranberries and chopped walnuts.
Top it off with seasonal veggies: Roast up some veggies and transform this dish into a warm quinoa lentil sweet potato salad, similar to this Brussels Sprouts And Sweet Potatoes made with quinoa, which happens to be a reader favorite.
Using Fresh Herbs: Mint leaves right off the plant will give this salad a beautiful freshness, but consider adding fresh parsley and dill for more flavor and green goodness.
Looking For A Vegan Option? That's easy! Just remove the feta cheese for a protein-packed vegan salad or side dish.
A Few FAQs Answered:
Should I serve it warm or cold? You can serve it either way.
Can I Use Canned Lentils? I would recommend against it, as canned lentils could take away from the salad's freshness. They will save time, however, canned lentils could also be very mushy. If you do use them, drain and rinse them thoroughly before use.
Cut The Recipe In Half If It's Too Much: This salad recipe is perfect when you are serving a large crowd. It gives you a good 6-8 servings (about 6-7 cups of salad). However, if you are serving it to a smaller crowd, you can easily halve the recipe.
Making It Ahead of Time
Lentil and quinoa recipes are the ultimate meal-prep accessory because they can be made well ahead of time and chill in your fridge for days.
Add the cooked and cooled quinoa and lentils to individual airtight containers and top with the rest of the salad ingredients. Store the lemon vinaigrette separately. Store everything in your fridge for 3 to 5 days while enjoying the portions for weekday lunches.
A Few Dishes To Serve With This Salad
More Quinoa Recipes You Might Like
This recipe was originally published in May 2020. It has been updated with a how-to recipe video in July 2020.