I had no intentions of sharing a beet smoothie recipe until I saw these colorful beets in our farmer's market last week. I do not usually buy beets that much because my husband does not like them. But these ones were too pretty to pass up. So I bought a bunch with no recipe in mind. I thought I would roast them with a little olive oil and salt and pepper; mix with goat cheese and walnuts and treat myself to a simple dinner.
But then I saw a smoothie recipe using red beets. Even though I have tried this Beet Juice recipe before, I had never used beets in a smoothie before. So the next morning I put a small red beet in my usual morning smoothie that I make with almond milk, frozen bananas, and baby spinach.
To my surprise, it was not bad at all. The next day, I tried it with a yellow beet. Unlike the smoothie that I made with the red beet, it tasted much more earthy and beet-like. This time it was more like the strong taste of the yellow beet took over the whole smoothie.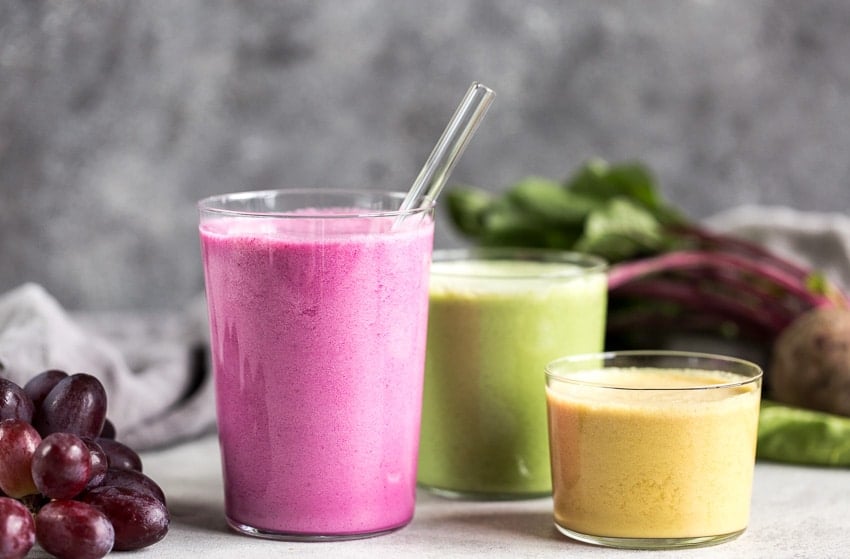 A couple of days later, I went back to the kitchen and this time I used coconut milk instead of almond. I also added some grapes to make it a little sweeter. Unlike it was in my first try, the taste of beets didn't take over the whole smoothie. It was much more balanced. In the following days, I tried different versions of the same smoothie with and without baby spinach and kale. I also combined two different colored beets. They were all so good. Coconut milk was definitely a better option than almond milk.
About this beet smoothie recipe:
As I mentioned earlier, you can mix and match as you please. If you make it with red beets and no greens, it has a pretty pink color and it tastes very much like a cow-milk based milkshake. If you make it with yellow beets, you can swap the grapes with pineapple. Both fruits complement yellow beets well. You can also add a cup of baby spinach or kale to make it even more nutritious.
[/su_column]
These smoothies are such a good way of getting raw beets in your diet. They are high in immune boosting vitamin C, potassium, manganese, and fiber. They also have anti cancer properties. As I was researching for this post, I found out that you could eat their green leaves as well. Come to find out, they are just as, if not more, nutritious. I had no idea that they were edible. Apparently, a lot of people chop them up and sauté them with onions and other vegetables and serve them as a side dish. Unfortunately, I had already thrown them away, but I know next time I will make sure to use them in my cooking.
Other Smoothie recipes you might also like
---
Immune Boosting Multi-Colored Beet Smoothies
This beet smoothie is one of my all-time superfood smoothies. Made with coconut milk, it is delicious, healthy and satisfying.
Print Recipe
Ingredients
2

small or 1 big beet – red

yellow, or both – peeled and cut into cubes

1

(14 oz.) can of whole coconut milk

1

frozen banana

in small pieces

12-14

red seedless grapes

1

tablespoon

lime juice

freshly squeezed

1

cup

baby spinach or kale

rinsed (optional)

1

cup

ice
Instructions
Place beets, coconut milk, banana, grapes, lime juice, spinach (or kale) and ice in a blender. Blend until smooth. Divide it in between 2 glasses and serve immediately.
Nutrition
Serving:
2
Glasses
|
Calories:
587
kcal
|
Carbohydrates:
41
g
|
Protein:
8
g
|
Fat:
48
g
|
Saturated Fat:
42
g
|
Sodium:
114
mg
|
Potassium:
1226
mg
|
Fiber:
9
g
|
Sugar:
24
g
|
Vitamin A:
3411
IU
|
Vitamin C:
58
mg
|
Calcium:
95
mg
|
Iron:
5
mg
Like this recipe? Consider sharing: