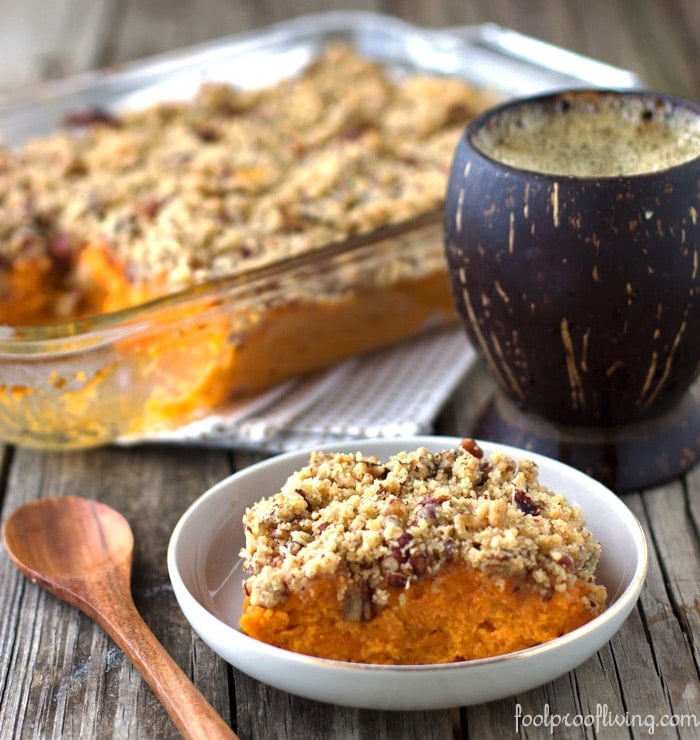 I love watching the Food Network when I am cooking at home. It inspires me.
Especially this time of the year, when it is all about cooking.
I watched Trisha Yearwood make this Sweet Potato Souffle on her show as I was working on one of my mother's recipes. It looked so good that I could not help but to turn the oven on to bake the sweet potatoes that I bought for a soup recipe that I wanted to try this week. Oh well, I guess I will make the soup some other time…
Once they were baked putting it together was less than 10 minutes.
Coincidently, the minute I took it out of the oven my husband walked in the door and first thing he said was:
"What are you making? It smells sooooo good in here!!"
Next thing you know, we ate half of it together in less than 10 minutes, before dinner.
Pecans coated with brown sugar and butter gives the sweet potatoes a surprising "streusel" like crunch. With every bite, you want to eat more.
In the midst of prepping for the big "T" day if you need an easy but delicious desert with amazing flavors you have got to try this.
You can easily make it in advance, cover it with aluminum foil and keep it in the fridge until you are ready.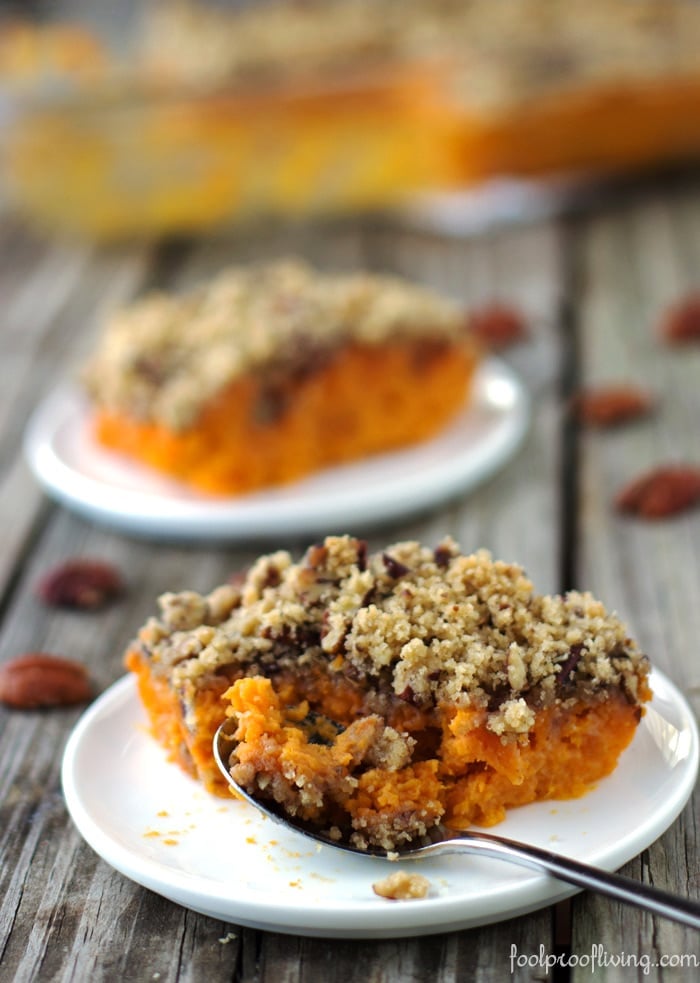 All you need is 40 minutes to bake it and just like that you have the most amazing Thanksgiving desert.
I promise it does not disappoint.
Print
Sweet Potato Soufflé
Ingredients
Souffle
1/2 cup (1 stick) plus 1 tablespoon butter, at room temperature
5 medium sweet potatoes
2 large eggs
1 cup granulated sugar
1 1/2 teaspoons vanilla extract
1/2 cup milk
1/8 teaspoon salt
Topping
1 cup coarsely chopped pecans
1 cup brown sugar
1/2 cup all-purpose flour
1/4 cup (1/2 stick) butter, softened
Instructions
Preheat the oven to 350 degrees.
Using a fork, poke the sweet potatoes and place them on a foil covered sheet pan. Bake for an hour and 15 minutes. (The original recipe states to bake it for an hour but it took me 15 more minutes. Keep an eye on it after an hour.)
Take it out of the oven and let it cool for 20 minutes.
Do not turn the oven off.
Peel the sweet potatoes and place the flesh into the bowl of an electric mixer fitted with the paddle attachment (you can also use a hand mixer).
Add the eggs, sugar, vanilla extract, milk, and salt in the bowl. Mix until they are all combined.
Place the mixture into a baking dish buttered with the 1 tablespoon butter. I used an 8"X11" Payrex.
For the topping: mix pecans, brown sugar, flour, and 1/2 cup butter in a small bowl. Spoon it on the sweet potato mixture and make sure that it is all covered with the topping.
Bake it in the oven for 40 minutes. Let it cool down for 10 minutes before serving.
Adapted from this recipe.