Pasta with butter garlic is one of my favorites among all my easy recipes for spaghetti noodles. This simple dish comes together as quickly as my Ricotta Lemon Pasta and packs as much bold, robust flavor as my fan favorite Green Spaghetti. Tossed in my signature garlic butter pasta sauce, this easy dish will make your recipe book hall of fame—next to my creamy and spicy take on Gigi Hadid Pasta!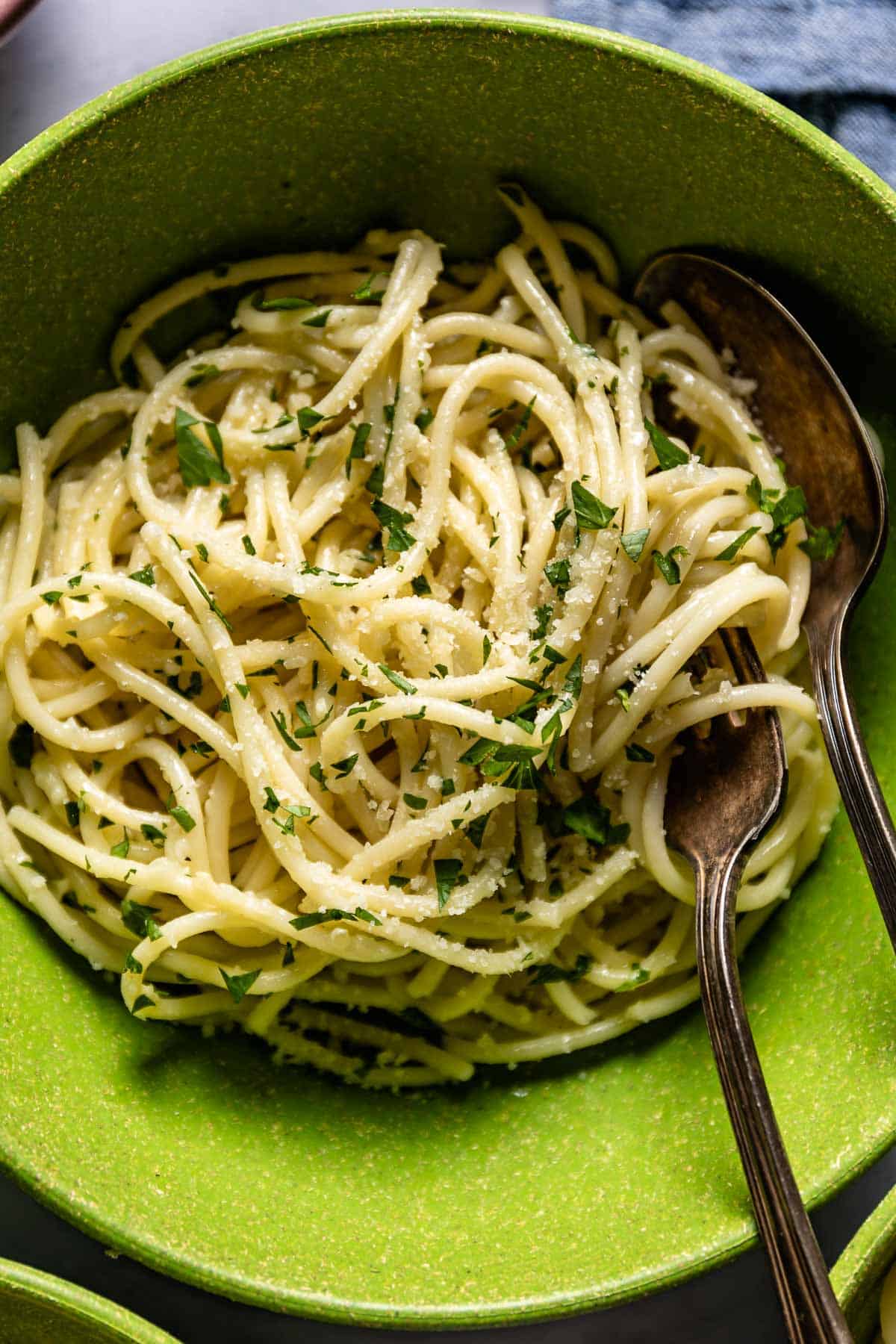 Ingredients for Garlic Buttered Pasta
To make the butter garlic pasta sauce, you will need just a few pantry-ready ingredients:
Unsalted butter: Due to its high-fat content, unsalted European-style butter is my go-to for this recipe, as it will give your pasta extra depth and richness. However, you can use any unsalted butter you prefer to balance out the excess sodium of parmesan cheese.
Fresh garlic cloves: I recommend using finely minced garlic for your buttery pasta sauce, as it most thoroughly infuses the butter with its flavors. You could also use roasted garlic for a smokier, caramelized taste. In a pinch, garlic powder can be a substitute but if you are after the rich garlicky flavors, I would recommend using fresh garlic cloves in this recipe.
Kosher Salt and black pepper
Fresh herbs: Fresh parsley is one of my favorite herbs in this butter garlic sauce for noodles. However, you can bring out similarly bright, garden-fresh flavors to your meal by using other fresh herbs matching your unique recipe.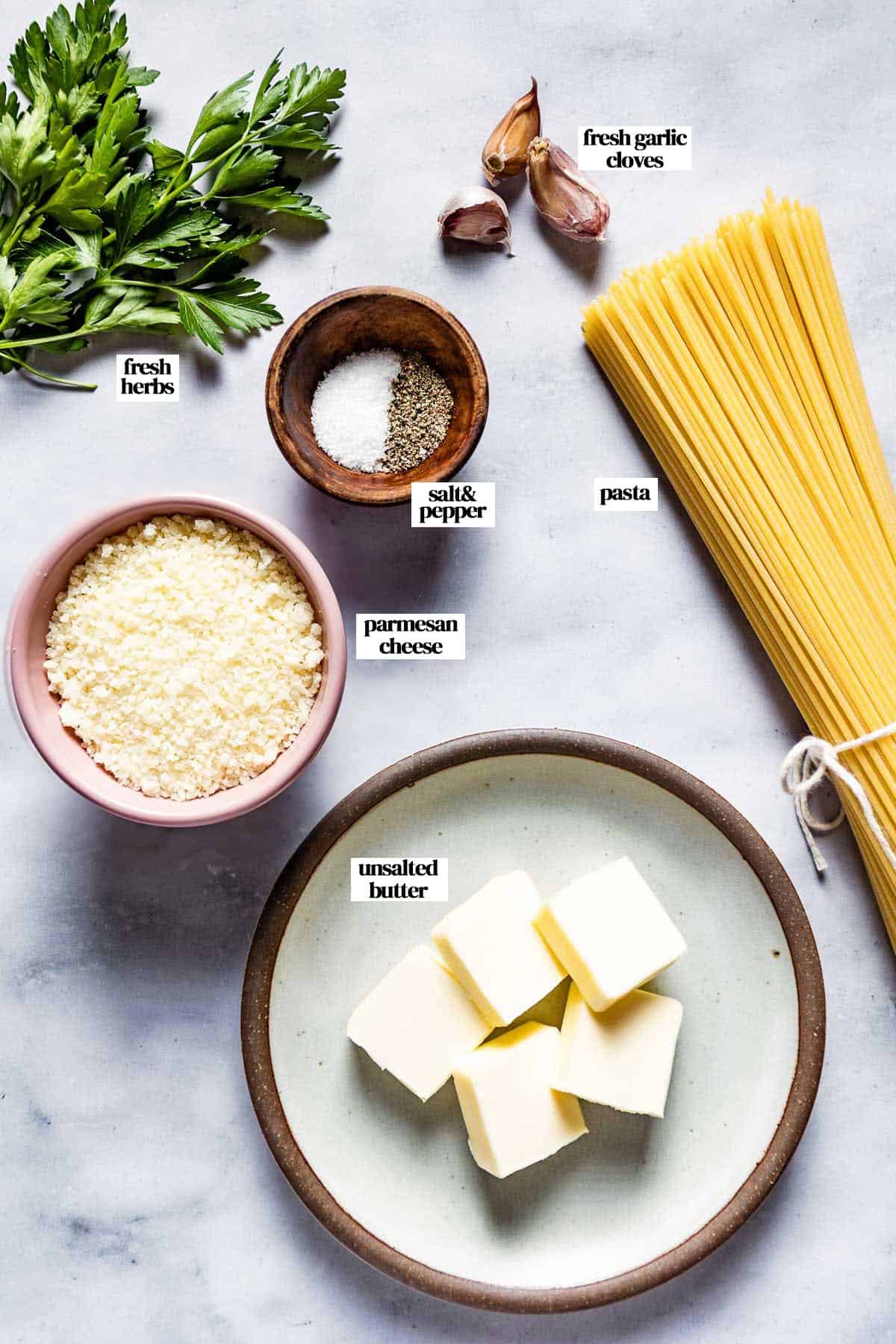 To make the garlic butter pasta, you will need only two simple ingredients:
Pasta: I recommend using spaghetti for my garlic butter noodles, as their lean shape can hold more buttery pasta sauce than thicker types. However, you can also make this recipe using another type of pasta, such as linguine, penne, fettuccine, elbow, egg noodles, and angel hair. Additionally, if preferred, gluten-free pasta can also be used.
Parmesan cheese: Nutty and bold, parmesan cheese is the perfect finishing touch for transforming your plain spaghetti into an elegant, five-star meal.
Optional Add-Ins
Red pepper flakes: If you want to give your recipe a pop of spice and color, a sprinkle of red pepper flakes is just what your plain butter pasta needs.
A drizzle of extra virgin olive oil: For an extra-rich, authentic Italian taste, finish it off with a drizzle of EVOO.
Add a protein: Top off this butter garlic spaghetti with a tender protein to transform this simple side into a complete meal. I love serving garlic butter pasta with chicken (hello, Roasted Bone-In Chicken Breasts!) and seafood, like my zesty Shrimp Shish Kabob recipe.
Green Vegetables: Add a handful of baby spinach leaves or blanched peas to the pasta liquid in the last minute to up the nutritional value and give it some color.
How to Make Garlic Butter Pasta
This quick pasta dish is a cinch with my easy butter garlic pasta sauce. With a handful of ingredients and only six steps, anyone can quickly whip up this delicious side. Here are the steps: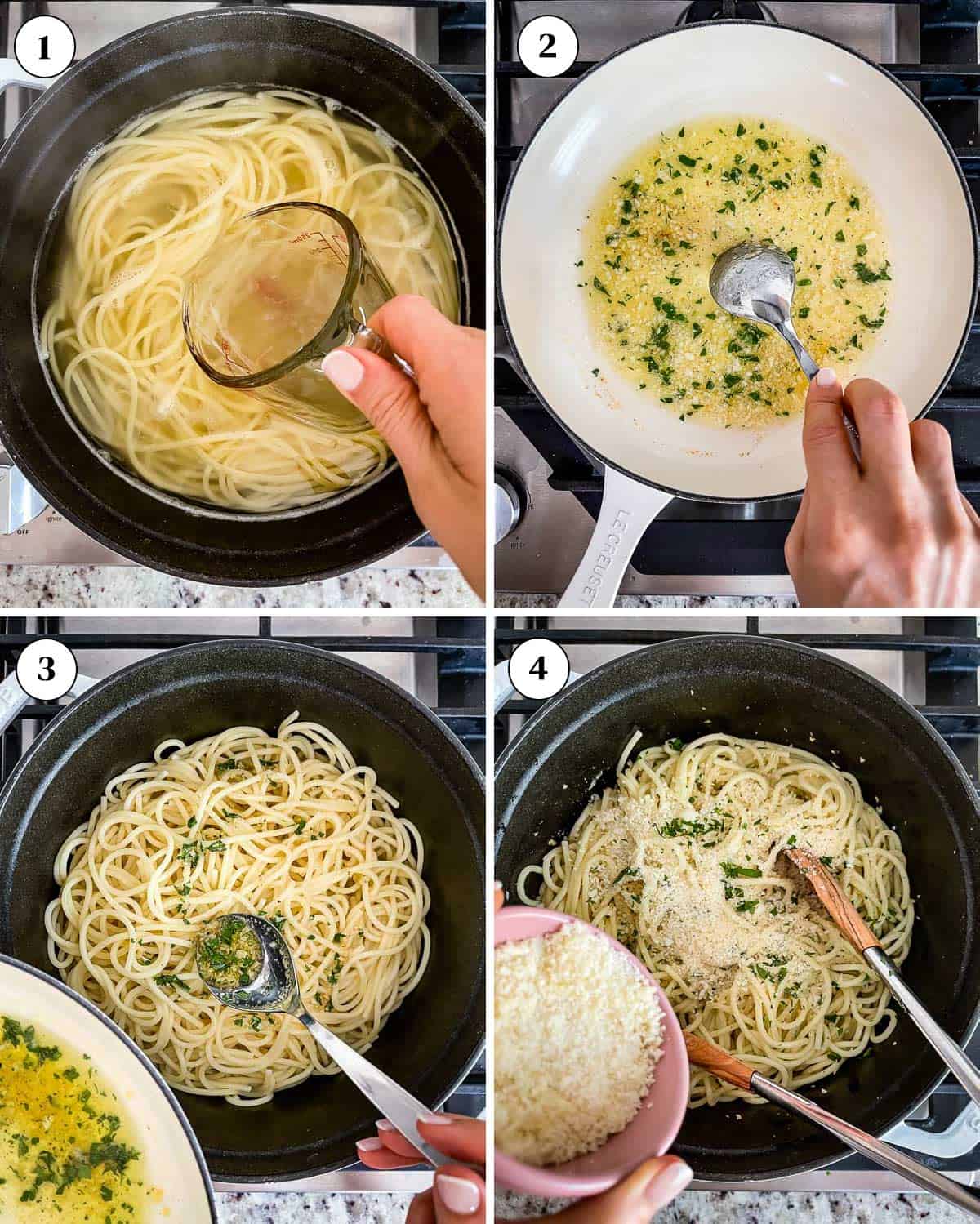 Cook the pasta: Fill a large pot with water, mix in a generous helping of salt, and bring the mixture to a boil. Add the pasta to the pot of water and cook it according to the package instructions (or until al dente.) Reserve 1 cup of the pasta water, drain the pasta, and return it to the pot.
Make the garlic sauce for noodles: While the pasta cooks, melt the butter in a small skillet or saucepan over medium heat. Add the garlic and cook it over medium-low heat until it softens (2-3 minutes), stirring frequently. Then, remove the pan from the heat and stir in the salt, pepper, and fresh parsley.
Toss the pasta: Add the buttered pasta sauce to the cooked pasta and toss until combined. If the pasta is sticky, add the reserved pasta water to the mix in 2-tablespoon increments until it reaches your desired consistency.
Add the parmesan: Sprinkle the buttered spaghetti noodles with parmesan cheese and chopped parsley, and toss until combined.
Serve: Divide the garlic butter spaghetti noodles into serving bowls. Garnish them with more parmesan cheese and parsley, and enjoy!
Storage and Reheating Instructions
With these storage tips, you can save your butter garlic pasta leftovers for an easy lunch or a quick dinner the next day. Here's how I do it:
Store: Place the leftovers in an airtight container in the fridge for up to 2-3 days.
Reheat: When reheating your garlic butter noodles, add a bit of liquid to the mixture to keep your pasta from drying. Then, heat the leftovers in a saucepan for 5-7 minutes or the microwave in 30-second increments.
What to Serve with this Recipe?
Mild yet rich, buttery garlic pasta is a highly versatile side dish. Serve it with a hearty protein, crisp salad, or tender veggie side, and your table will pack a ton of flavor with minimal prep time.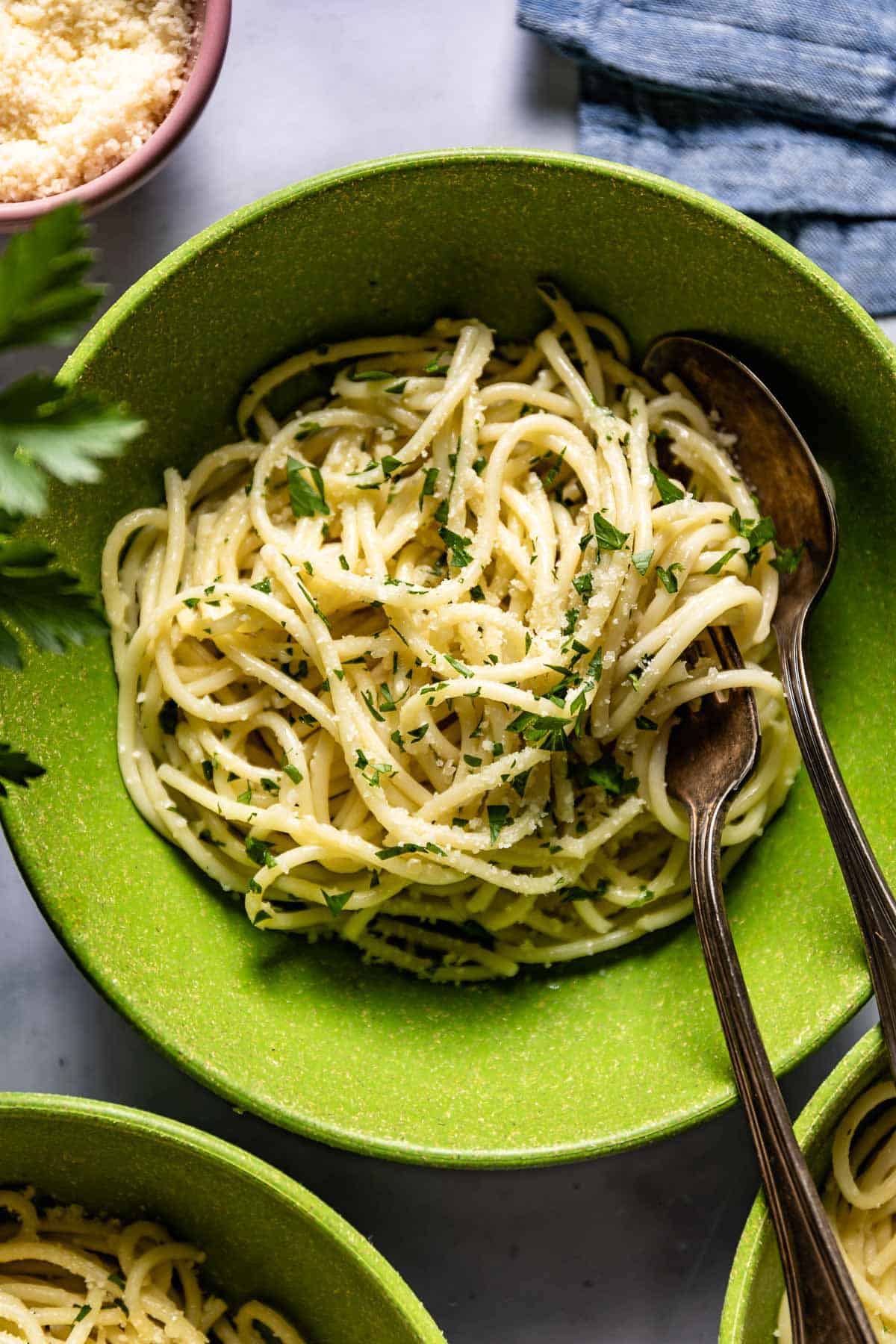 Expert Tips
There's no secret to infusing your easy pasta side dishes with decadent, buttery flavors. However, here are a few things to pay attention to when making this easy pasta recipe:
Use high-quality ingredients: As it is with any recipe that uses a few basic ingredients, the key to the best garlic butter parmesan pasta is using the freshest and high-quality ingredients. Select firm, fresh-smelling garlic bulbs, your favorite pasta brand, and, if possible, European-style butter (for its high fat content.)
Keep a close eye on butter and garlic: Butter and garlic tend to cook quickly, so to avoid burning, watch it closely and stir frequently. Keep in mind, too, that the garlic butter pasta sauce only needs to cook for a total time of 2-3 mins.
Be sure to salt pasta water: The key to properly seasoned pasta is to cook it in salted water, so be sure to add a generous amount of salt to the boiling water. This small step will enhance the overall flavor of the pasta and make your plain noodles taste delicious even before they are coated with garlic butter spaghetti sauce.
Al dente pasta: To avoid mushy or undercooked pasta, I recommend cooking your spaghetti to al dente, giving it a firm yet tender texture.
Taste for seasoning: Because parmesan is naturally salty, it's important to season your recipe sparsely and taste the sauce before adding extra ingredients.
Change the herbs you use to match the main dish: Light, herbaceous, and tasty, any fresh herb can be used in this noodle dish. Think of the dish you are serving it with and select fresh herbs that best complement the meal's flavor profile.
Use a large skillet and add pasta: Another way to prepare this plain pasta recipe is to cook your buttery sauce in a large skillet and toss the cooked pasta directly in the pan.
Multiply: Making it for a crowd? Feel free to multiply the recipe to have buttery garlic pasta enough for everyone!
FAQs
How much pasta should I serve per person?
I recommend preparing two ounces of pasta per person. If serving a larger party, you can quickly multiply this simple recipe to accommodate all your dinner guests.
Should you put butter in pasta?
Absolutely! Pasta in butter sauce—especially garlic butter sauce!—is a classic, easy dish for the whole family. You can either melt butter and drizzle it over your cooked noodles or toss unmelted butter into warm pasta until melted.
How to season plain pasta?
There are countless ways to add flavor to plain pasta. You can toss your noodles with a simple sauce, such as my flavorful garlic butter sauce or an olive oil sauce, or you can top your dish with fresh herbs and cheese for a bright, lush meal.
How to make garlic butter noodles with garlic powder?
To make this easy pasta recipe with garlic powder, substitute the fresh garlic with one teaspoon of garlic powder.
Can I make this recipe vegan?
Yes! For a vegan alternative to my simple garlic butter sauce, use vegan butter and vegan parmesan instead of animal-based products.
Other Easy Pasta Side Dishes You Might Like
Can't get enough of this easy garlic parmesan butter pasta? For even more quick pasta recipes, these beginner-friendly ideas will fill your table with bright, tender flavors.
If you try this Garlic Butter Pasta recipe or any other recipe on Foolproof Living, please take a minute to rate the recipe and leave a comment below. It is a great help to others who are thinking of making the recipe. And if you took some pictures, be sure to share them on Instagram using #foolproofeats so I can share them on my stories.
Garlic Butter Pasta Recipe
An easy and quick to make Garlic Butter Pasta recipe that can be served with any main dish. Spaghetti noodles tossed with buttery garlic sauce and then sprinkled with parmesan cheese and fresh parsley for a flavor packed meal that is both satisfying and comforting.
Print Recipe
Ingredients
For The Pasta:
8

ounces

spaghetti

or any other dried pasta or Gluten free pasta

Water

Kosher Salt

½

cup

grated parmesan cheese

plus more for serving
For The Garlic Butter Pasta Sauce:
4

tablespoons

unsalted butter

preferably European-style butter with high fat content

4

cloves

garlic

minced

¼

teaspoon

Kosher salt

plus more to taste

¼

teaspoon

ground black pepper

¼

cup

fresh parsley

– roughly chopped, plus more for serving
Instructions
Bring a large pot of salted water to a boil, add the pasta, and cook according to the package directions until al dente. Reserve 1 cup of the pasta water and drain the pasta. Return the now-drained pasta back to the pot.

While the pasta is cooking, make the butter garlic pasta sauce. Melt the butter in a small skillet over medium heat until fully melted (but not browned.) Add the garlic and cook, stirring frequently, for 2-3 minutes. Remove from heat and stir in the salt, pepper, and fresh parsley.

Drizzle the pasta with the butter garlic sauce and toss to combine. If the pasta is too sticky, use the reserved pasta water by adding and mixing it in 2-tablespoon increments.

Sprinkle the buttery pasta with parmesan cheese and chopped fresh parsley. Toss to combine.

When ready to serve, divide the pasta into serving bowls and garnish with more parmesan cheese and parsley.
Notes
Yields:

This recipe serve 2 ounces of (uncooked) pasta per serving. However, you can multiply it if you are serving a large crowd.

Keep a close eye on the butter:

Watch the garlic closely when sauteeing as it can burn quickly. It is best to monitor it closely as it cooks.

Store:

Place the leftovers in an airtight container in the fridge for up to 3 days.
Nutrition
Calories:
369
kcal
|
Carbohydrates:
45
g
|
Protein:
12
g
|
Fat:
16
g
|
Saturated Fat:
9
g
|
Polyunsaturated Fat:
1
g
|
Monounsaturated Fat:
4
g
|
Trans Fat:
0.5
g
|
Cholesterol:
41
mg
|
Sodium:
372
mg
|
Potassium:
187
mg
|
Fiber:
2
g
|
Sugar:
2
g
|
Vitamin A:
775
IU
|
Vitamin C:
6
mg
|
Calcium:
137
mg
|
Iron:
1
mg
Like this recipe? Consider sharing: