Few breakfasts are as filling, nutritious, or versatile as this homemade muesli recipe. Every bite will satisfy your tastebuds, whether you prepare it with almond milk, like my Almond Milk Oatmeal, or top it with fresh fruit, like my Apple Cinnamon Oatmeal. And if you love the health-conscious ingredients in this easy muesli recipe, you'll adore other oatmeal dishes, including my Vegan Baked Oatmeal.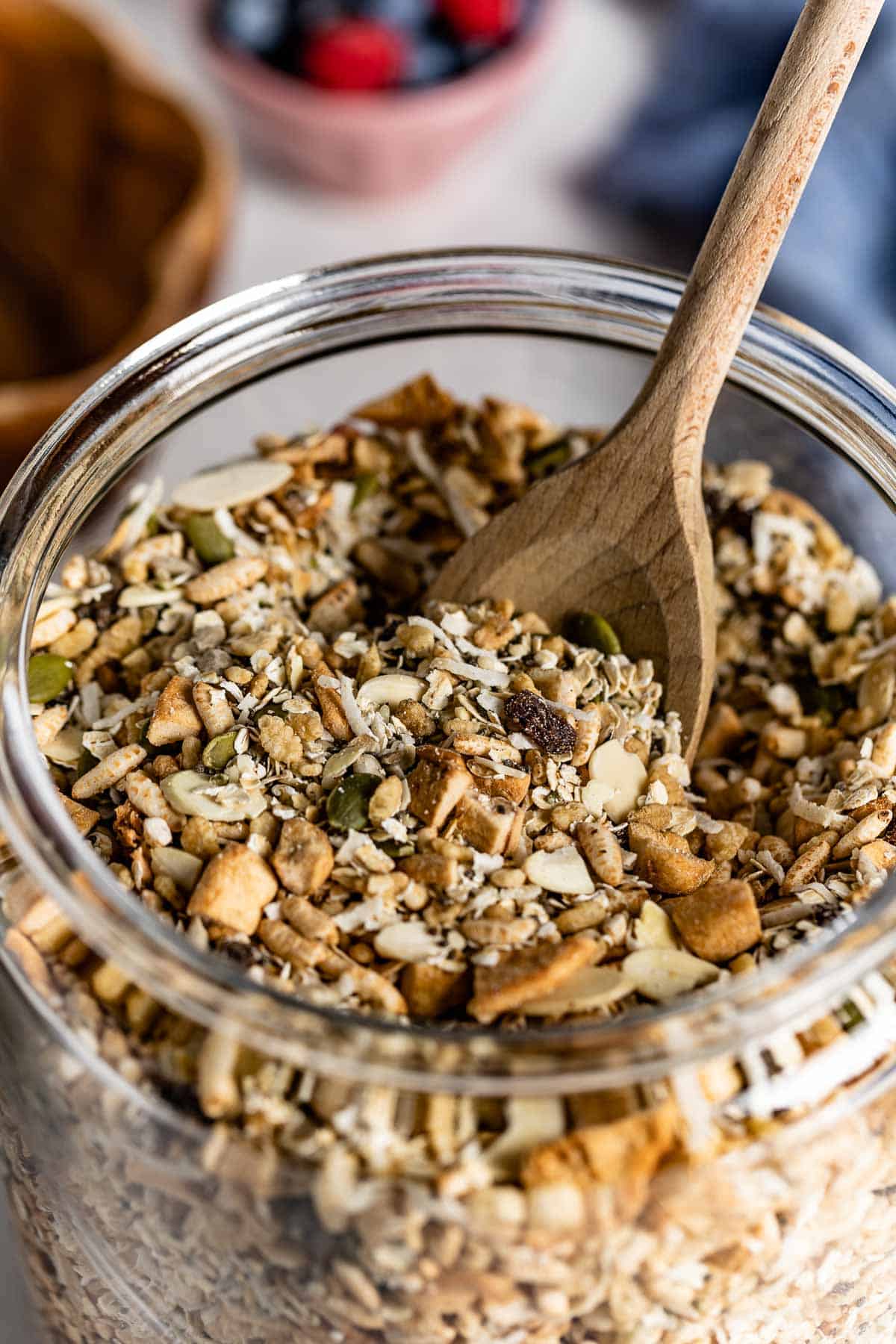 What is Muesli?
Muesli is a healthy breakfast dish made from a rolled oats base mixed in with other ingredients, such as nuts, fruits, and seeds, and served right away with milk (or juice) or soaked overnight.
This nutritious dish—sometimes mistyped as "museli," "meusli," "muselix," and "muslie"—was created by Swiss physician Maximilian Bircher-Benner in the 20th century to serve as a healthy breakfast for hospital patients as a part of their treatment. (source – Wikipedia Muesli article)
The original Bircher muesli recipe was a bit different than what it is today. It was made by using raw oats, grated apples, and chopped nuts mixed with water, lemon juice, and sweetened condensed milk.

Needless to say, it took off after its creation, and muesli breakfasts spread quickly throughout Switzerland. The recipe became so widespread in the country that many still refer to it as "Swiss muesli" or "Swiss-style muesli."
Despite its European origins, muesli has also become a favorite breakfast food in the U.S., with successful brands like Alpen Muesli and Bob's Red Mills appearing in health food stores across the country.
Muesli Ingredients
Below, you will find the formula I follow to make this muesli recipe along with recommendations on brands I like and buy all the time. However, if you are living outside the US (or in an area where you do not have access to these specific ingredients), please know that you can substitute pretty much every single ingredient in this recipe, which is listed under the formula.
Some of the links in this section are affiliate links, which means if you make a purchase using a link, I will get a commission at no cost to you.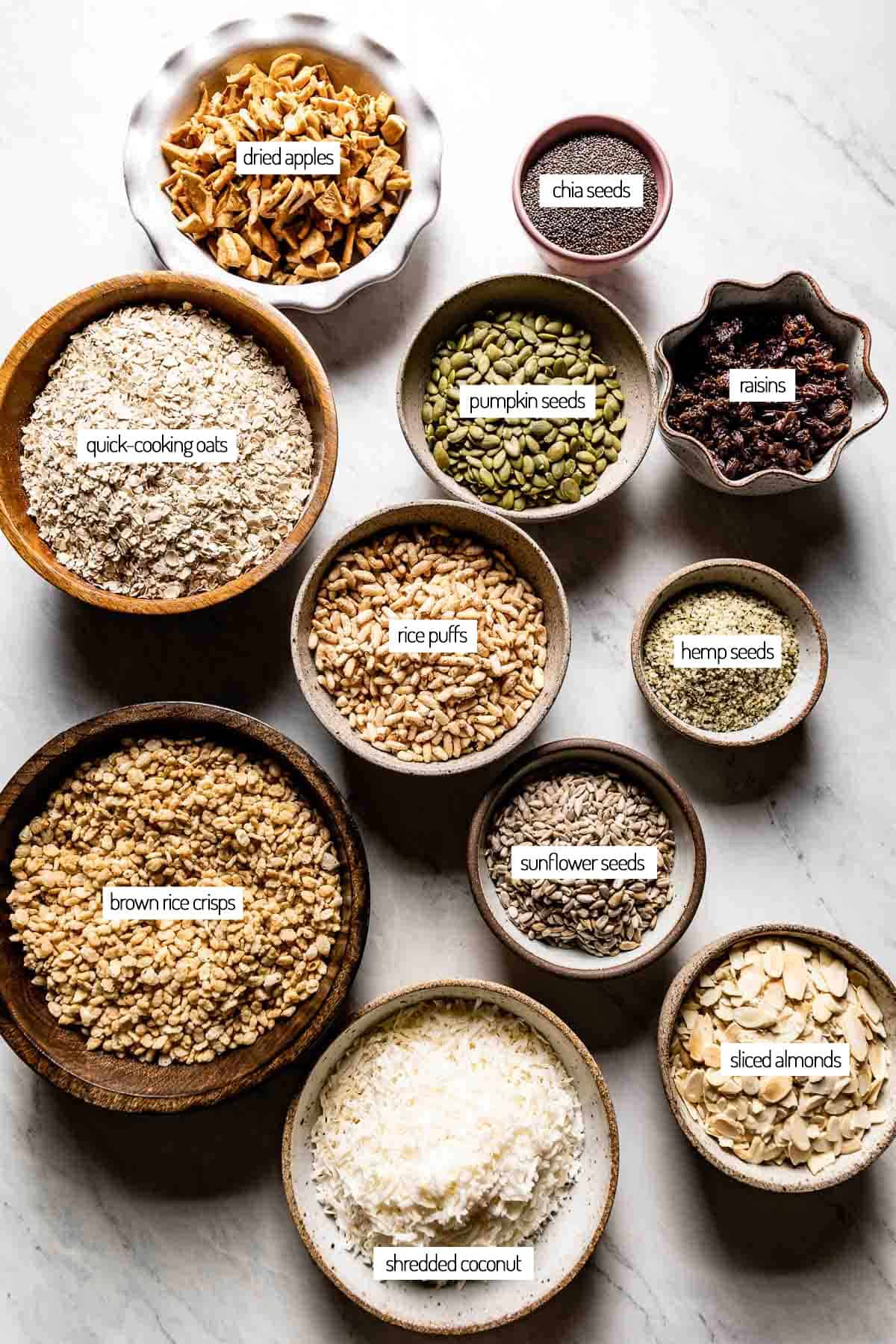 With that being said, these ingredients and brands are just a suggestion, and I suggest you take this basic muesli recipe and change it up according to your taste buds. My only recommendation is that you read the labels while you are shopping for these ingredients.
When I am at the store, I make sure to buy products that are unsweetened, unsalted, and organic as much as possible. I prefer organic ingredients because USDA organic requirements prohibit the use of pesticides in farming, and I prefer that my muesli breakfast bowl in the morning has none of that in it.
This recipe results in 16 cups of mixed muesli (approx. 16 servings), though you can halve or multiply the recipe as necessary. Please refer to the formula sheet below for ingredients and their amounts.
| | |
| --- | --- |
| Ingredient | Amount |
| Quick Cooking Rolled Oats | 3 cups |
| Other Grain Cereals | 5 cups |
| Dried Fruit | 3 cups |
| Superfoods | 1 cup |
| Seeds and Nuts | 2 1/2 cups |
Quick Cooking Rolled Oats VS. Old Fashioned Rolled Oats
You can use either quick-cooking or old-fashioned oats for muesli. I prefer using quick oats because they don't require any extra cooking to soften them. Add in milk or yogurt, and they're ready to eat!
If you are not sure about how they are different, be sure to check out this comprehensive article on rolled oats vs. old-fashioned oats.
However, if you prefer to use old-fashioned oats—a thicker cut than quick-cooking oats—I recommend roasting them in the oven before eating. Simply spread the rolled oats on a large baking sheet alongside nuts and seeds (if desired) at 350 degrees F. for 10-12 minutes. Just make sure to give it a toss halfway through the process.
Other Grain Cereals
Adding breakfast muesli cereals to your mixture is an excellent way to give your recipe a delectable crunch. Some of my favorite brands include Brown Rice Crisps, Rice Puffs, Kamut Khorasan Wheat Puffs (not gluten-free), Bran Flakes (not gluten-free), and Quinoa Flakes—all of which should be available in the health section of your local grocery store. Of course, you can order them online as well. Be sure to use a gluten-free cereal brand if you want to keep this recipe gluten-free.
Dried Fruit
To give your muesli mixture an irresistible sweetness, you can add any dried fruit that's unsweetened and doesn't contain sulfur (marked as "unsulfured"). Some of my favorite dry fruits include dried apples, golden raisins, dried apricot, goji berries, and dried mango.
If I am making this DIY muesli during the holidays, I like using dried cranberries. However, be aware that most dried cranberries are sweetened with sugar as they are pretty bitter without it. That being said, you can find use orange juice-sweetened cranberries at health food stores like Whole Foods, Sprouts, and Trader Joe's.
Seeds and Nuts
Want to add more protein to your vegan muesli? Any unsalted raw seeds or nuts will work. My go-to additions to this muesli cereal recipe include pumpkin seeds, sliced or slivered almonds, sunflower seeds, pecans, and walnuts.
Other Optional Add-Ins & Topping Suggestions
Give your muesli a healthy crunch by filling it with unsweetened coconut flakes. Or, add ½ cup of wheat germ for a power food with tons of healthy fats. Sesame seeds, fresh berries, apricots, and bananas also add a bright taste to your muesli breakfast.
I also enjoy adding ground warm spices for additional flavor, stirring in a pinch of ground cinnamon, ground nutmeg, ground cloves, ground ginger, or ground cardamom. Just remember that a small amount goes a long way!
How to Prepare Muesli at Home?
This healthy muesli recipe is one of the simplest breakfast dishes in my recipe book. Simply place all of the ingredients in a large bowl or glass jar, mix to combine, top it off with a lid, and serve as desired. That's it!
How to Serve?
There are several ways to serve this DIY muesli recipe. From homemade muesli cereal to fruity almond milk oatmeal, these tasty suggestions will have you craving a muesli breakfast daily.
Serve it as cereal with milk: Prepare your muesli as a breakfast cereal by mixing it with an equal amount of cold milk (I recommend one cup for every cup of muesli). You can use cow or plant-based milk, such as oat or almond milk (which you can even make at home using my effortless recipes for Almond Butter Milk or DIY Almond Milk!). Then, top off your cereal muesli with fresh fruit (strawberries and blueberries are my faves) for extra juicy and sweet flavors.
With yogurt: Give your muesli an irresistibly creamy texture by soaking it overnight in plain Greek yogurt. If you don't want your muesli quite as soft, you could make a yogurt bowl by topping off your mixture with Homemade Vanilla Yogurt or your favorite store-bought brand. Or, make your muesli part of your favorite yogurt parfait with recipes like my fresh and flavorful Greek Yogurt Parfait. Alternatively, you can use this muesli to make my Overnight Oats with Yogurt by simply using this muesli mixture instead of rolled oats.
With juice: Enjoy your muesli in European style by serving it with fruit juice, such as orange juice.
Make oatmeal: To make muesli oatmeal, mix 1 cup of water or milk for every ½ cup of muesli. Then, bring the mixture to a quick boil on the stovetop or in the microwave, give it a quick stir, and serve. This simple oatmeal comes together in just 5-10 minutes. If you need further instructions, check out my Almond Milk Oatmeal recipe.
With fruit on top or on the side: Top it off with a handful of fruit, or better yet, make a batch of my Fruit Breakfast Salad and serve it on the side.
Optional sweeteners: If you have a sweet tooth, in my opinion, the best muesli recipe is one that has delicious natural sweeteners, like Pureed Blueberries, Unsweetened Applesauce, or Cranberry Maple Sauce. Alternatively, a drizzle of honey is yet another way of adding some sweetness to your morning bowl.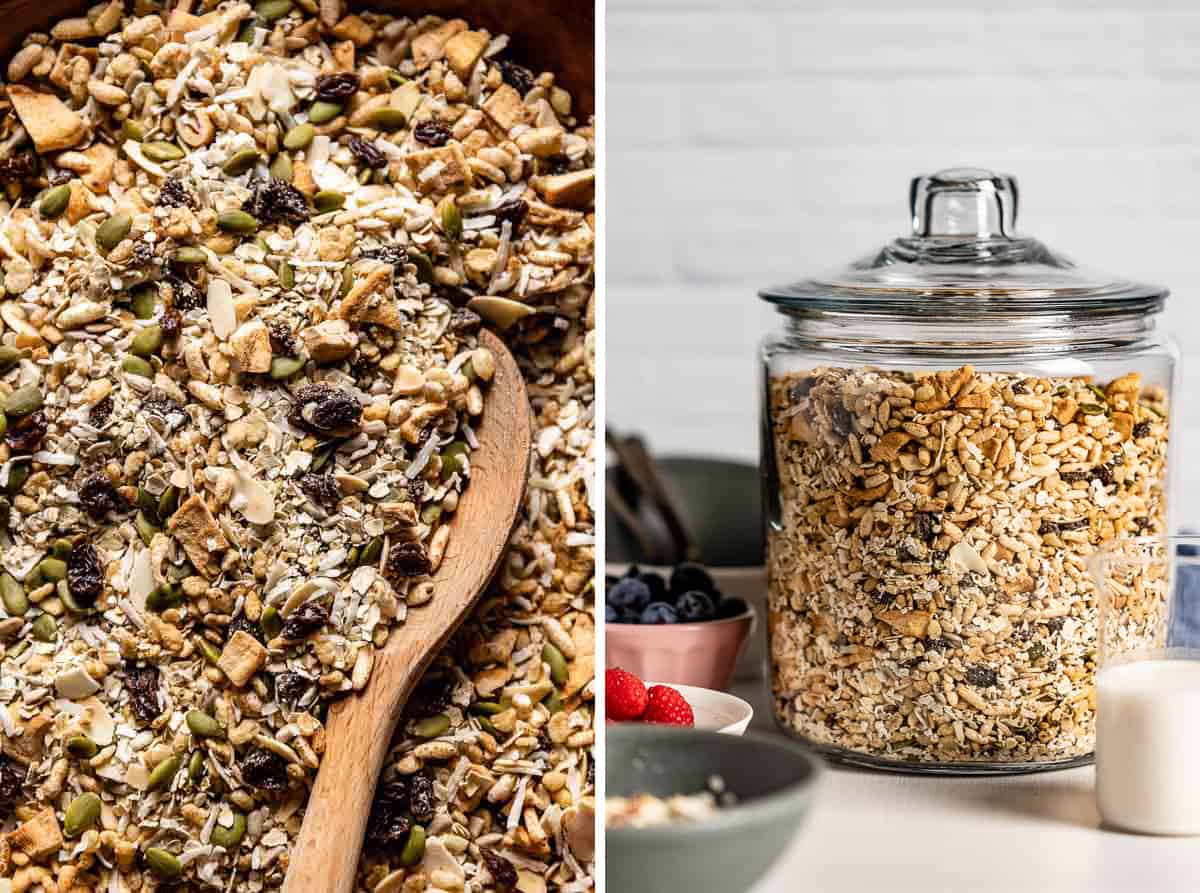 How to Store Homemade Muesli?
You can store your muesli mix in an airtight container or airtight jar at room temperature for up to a month. It may seem like the muesli ingredients should last longer according to their expiration dates. However, their longevity decreases when repeatedly exposed to air, such as when you open their storage container to get a helping of muesli.
I use this one-gallon glass jar to store my muesli mixture. If you want to keep your muesli for longer than a month, place the cereal in smaller containers and remove as much air as possible.
Expert Tips
Learning to make muesli at home is one of my favorite beginner-level recipes. With these pro suggestions, your dream breakfast will come together in seconds.
Use a large bowl to mix: I highly recommend using a large bowl to combine your ingredients, as this recipe results in 16 cups of muesli, and you need enough space to distribute your ingredients evenly. When I made muesli on Instagram, I mixed all the ingredients in a large, 1-gallon glass jar, and as you can see, it is best to do it in a big bowl and then transfer it to the container.
Use organic and gluten-free certified ingredients: Reduce your gluten intake, cut unhealthy chemicals from your diet, and support all-natural farms by using organic and gluten-free ingredients in this muesli dish.
Halve or multiply the recipe as you please: You can prepare as many or as few servings of this breakfast dish as you'd like. Refer to the formula to increase or decrease your ingredients accordingly.
Get creative: There are countless different ways to customize this easy homemade muesli recipe, and trying out new combinations is the best way to vary your diet without the hassle of everyday prep time. Whether you try this dish using an overnight oats-style, mix in some peanut butter, or top it with additional fresh fruits, don't be afraid to have fun with it!
Eat smaller portions for weight loss: If you're trying to shed some pounds, I recommend consuming it in smaller portions (perhaps, ½ cup per serving.) Though it is made using healthy and nutritious ingredients, consuming muesli in smaller portions is ideal for weight loss.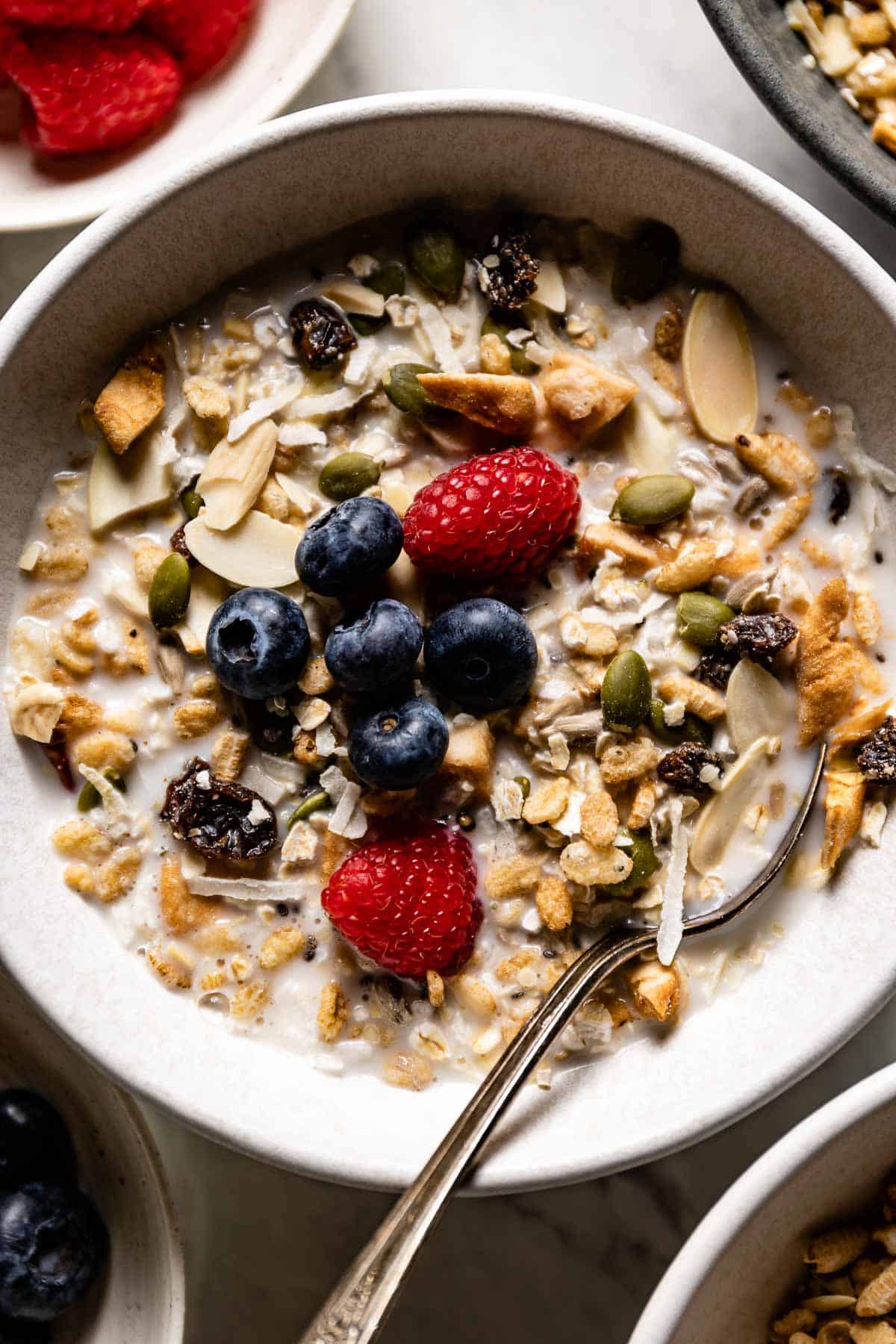 FAQs
Wondering how to cook muesli, what muesli's nutritional information is, or how muesli differs from other breakfast staples? Here are all your homemade muesli questions answered:
Are the oats in muesli raw?
Yes, muesli contains raw rolled oats, one of the most popular oats for breakfast amongst all kinds of oats available for consumption. Depending on your recipe, you can make muesli using quick-cooking oats or old-fashioned rolled oats.
What's the difference between muesli and granola?
Though the two share many ingredients, muesli and granola are different. Traditional muesli is a dry mix of uncooked ingredients. By contrast, granola is baked using a binder of oil or egg whites and often contains a sweetener, such as maple syrup, honey, or brown sugar.
Is muesli gluten-free?
Muesli can be gluten-free if you ensure that each component ingredient is also gluten-free (including gluten-free oats!).
Is homemade muesli healthy?
Muesli contains highly nutritious ingredients, such as fiber-rich oats, nutrient-dense superfoods, and heart-healthy grains. You can even add milk for extra calcium! Therefore, as long as you read your ingredients' labels and know what you're using, muesli can be a healthy way to start the day.
Other Breakfast Bowl Recipes You Might Also Like
When you make your own muesli, you're bound to fall in love with tasty breakfast foods. Try these other fan-favorite breakfast bowl recipes, and you'll start every morning energized and satisfied.
If you try this How to Make Muesli recipe or any other recipe on Foolproof Living, please take a minute to rate the recipe and leave a comment below. It helps others who are thinking of making the recipe. And if you took some pictures, be sure to share them on Instagram using #foolproofeats so I can share them on my stories.
How to Make Muesli Recipe
Once you learn How to Make Muesli at home, you'll never have to buy store-bought cereal again. Not only is homemade muesli a nutrient-dense and filling breakfast, but it's also meal-prep friendly for busy mornings. This helpful guide also features plenty of substitutions and serving suggestions to accommodate your preferences, the ingredients you have on hand, and dietary restrictions and allergies.
Print Recipe
Instructions
Combine ingredients: Place all ingredients in a large bowl (or a glass jar, like I did) and stir to combine.

Serve/store: Cover it tightly with a lid. Enjoy it with your favorite milk and fresh fruit.
Notes
When shopping for these ingredients,

be sure to read the label. I recommend choosing ingredients that are made with no added sugar and are naturally gluten-free (if that is important to you) and organic, if possible.

The basic formula:

The ratio that I follow for making muesli is 3 cups of

Quick Cooking Rolled Oats, 5 cups of grain (or non-grain) cereals, 3 cups of dried fruit, and 1 cup of superfoods. You can find further information on substitutions within the blog post.

Serving amount and suggestion: This recipe yields 16 cups of mixed muesli (approx. 16 servings), though you can halve or multiply the recipe as necessary.
Quick Cooking Oats vs. Old-Fashioned Rolled Oats:

I use quick-cooking oats in my muesli because they require no cooking and are softened as soon as they are mixed in with the liquid. However, if you prefer using rolled oats, I recommend roasting them in a preheated 350-degree oven for 10-12 minutes, along with the seeds and nuts you are using.

Calorie Information: Please know that the nutritional values below are approximate and may change depending on the brand you use.
Storage:

Store it in an airtight container or jar at room temperature for up to a month. It may seem like the muesli ingredients should last longer according to their expiration dates. However, their longevity decreases when repeatedly exposed to air, such as when you open their storage container to get a helping of muesli.

Longer storage:

If you want it to last longer, you can store it in separate airtight containers (or jars) in smaller portions for up to 3 months.

Serving suggestions:

Serve it with any of your favorite dairy or non-dairy milk (like you would serve store-bought cereal).

Make it a warm bowl of oatmeal by cooking it with milk. My ratio is ½ cup muesli to 1 cup liquid (plant-based or regular milk or water).

Mix it with milk or yogurt (1 to 1 ratio) to make it overnight muesli.
Nutrition
Calories:
406
kcal
|
Carbohydrates:
38
g
|
Protein:
12
g
|
Fat:
25
g
|
Saturated Fat:
9
g
|
Polyunsaturated Fat:
8
g
|
Monounsaturated Fat:
7
g
|
Trans Fat:
0.01
g
|
Sodium:
20
mg
|
Potassium:
442
mg
|
Fiber:
9
g
|
Sugar:
8
g
|
Vitamin A:
40
IU
|
Vitamin C:
1
mg
|
Calcium:
90
mg
|
Iron:
5
mg
Like this recipe? Consider sharing: