Considered one of the healthiest whole grains, easy recipes made with oats (like Steel Cut Overnight Oats and Almond Milk Oatmeal) have become all the rage. But did you ever wonder which is better for you and your lifestyle?
With all the different types of oats to choose from, it's important to know the unique characteristics of each one. Let's dive deep into the world of regular oats vs. steel-cut oats to discover which option is best for you and your family.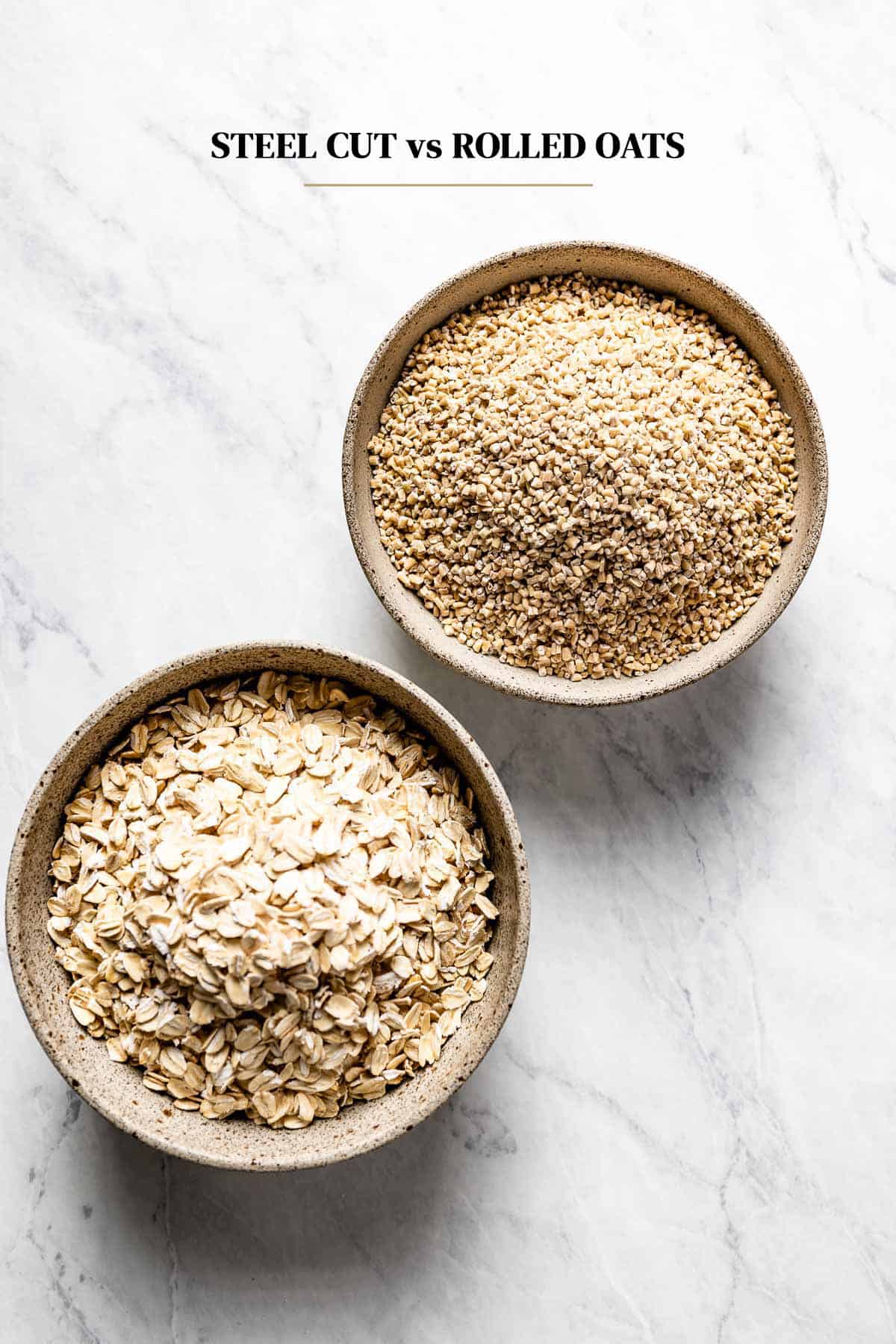 What Are Steel Cut Oats and Rolled Oats? And What Do They Look Like?
Raw oats begin as any whole grain, with their hulls and stalks attached. After harvest, these inedible hulls are removed, resulting in whole oat groats (or oat kernels). You can purchase whole oat groats at many health food stores, but they take the longest to cook, which is why their cut and rolled alternatives are preferred.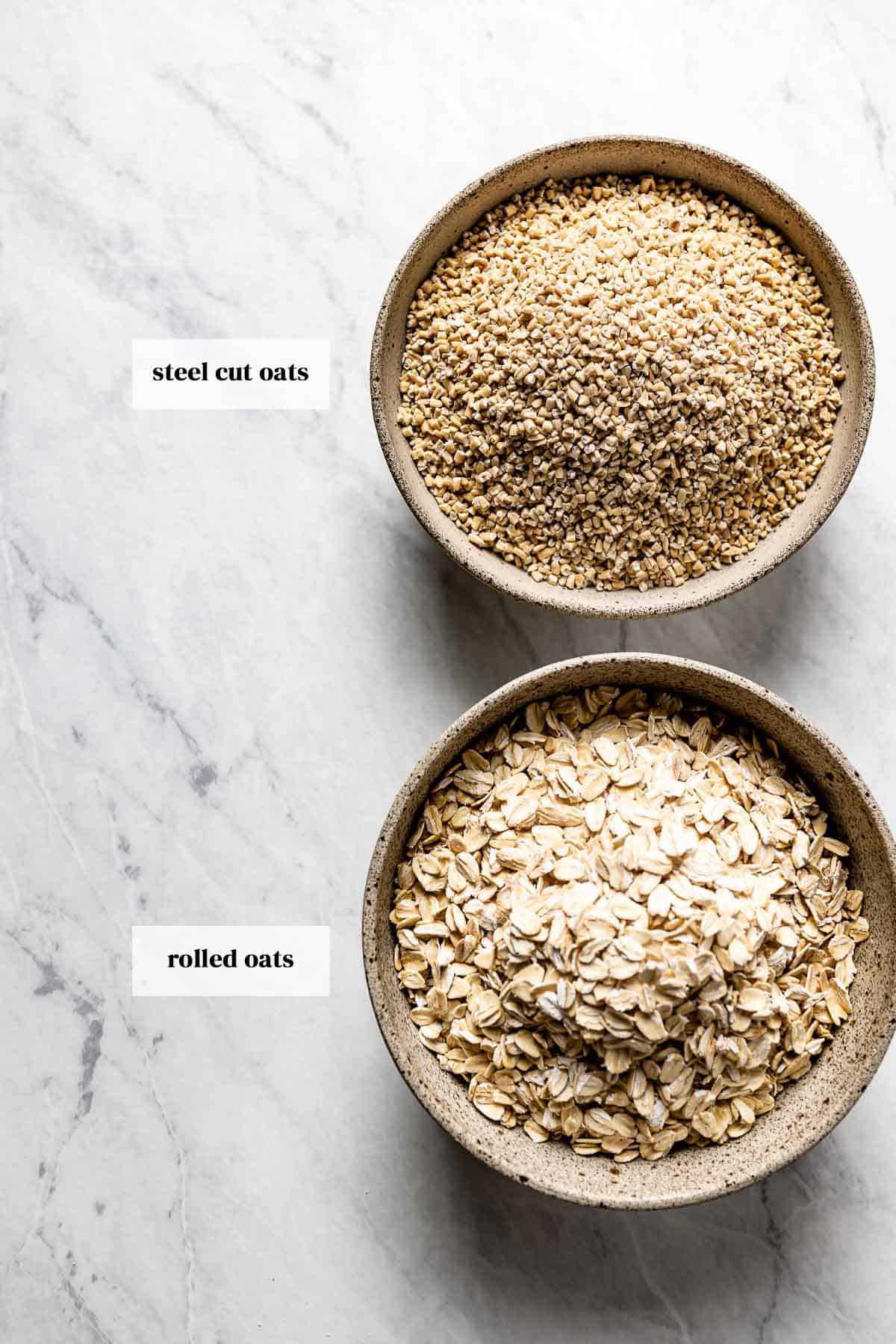 Steel Cut Oats
Steel Cut Oats, also known as Irish Oats, are whole oat groats that have been cut into 2-3 smaller pieces with large steel blades, hence the name 'steel-cut.' This allows more water to penetrate into the oat kernels, resulting in a shorter cooking time when compared to whole oat kernels. It is considered one of the least processed forms of oats.
Rolled Oats
Rolled Oats, also known as Old Fashioned Rolled Oats or Regular Oats, are whole oat groats that have been steamed and then rolled into flakes. This rolling process stabilizes the grain, creating a longer shelf life and shorter cooking time.
Other Types of Oats
If you browse grocery store shelves, you may also come across these two different types of oats: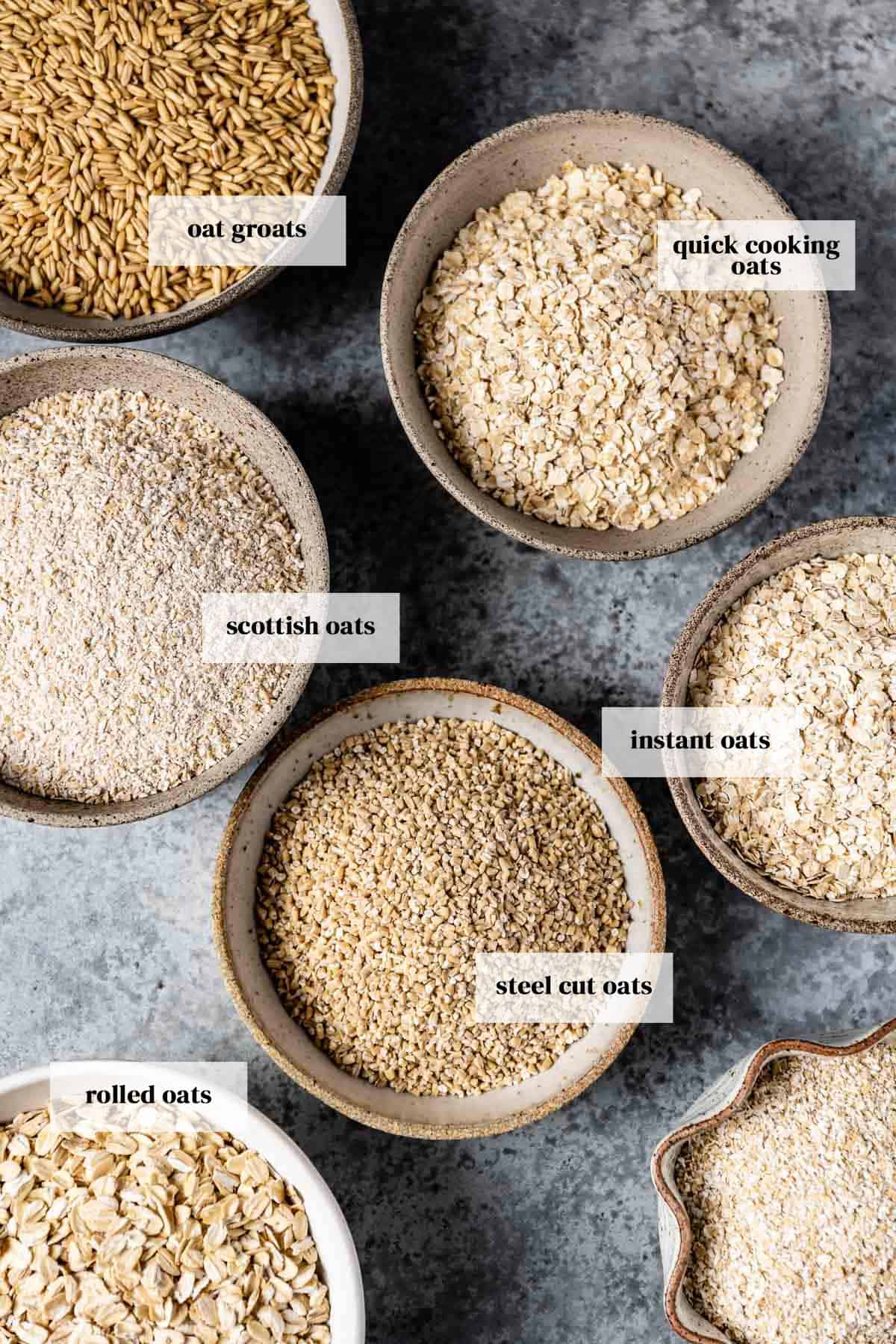 Scottish Oats: Scottish oats are oat groats that have been stone ground as opposed to cut with a blade. This creates pieces of varying sizes and, some say, a creamier texture once cooked.
Quick Oats / Instant Oats: The more the oats are either steamed or rolled, the faster the cooking time and softer the texture. This results in quick-cooking oats or instant oatmeal. If you want to know more about them, be sure to check our article on Rolled Oats vs. Quick Cooking Oats for more information.
What is the Difference Between Steel Cut Oatmeal and Regular Oatmeal?
First things first, oatmeal or porridge is the cooked version of the oats themselves. But because steel cut and old-fashioned oats vary in shape and texture, the end result is different too.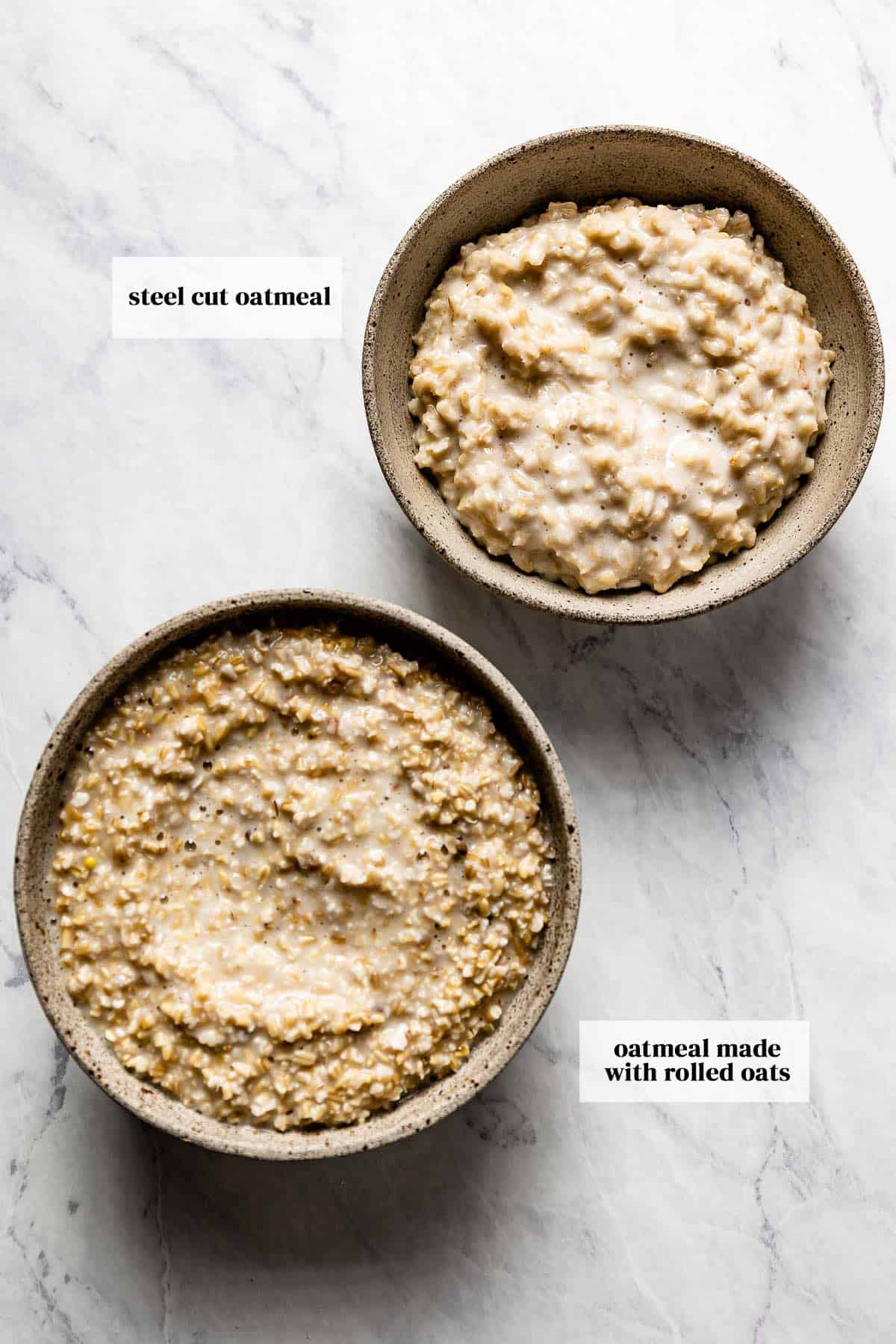 Steel Cut Oatmeal: Steel cut oatmeal will have a coarser texture and chewier bite with a nutty flavor, but they also take longer to cook. I like to think I have mastered the art of steel-cut oats at home with Steel Cut Oats in a Pressure Cooker, Overnight Slow Cooker Steel Cut Oats and Savory Steel Cut Oats.
Old Fashioned Oatmeal: Regular oatmeal is much quicker to cook because of the greater surface area of the oat flakes, and the texture is softer and creamier. Because old-fashioned oats are so versatile, flavor and texture will vary based on their method of preparation.
I love to prepare Baked Oatmeal with Dates, Cinnamon Apple Oatmeal, and Overnight Greek Yogurt Oats, depending on my cravings.
Although commonly used to make oatmeal, regular oats are also a prominent ingredient in many baking recipes like Oatmeal Raisin Cookies, Pumpkin Oat Muffins, Overnight Muesli, and Homemade Granola.
Steel Cut Oats vs Old Fashioned Oats Nutrition Comparison
The nutritional value of both steel-cut and old-fashioned oats varies. According to Nutrition Value, here are their key nutrition facts broken down in the table below:
| Nutrition Facts per 2 oz (56 grams) | Steel Cut Oats | Rolled Oats |
| --- | --- | --- |
| Calories | 219 | 221 |
| Protein | 6.4 g | 7.4 g |
| Carbs | 40 g | 40 g |
| Fiber | 6.5 g | 6.3 g |
| Net Carbs | 33.5 g | 33.7 g |
| Fat | 3.2 g | 3.7 g |
| Sugar | 1.3 g | 1.1 g |
Nutritional values are based on Bob's Red Mills' Steel Cut Oats and Rolled Oats.
Benefits of Rolled Oats and Steel Cut Oats
The benefits of rolled vs. steel cut oats are diverse and more about personal preferences to taste, texture, and cooking time. Below is a summary of some of the key benefits:
Taste: Steel-cut oats are nuttier with more depth of flavor when compared to rolled oats, which have a milder flavor.
Texture: Steel cut oats have a coarse and chewy texture, whereas rolled oats are soft and tender.
Cooking Time: Depending on the brand, stove top cooking times for steel-cut oats can take up to 20-25 minutes versus rolled oats which only take about 5-8 minutes.
Nutrients: In addition to being a complex carbohydrate and a good source of protein and fiber, they are both good sources of many vitamins and minerals, including thiamine (B1), magnesium, phosphorus, zinc, iron, copper, manganese, and selenium.
Fiber: Oats in any form are a great source of both insoluble and soluble fiber. They are an especially good source of beta-glucan fiber, a specific type of soluble fiber that has proven health benefits for you and your digestive tract.
Glycemic Index (GI Scores): According to Medical News, Steel cut oats have a glycemic index of 53, whereas rolled oats have a glycemic index of 57. They also say, "Steel-cut oats may take longer to digest, reducing spikes in blood sugar levels. Both oat types are better choices than other forms, such as instant oats, which have a GI of about 83."
Gluten Free: Oats are inherently gluten free, and a great choice for those with celiac disease or those dedicated to a gluten-free lifestyle. All that being said, based on the manufacturing process and risk of cross-contamination with gluten-containing products, it is important to purchase certified gluten-free oats if gluten is a health concern. Some of my favorite brands include One Degree and Bob's Red Mill.
Use: Wondering which one should you use in cooking? Both steel-cut and rolled oats can be made into a delicious bowl of oatmeal or porridge. However, if you are a baking aficionado and looking to incorporate oats into baked goods, muffins, cookies, bread, granola or granola bars, or the popular Swedish breakfast muesli, rolled oats are the better option.
Shopping and Storing
Look for both the steel-cut variety and rolled oats in the breakfast cereal aisle of grocery stores, or purchase a bag or two online.
Shopping: When selecting oats, opt for unsweetened oats with no added sugar or preservatives. Whole oats (also referred to as Whole Grain Oats) should be the only ingredient.
Storage: Once opened, both can be stored in the pantry for up to 4 months or in the freezer for up to 8 months.
FAQs
What are steel cut oats made of?
Steel cut oats are whole oat kernels that have been 'steel-cut' into 2-3 smaller pieces. This creates greater water retention when making oatmeal or porridge.
Why is it called steel cut oats?
Steel-cut oats are so named because they are literally cut with a steel blade. They may also be referred to as Irish Oats or Irish Oatmeal.
Are rolled oats whole grain?
Yes, rolled oats are whole grain with the bran, germ, and endosperm intact. Old-fashioned rolled oats are whole oat groats that have been steamed, then rolled into flakes.
What is steel-cut oatmeal?
Steel cut oatmeal is oatmeal that has been prepared using steel-cut oats. Liquid and cooking time will vary based on the brand you use.
How much protein in steel cut oats?
One 2 oz (56 g) portion of steel-cut oats contains 6.4 g of protein. Keep in mind this is the quantity of protein in steel cut oats only. The end result will vary depending on the milk or yogurt you use to cook and or soak the oats.
Are steel cut oats better than rolled oats? Which one is healthier?
Gram for gram, steel cut oats contains more protein and fiber, and fewer carbs, when compared to rolled oats. But note that the cooking time of steel cut oats is much longer. Since the variation in health benefits is so minimal, both steel cut and rolled oats are healthy whole grains to add to your pantry.
Can I substitute rolled oats for steel cut?
Rolled oats vs steel cut oats are diverse, and it is hard to substitute rolled oats for steel-cut oats. The cooking technique changes with each version of this whole grain, so it's best to use the appropriate cut based on the recipe or application.
Like this recipe? Consider sharing: