As we are about to come to the end of 2019, I thought it would be fun to share the most popular recipes of the year. I am thankful to all of you, my readers, for coming by, cooking, and sharing my recipes. I would not have been able to do what I love without your support.
While every recipe on this site is presented to the best of my capabilities, the following 9 recipes managed to grab your attention most. These recipes were the most popular in 2019 – in page views, likes, and shares.
Additionally, since we live in a social media-driven world, below you will also find my top 9 Instagram posts along with the most pinned recipe of the year.
THE TOP 9 MOST POPULAR RECIPES ON THE BLOG:
09
MEXICAN STUFFED PEPPERS
---
If there is one thing that became crystal clear in 2019, it is that you guys like Mexican flavors. This Mexican-themed stuffed peppers recipe became so popular within weeks of publishing it.
I think it is because it is easy to make, pleasing to the eye, filling, and packed with nutritious and delicious ingredients. Plus, it is perfect for meal prep and its leftovers keep for days (and they freeze beautifully, too!)
---
08
GREEK YOGURT CHICKEN SALAD
---
Having grown up in a Mediterranean country, I grew up eating this chicken salad. I wasn't sure whether or not you guys like it as much but to my surprise, it was one of the most popular salad recipes of this summer.
Come summertime, I make a big batch and keep it in meal prep containers to serve throughout the week for lunch. It is easy to make, nutritious, and healthy.
---
07
TEXAS CAVIAR
---
One of the most popular recipes of 2018 was my Five Bean Salad recipe. So I knew that you guys liked bean salads. That is why when I saw this Texas Caviar recipe on Dorie Greenspan's new cookbook, Everyday Dorie (affiliate link), I knew I needed to make it.
I was right, this recipe was one of the most visited pages on Foolproof Living in 2019. Its video has been viewed of 4.6 million times on Pinterest and pinned over 100K times.
---
06
GROUND TURKEY MEATLOAF
---
I shared this recipe thinking that it is an easy to make and healthy weeknight dinner. I knew that those recipes were always in demand. I was not wrong. So many of you made this recipe, shared, and left comments and messages all over social media.
If you have not tried it and are in need of a veggie-packed weeknight dinner, you will love this Turkey Meatloaf.
---
05
OVERNIGHT STEEL CUT OATS
---
It is no secret that I love a big bowl of oatmeal in the morning. For years, my almond milk oatmeal was one of the most popular recipes on the blog. That is why I knew you guys would like my 5-minute and 2-ingredient overnight steel cut oats recipe.
Since I published this overnight steel cut oats recipe, I also published the recipe to make it in a pressure cooker. It is just as delicious and easy to make.
---
04
VEGAN CHILI
---
A big bowl of chili on a cold winter day never disappoints. This vegan chili recipe was a total hit in 2019. Instead of meat, I used a combination of walnut and mushroom mixture that provided a similar texture. The addition of a cup of bulgur made it even more wholesome and filling.
This recipe is a crowd-pleaser and guaranteed to satisfy vegan, vegetarian, and meat-eaters alike.
---
03
ALMOND FLOUR PANCAKES
---
My almond flour baking & cooking obsession started when I first shared the post about how to make almond flour at home back in 2018. Since then I have been incorporating almond flour & almond meal in everything I am making.
These paleo and gluten-free pancakes along with so many other almond flour recipes were reader favorites in 2019.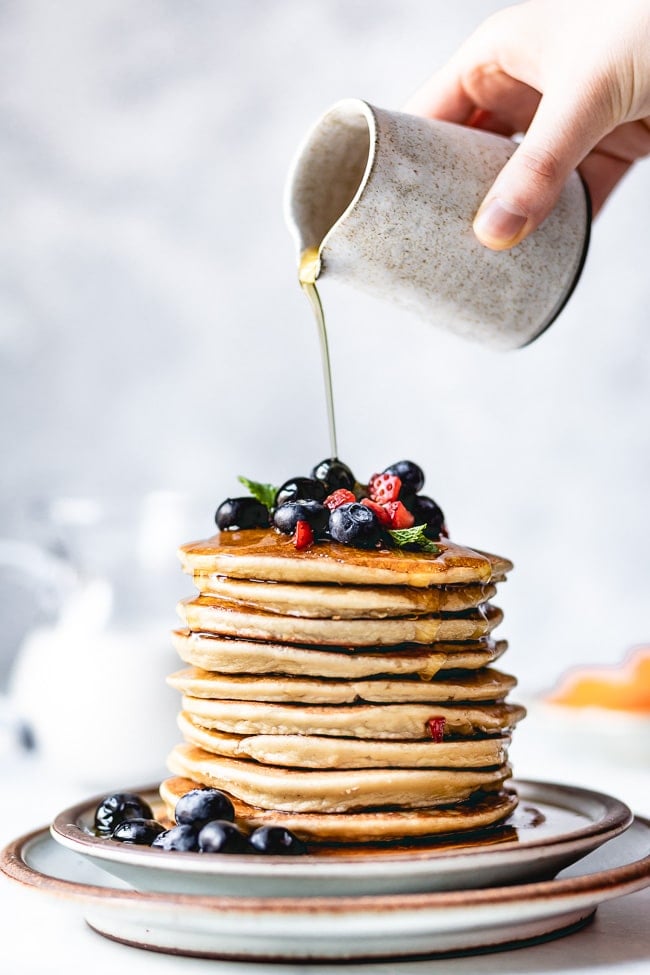 ---
02
TURMERIC GOLDEN MILK
---
I shared this turmeric golden latte recipe last winter after getting a terrible cold and finding so much comfort in it. Since then it resonated with so many of you.
I even shared the recipe for my quick golden milk recipe made with turmeric paste.
If you are feeling under the weather or are in need of a healthy beverage in these long and cold winter days, try this golden milk recipe. It will not disappoint.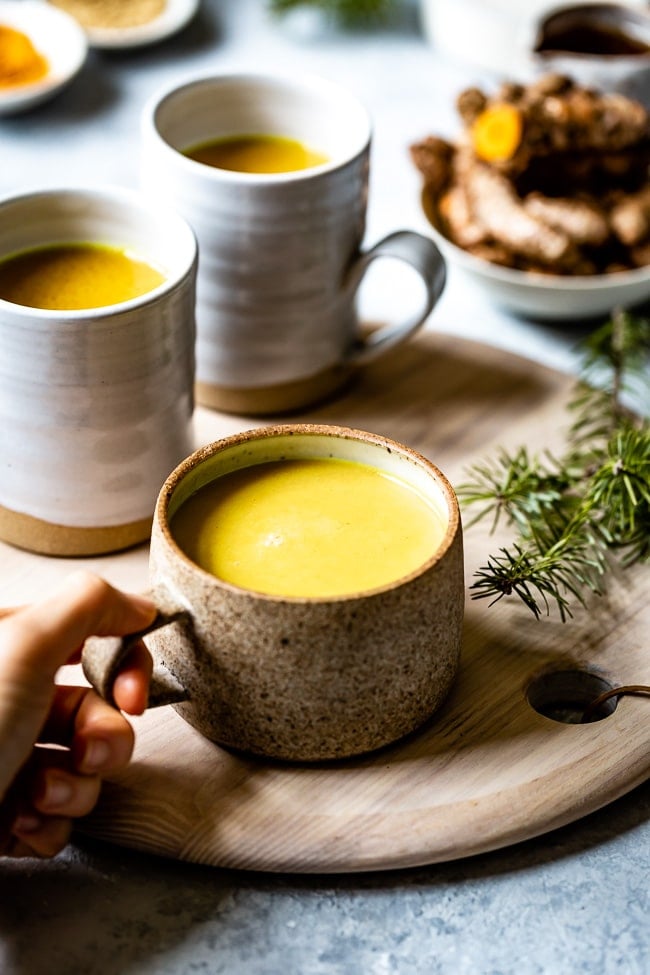 ---
01
ONE-PAN MEXICAN QUINOA
---
Who knew a recipe as simple as this would make it to the top? This quinoa dish flavored with Mexican flavors like ground coriander, beans, jalapenos, and avocados resonated with so many people.
I love that easy and quick recipes like this made a lot of my readers excited because that is exactly how I like to cook.
HINT: More of these kinds of dinners are coming to you in 2020. ?
---
THE TOP 9 POSTS ON INSTAGRAM
You have probably seen a lot of people posting their top 9 posts on Instagram. I love seeing those because it gives you a picture of what your audience really likes.
As you can see in mine below, a few of the most popular recipes on the blog also made it to the top on Instagram as well.
The corresponding recipes for these images are below:
Oven-Roasted Orange Chicken with Fennel / Strawberry Champagne Margaritas / Turkey Meatloaf / Watermelon Avocado Salad / Spicy Jalapeno Margarita / Avocado Salad / Texas Cowboy Caviar / Blueberry Peach Galette / Almond Flour Pancakes
---
---
THE TOP POSTS ON PINTEREST
For us food bloggers, one of the biggest social media platform is Pinterest. This is mainly because what we do is very visual and Pinterest does such a good job of displaying and organizing photos.
However this year, unlike the years before, quick how-to videos got most of the attention. As a result, my most popular posts on Pinterest were recipes with videos.
The two recipes below were the most pinned and cooked recipes in our Pinterest community with over 10 million people watching and 85 people actually making and sharing photos of their food on Pinterest.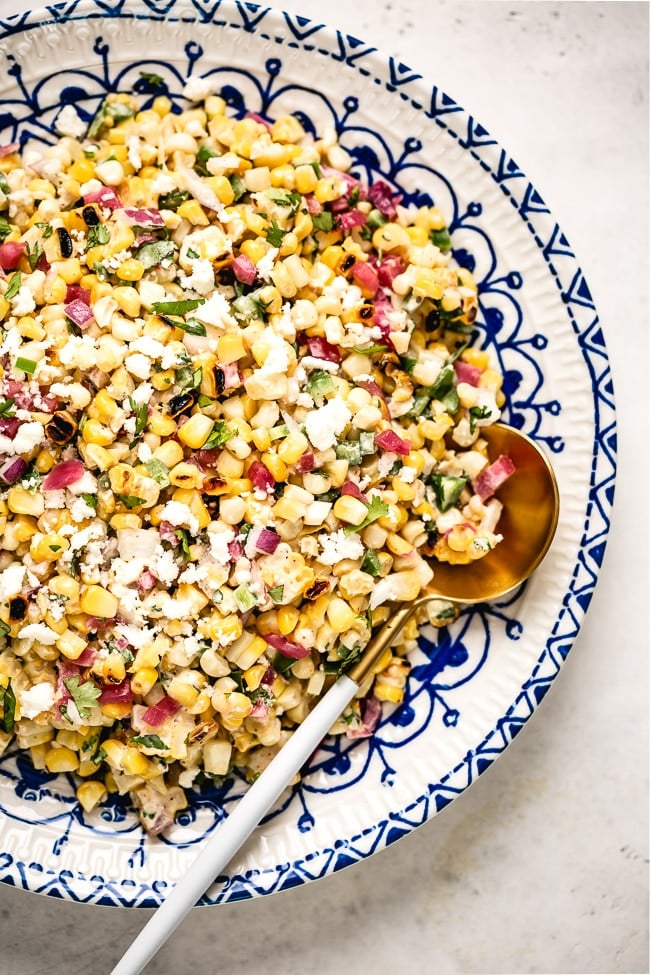 The quick video for this Mexican Street Corn Salad was watched over 5 Million times and pinned over 120K times.
---
I knew most people loved this Five Bean Salad when I first shared it back in 2017. So back in January of 2019, I made a quick how-to video for it.
I am glad I did it because it went viral with over 5 million people watching and over 150K people pinning it.
---
Last but not least, the proudest moment of the year was to connect with my readers with my new e-book, Salads That Satisfy. A cookbook that is full of healthy and satisfying salad recipes.
Since it was published back in January of 2019, over 14K people downloaded it and became a part of the Foolproof Living Community.
If you haven't gotten on board, you can instantly receive it in your email by signing up now.
Thank you so much from the bottom of my heart for keeping me company and sharing my passion for cooking. Wishing you a wonderful new decade and a happy 2020!
I know for sure that the best is yet to come. Let's do this!
Like this recipe? Consider sharing: