Welcome the New Year with a bang! Whether you are looking for New Year's Eve finger foods, creative appetizers, cocktails, or simple desserts to impress your guests, our top recipes are perfect for your New Year's Eve celebration.
This round-up of New Year's Eve recipes includes some of our most popular recipes, such as Black Eyed Peas Salad, Bread Dipping Oil, and Goat Cheese Dip. But those are just the tip of the iceberg, so scroll down to find your next recipe for your menu.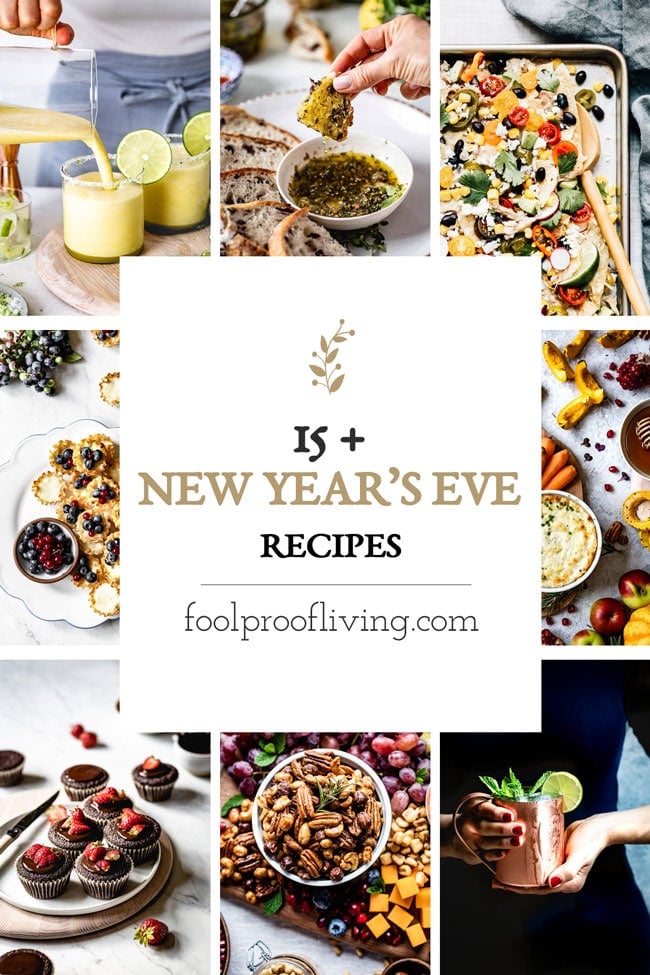 Delicious & Easy To Make Cocktails for Your NYE Party
No New Year party is complete without a signature cocktail. Here are a few of our favorites ranging from classic margaritas to Kentucky mules.
01
---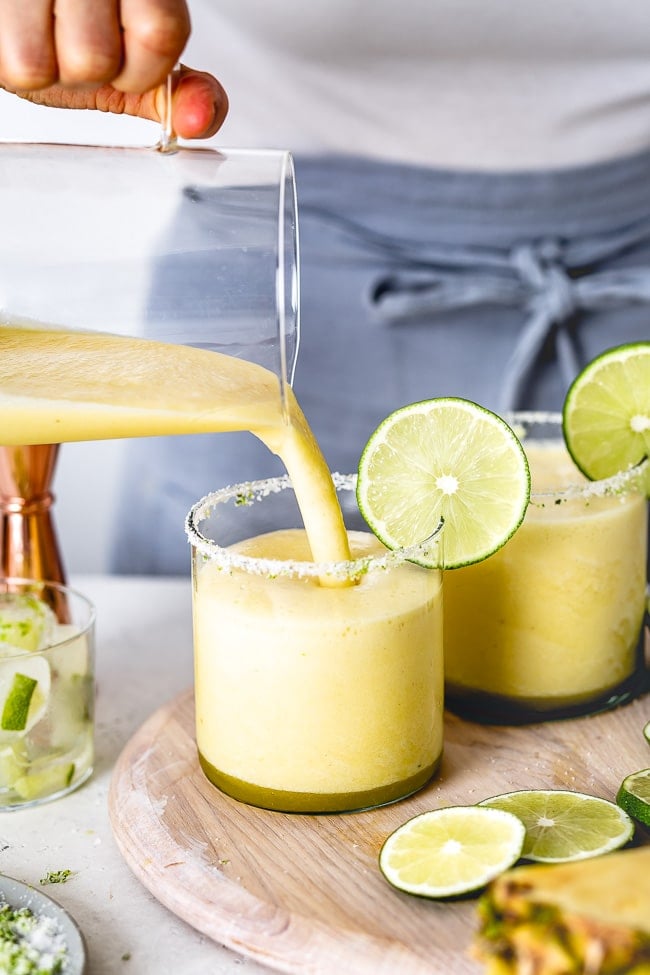 Whether you like it frozen or on the rocks, these pineapple margaritas are great for any party, especially if they are accompanied by guacamole and nachos on the side.
---
02
---
Fan of spicy Mexican food? Then this cilantro-infused Spicy Jalapeno Margaritas recipe is for you. This is a 5-minute cocktail recipe that is sweet, salty, and spicy all at the same time.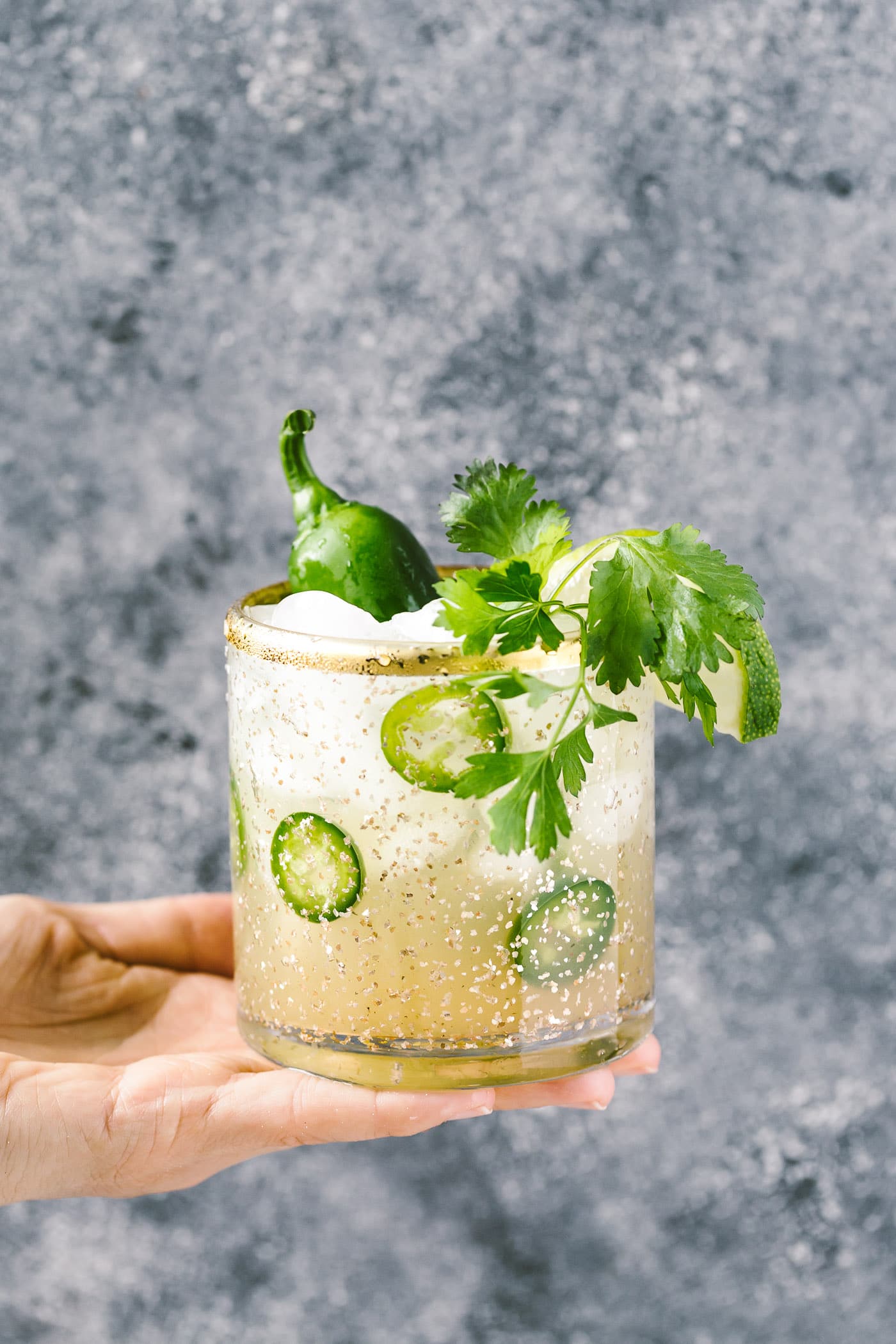 ---
03
---
This vodka cooler has been one of the most popular recipes on Foolproof Living, and for a good reason. Fresh (or frozen) mango and blackberries muddled with fresh mint, mixed in with vodka, and garnished with blackberries. I recommend making extra because, believe me, your friends will be asking for seconds.
---
04
---
Are you a fan of Moscow Mule? Then try this Kentucky Mule recipe. It is the ultimate holiday party cocktail. Not to mention, it is a great cocktail for Bourbon lovers. Made with only 3 ingredients, it comes together in just a few minutes.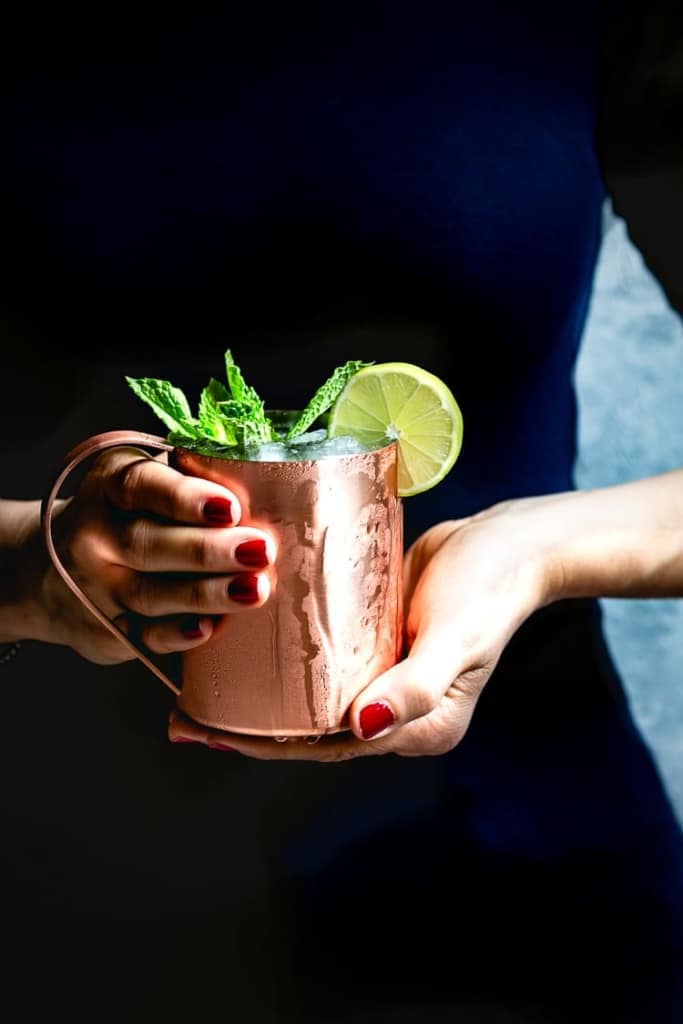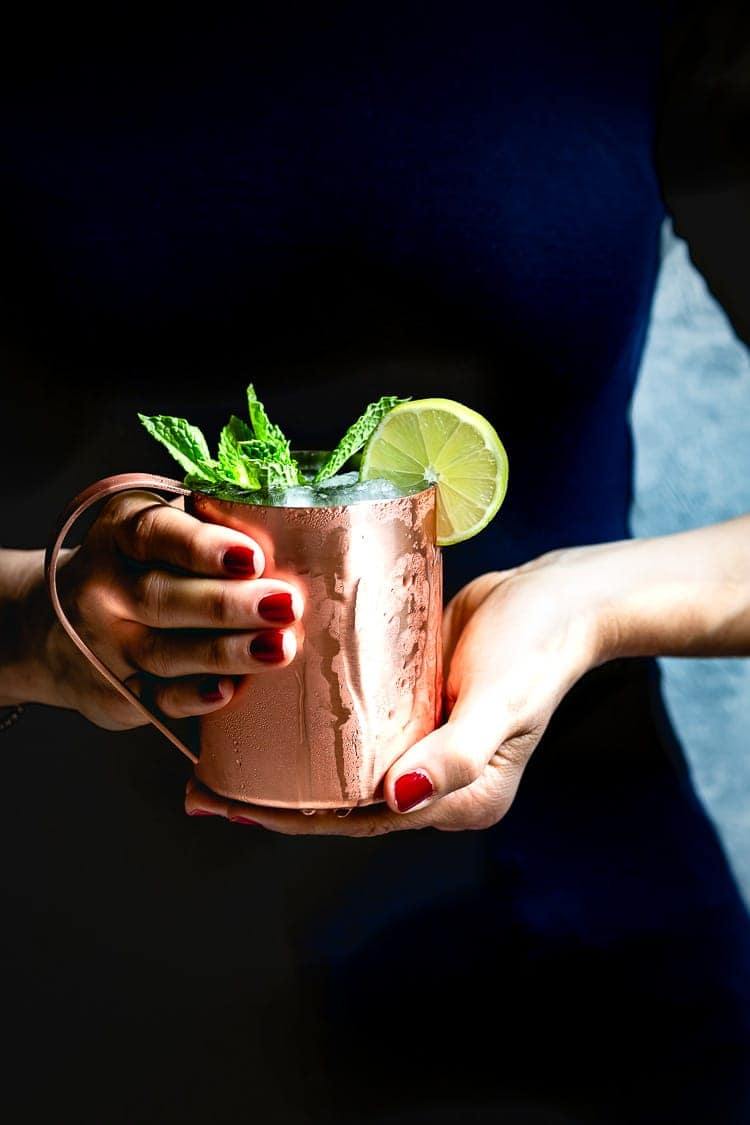 ---
05
---
If you love lemon drop martinis, try this version made with raspberries (or any berries you can get your hands on). It is refreshingly delicious, visually appealing, and takes 5 minutes to make.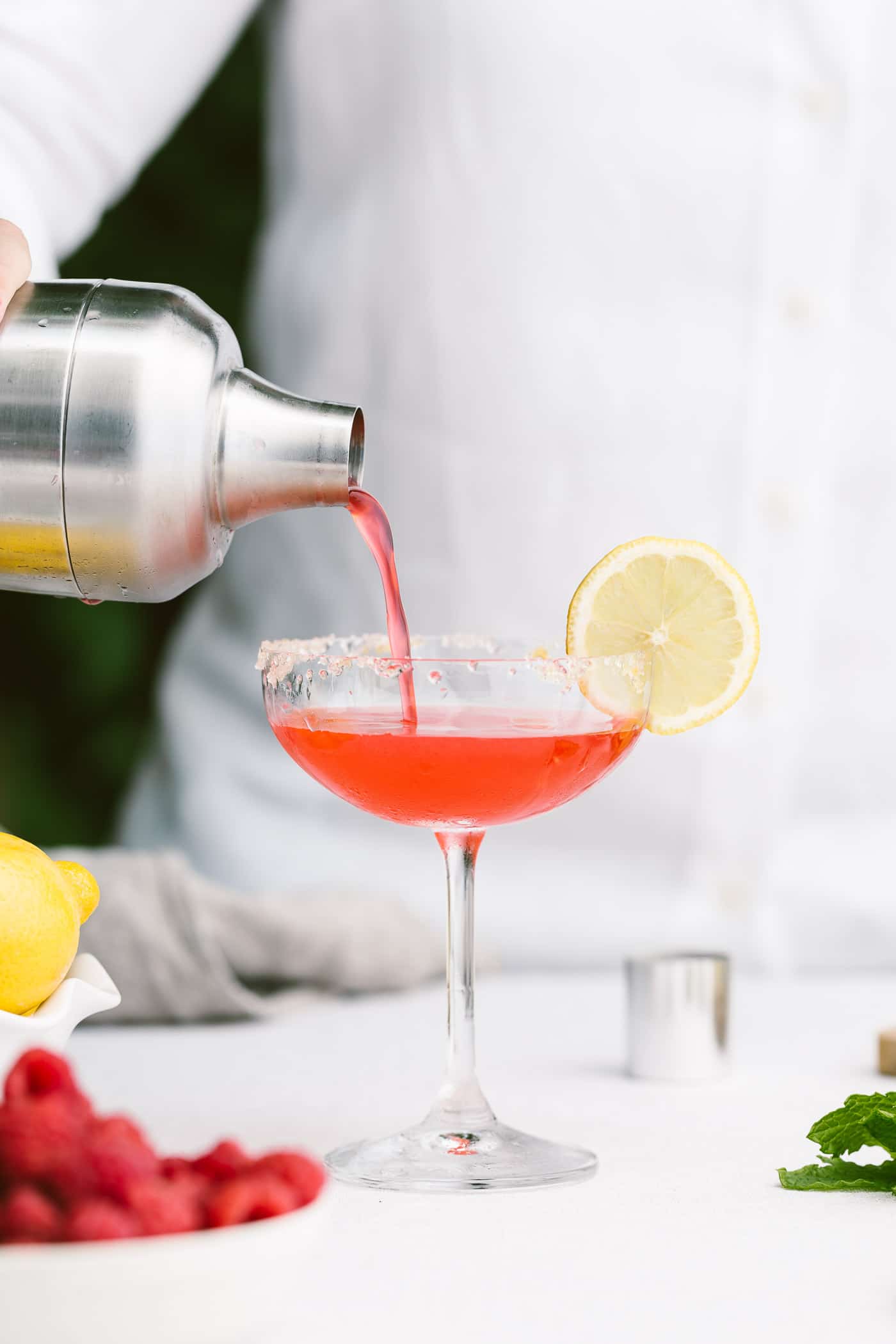 ---
Quick and Easy Appetizers For Your New Year's Eve Gathering
01
---
This Texas Caviar is the best way I know how to incorporate black-eyed peas into your NYE celebrations. It comes together rather quickly and can be served as a salad or a snack with chips on the side.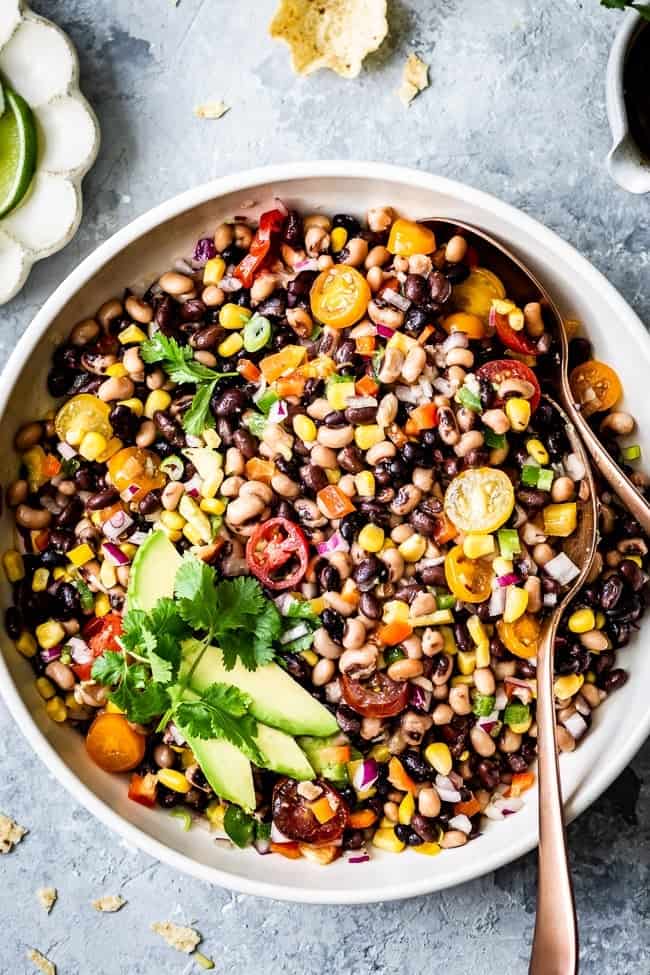 ---
02
---
It is no secret that delicious dips are a must for any New Years' Eve celebrations. And if you want to try something new, this Middle Eastern red pepper walnut dip is a must. It comes together in a food processor, and its leftovers make the best spread the next day.
And if you are a fan of serving dips, be sure to also try my Carrot Hummus and Eggplant Yogurt Dip recipes.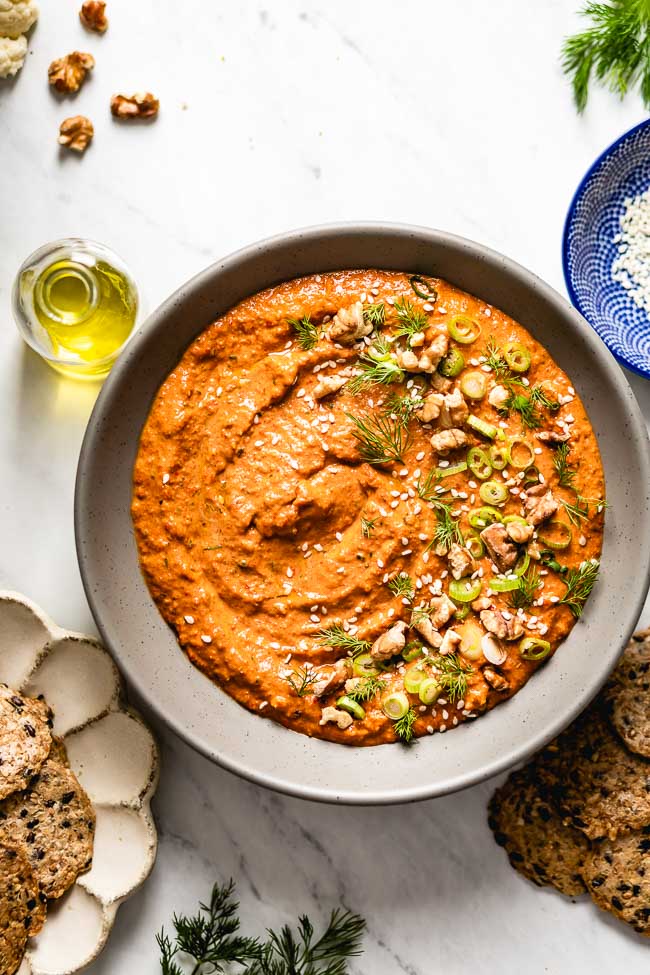 ---
03
---
No New Year's Eve party menu is complete without a cheese board! Whether you need some help putting it together or you simply want to know about the best cheeses for charcuterie board, check out this post on how to put together a charcuterie platter with matching cheese and wine ideas.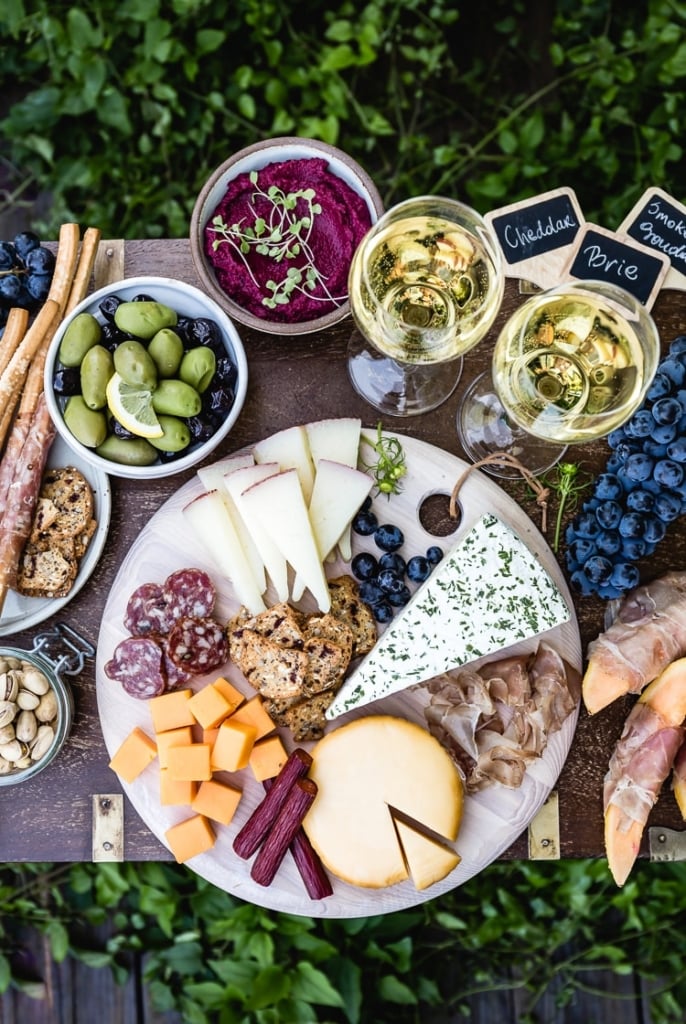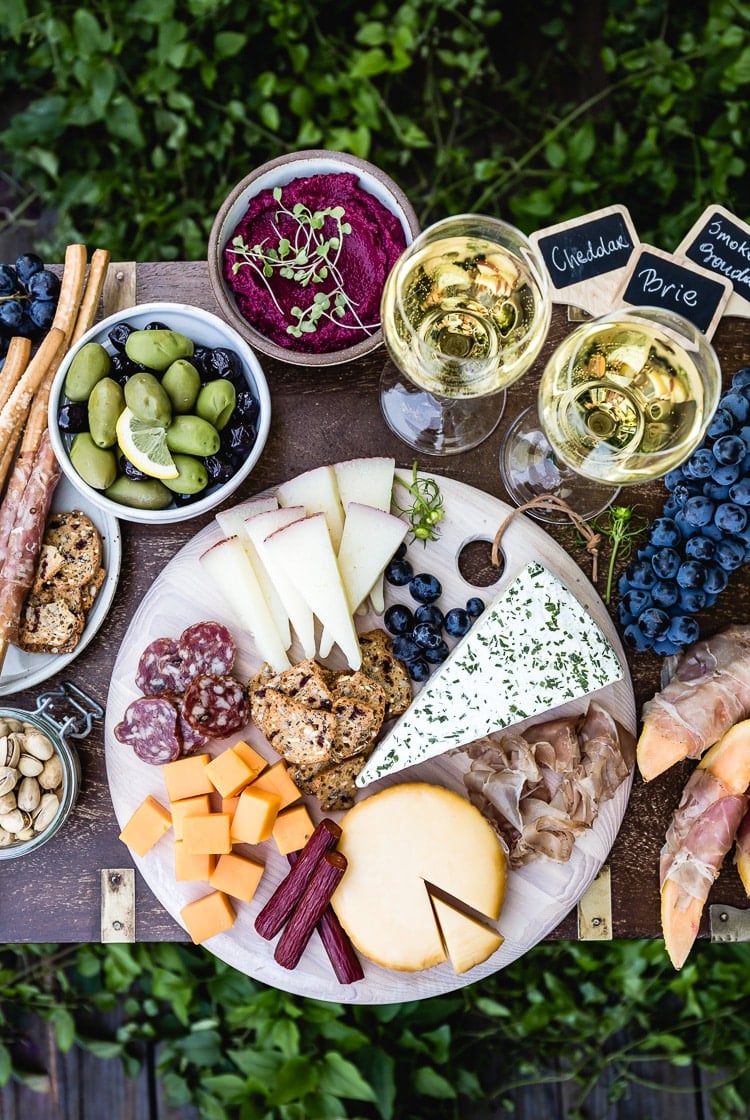 ---
04
---
You can't have a party without nuts. Ditch the store-bought candied nuts and try my spicy candied nuts recipe. They are naturally sweetened with cane sugar and flavored with cinnamon, cumin, red pepper flakes, and ginger.
---
05
---
Whether you serve them as an appetizer or a dessert, these mascarpone-filled warm dates are out of this world. Top them off with walnuts, pomegranate arils, and a drizzle of honey to make them even more delicious.
---
06
---
You know how when you go to an Italian restaurant and as soon as you sit down they bring dipping oil with warm bread to the table? This is the recipe for that dipping oil. Packed with dried or fresh herbs, it is one of the most popular New Year's eve appetizers on the blog ever since it was published back in 2019.
I serve it with my olive bread, and people go crazy for it.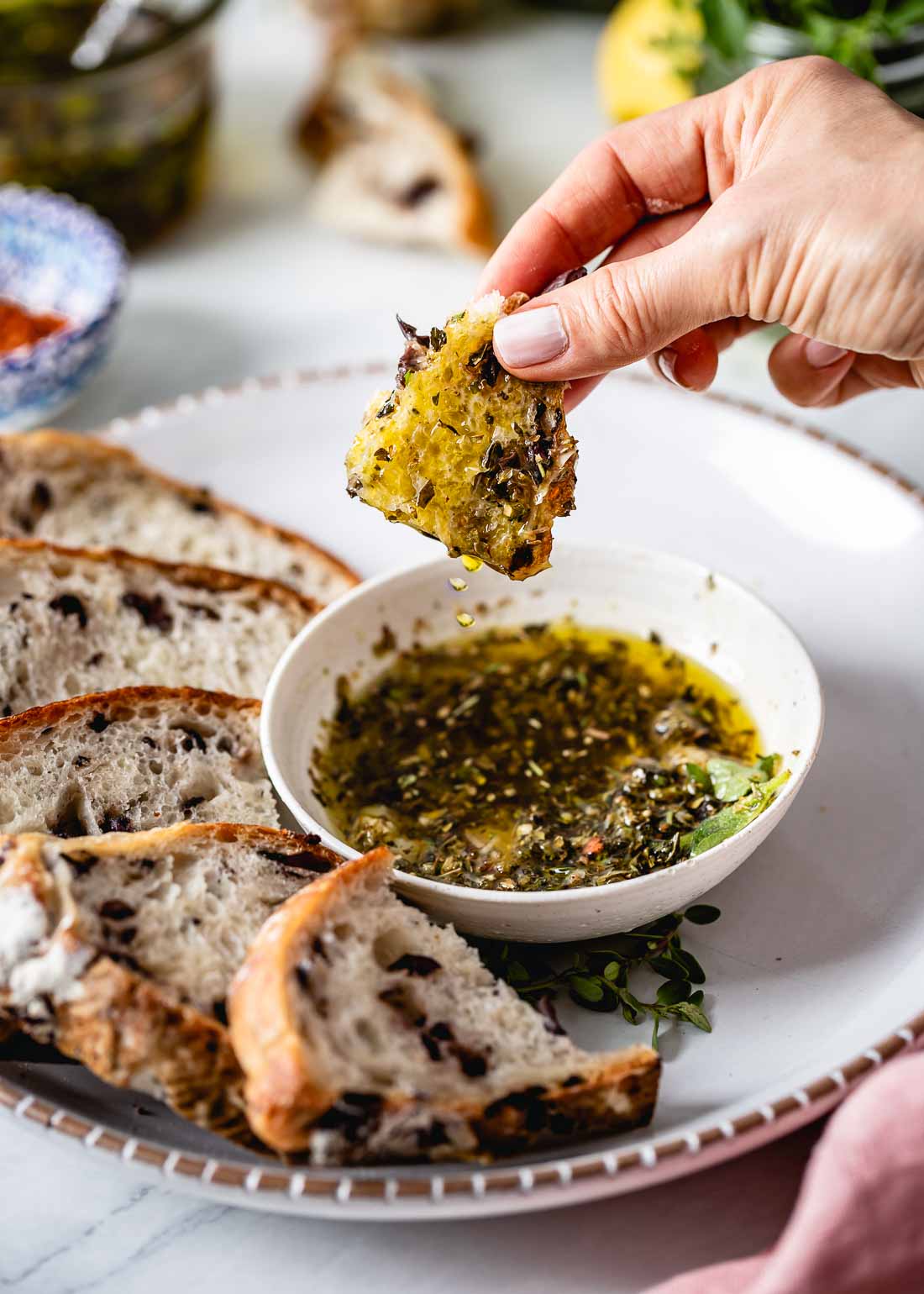 ---
07
---
If you are serving health-conscious friends, these vegan nachos are what you should serve them. Served with pita chips (instead of fried corn chips) topped off with fresh tomatoes, cucumbers, and chickpeas and drizzled with homemade herbed tahini dressing, it is the perfect appetizer for a crowd.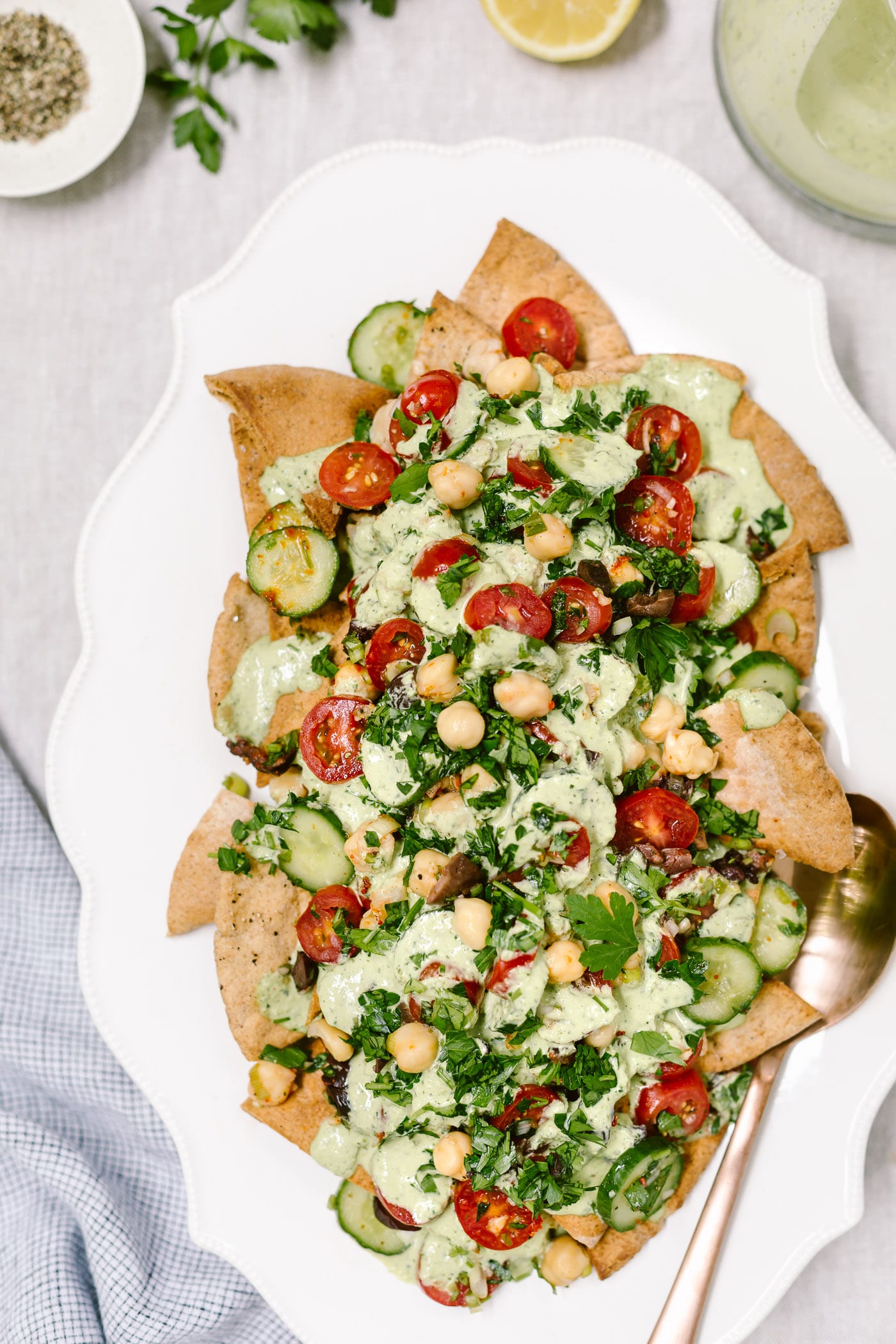 ---
08
---
If vegan nachos are not for you, then you should try these sheet pan chicken nachos. Made by layering tortilla chips with cheese, shredded chicken, black beans, and tomatoes, these nachos will get everyone around the table.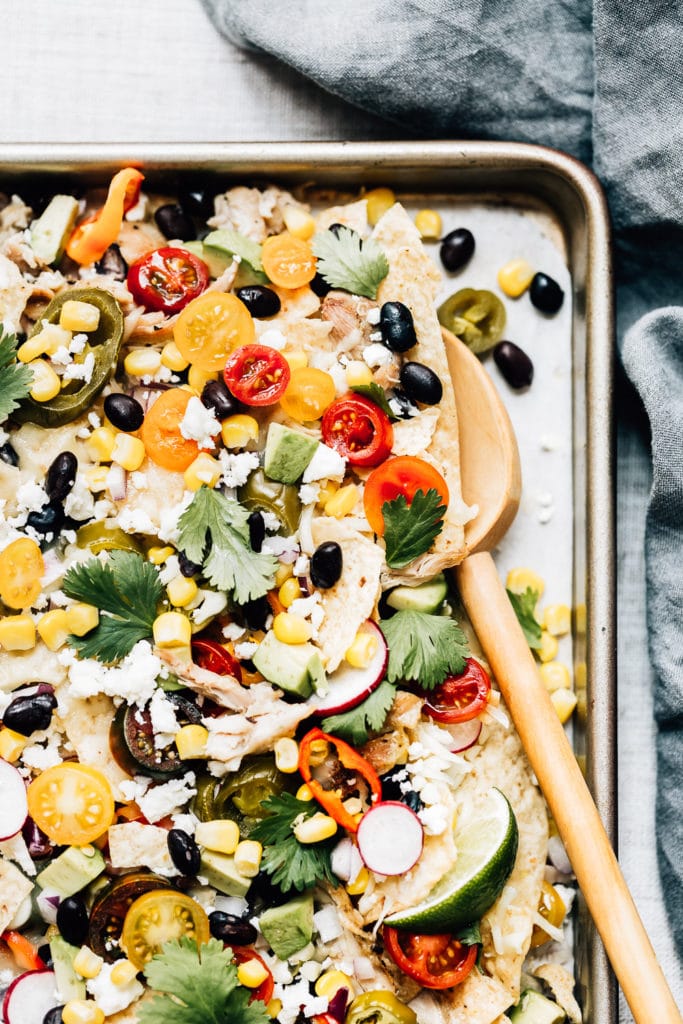 ---
09
---
The easiest appetizer that you can put together in no time. Simply slice apples thinly, spread each slice with blue cheese (cream or feta cheese would also work) and sprinkle them with chives and pomegranate arils.
---
10
---
Herbed goat cheese rolled in crackers and baked in the oven for a crunchy outside and soft inside. This make-ahead-friendly appetizer can be served as a part of my Warm Goat Cheese Salad or by itself as an impressive tasty bite.
Be sure to make an extra batch because I know for a fact that these will be the first ones to disappear on your NYE buffet.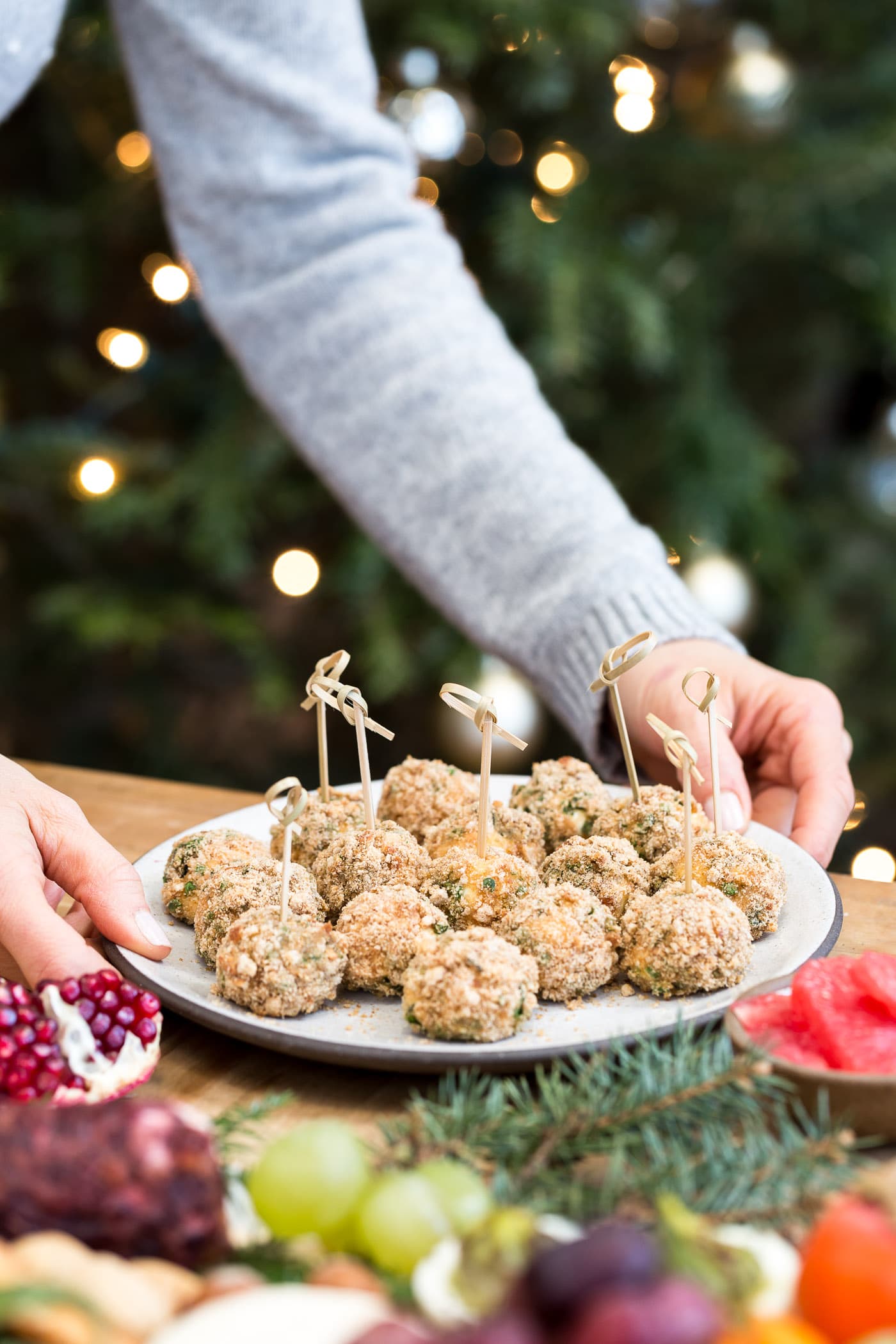 ---
11
---
These no-mayo avocado deviled eggs are the perfect finger food for any party. Flavored with capers, jalapeños, and cilantro, they are easy to make.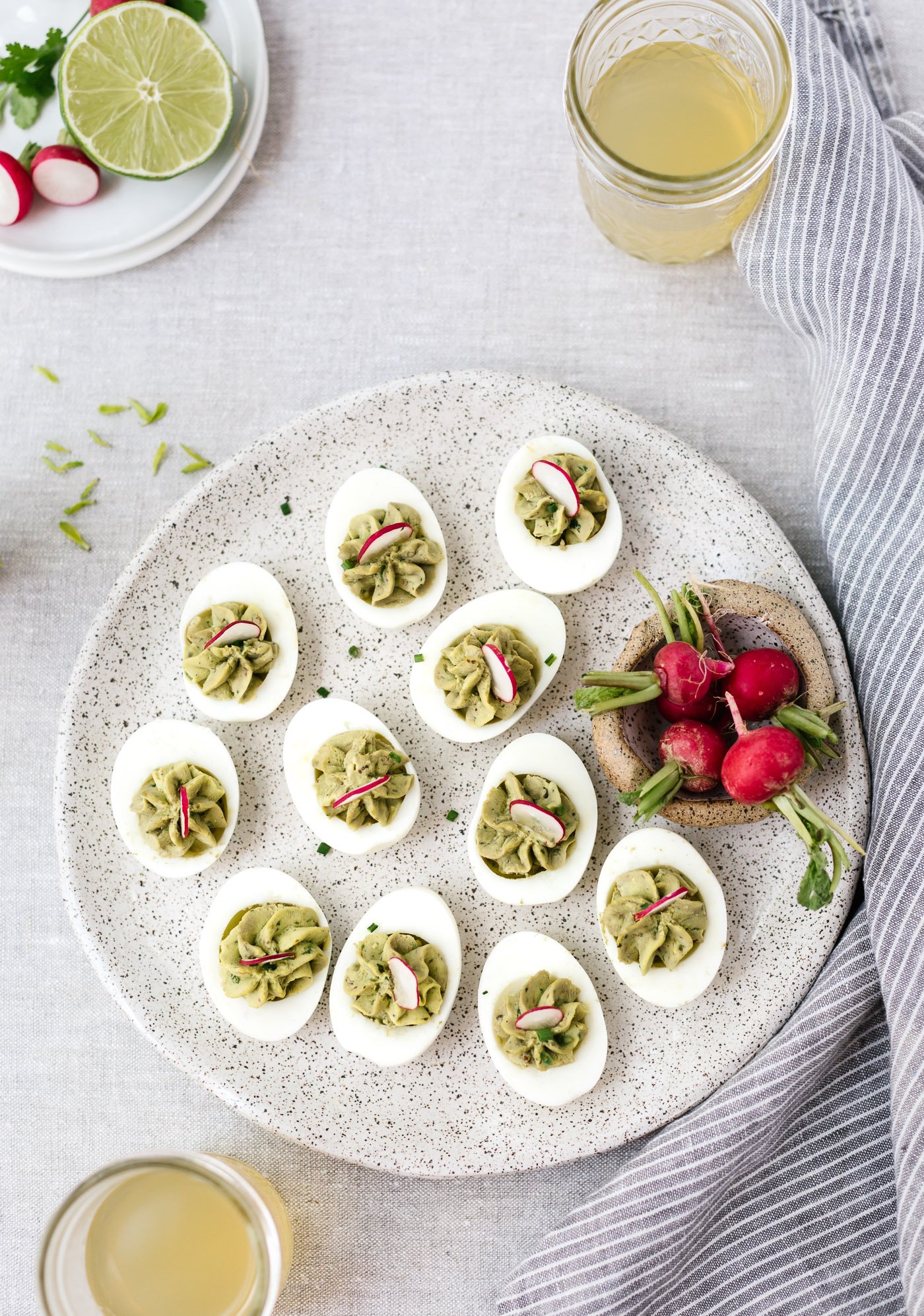 ---
12
---
A combination of goat cheese, cream cheese, and parmesan cheese whipped with olive oil and baked in the oven for perfection. Serve warm with crackers, veggies, or fruits for a warm appetizer for any goat cheese lover.
Are you a lover of goat cheese? We are too! So much so that we have a page dedicated to helping you figure out What To Make with Goat Cheese.
---
13
---
If you follow the Southern tradition of serving black-eyed peas to bring luck and prosperity in the new year, make this black eye pea salad a part of your New Year's eve cocktail party menu. It is a great salad recipe that is also a crowd-pleaser.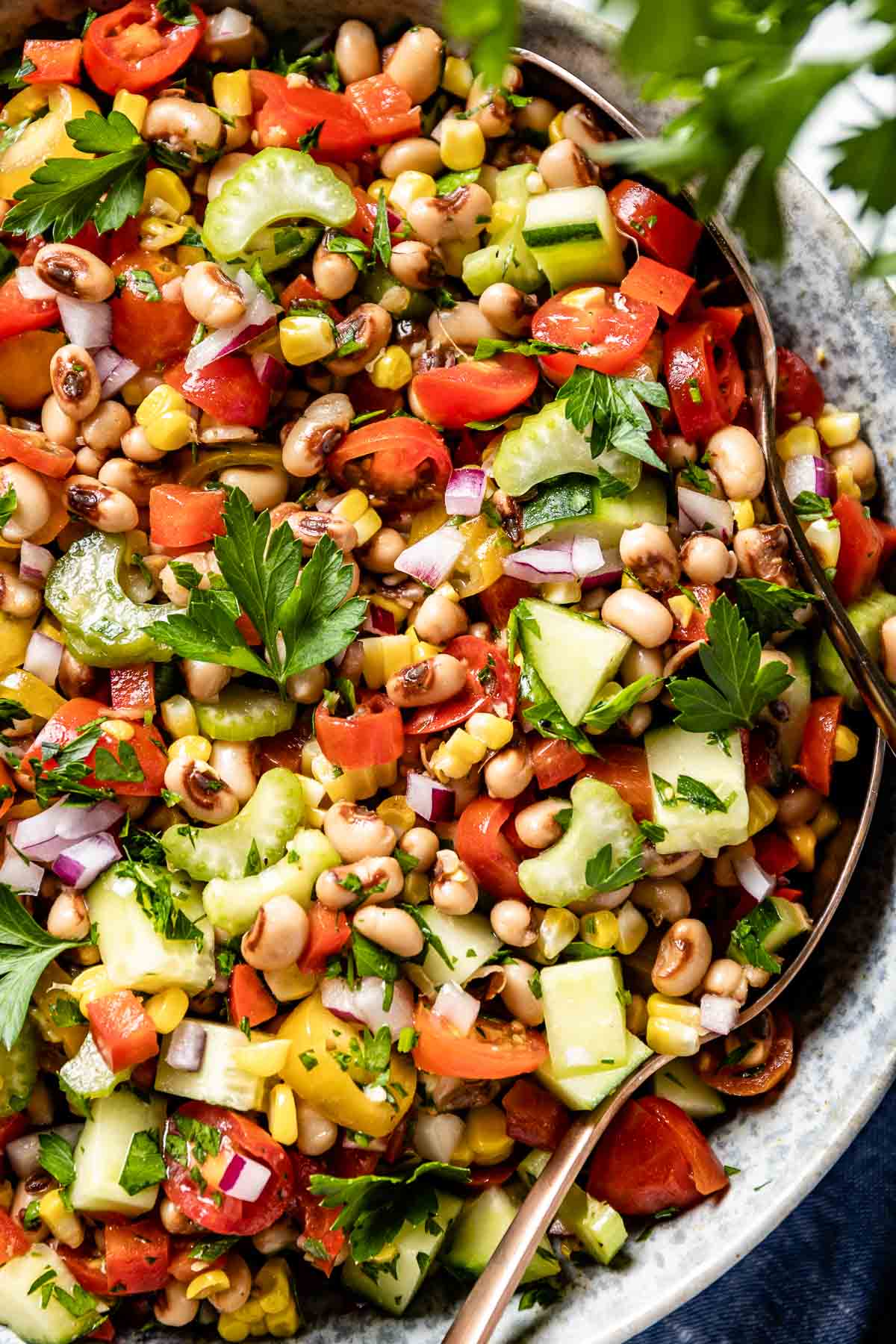 14
---
I think we can all agree that no party is complete without a gooey mozzarella cheese stick with a delicious marinara sauce served on the side. I make mine in the air fryer as it is the quickest way to cook them. If you have an air fryer, try this recipe! It takes 10 minutes from start to finish, and it is great for a crowd.
---
Healthy Sweets For Your New Years' Eve Party
01
---
These flourless chocolate cupcakes are made in a bowl in less than an hour. They are made with gluten-free almond flour and minimally sweetened with maple syrup.
And if you can't get enough of chocolate, check out my round-up of healthier, easy chocolate desserts.
---
02
---
These mini lemon tarts are the perfect bite-sized dessert for a crowd. They are filled with ricotta-lemon filling and topped off with blueberries. They are so easy to make with only 8 ingredients and 10 minutes of hands-on time.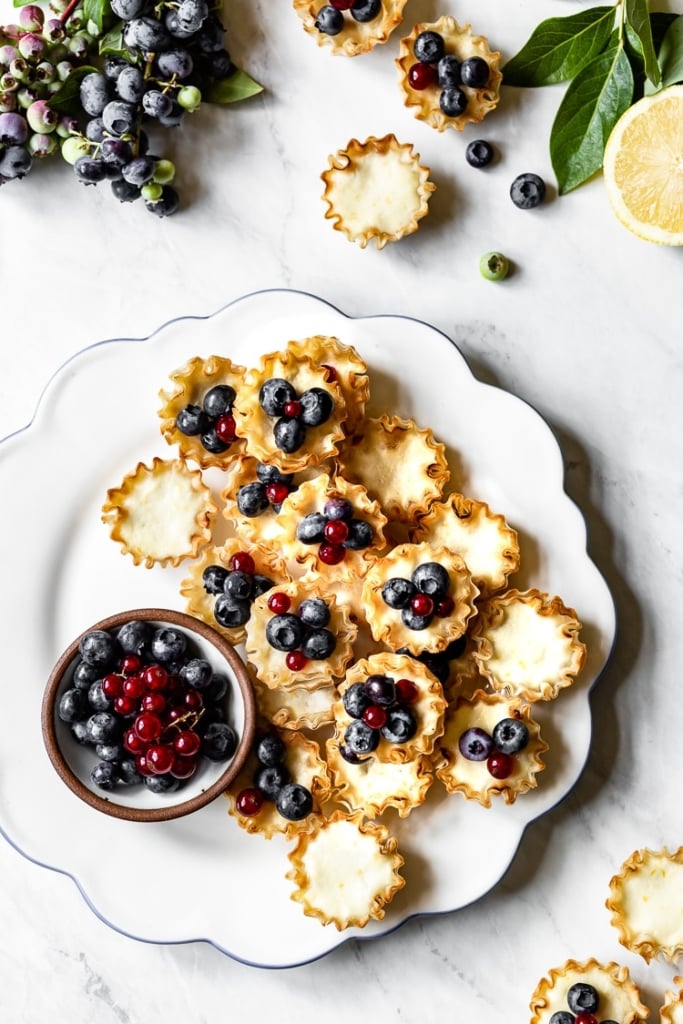 ---
03
---
These vegan and gluten-free almond flour cookies are packed with chocolate chips. Made in one bowl with only 6 ingredients and in less than 30 minutes, they are the perfect cookie to serve at your NYE party.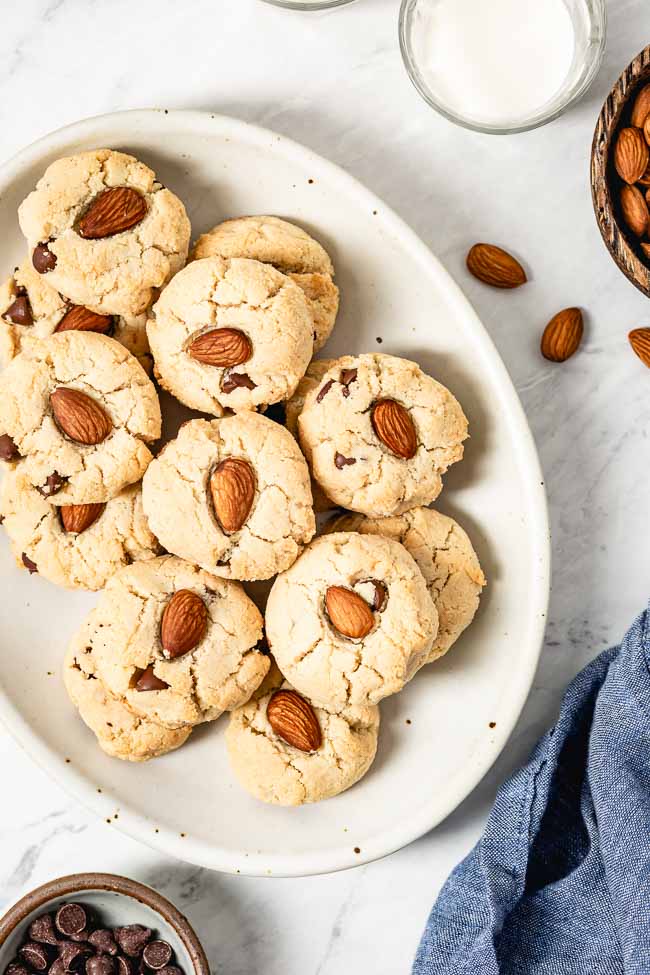 ---
04
---
If you want a dessert that is on the lighter side, try this honey-sweetened cranberry poached pears recipe. I served it with mascarpone to balance out the sweetness and for extra creaminess. They come together rather quickly and make an impressive winter fruit dessert.
---
05
---
Take the classic French brie and turn it into a masterpiece! This baked brie recipe is somewhere between an appetizer and a dessert. Simply bake brie in the oven and top it off with homemade blackberry compote and candied pecans.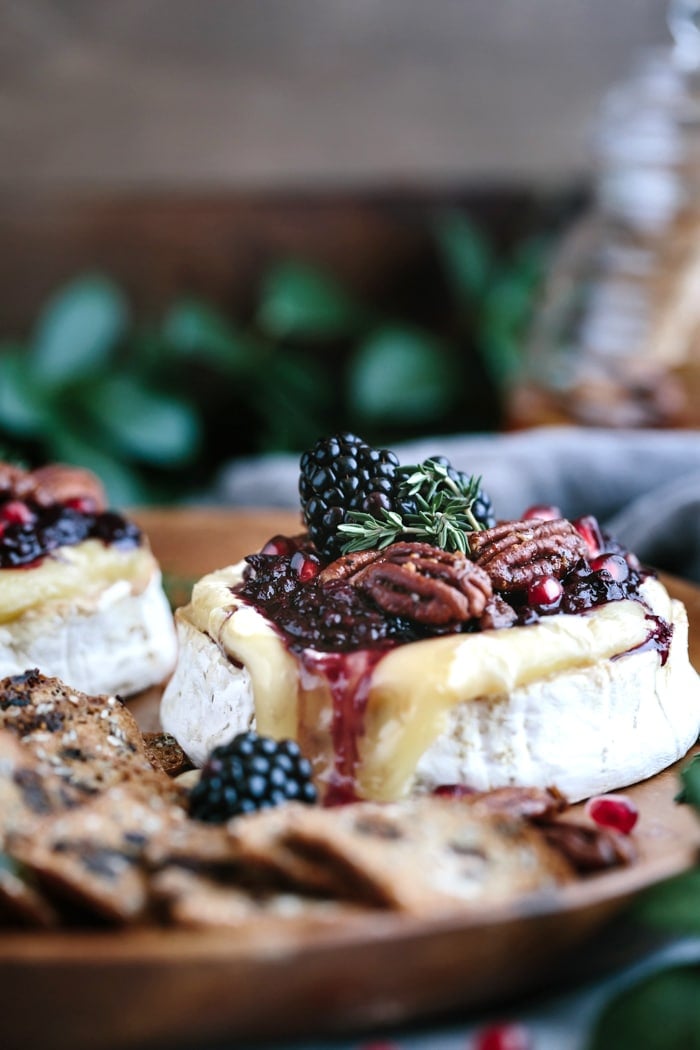 ---
15+ New Years Eve Appetizers, Cocktails, & Desserts – Texas Caviar Recipe (A Reader Favorite)
This Texas Caviar recipe is a reader favorite during the New Years Eve celebrations. I think it is mostly because it uses black eyed peas in the recipe, comes together easily, and feeds a small crowd.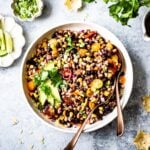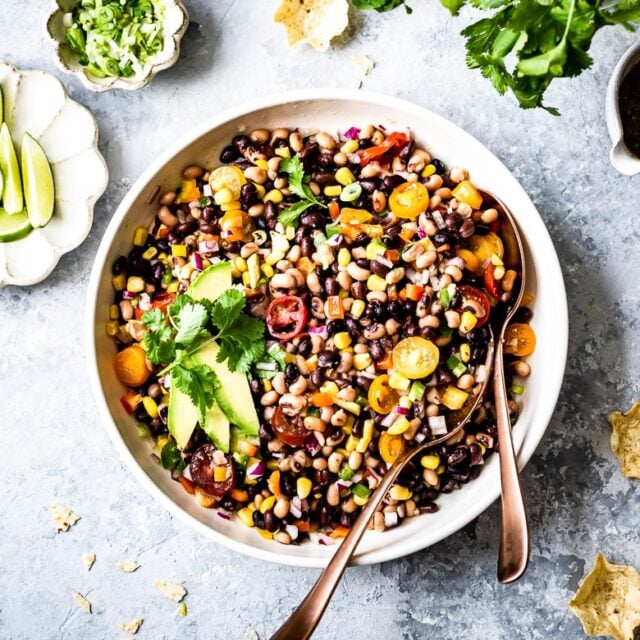 Print Recipe
Ingredients
For The Dressing:
¼

cup

olive oil

1

tablespoon

lime zest

4

tablespoons

lime juice freshly squeezed

1

teaspoon

ground cumin

½

teaspoon

smoked paprika sweet or hot

¾

teaspoon

kosher salt

½

teaspoon

honey

2

cloves

of garlic minced
For The Caviar Dip:
1 15

oz.

can black beans

drained and rinsed*

1 15

oz.

can black eyed peas

drained and rinsed*

½

cup

whole corn kernels I used canned corn

but drained it first

3

scallions both white and green parts are chopped

⅓

cup

red onion chopped finely or diced

3

small bell peppers chopped

approx. ¼ cup

1

small jalapeno pepper seeded and chopped

½

cup

cherry tomatoes sliced thinly

½

ripe avocado cut into small cubes

½

cup

fresh cilantro rinsed and chopped
To Serve With (Optional)
Your favorite hot Sauce

Tortilla Chips
Instructions
To make the dressing: Whisk together the oil, lime juice, ground cumin, smoked paprika, salt, honey and garlic. Set it aside.

For the Texas Caviar dip (or salad): Place, black beans, black eyed peas, corn kernels, scallions, red onion, bell peppers, jalapeno pepper, cherry tomatoes, avocado, and fresh cilantro in a bowl.

Drizzle the dressing over the salad. Give it a gentle mix.

Taste for seasoning and add in if necessary.

Add in a few dashes of your favorite hot sauce (if using) and serve with tortilla chips.
Video
Nutrition
Calories:
443
kcal
|
Carbohydrates:
55
g
|
Protein:
18
g
|
Fat:
19
g
|
Saturated Fat:
3
g
|
Sodium:
886
mg
|
Potassium:
994
mg
|
Fiber:
18
g
|
Sugar:
8
g
|
Vitamin A:
1201
IU
|
Vitamin C:
47
mg
|
Calcium:
87
mg
|
Iron:
6
mg
Like this recipe? Consider sharing: